2021 Dakar Rally – 100% new route planned
The Dakar Rally organisers have released the first route details for the 43rd edition of the world's biggest off-road race. Set for January 3-15, the 2021 Dakar will race an entirely new lap of Saudi Arabia with sand dunes promised every day and rule changes for riders aimed at improving safety...
Key changes for 2021 Dakar Rally
Jeddah will host the start and finish of the race including the prologue on the shores of the Red Sea.
Each timed section of the course, which does an entire lap of Saudi Arabia, is 100% new to racers.
Road books to be handed out 10 minutes before each special stage.
The rest day will be in Ha'il.
Two loop stages will give service crews chance to stay in one place for two nights.
Sand dunes in every stage.
The launch of the Dakar Classic puts the spotlight on pre-2000 vehicles (not bikes) in a test of consistency that honours the legend of the rally.
Alternative energy vehicles encourage by 50% lower entry fees (quite a lot!).
Registration opens on June 15.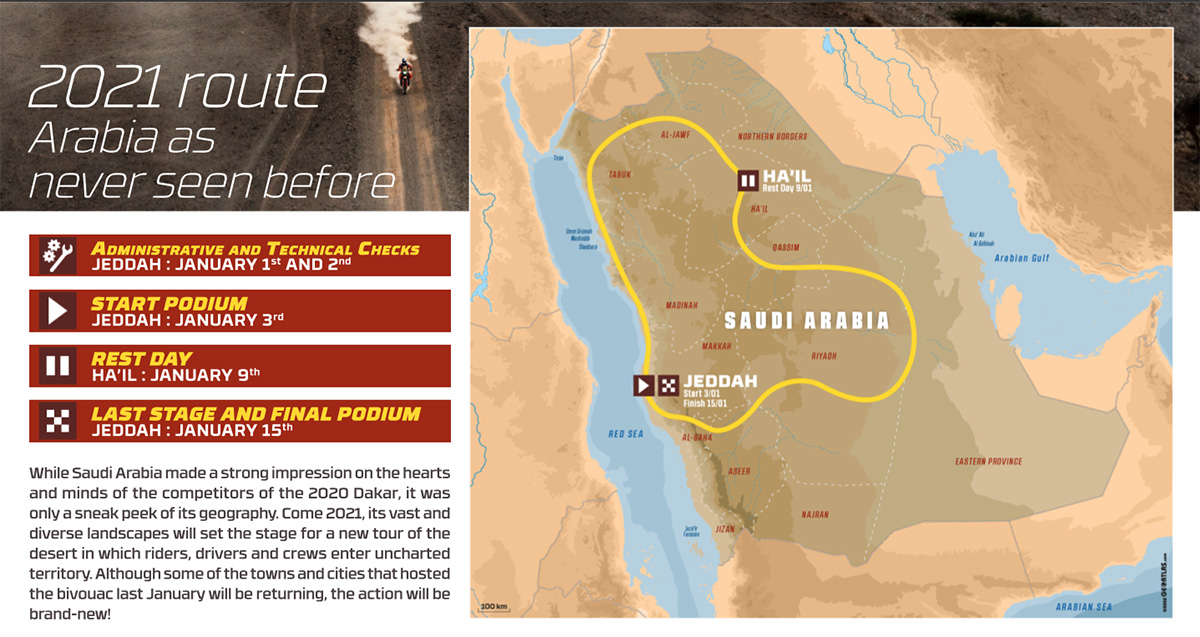 Announced today, June 11, the route designed for the 2021 Dakar is a loop course beginning and ending in the city of Jeddah, with a rest day in Ha'il. While the bivouac will revisit some of the locations where it camped in 2020, the special stages will be 100% new.
The safety measures already taken in 2020 which focused on navigation will continue with road books being handed out in the morning before the start of each special. Some categories will also have digital road books – though not bikes.
The rules have also been amended to slow down the vehicles and, in general, to make the race even safer. That includes aural warnings for riders in the approach to certain difficult areas, a stronger definition of "slow zones", a reduction in the number of tyres available to bikers and the mandatory use of airbag vests to help curb risk of injury. You can read all of the new safety rules in our separate post.
The 2021 Dakar will also take a trip down memory lane with the launch of the Dakar Classic category. In parallel with the main race, vehicles that took part in the Dakar or other major rally-raid events before the 2000s are making a comeback. This is only for cars and trucks, sadly.
More information: Dakar.com
Photo Credit: Yamaha Racing