2022 Dakar Rally Notebook: "I'm speechless" to "my rally is over" – highs and lows of stage 1
Enduro21 opens its notebook for the first time in 2022 and the first Dakar Rally stage where the highs and lows of rally-raid have been written large – Daniel Sanders dominates, Mason Klein goes P4 and former champions are among the many getting lost in the dunes of Saudi Arabia.
Coming out swinging is probably an overused saying but it sums up the first two days of the 2022 Dakar Rally. Daniel Sanders owns them and came out swinging like we know he can from his previous individual and team victories at the ISDE.
The GASGAS Factory Racing rider opened his account with confidence and speed, although he says he was "fortunate" he got everything right today where "a lot of guys got lost".
His prologue win yesterday gave him the best start position possible in P15 but speed and smart riding brought the result. "I didn't push too much at the start, just gave it a nice rhythm, and at the end I tried to open as much as I could." Explained the Aussie at the finish.
Chucky has passed day one with flying colours then but day two, when he will start first on the road, will be a tougher test."I think I'll just back it down to 80-70% tomorrow," says the Australian, "just to put the road book first because you can lose a lot of time like people did today.
"Once I knew there were no tracks at the front, it was important to keep pushing and make as much time as possible because this is what I'm gonna have to face tomorrow. I have to full-focus on this road book and put my life on it, so it's gonna be a really important day for me tomorrow."
Quintanilla leads Honda charge
Not far behind him in the swinging department or the results was Pablo Quintanilla who seems bent on making his mark on the Honda team. Looking equally confident this early in the rally, Pablo is the lead HRC rider ahead of Joan Barreda in 15th, Jose Cornejo in 18th and Ricky Brabec in 23rd overall.
But for a slight navigation error, it was "a great day" the Chilean explains, "I tried to push throughout the whole stage, even at the note at kilometre 268, where there was a hidden waypoint that was very difficult to find. I took it easy, navigated well and in the end it turned out to be a good day. It was very physically demanding, with a lot of changes of direction, on tracks that were not very visible, very fast and stone-filled... but I feel good, with good pace."
It was a good day for…Mason Klein
Cast your mind back 12 months and we were talking about an American rider in the BAS KTM team punching above his weight in the general rankings. It was a certain Skyler Howes who now races for the Husqvarna Factory Racing team and sits in the top 10, 25 mins behind the leader after stage one.
Mason Klein has replaced Skyler not just at BAS KTM but as that standout privateer rider and today, on the first real Dakar stage of the rally and the first real Dakar stage of his career, he posted the fourth fastest time. How the hell do you do that as a rookie?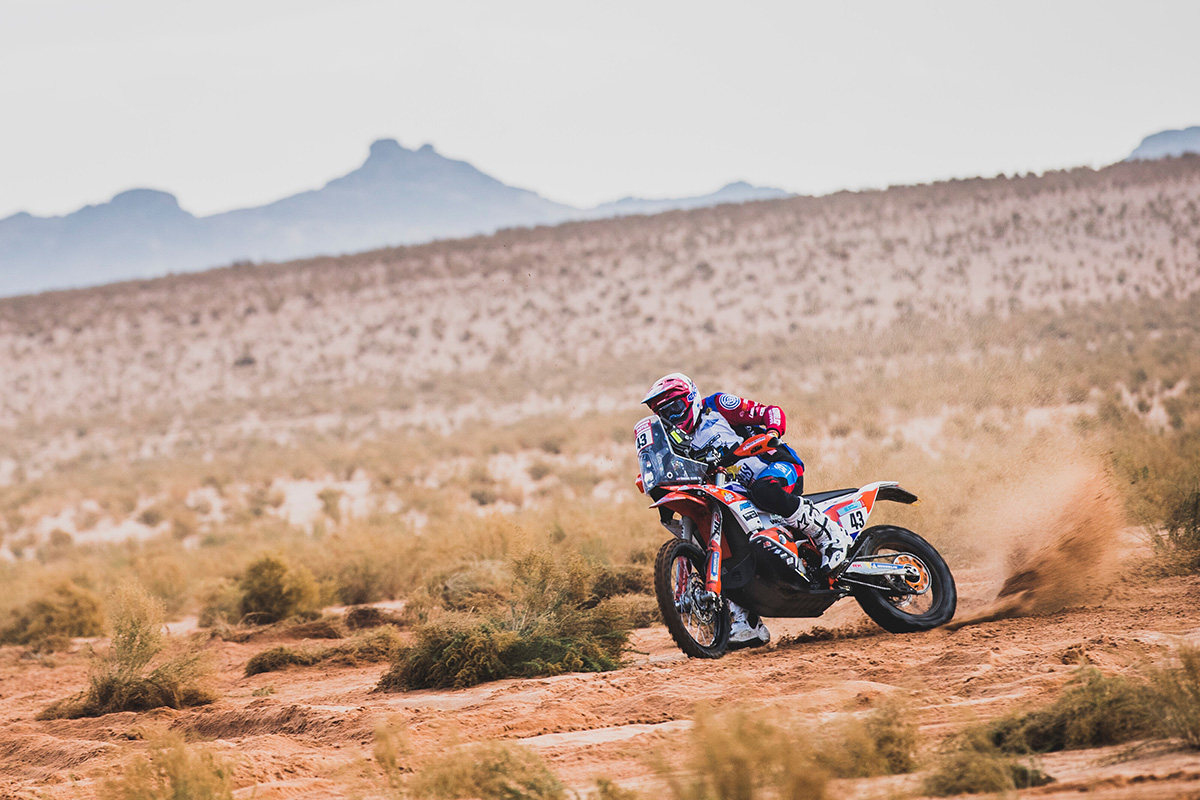 Mason admits he "wasn't very comfortable in the dunes" but was "pretty speechless" after learning the result. All the training he's been doing with Howes back home in the States definitely paid off.
What was the secret to an opening stage which saw the American just 13 seconds behind the world champion in third? "I took it one note at a time and I saw the people in front were making mistakes and I just tried to focus on the road book.
"There were a lot of tricky notes and tricky intersections. A lot of slight turns, notes that would go left, left, left, one right, left…and if you make the wrong turn you go so far the wrong way. I noticed a lot of lines going the wrong way and I was just verifying all day (checking his mileage and bearing against the road book) and it made up a lot of time."
It was a bad day for…former champions
Apart from Matthias Walkner in third and Sam Sunderland eighth, you have to scroll down the classification to find all the big names in this year's list of former Dakar winners (and potential 2022 victors).
The perennial problem at Dakar is the balance between going fast and navigating. To ride fast off-road you've got to look at the terrain ahead but in this game you've also got to follow the right bearing and read the road book.
Sometimes following tracks helps, other times it means you go the wrong way like the guy in front did. Add in factors like subtle changes of direction on the road book, where a physical track on the ground can mislead you, or not being able to find waypoints precisely before they "open up", and you can see how time haemorrhages.
Stage one of the '22 Dakar chucked curve balls at the riders and a few notably have taken it better than others. Toby Price was among them and finished 22nd, losing around 45 minutes after "a costly navigation mistake" proved "not a good way to start the rally". But as Toby says, "it's early days and let's see what happens. No crashes, so that's good, but a I'll keep my head down and keep at it and see what tomorrow brings."
"My rally is over" – Ricky Brabec
Ricky Brabec meanwhile wasn't so happy with his lot. "I feel like my rally is over." Says the 2020 champion. "I said the same thing last year on the first day, but I lost a lot more time today."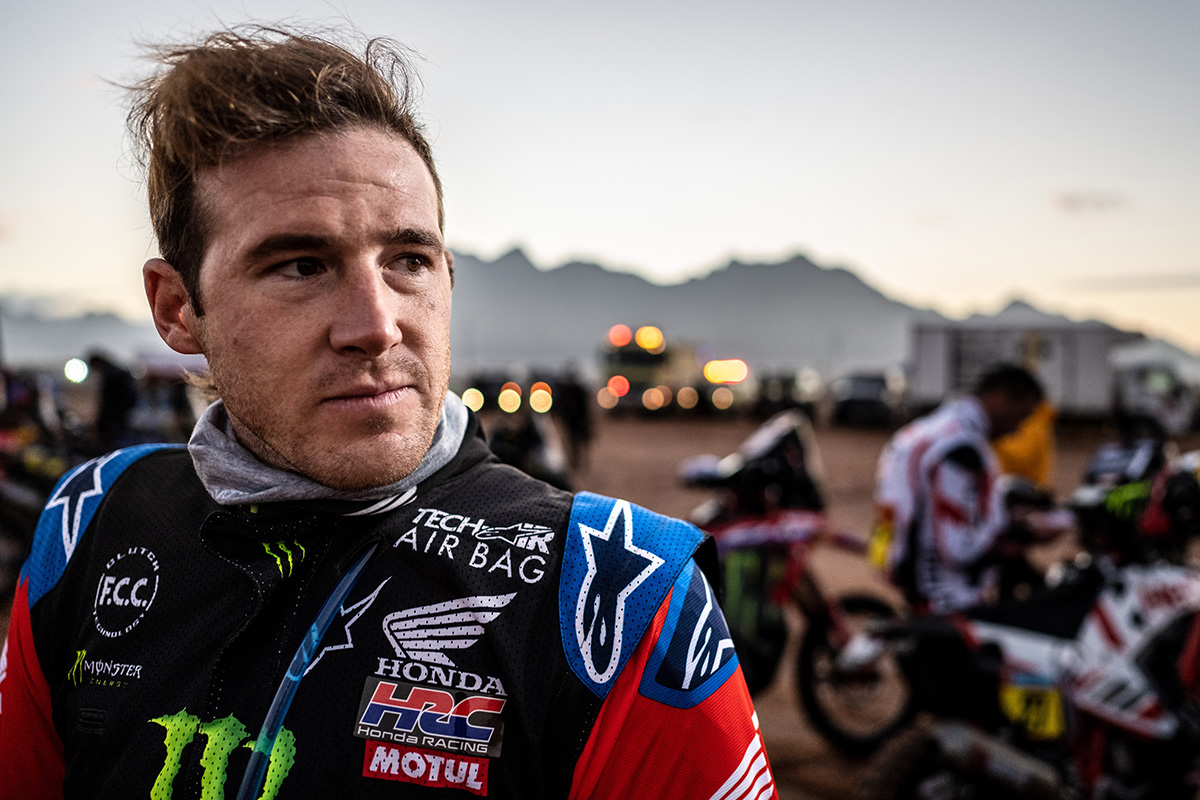 "The navigation was, honestly, really tricky before refuelling and I did a really good job – I was by myself. At about kilometre 257 we lost the way. We decided to go cap 10 average on a piste. Joan [Barreda], Toby [Price], Andrew [Short] and Kevin [Benevides] never saw a piste that went 10 average. I went back two or three times and never found it. We made big circles until we found it and then we rode together until the end."
Most of this long list of riders getting lost on day one will shrug it off at this early stage – what else can they do? But it is far from ideal to start the Dakar with 30, 40, 50 or an hour deficit on the lead rider.
FYI: Stage two tomorrow was due to be the first marathon leg with no overnight assistance for riders (no tyre changing etc) but the weather has put a dampner on that idea....
🚨 No Marathon Bivouac tomorrow 🚨

The Special Section however will be the same and the vehicles will spend the night at the Al Qaisumah bivouac with their assistance.
This is why the Marathon Stage wasn't possible in Al Artawiyah... 👀#Dakar2022 pic.twitter.com/rWGVl9lbuI

— DAKAR RALLY (@dakar) January 2, 2022
Find results in our separate story: 2022 Dakar Rally Results: Daniel Sanders and Pablo Quintanilla set the pace on stage 1
Photo Credit: RallyZone + Flavien Duhamel/Marcelo Maragni | Red Bull