2022 Dakar Rally Notebook: stage 9 – will it boil down to a sprint on the last stage?
Enduro21's daily Dakar Rally notebook finds asks is this all building towards a flat out sprint race on the final stage? Plus we've taken a look at a couple of the best videos from under the Dakar umbrella – the race boss helps bush fix a broken throttle and how does a wannabe adventure bike really compare to a 27k real rally bike.
Stage nine of the Dakar will not go down as a classic, despite Matthias Walkner moving to the ascendancy and giving KTM their first overall lead since stage three of the last time we were in Saudi. That's 18 stages without an orange bike at the top of the time sheets if you're counting. After two decades of Dakar dominance that is worth noting.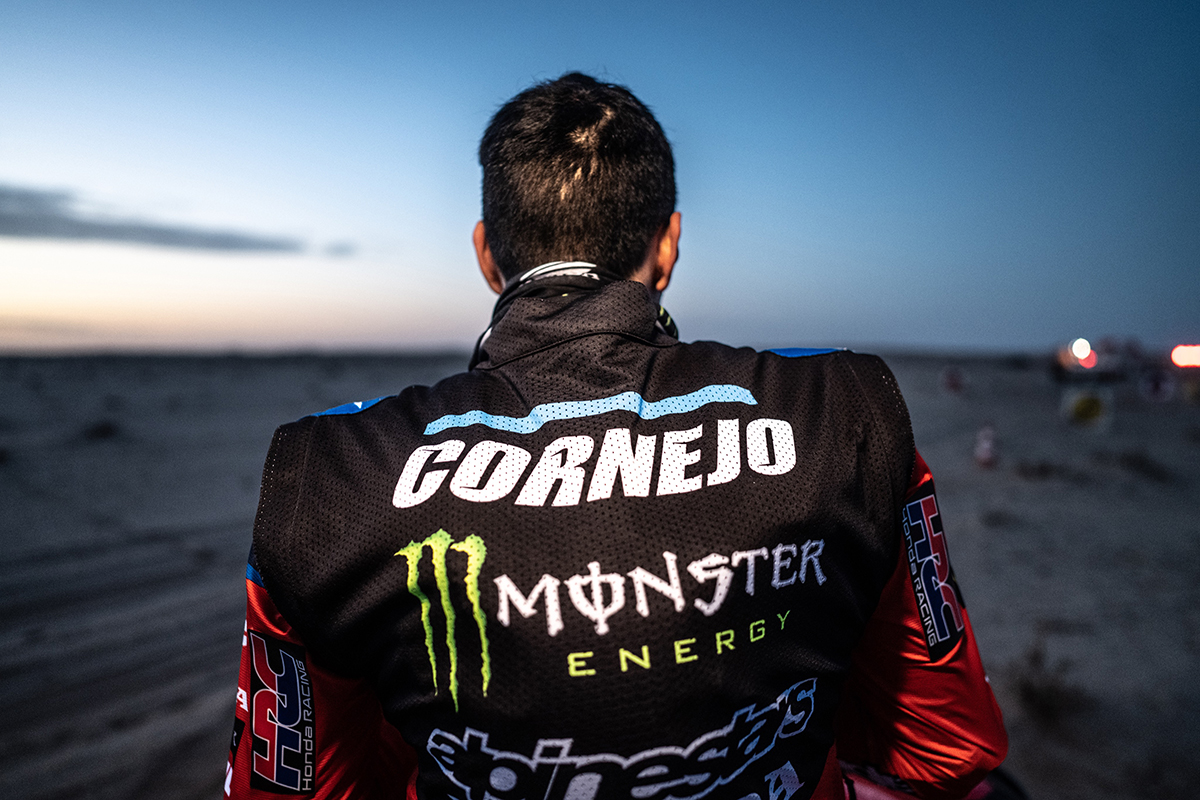 The stage itself was won by Jose Ignacio Cornejo on the Monster Energy Honda, his second of this Dakar but by no means an unexpected one. Behind his more prominent teammates like Ricky Brabec, Pablo Quintanilla and Joan Barreda, Nacho is a dark horse who led the 2021 Dakar for three days and is part of the strength in depth of this team.
How this race is shaping up...
We could labour this notebook on a few riders who've had a good day here or there but unless you're rooting for that person, no-one is listening. The real story is how the possible podium is shaping up.
Matthias Walkner, Sam Sunderland, Adrien Van Beveren and Pablo Quintanilla remain the standout riders as we've been saying for half the rally now. All within five minutes of each other, they look like the podium contenders.
Behind them by another five minutes is the 2021 Dakar champ, Kevin Benavides followed closely by Joan Barreda. These two are outside challengers, they've edged closer and it is true what so many of the top riders keep saying, "anything can happen".
But the pattern has been set for a number of days now and we don't see it changing unless someone in the top four messes up.
Will it boil down to a 164km sprint race?
What will change over the coming days is the rider on top of the leaderboard. That could change with each day as each takes a turn to pull back the minutes on whoever is in front on the stage. Today that was Walkner. Yesterday it was Sunderland. Tomorrow...
The next two stages are not the longest of the rally at 375km and 346km respectively, though they are long enough for a tired mind or body to buckle. But buckling doesn't look likely and as is usually the case, riders are getting fitter and mentally stronger as the rally goes on.
So if they keep trading a minute here and a minute there, this whole odyssey could come down to a shoot-out on Friday's final stage.
Stage 12 is 164km long, a relative sprint at this event and it would be some finish to the '22 Dakar if it came down to a flat out race on the last day.
2022 Dakar overall classification after stage 9: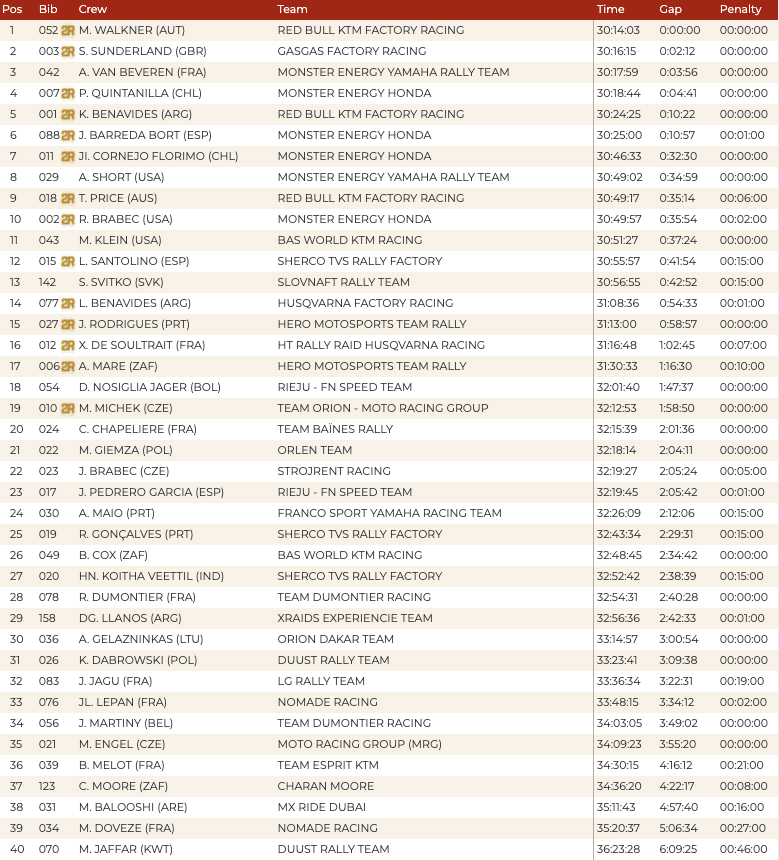 There's a video frenzy during Dakar as everyman and his dog clambers for airtime. Awawy form the social media clickbait there's some quality content and insight from under the broad Dakar umbrella. We've chosen just a few below we enjoyed.
Italian privateer Tiziano Interno and his story of getting run over by Nani Roma, how they fixed his bike with help from the race director David Castera (it's a good fix if you ever break your throttle!)
This nicely shot and edited gem from our friends at Brake Magazine compares a rally bike competing this year's Dakar with a Yamaha Tenere 700 adventure bike and asks the question: just how different are they?
Check in with the two former MotoGP riders Danilo Petrucci and Carlos Checa who talk about some of the differences in the Dakar compared to the old line of work.
Photo Credit: RallyZone + MCH Photo CZ