Dakar '23 daily notebook: way to go stage one, what a start to the rally
Enduro21's daily Dakar Rally notebook direct from the 2023 paddock in Saudi Arabia applauds the opening stage of the rally for all the drama it brought up – with obvious concessions for injured riders, among them Sam Sunderland and Bradley Cox.
How close was today? Like a sprint race it seems as the top 20 at least all sailed through the 368km course in just over three and a half hours. It was a mixed day for terrain with some green stuff, some sandy stufff and plenty of rocky tracks.
The day win came down to a super-close fight between Daniel Sanders, Pablo Quintanilla, Ricky Brabec (all within 10 seconds of each other), plus Joan Barreda, long-time virtual leader Mason Klein and Kevin Benavides. All were within one minute at the end (without speeding penalties, more on that below) and it shows these boys wanted it.
They wanted it so bad half of them got speeding penalties and according to some riders we spoke to tonight, that is an incredibly easy thing to do.
How easy is it to speed?
There are speed restricted areas within the daily routes. Neutralisation zones (where timing is equalled) plus they have an overall 160kph top speed limit. The problem comes when you enter a speed "zone" and it isn't clear when it started.
In theory the roadbook brings up a yellow box at that point on the track to show the zone at precise distance (kilometres). Normally then any speed limit is written on the right hand side column of the three.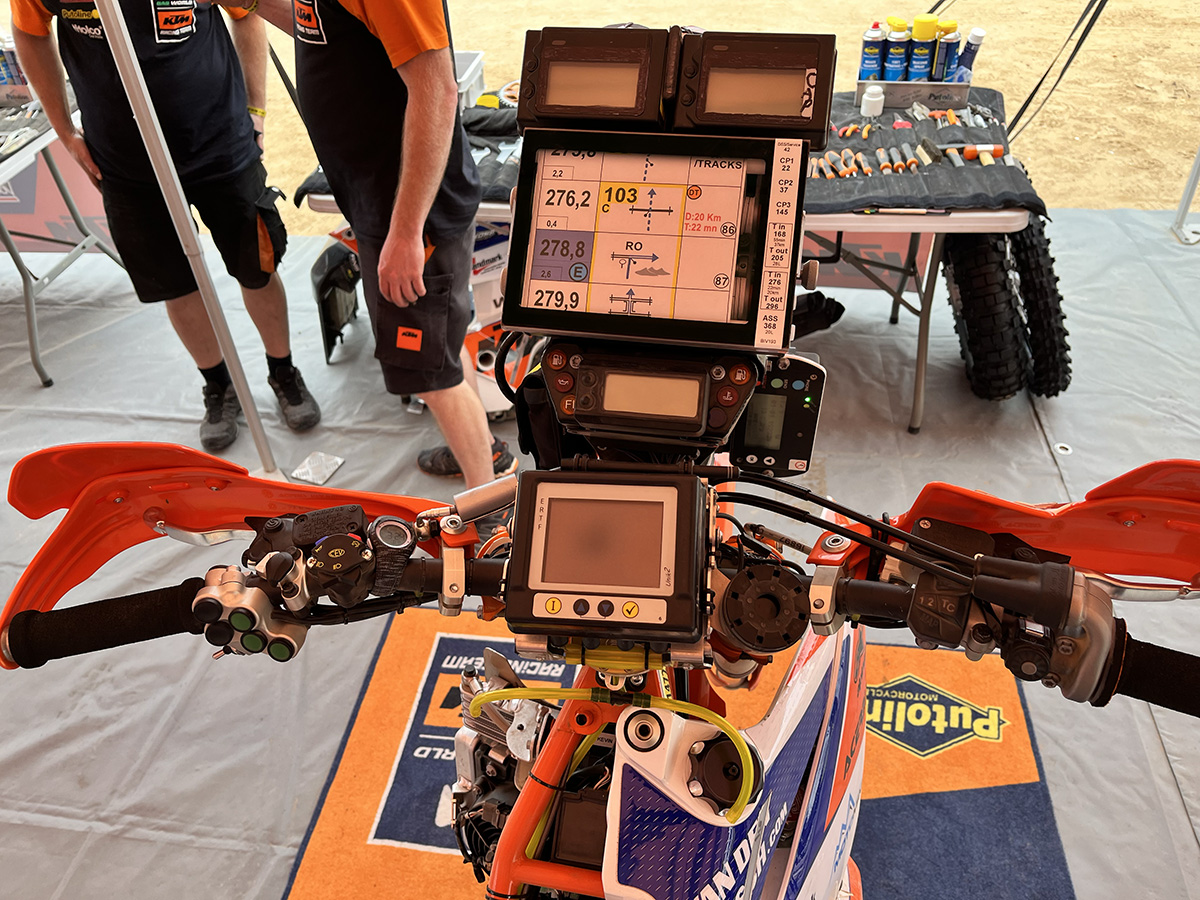 The speed limit is always visible on the rider's ERTF, a box just in front of the fuel tank filler caps shown in the image above. But, as Mason Klein told us, "when you're riding flat out you are so busy looking at your actual speed, the roadbook and the track ahead. Looking down there soon enough sometimes can't happen because you're too damn busy and don't' want to crash." The speedo is top left btw.
Check this picture of Ricky Brabec riding and see and how far under the chin bar the ERTF box is…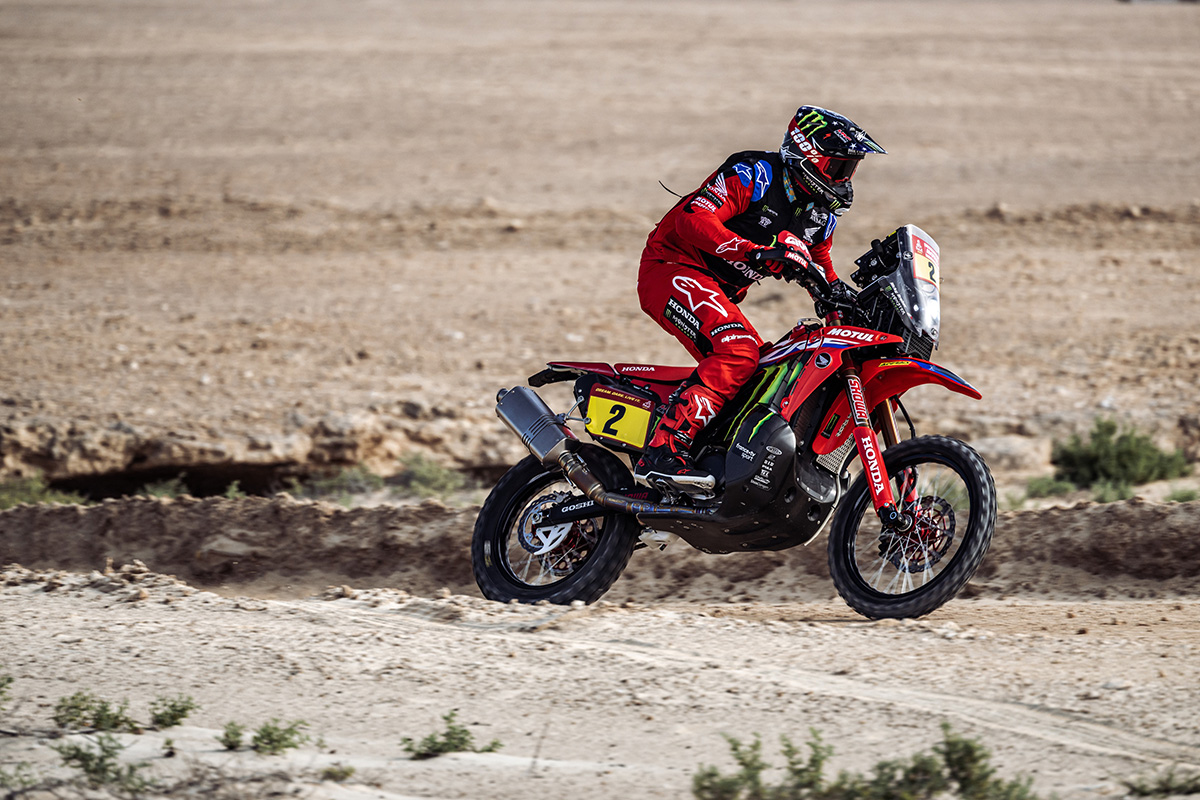 Today Mason didn't get a speeding penalty (although he initially thought he had done at the finish). But make no mistake, going over the speed limit is nothing like it is in your car on a road. The speed camera is invisible and you're riding flat out in the middle of a desert for starters.
Anyway, here's a cool video of Klein showing us how overtakes happen in the Dakar.
🏍 Mason Klein is the fastest rider today! Here he overtakes Sebastian Buhler. #Dakar2023 pic.twitter.com/hLq2HU6YOq

— DAKAR RALLY (@dakar) January 1, 2023
Is it too early to say anything about the potential winners? Of course it is and things will of course be different tomorrow as riders from Toby Price in fifth backwards go again and move to take advantage of their later start positions.
The need to make a strong start saw the top five all within the same minute in the end and that's awesome.
Tomorrow will see Brabec, Kevin Benavides and Mason Klein set off leading the stage and it looks like it could be a tricky one out front.
Equally there are a lot of hungry, maybe angry riders behind more than up for the challenge of ruining their chances. Tomorrow will be interesting.
The curse of the number one plate?
There are plenty of people round here (and in motorsport in general) who'll tell you the number one plate is a curse. Even when you're on a great bike, on a roll physically and confident, this damn sport is only ever a nanosecond away from biting your ass.
Sam Sunderland has said as much himself many times ahead of the 2023 Dakar. And so it was that the toughest off-road race on earth was biting back almost as soon as the GASGAS rider had begun to defend his title.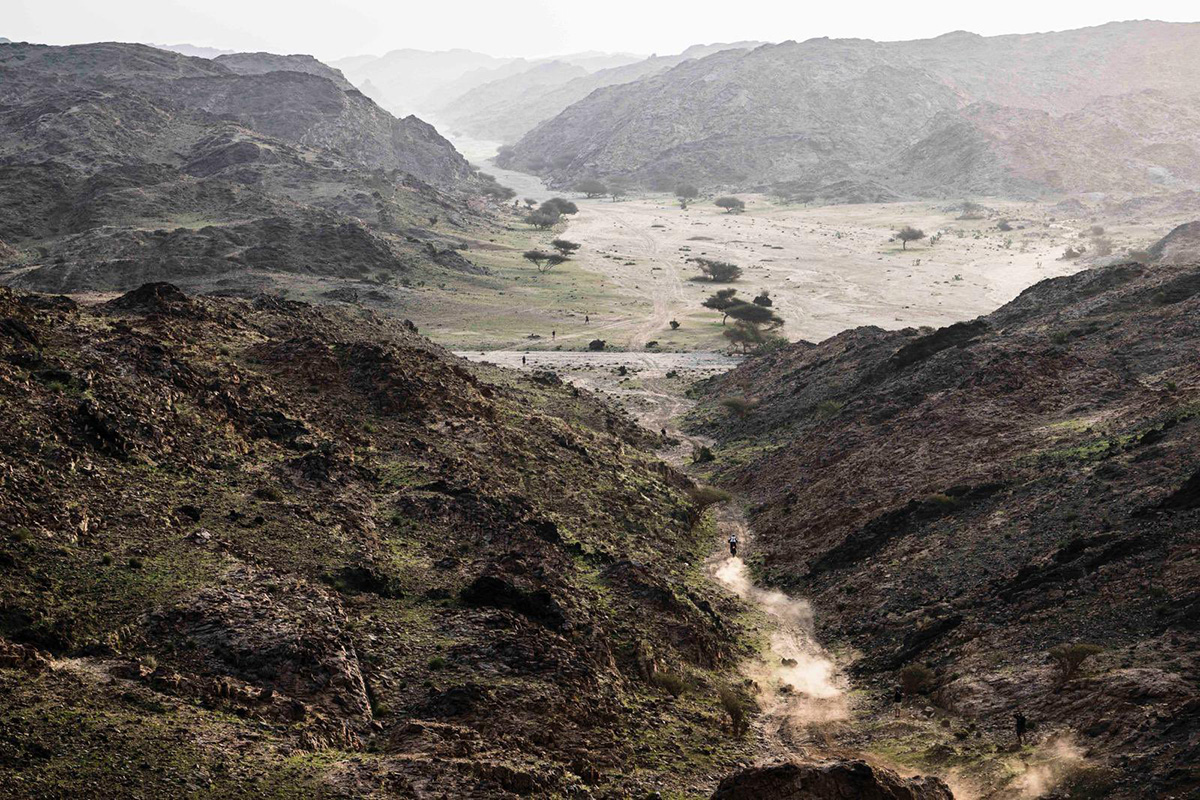 Just over 50 kilometers into the at times spectacular stage, Sunderland took a big one after hitting a rock which took him to hospital and out the race. Matthias Walkner was the next rider on the scene and raised the alarm then stuck with Sam until the medics arrived.
Sam will live to fight another day but it doesn't half prove the terrible ying and yang of racing for a guy who was on such a high last year.
Shout out also to Bradley Cox. The forever nearly man of the Rally 2 class last year behind Mason Klein, Cox was looking good for a top 20 today and the junior class win before he hit the deck also and badly injured his elbow.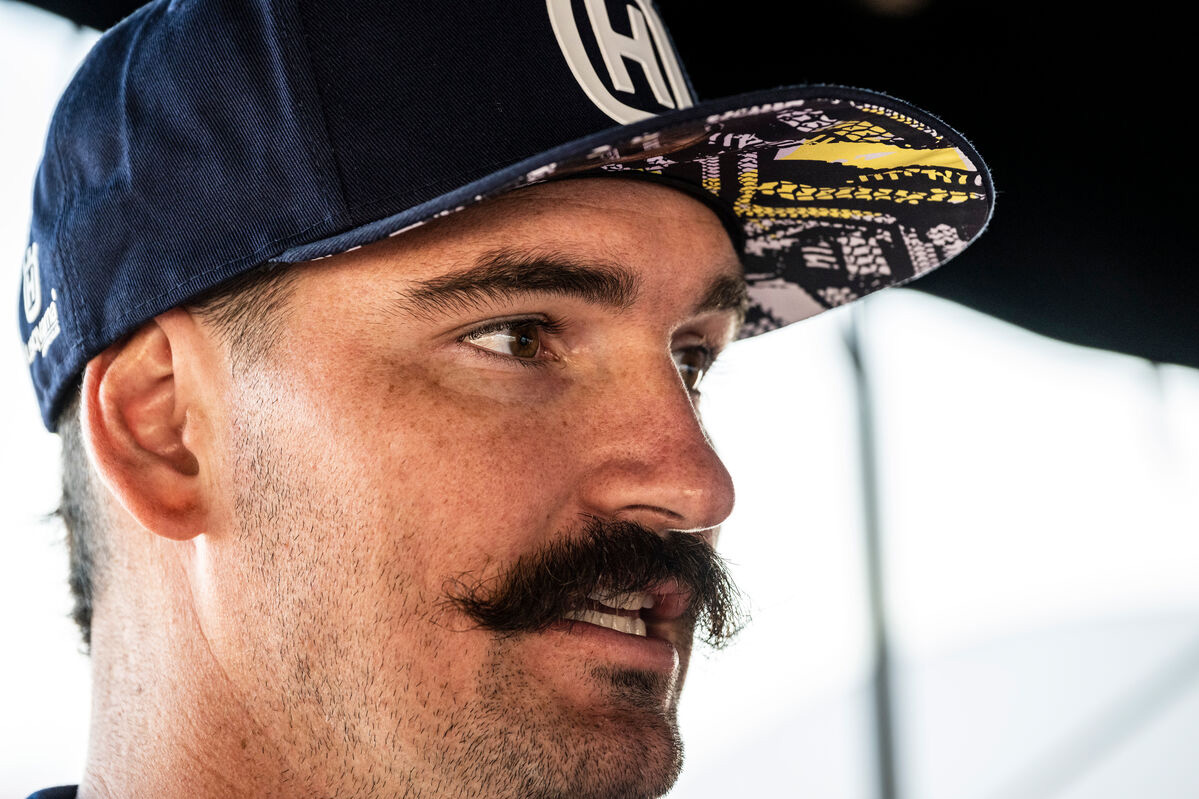 Howes he done that?
Last shout out of the day goes to Skyler Howes who was impressive when you look at his overall finishing time versus the start position.
Skyler started early in fourth place on his Husqvarna and rode the whole day out front, not far behind Honda's Nacho Cornejo who opened the piste all day but for a few kilometres first thing.
Laying down the tracks for everyone else to follow is the hardest part for the top guys (hence the rule we mentioned above affecting tomorrow) and Nacho did well to finish 10th and only lose six minutes to the overall stage winner Ricky Brabec.
But second on the ground and only losing three minutes shows Howes was hauling ass today, easily one of the fastest riders if you bring the fresh piste he was looking at compared to all those behind who had fast lines to follow all day.
Sure, he had at least one track to follow from Nacho and Skyler acknowledged that it helped but riders don't always hit the same spots in the desert and they have to ride wary of that rider potentially making navigation mistakes.
You can't accurately measure this thing we're waffling on about but if there was a ride of the day award, he probably deserves to be on the short list. Obvs he also deserves moustache of the rally award hands down.
Photo Credit: Rally Zone + A.S.O. Charley Lopez/F.Gooden DPPI + Enduro21