2023 Dakar Rally: Stage 1 results – Ricky Brabec wins dramatic opening day
Results from stage one of the 2023 Dakar Rally where Honda's Ricky Brabec took the win from Kevin Benavides and Mason Klein on a day where the defending champion Sam Sunderland crashed out.
Dakar '23 Stage 1 in a nutshell:
Nacho Cornejo needed the applause of his Honda team at just before 6am this morning as he exited their pit area. His prologue mistake yesterday meant he was second out the bivouac and rapidly laying down the tracks for others to follow as the special got underway.
Skyler Howes was also early, fourth away, and also quickly into second on the ground but while Skyler's P8 result might not look electric, in virtually similar circumstances to Cornejo, he was hauling to finish an impressive 03.17 behind the winner.
Starting later because of their faster qualifying times, the pack of big guns were 10 or more sets of wheel tracks behind and it was a rapid first day on the pegs.
Sam Sunderland looked determined to lay down a marker with the early lead but the curse of the Dakar number one plate struck again and it all came to a crashing end at kilometre 52. The GASGAS rider was airlifted out the stage, "conscious and fully mobile" but with a shoulder injury. See our separate story on that: Sam Sunderland crashes out of the Dakar Rally
Back at the sharp end, the Honda boys were storming the ranks with Ricky Brabec leading Joan Barreda and Pablo Quintanilla and all three setting fast split times close to the virtual rally lead.
American Mason Klein it was though who was leading by example for the majority of the 368km special. The BAS KTM rider edged up the order and by waypoint four was leading by almost two minutes from Daniel Sanders.
At this point it looked like the time bonuses were acting like carrots as riders looked to gain an early advantage in this Dakar but as the stage progressed, Sanders spearheaded a charge to close Klein's gap.
Kevin Benavides, Brabec, Quintanilla and Barreda were the other guys marauding Mason and in the end it was Sanders who clocked the fastest time of 3:30.00 dead but...
...one of the troubles with writing headlines about the Dakar is the results can flip on their heads hours later. So, after three riders took penalties for speeding (Daniel Sanders and Pablo Quintanilla - 2 mins and Joan Barreda - 1 min) the winner of the day was in fact Ricky Brabec.
The shift in results meant Kevin Benavides was promoted up to second and Mason Klein in third initially – both on equal finishing times 0.44 behind Brabec but after further reshuffling of time bonuese and penalties Mason dropped to sixth. Why? We're not honestly sure.
Son of the off-road legend Alfie Cox, Bradley, set the pace in the Rally 2 class and was battling for top 15 overall before taking the same route to hospital as Sunderland – for his part with a suspected broken elbow.
Michael Docherty took over that mantle finishing first in class, 17th overall but he too was docked time penalties (a massive 15 minutes), demoting him to 29th. In turn that meant Paolo Lucci stepped up for the win, 1.10 ahead of Camille Chapelliere second with Dani LLanos a further 1:30 behind.
Mirjam Pol finished 1:14.23 behind the overall leader to take the Women's class stage victory. The Dutchwoman lies 73rd overall with Sandra Gomez second in class and 91st.
Joan Pedrero Garcia was the fastest of the Originals class but he is uneligible for awards in class (he's riding as an ambassador and former RallyGP riders aren't allowed) which means Charan Moore took the DIY class victory on day one.
Stage 1 results, Rally GP class: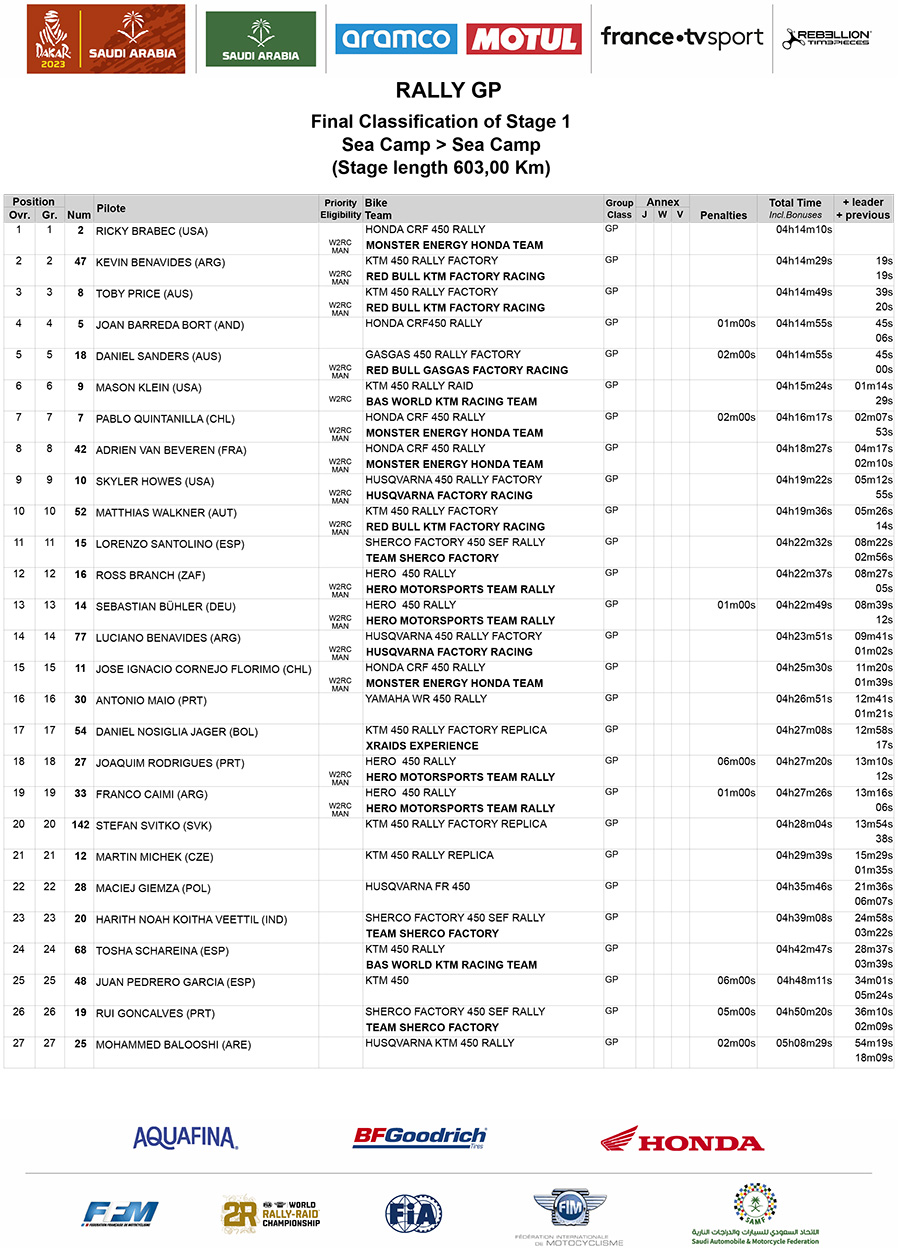 Stage 1 results, Rally 2 class (everyone else):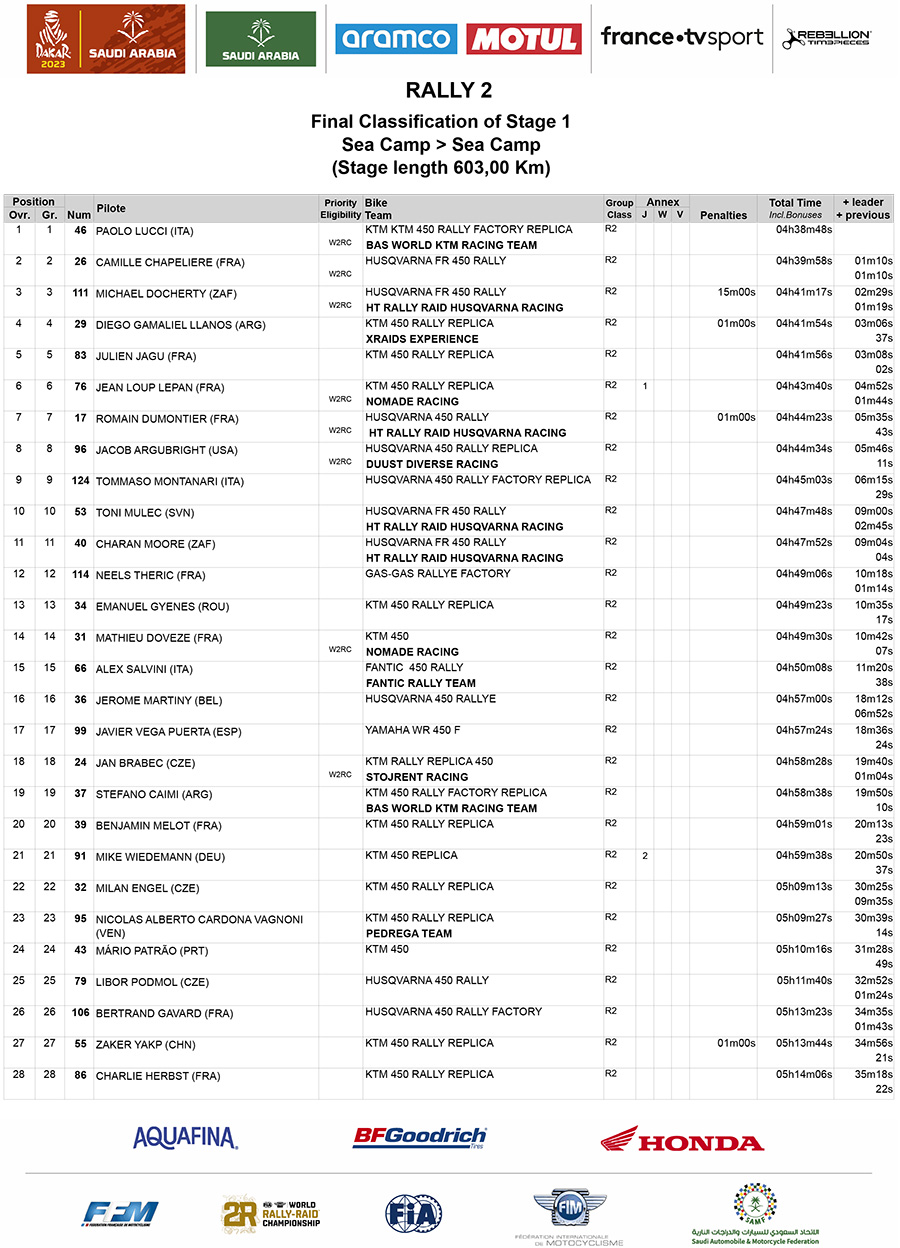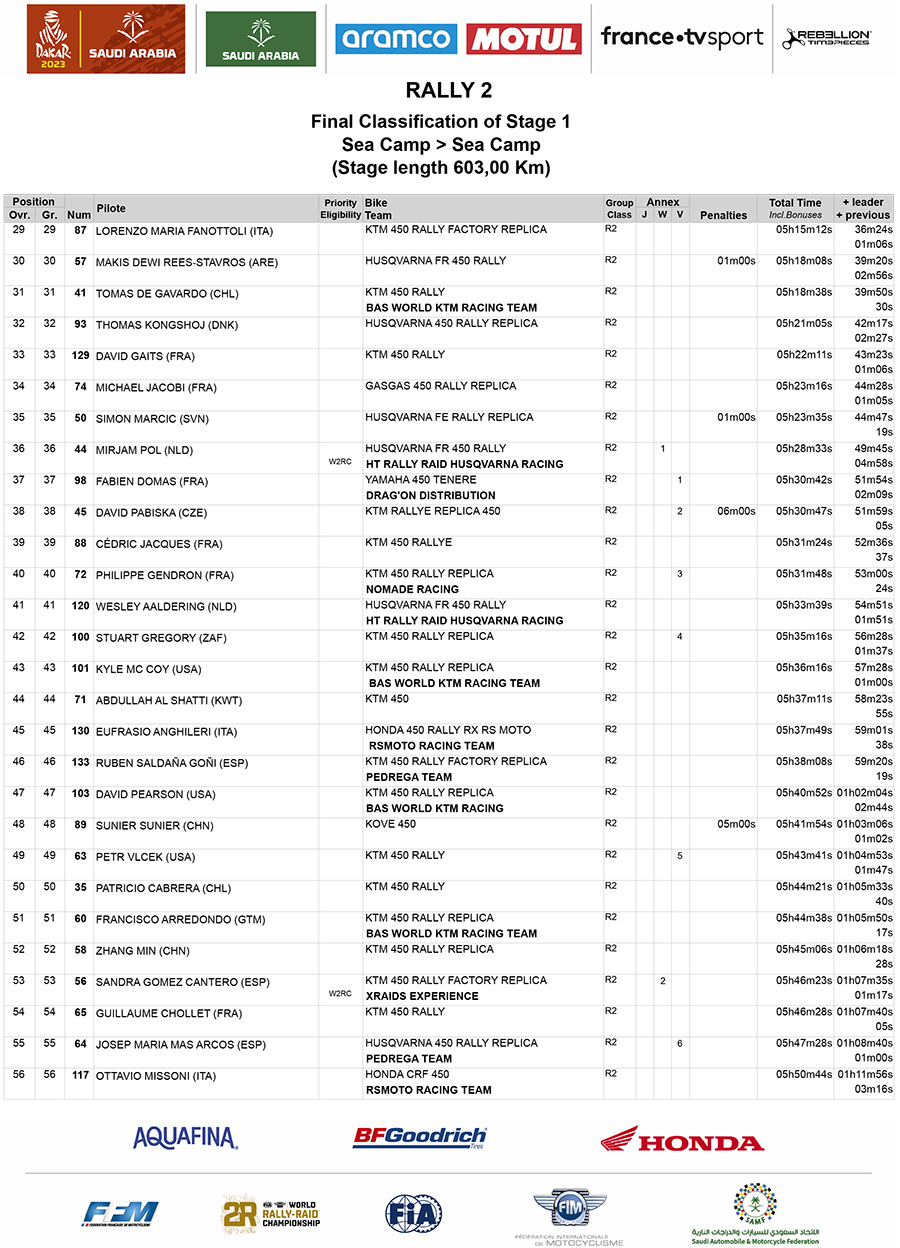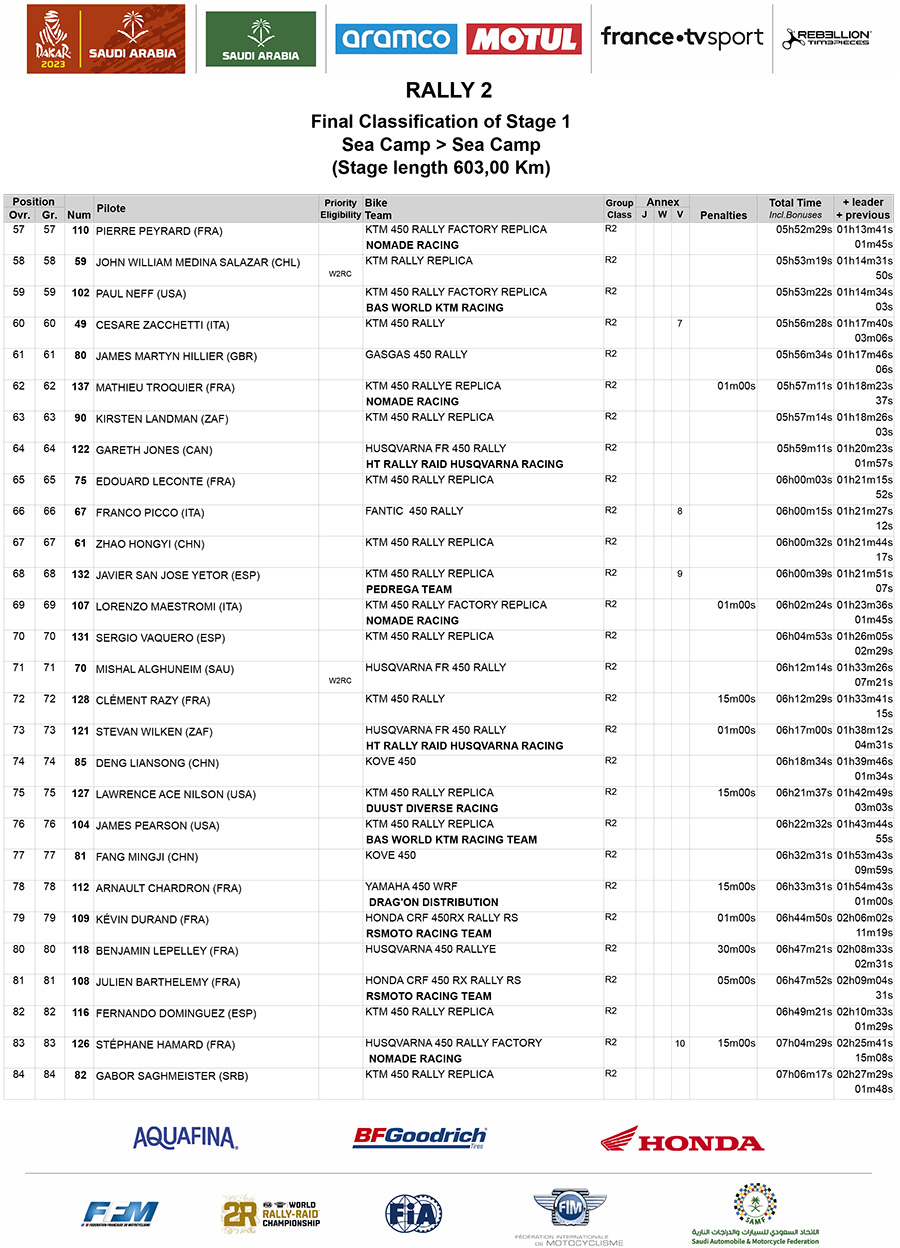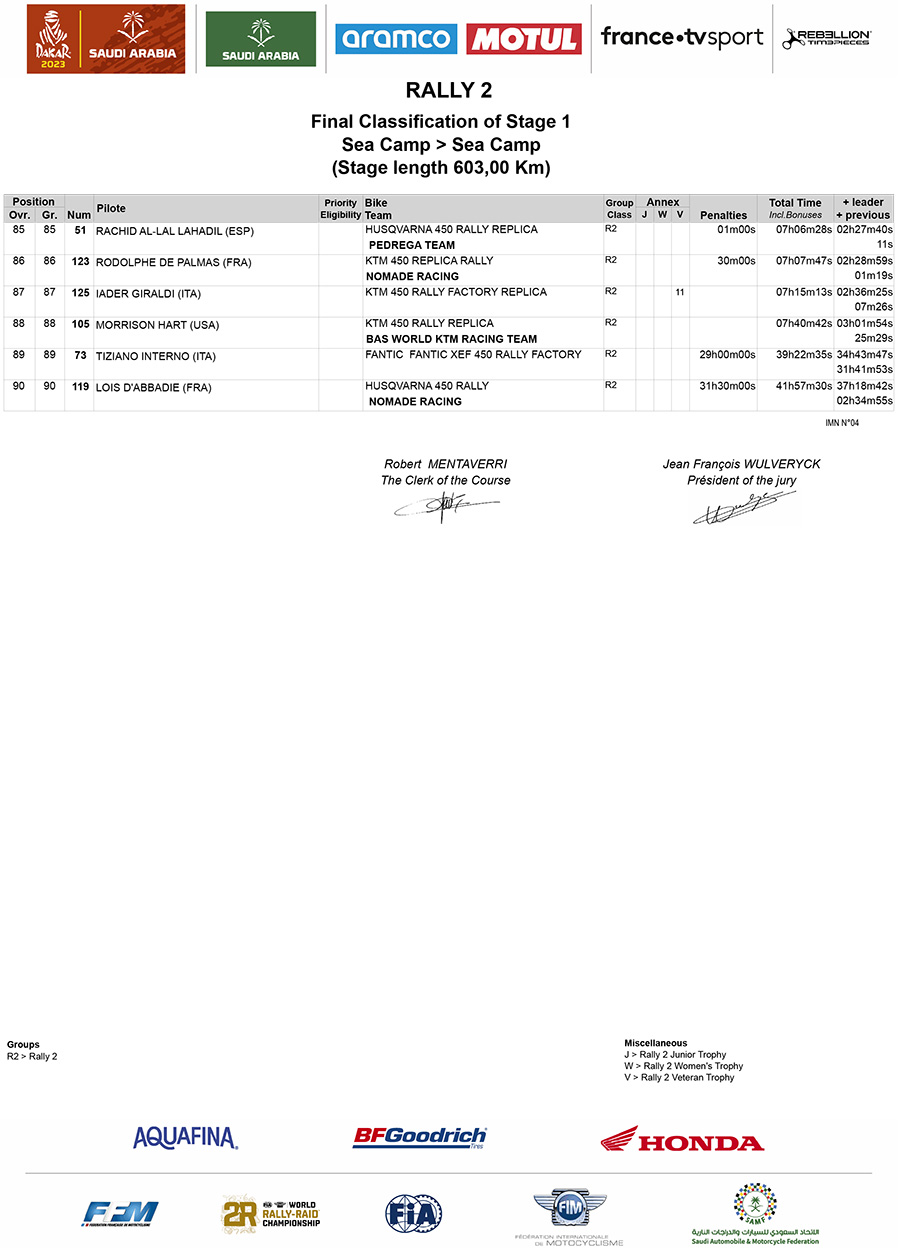 Photo Credit: Rally Zone + A.S.O. Charly Lopez