2023 Dakar Rally: stage 13 results – Kevin Benavides steals the win, Price leads by just 12 seconds
2023 Dakar Rally stage 13 results dish up the drama as Kevin Benavides steals Michael Docherty's maiden stage win after getting time back for helping injured Matthias Walkner – Toby Price remains the rally leader with one day to go.
Dakar '23 stage 13 in a nutshell:
The penultimate stage of the 2023 Dakar Rally promised a showdown but delivered a dramatic plot twist. A former winner crashes, his teammate stops to help, then goes onto win the stage and nearly the rally lead, robbing a privateer of his maiden win, and not before the winner's brother thought he'd won but then gets docked a speeding penalty.
Take a breath at the end of this penultimate stage of the Dakar which started at dawn just outside the Shaybah bivouac and served a 154 kilometre largely dune-filled stage. Riders are still on their mammoth 500km liaison to the final bivouac in Al Hafof as we write.
There's nothing unlucky about the number 13 for Toby Price. The Australian started this penultimate stage with a slender 28s lead over Skyler Howes and quickly found himself out front having passed both Daniel Sanders and yesterday's stage winner Nacho Cornejo.
Though leading is never ideal, Price says he told himself, "If I want to win this race, I need to be at the front." With the hammer down and despite a crash and a navigation error, Price crossed the line first and benefitted from 1.42 of time bonuses in return to finish fifth, 2.30 down on the fastest time.
Skyler Howes was just one of many riders having a minor get-off today too. That plus a navigation error and the fact Price collected bonus points cost the Husqvarna rider an additional minute overall (despite him pulling time on the stage), swinging the pendulum just a little further away from the former race leader.
Starting fourth on the road today, Matthias Walkner crashed out at km55 and it took some time for the medics to see him right. His KTM teammate Kevin Benavides stopped to help but Walkner added himself to the list of top riders airlifted out of the '23 Dakar suffering from reported back pains.
With his teammate attended to, Benavides switched back into race-mode and began again from 61st position. With a highway marked down in the sand by so many riders in front, Kevin could concentrate on racing more than navigating for almost 100km. The act of kindness could be rewarded with the win here.
The result, after K Ben got around 23m of time back for assisting his teammate, meant the Argentine robbed Docherty his maiden stage win by 27s, and ended just 12s shy Price overall.
Crucially for the overall classification, Price has just the slenderest of leads from K Ben with Howes third overall at 1m28s back.
Tomorrow is the final stage of the rally and though it is predicted to be relatively easy one with a lot of high-speed beach riding. Riders start in reverse classification order, so Toby Price starts last chasing his nearest rivals down in a beach race. Bring it on.
Close but no cigar for Michael Docherty who will likely have to wait another 12 months to try to claim a maiden stage win. Heh had one had on the stage winner's medal but Benavides nicked it!
Adrien Van Beveren was best-placed HRC rider today, fourth overall after the reshuffling. At 15+ minutes back he's out of contention for a podium but remains in a fight with his teammate Pablo Quintanilla for fourth.
It has been a long road back to the top of the overall time sheets for third-placed rider today, Luciano Benavides. After a bad start the younger brother of the race leader is homing in on a top five overall.
It was a bad day for Mason Klein. Making his RallyGP debut, the 2022 rookie winner and Rally 2 World Champion had a lot of expectation on his shoulders this Dakar but a couple of big crashes earlierin the rally have left him riding in pain and today, stage 13, the BAS KTM rider had to throw in the towel. See you next year Mason.
Sixth on the stage, Romain Dumontier has one hand on the Rally 2 class win. The Frenchman was second in class to Docherty but pulled a further 40s on his nearest rival, Paulo Lucci, in this very close contest.
The hard men (and one woman) class, the Original by Motul or Malle Moto as once was, saw Charan Moore regain the top spot after wiping more than 20 minutes out of Javi Vega today. Still worried about his engine, Moore will be crossing all fingers and toes on tomorrow's 270km (136km of special) final stage.
Stage 13 provisional results: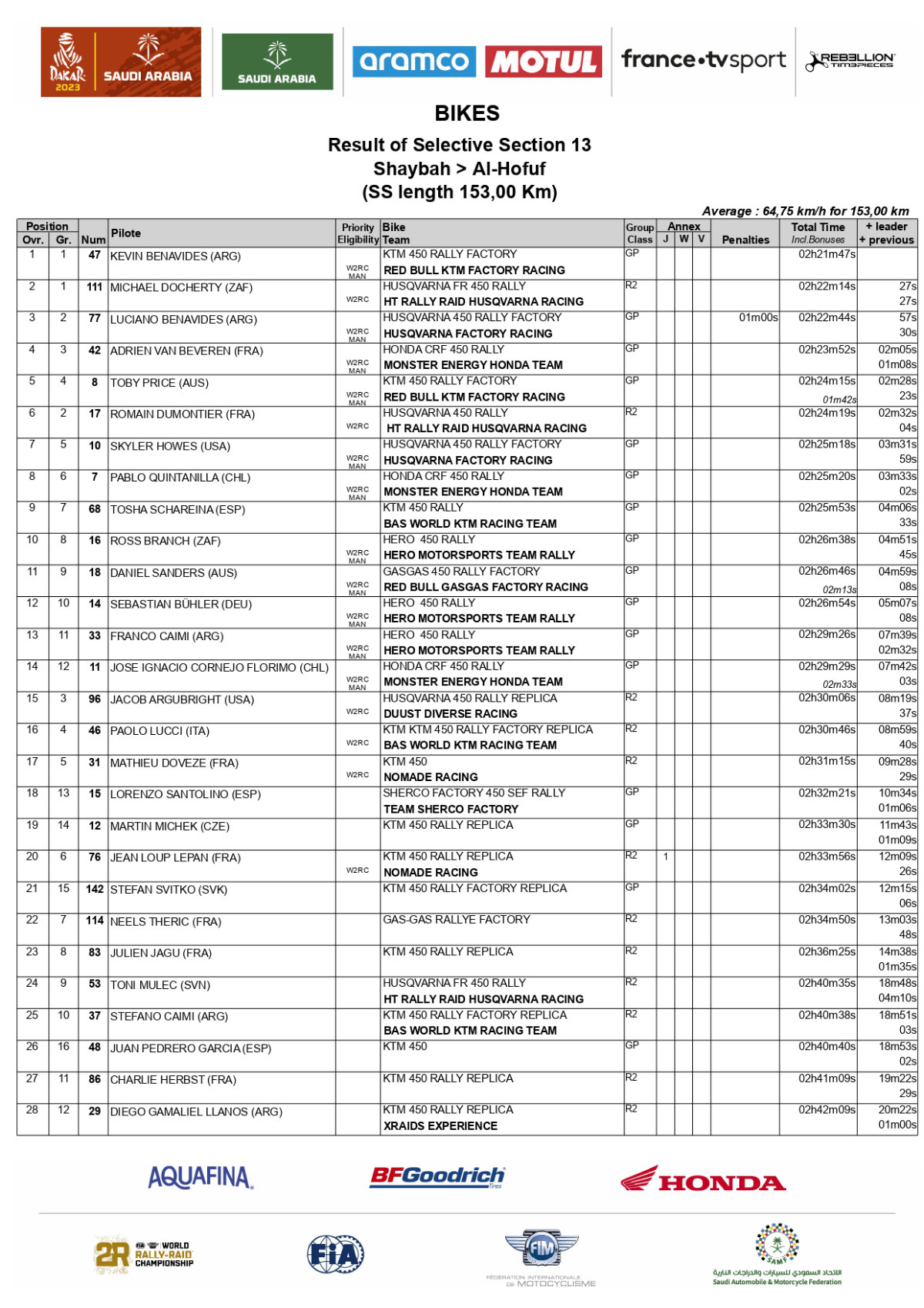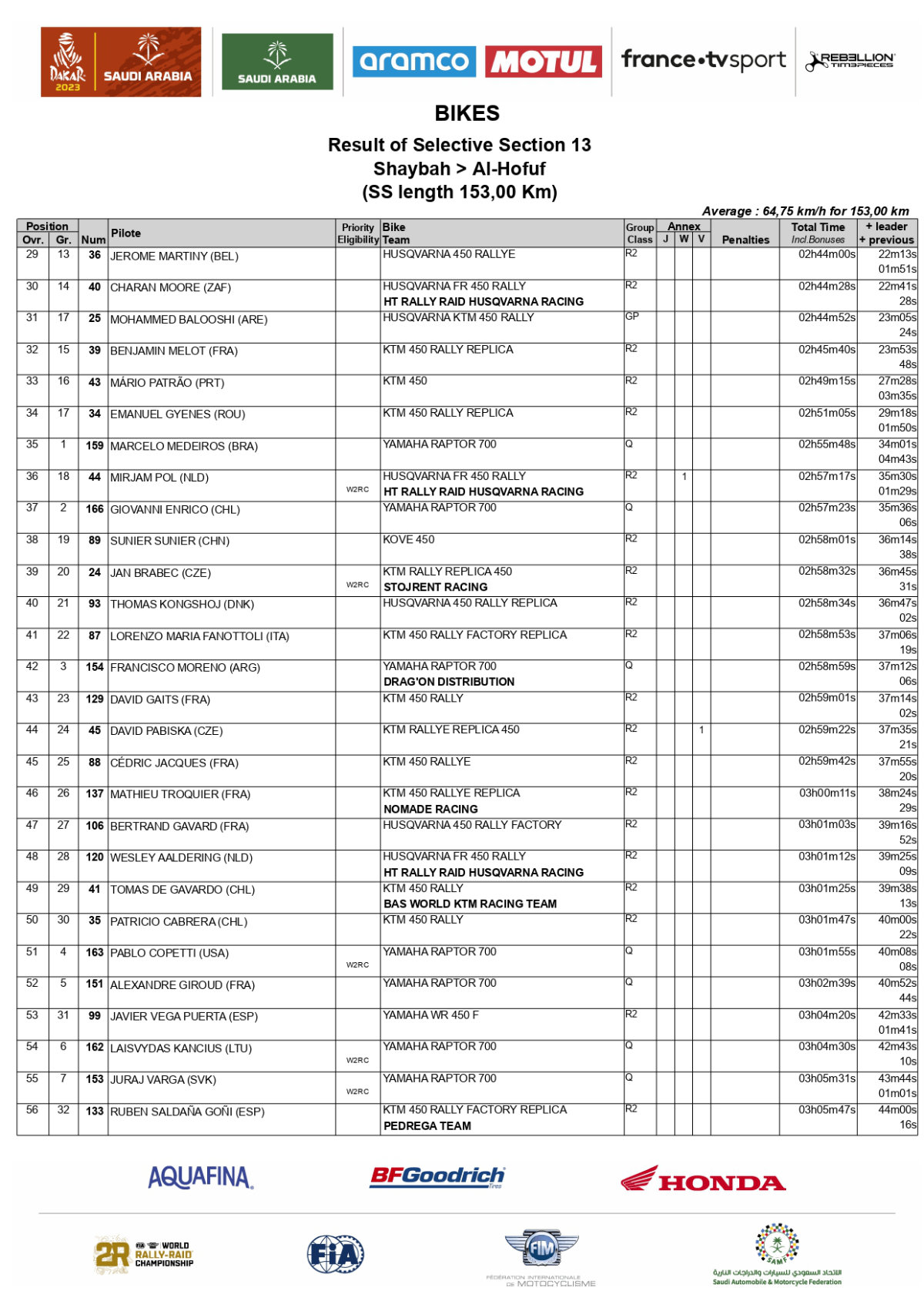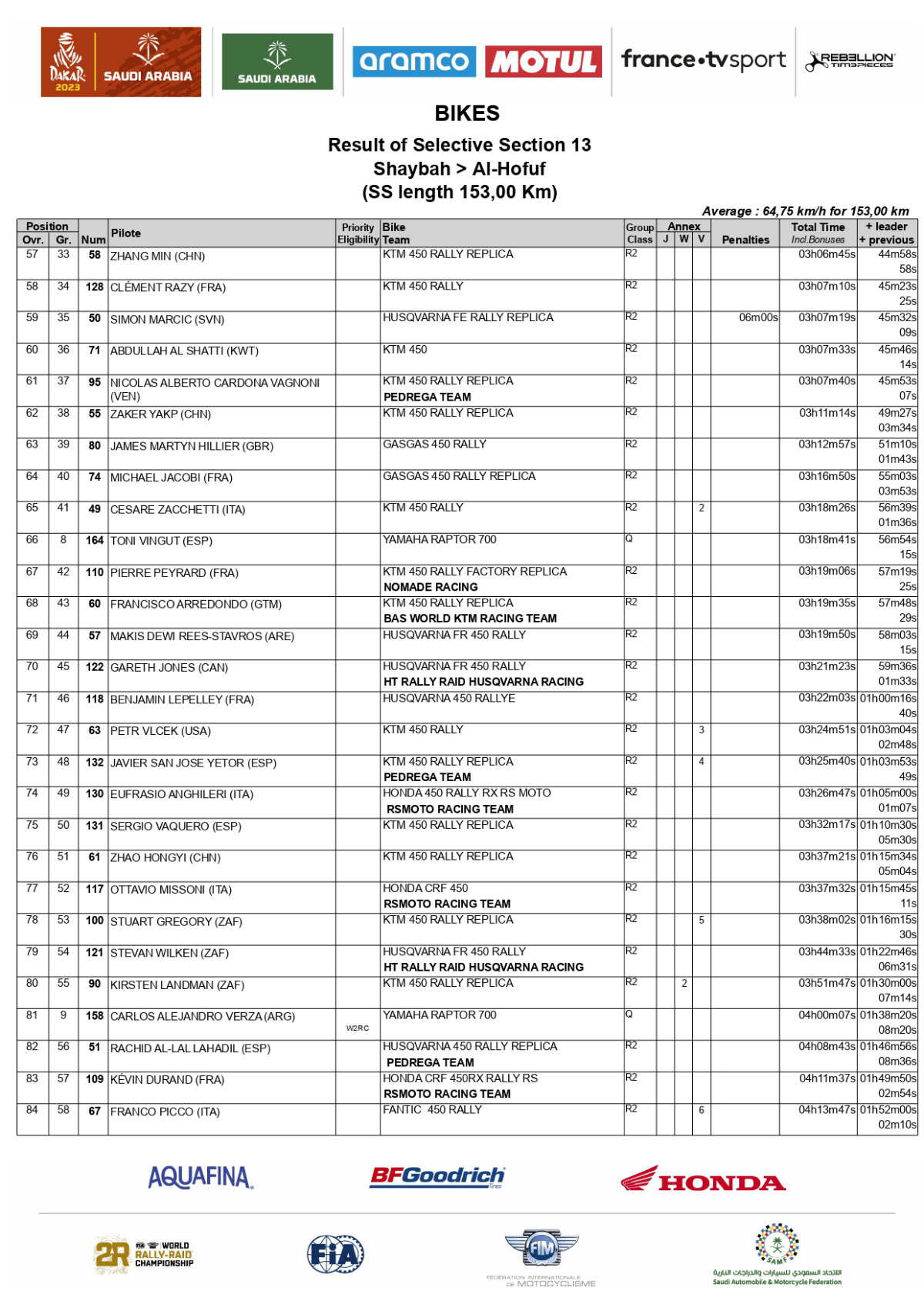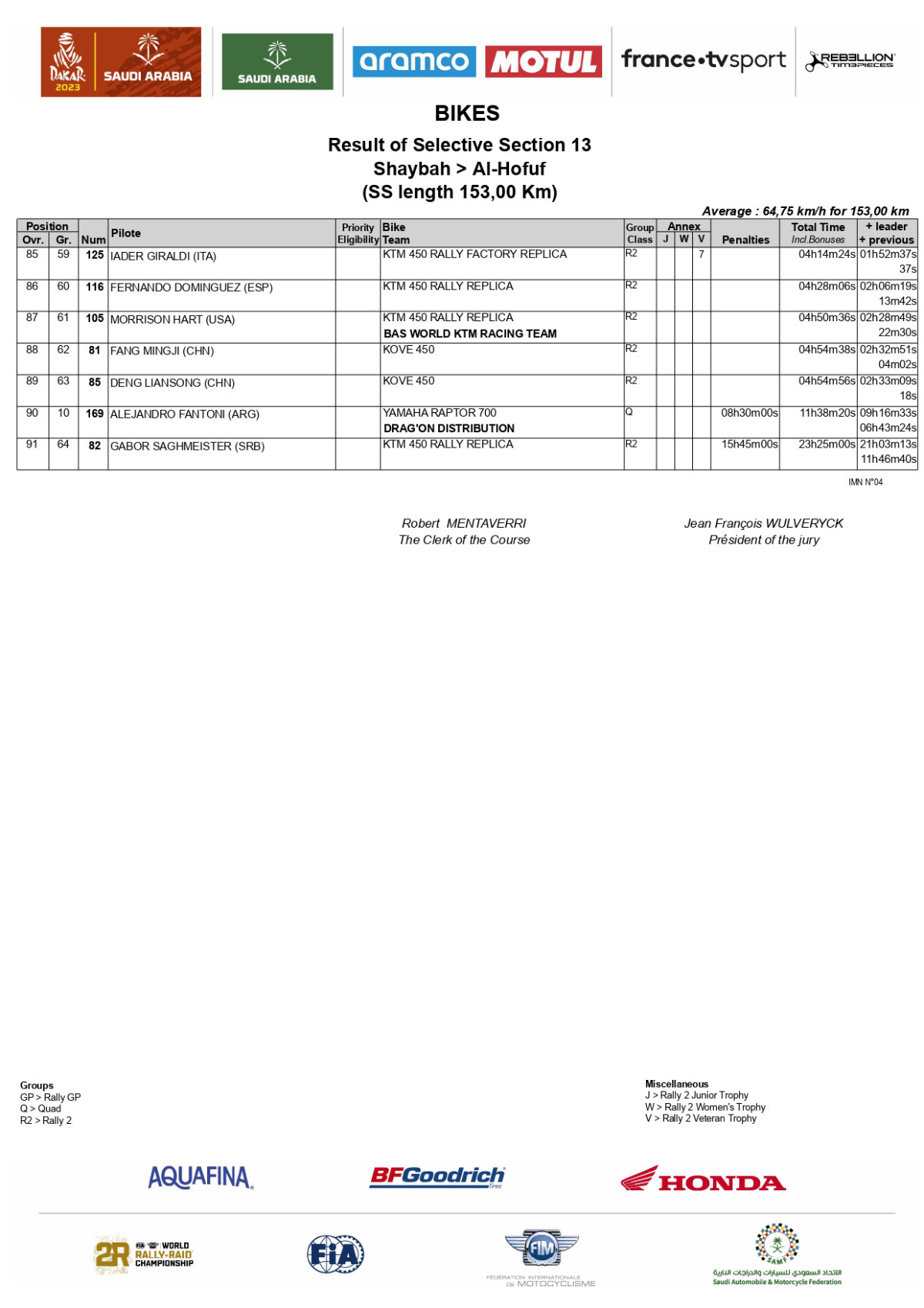 Overall classification after stage 13 – Rally GP: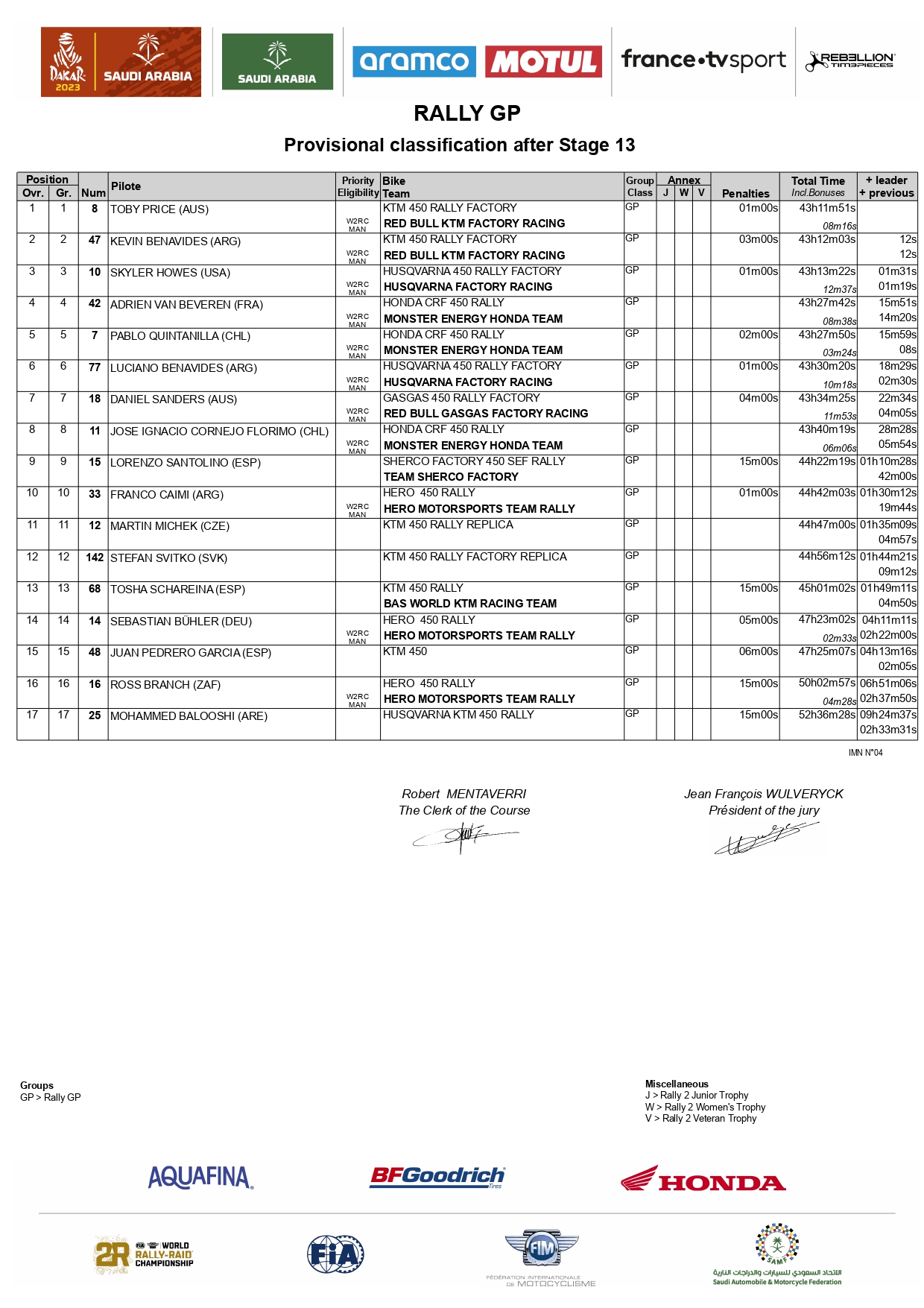 Overall classification after stage 13 – Rally 2: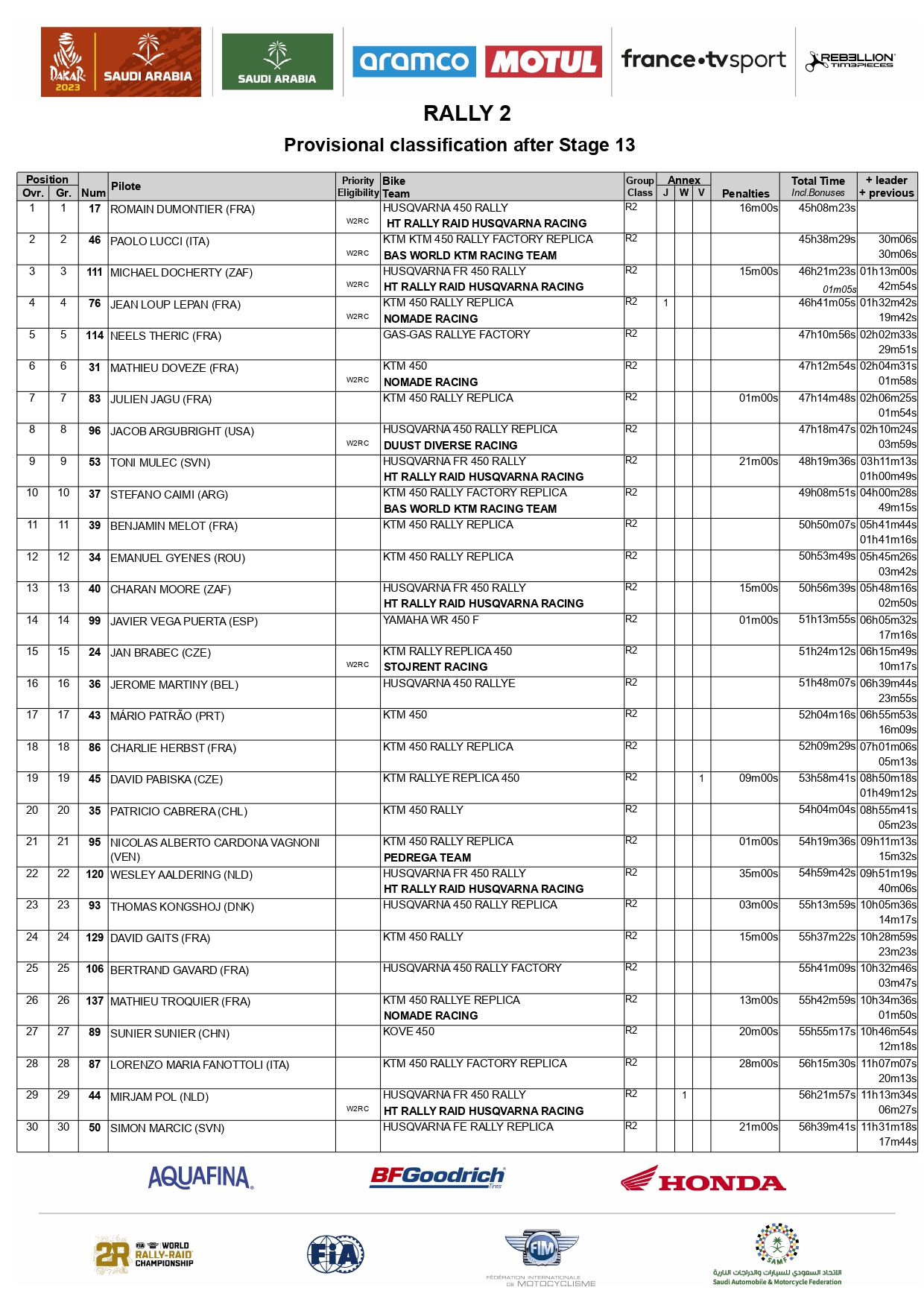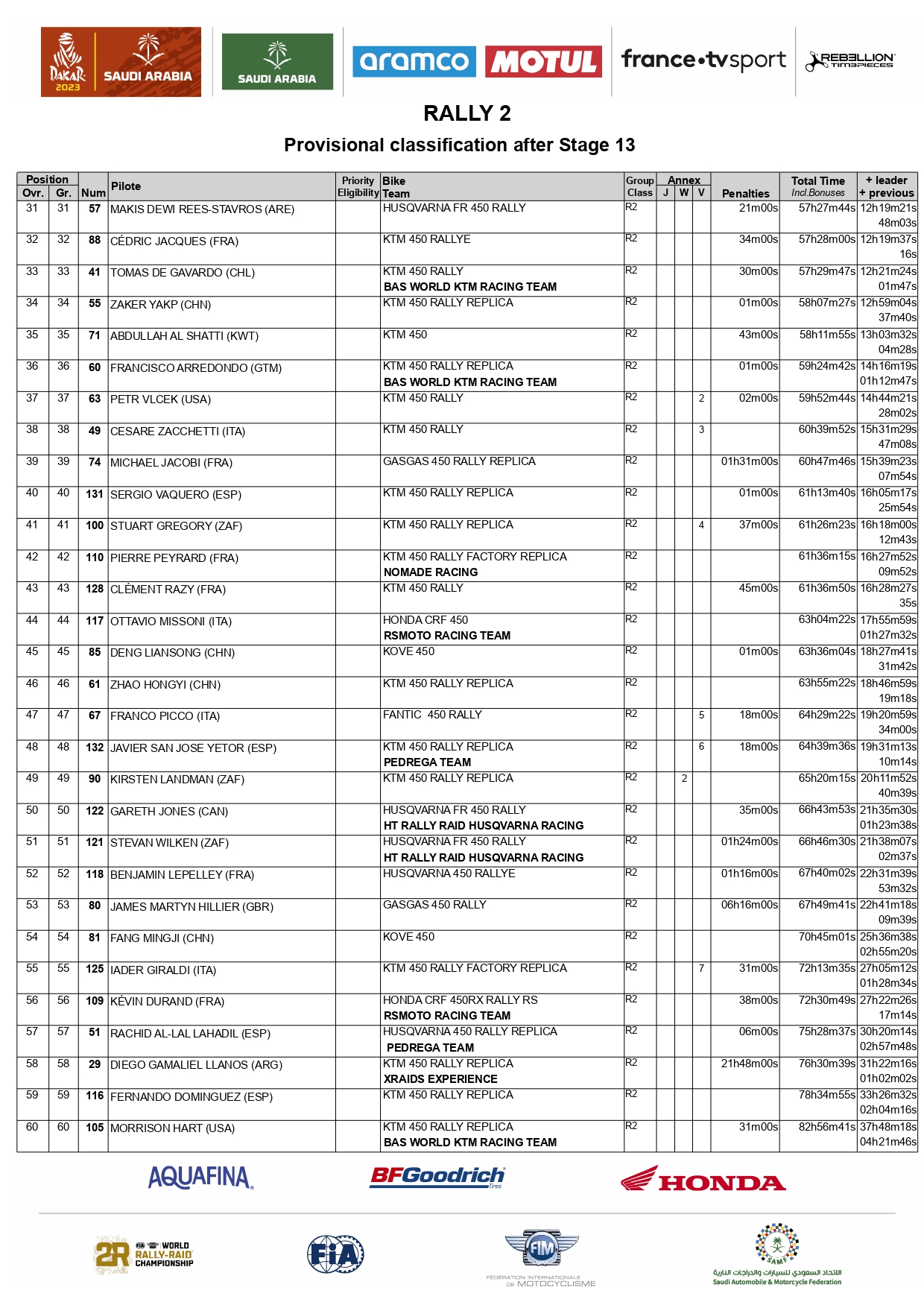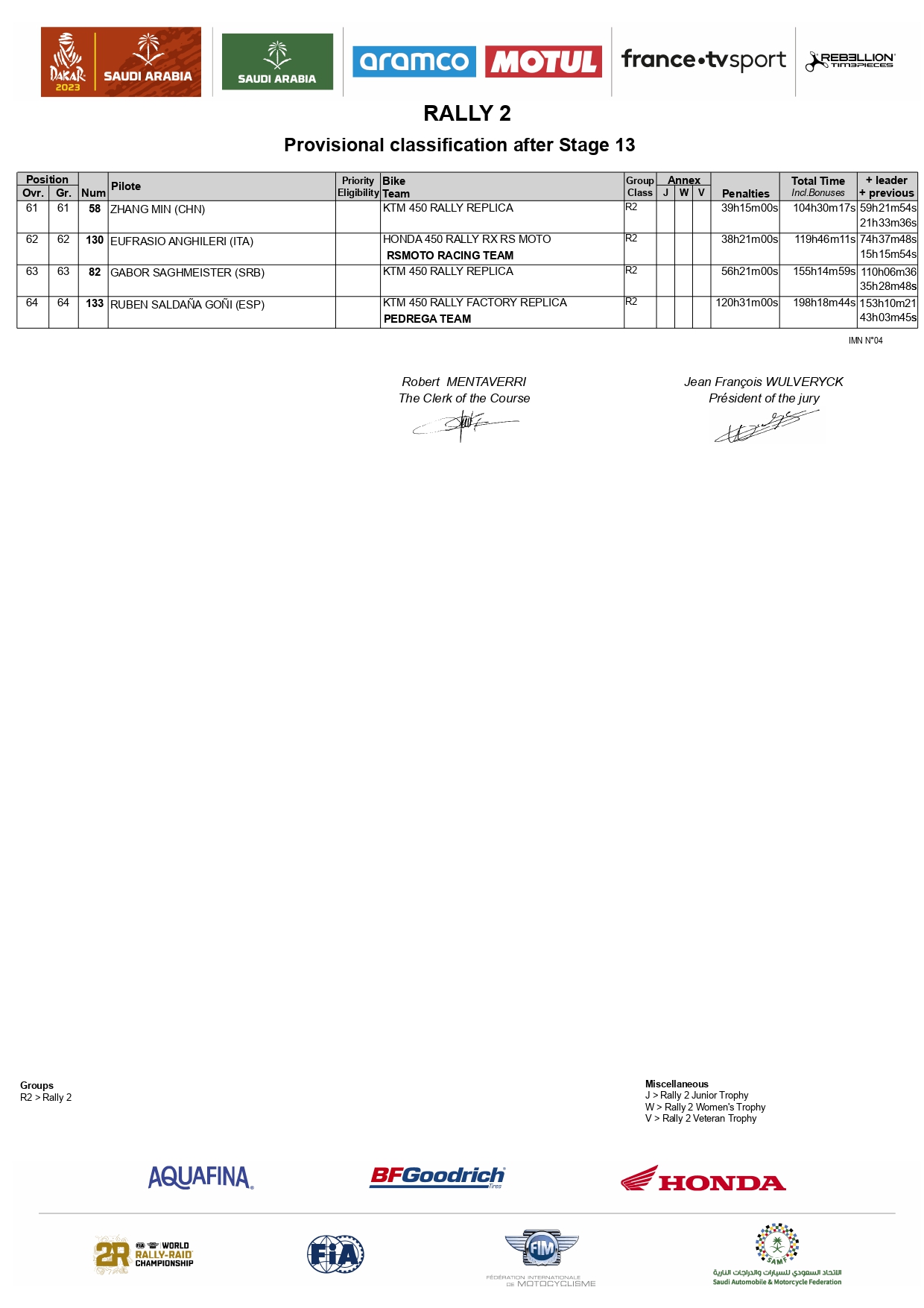 Photo Credit: Rally Zone + A.S.O. | F Gooden