Dakar '23 daily notebook: Is tomorrow's result a done deal?
Enduro21's daily Dakar notebook asks is it a done deal? Surely no-one can say Toby Price has already won the 2023 Dakar Rally?
After 43 hours, 11 minutes and 51 seconds of racing across approaching 4000 kilometres, Toby Price leads the Dakar by just 12 seconds from Kevin Benavides, and Skyler Howes is just 1m31s further back. The battle for fourth between Adrien Van Beveren and Pablo Quintanilla has come down to eight seconds. That's all a bit nuts isn't it?
Tomorrow, the final stage, riders start in reverse order of classification meaning Toby Price will fire off the line last of all in the bike class and it means every rider is actually facing their rivals' rear fender in the distance.
The start order will be interesting. Last place to 41st go first in waves of five at a time then 40th to 21st one per minute, 20th to 11th one per two minutes and finally the top 10 will start one every three minutes.
Stage 14 promises 136km of timed special which the organisers say will run along the shores of the Arabian Gulf up to Dammam and "with little or no room for big changes in the standings"…
Is tomorrow's showdown a done deal?
Even though this event is organised by the same people who run the Tour de France, don't go thinking tomorrow will be the same procession those lycra-clad pedallers bow to each year as they free-wheel into Paris. Even if Skyler Howes says:"Where we are today will more or less determine the outcome of the race."
"Whatever position it puts us in [today's result] is the end of the race." Price adds because in theory these are the same bikes on a stage which isn't too challenging and should therefore maintain the same results as today, stage 13.
However, this Dakar is going down to the wire because the leading two riders are only 12 seconds apart – a fluffed start or a dropped front wheel in the sand somewhere along the way could be all it takes.
The bikes are limited to 160kph so in case you were thinking, 'gear it long and go full gas!' That's not an option.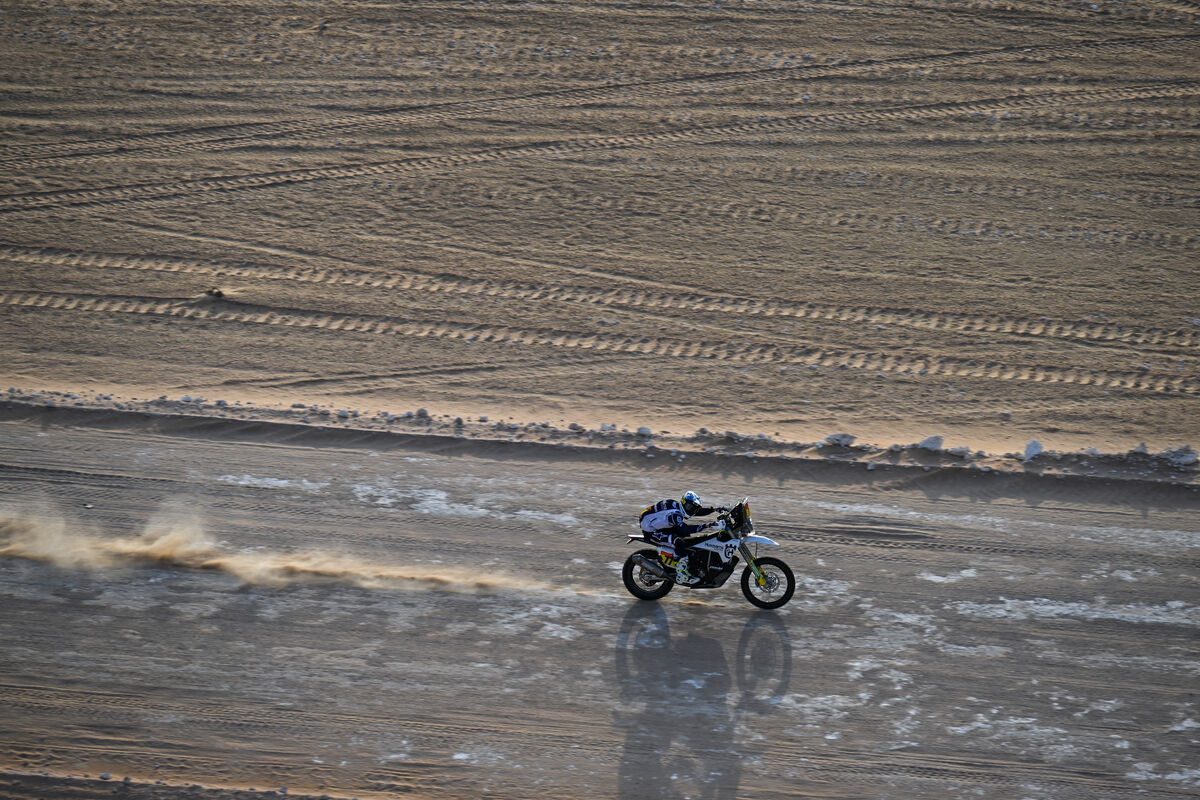 Going round in circles
A lot of the big crashes this year have seen the same kind of heavy landing, and not just in the bikes. Misjudging a dune which becomes a drop-off jump to flat can be bad. Worse in a way to land in the face of a next dune but the misjudged drops and heavy landings have caught them out, including Matthias Walkner who was airlifted to hospital this morning.
Whether it was seeing what happened to Walkner or having a couple of heavy landings himself at this stage in the race, Howes went on to miss a waypoint which might just have cost him the race win.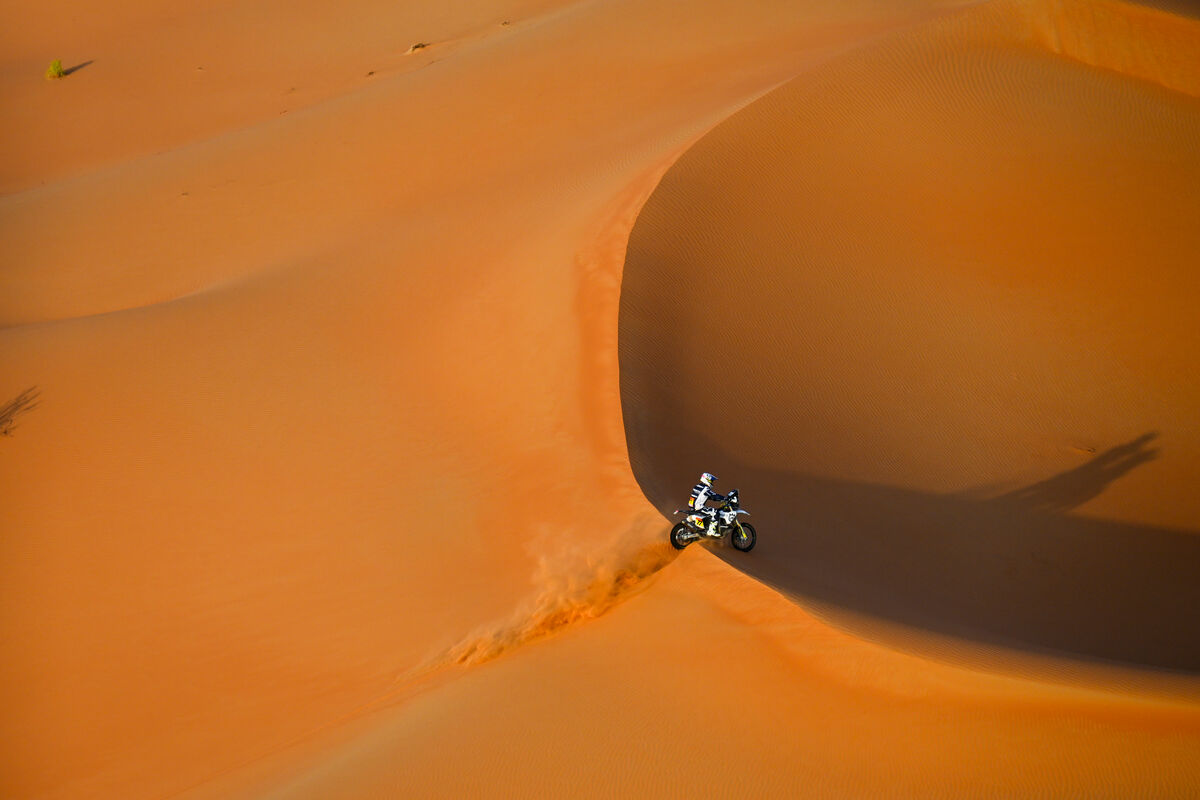 "It's tough to see a mate crash and I think seeing Matthias down slowed me down a bit. You know, I really want to push and to win this race but I also want to get to the finish line." Said Skyler Howes after today's drama-filled stage.
Howes in fact beat Toby Price on time today but lost out through the time bonuses. He also lost time going round in circles: "I made one mistake, I missed a waypoint so I had to do a circle which was a bit frustrating. Afterwards it was hard to find a rhythm. When the sunlight is directly overhead and the big dune drops hard to see, I was a bit nervous out there."
"I could see everything ending right there"
Howes wasn't alone in thinking about the bigger picture: "Around about 130km I went too far right and I was thinking…whoa, I could just see everything ending right there." Said a relieved Price at the stage finish.
He too admitted that same sinking feeling Howes was experiencing finding the one, rogue waypoint but it turned out better than he knew. "I had one small crash as well at the top of a dune. It feels like I made an absolute mess of it today but if I can keep the lead, I'll be one happy man."
Aussies helping each other out
One admission in the post stage interviews today was Daniel Sanders saying he'd helped his compatriot Toby Price out: "We pushed as much as we could today at the front. And I tried to help Pricey out because he's fighting for the win, so I let him go by for the waypoint bonus just to give him the maximum time possible."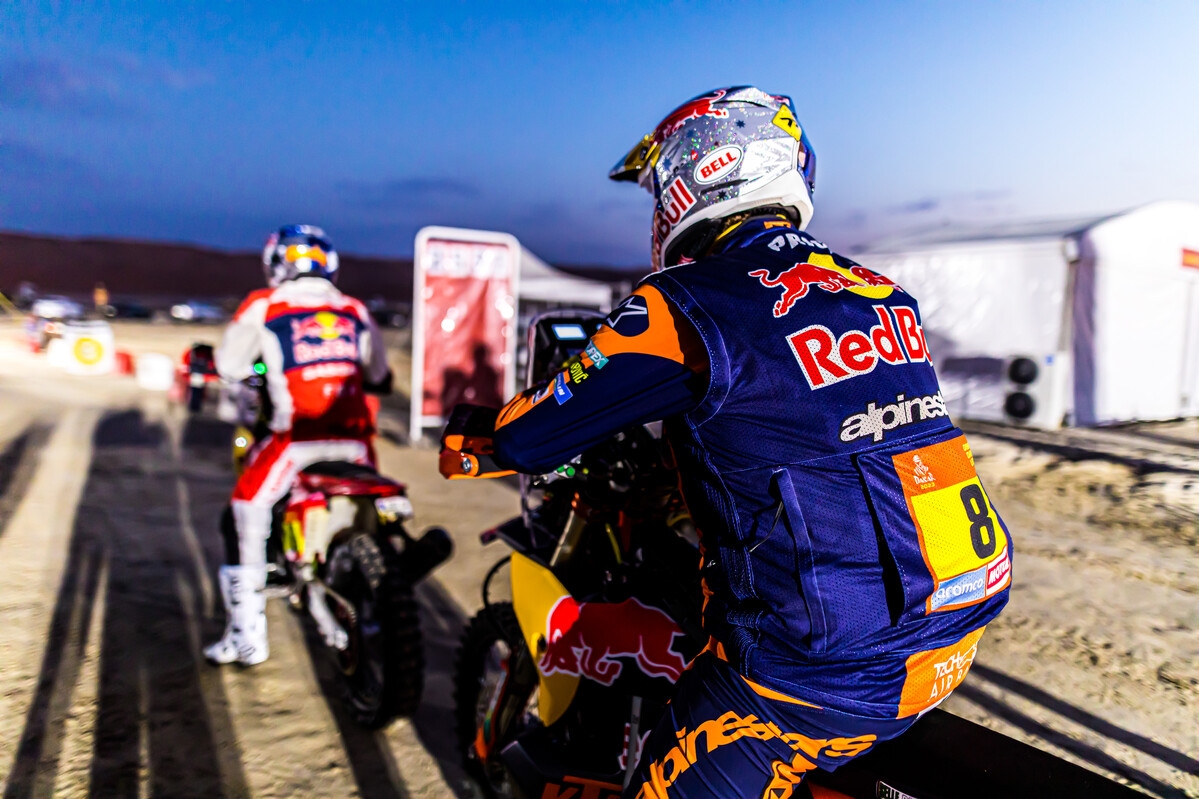 In the end it is going to be a KTM or Husqvarna rider who will win this year's Dakar. That's two in a row after Honda had their spell of winning a couple of years back.
The die has been cast since the first week and it looks like the Austrian manufacturer is back as the dominant force they were during the past couple of Dakar decades.
What nearly decided the result today?
"We had big gaps between waypoints and that made it was really hard to stay accurate on the degrees, on the compass." Said Daniel Sanders explaining why this last day in the soft sand dune was different to the previous three.
Waypoints are the markers the riders have to hit and "open" along the route. It's what Howes and Price say they was riding around in a circles looking for today.
Earlier in the rally, one hidden WP near a tree caught out sent some in circles losing minutes not seconds like today. As we reminded readers at the time, it's not like they are riding round looking for a signpost or a burning pile of tyres to locate the waypoints, they are invisible.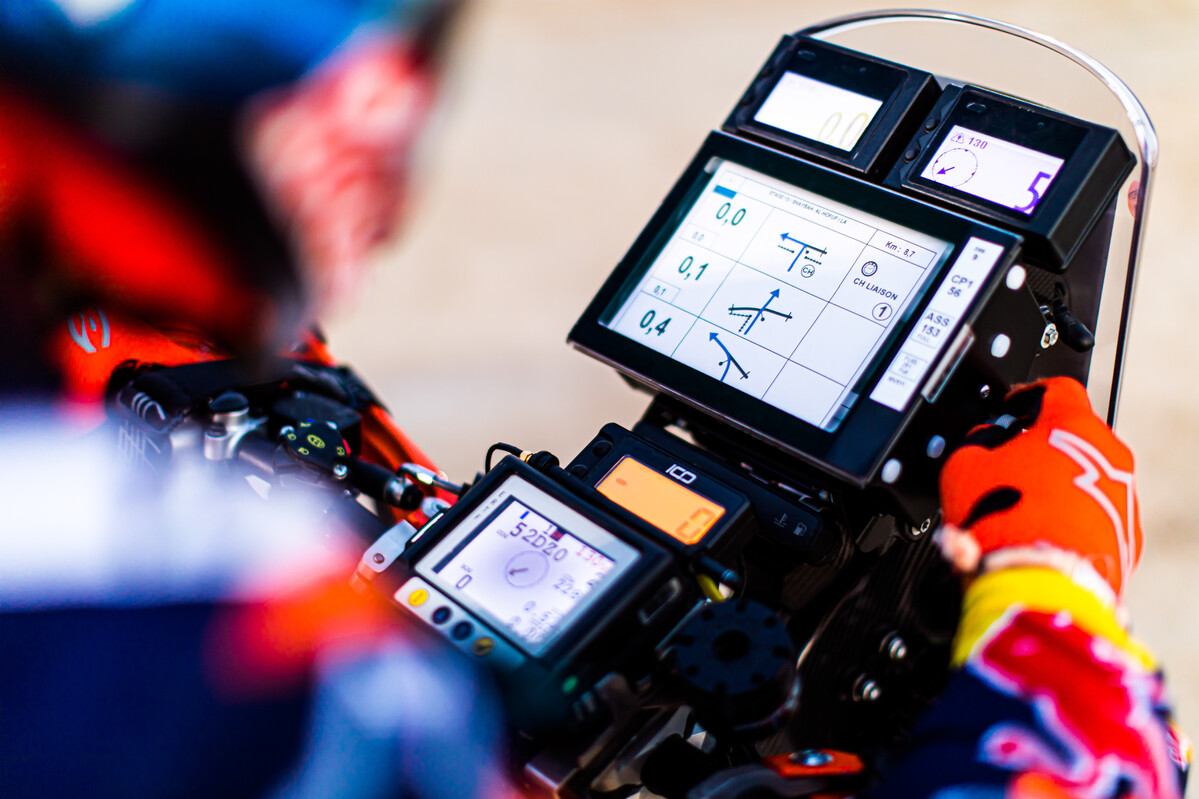 The riders are navigating using the CAP, or compass bearing displayed up top, right in front of them. It can be incredibly easy to stray slightly off the bearing especially if you're in an open desert or there are no tracks to follow.
When the waypoints are further apart, and you've veered a fraction of a degree in the wrong direction, it amplifies the further you travel. Which is why riders often think they're heading the right way but then arrive at a point on the roadbook and the WP is half a kilometre one way or the other.
A visit from the fact fairies
The fact fairies have just handed round a note in the Dakar media tent (it's a big tent, but still a tent) pointing at the numbers dished out for time bonuses to the leading three riders: Toby Price has gained over eight minutes, Skyler Howes more than 12 while K Ben has a big, fat zero.
No bonus points mean at no point has Kevin Benavides led, been second or third on a stage in the first 200km or so (up to refuelling or the stage end, depending which comes first).
The new rule introduced this year rewards riders who hang it out at the front and has reaped rewards notably for Howes who has stacked up the most of any: 12.37 of time handed back for free. Daniel Sanders and Luciano Benavides also took big time back but Price also has over eight minutes to his name.
The fact Benavides has none proves you don't need to lead from the front and collect the bonuses. If you look back through the daily results, you'll see Kevin's uncanny knack for finishing between fourth and ninth, so it's not like he isn't riding near the front each day.
Maybe just enough wheel tracks to follow is easier and leads to less risk of mistakes? Either way, the system works as we're sure Skyler and Toby will tell you.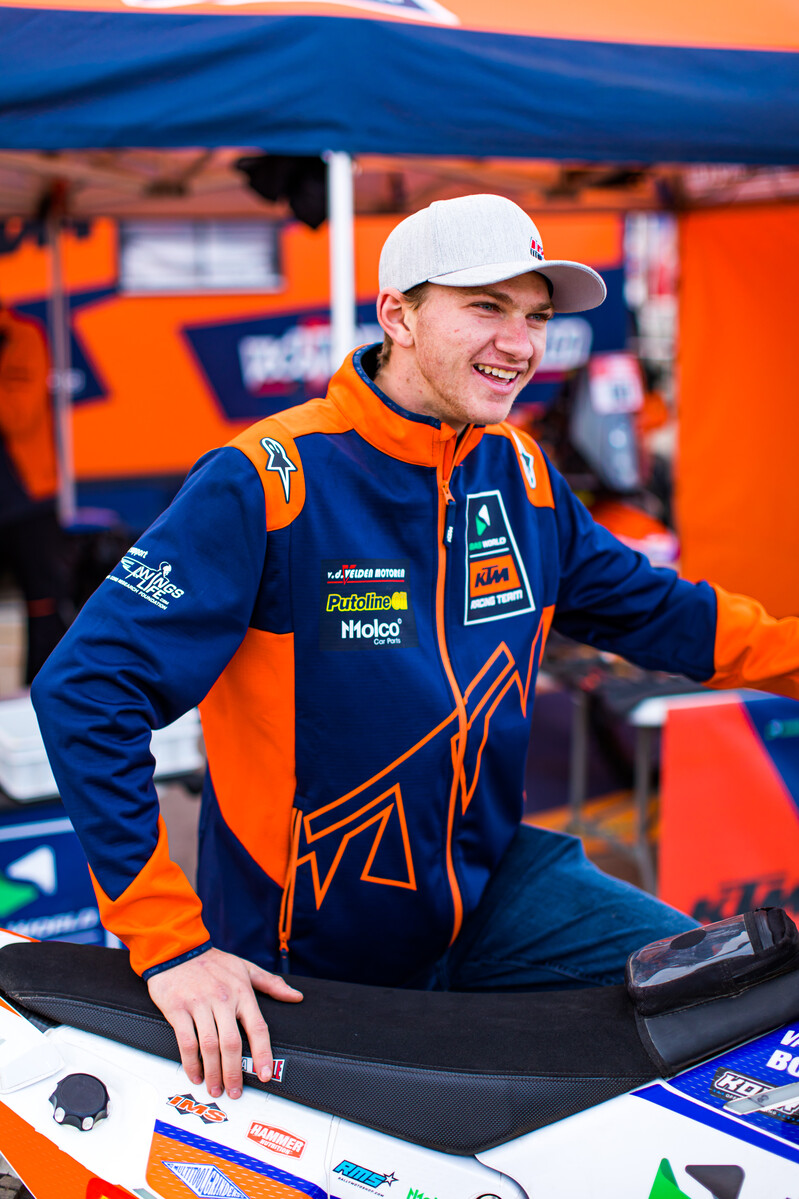 Let's hear it for Mason
Dakar is a tough nut to crack and when your first try reaps a ninth overall and the Rally 2 class win (and subsequently the 2022 Rally 2 World Championship), you'd rightly have expectations.
And so it was that Mason Klein started this year's Dakar as a potential winner. He duly delivered in the first days and led overall showing his speed on a bike which Enduro21 understands is already getting KTM factory support.
Some very tough stages before the rest day included over 900km in total one day, another basically made them stand up all the way and he admitted feeling so tired he felt like pulling over right there an then. After which mistakes started to creep in including a lost a roadbook and some big crashes.
He never really got over the big one in stage nine where he clattered Adrien Van Beveren. Following that crash, in the last few stages Mason has been riding in pain in his neck and it got so bad that this morning he decided to call time on what has been a tough baptism in the RallyGP class.
Few would doubt he has the potential to go on and win this race, but doing it at his second attempt was a bit more than this 21-year-old could manage. Being fast can be a gamble Toby Price said of Mason, "you don't win at the casino every day that's for sure."
See you next year Mason.
Overall classification after stage 13:
1
PRICE TOBY
KTM
43:11:51
2
BENAVIDES KEVIN
KTM
43:12:03
+00:00:12
3
HOWES SKYLER
HUSQVARNA
43:13:22
+00:01:31
4
VAN BEVEREN ADRIEN
HONDA
43:27:42
+00:15:51
5
QUINTANILLA PABLO
HONDA
43:27:50
+00:15:59
6
BENAVIDES LUCIANO
HUSQVARNA
43:30:20
+00:18:29
7
SANDERS DANIEL
GASGAS
43:34:25
+00:22:34
8
CORNEJO FLORIMO JOSE IGNACIO
HONDA
43:40:19
+00:28:28
9
SANTOLINO LORENZO
SHERCO FACTORY
44:22:19
+01:10:28
10
CAIMI FRANCO
HERO
44:42:03
+01:30:12
11
MICHEK MARTIN
KTM
44:47:00
+01:35:09
12
SVITKO STEFAN
KTM
44:56:12
+01:44:21
13
SCHAREINA TOSHA
KTM
45:01:02
+01:49:11
14
DUMONTIER ROMAIN
HUSQVARNA
45:08:23
+01:56:32
15
LUCCI PAOLO
KTM
45:38:29
+02:26:38
16
DOCHERTY MICHAEL
HUSQVARNA
46:21:23
+03:09:32
17
LEPAN JEANLOUP
KTM
46:41:05
+03:29:14
18
THERIC NEELS
GAS-GAS
47:10:56
+03:59:05
19
DOVEZE MATHIEU
KTM
47:12:54
+04:01:03
20
JAGU JULIEN
KTM
47:14:48
+04:02:57
Photo Credit: Rally Zone + DPPI