2023 Dakar Rally: Stage 5 results – Adrien Van Beveren wins as Barreda has a big one
2023 Dakar Rally stage five results brought another double for Monster Energy Honda Rally team with Adrien Van Beveren just pipping his teammate Jose Cornejo to the day win by 13 seconds – Skyler Howes is new race leader.
Dakar '23 Stage 5 in a nutshell:
"373 kilometres of 100% sand" they told us at last night's briefing in the Ha'il bivouac. Today's stage five looped out and back again to this base camp and brought sand, dunes and both tricky riding and navigation.
Toby Price put the KTM Factory 450 on top of the the timing screens first thing this morning as the day unfolded a really close fight, the top 12 after 150km were within five minutes of each other, and second through to ninth were all within one minute.
Around km 190 though all things changed as leading four, all riding close, couldn't find way point. Joan Barreda, Price, Pablo Quintanilla, and Skyler Howes all lost around 10-15 minutes.
It was a turning point that elevated Mason Klein to the top of the timing screens with Jose Cornejo and especially Adrien Van Beveren benefitting to take on leading the pack through the dunes.
The time bonus system was in full flow today. In total five riders benefitted. Barreda, Quintanilla and Howes gained time in the first 100km but Toby Price caught and passed to gather his own credits before the km190 mess-up, after which Van Beveren snuck in a few credits of his own.
Yesterday's stage winner Barreda crashed just 20km from the finish, taking Toby Price with him in a "really heavy crash". With a bunch of riders close to each other, they all stopped to help and had to wake up Joan who'd knocked himself daft. They all got going but the organisers had to check carefully their times as they all stopped.
Adding it all up, then subtracting the time bonuses, brought a very close finish between Honda teammates Cornejo and Van Beveren with the Frenchman bagging his first stage win of the '22 Dakar.
Mason Klein took a benefit from his later start position after water in his fuel problems yesterday to haul back time and ride without really needing to use navigation much he said. He finished fourth but lost time near the end on the lead two basically because he as hanging.
The big loser on time today was overnight rally leader Daniel Sanders who dropped a whopping around 26 minutes. His P8 start position should have put him in the mix for a stage win like Klein but the GASGAS rider was suffering with an overnight illness which left him drained he said and he looked secondhand limbing off his bike.
That all turns the leaderboard on its head a little with Skyler Howes remaining the most consistent of all to take over the top spot. Price jumps up to second after getting time back from the Barreda crash. Kevin Benavides is third ahead of Klein after making a tonne of time back today and Van Beveren is now fifth. Sanders drops from first to eighth.
Romain Dumontier led the Rally 2 class all day with chief rivals in pursuit. The Frenchman landed up inside the top 10 overall deep into the stage and finished 15th, 14 minutes clear of nearest rival Paolo Lucci.
Sandra Gomez had a storming first half of the stage, settling inside the top 50 overall. Kirsten Landman, the only female rider in the originals class, was second placed woman today. Mirjam Pol was more than 30mins back meaning Gomez is the class leader.
Javi Vega took the Originals class win, 1.42 ahead of Charan Moore which gives Vega a narrow 11 second lead overall from the South African.
Stage 5 provisional results: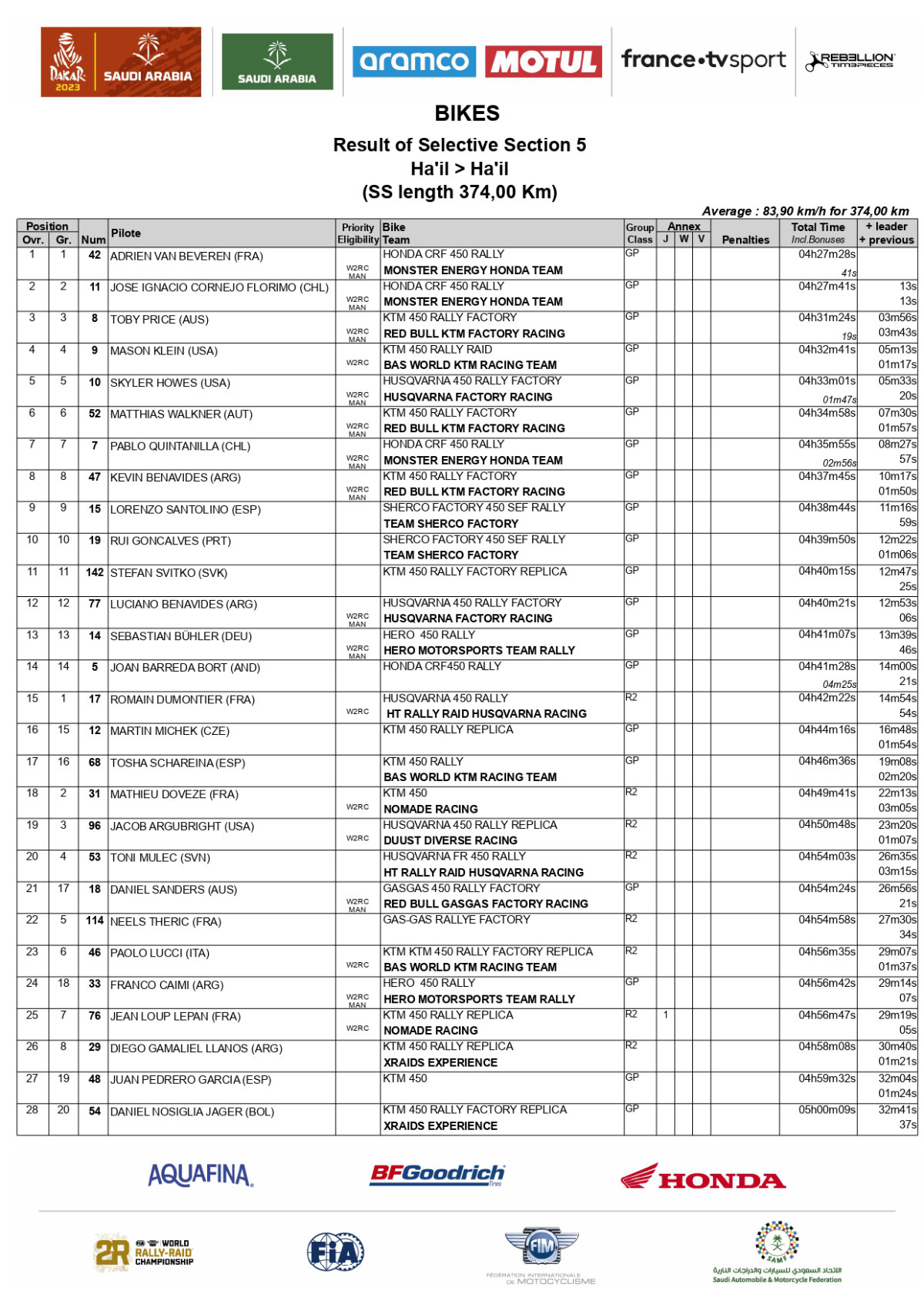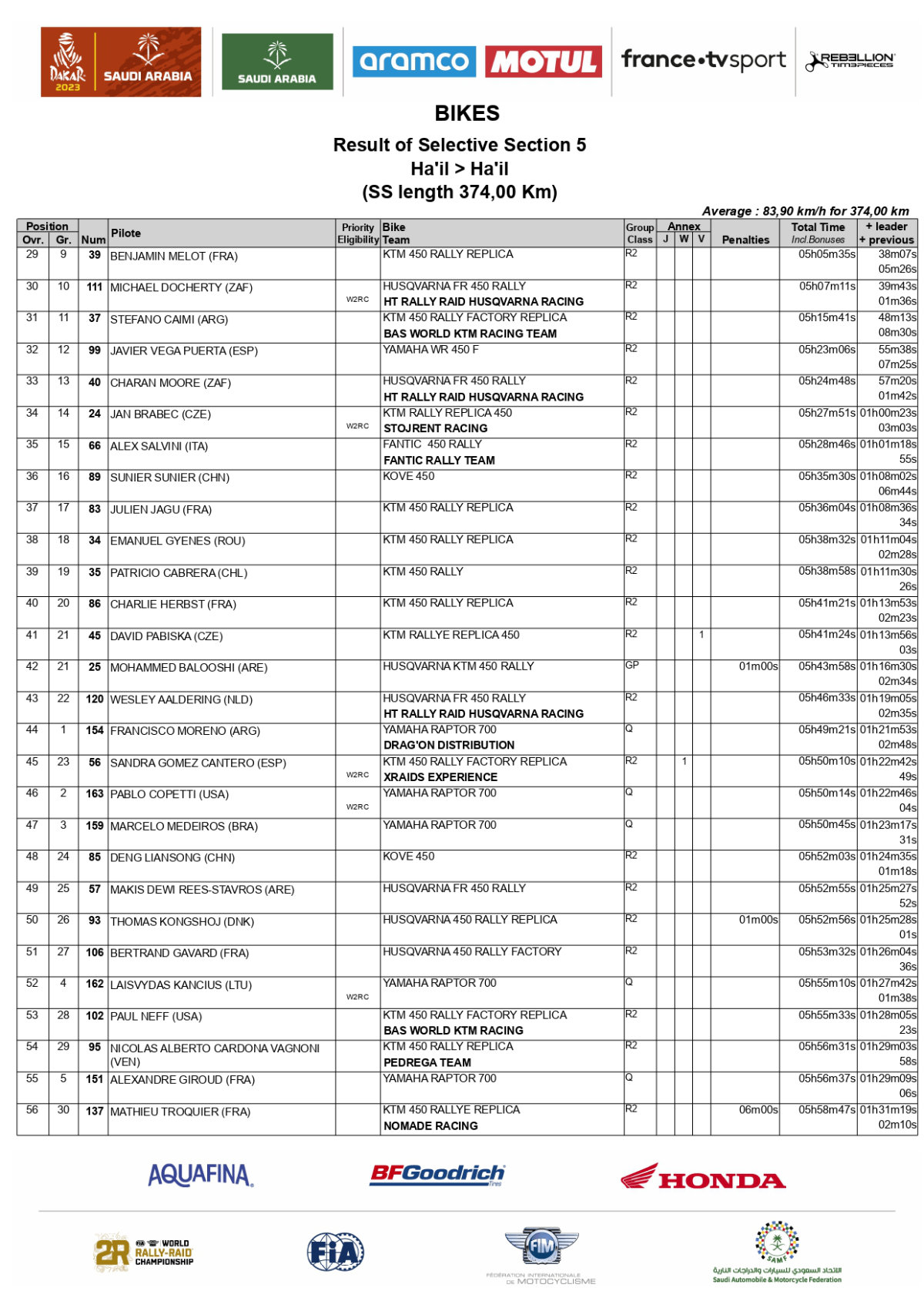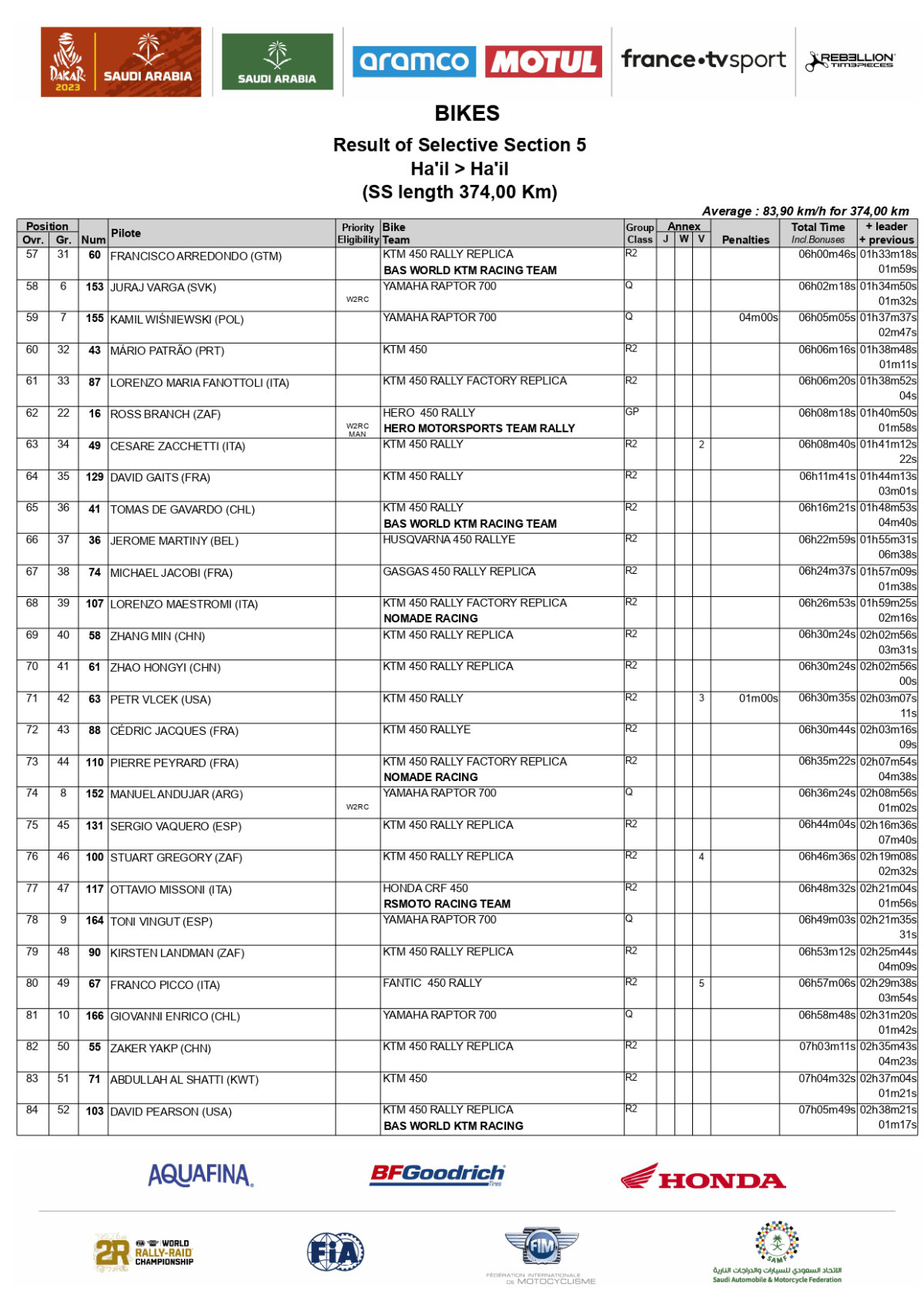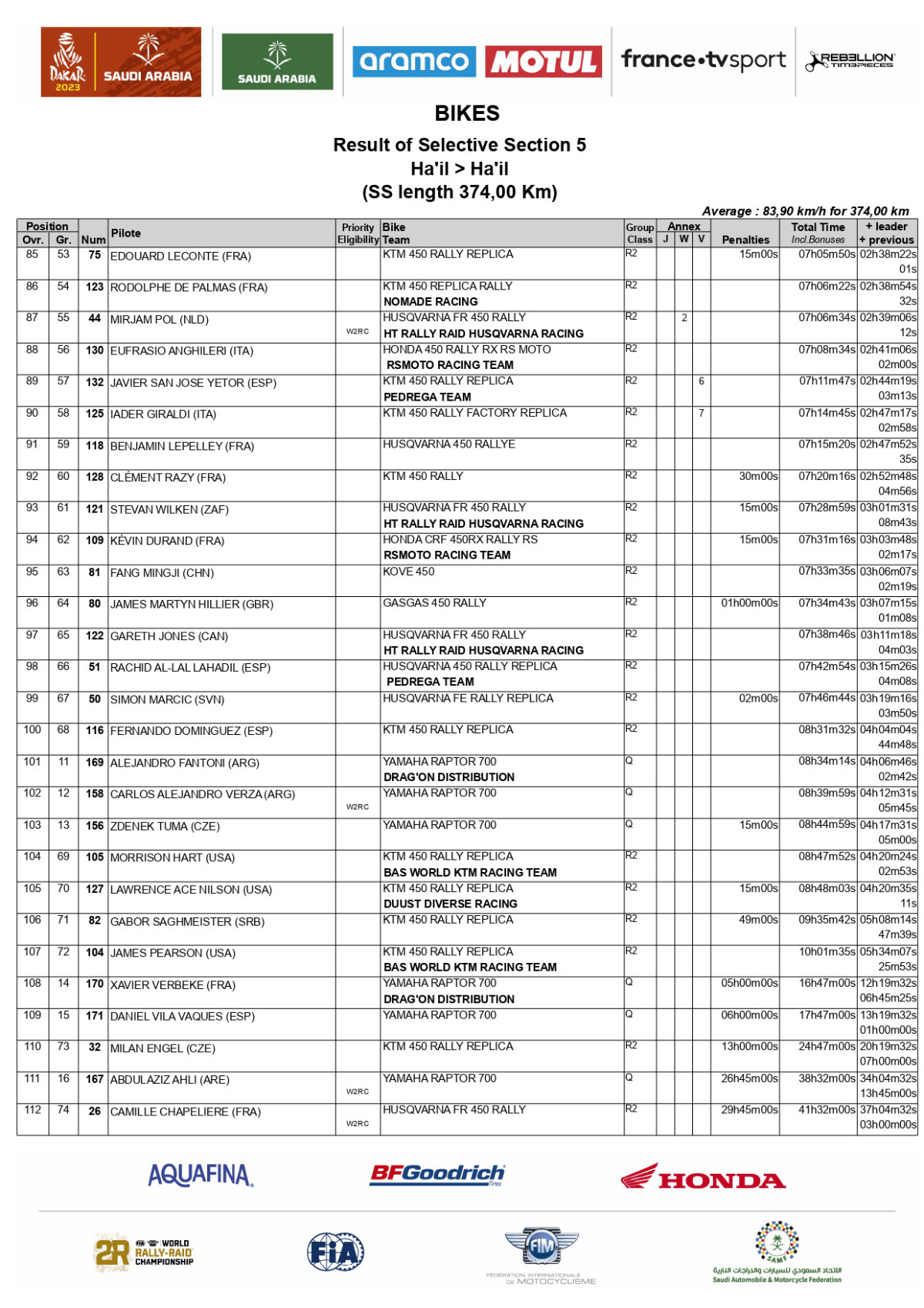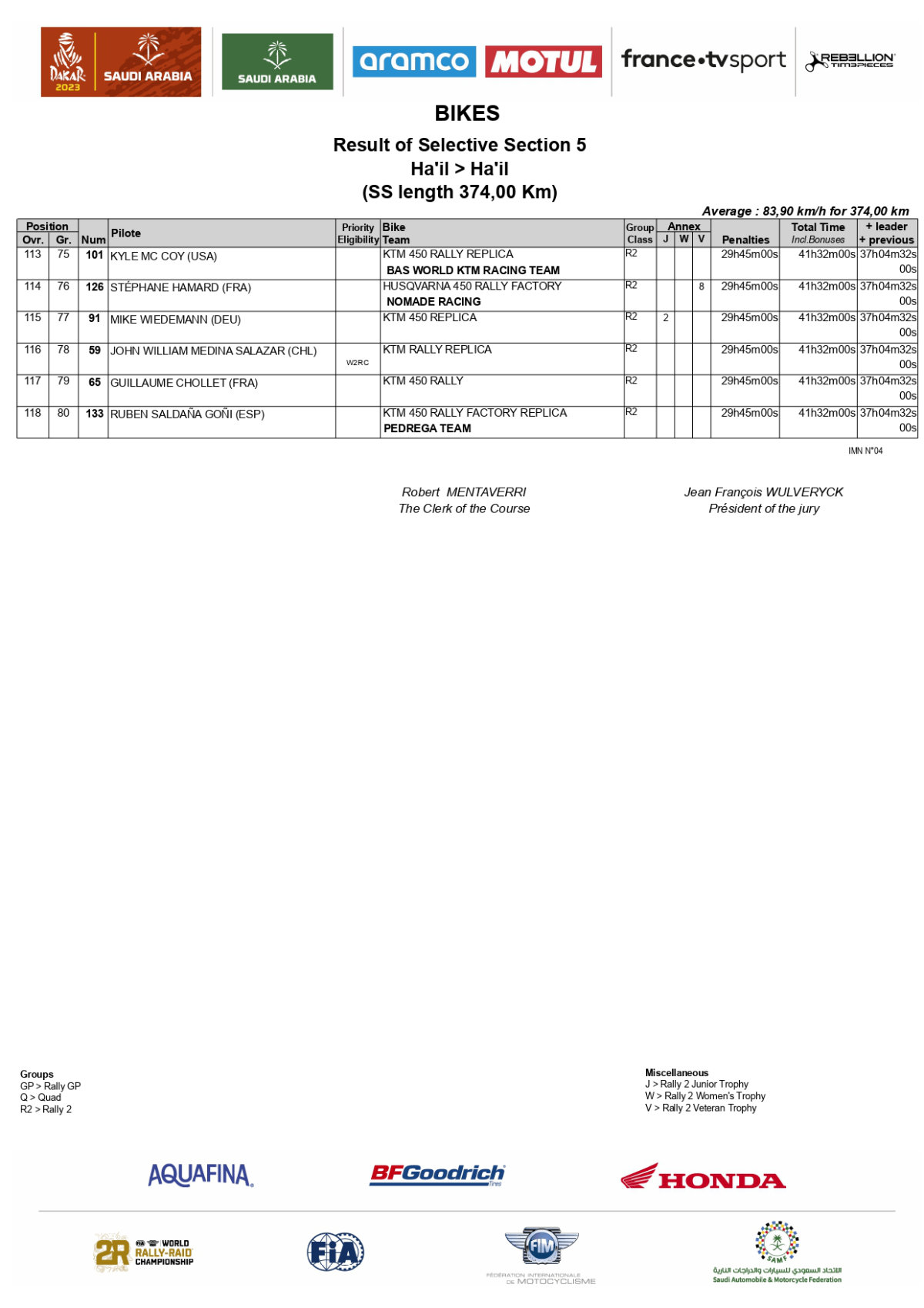 Overall classification after stage 5 (top 20):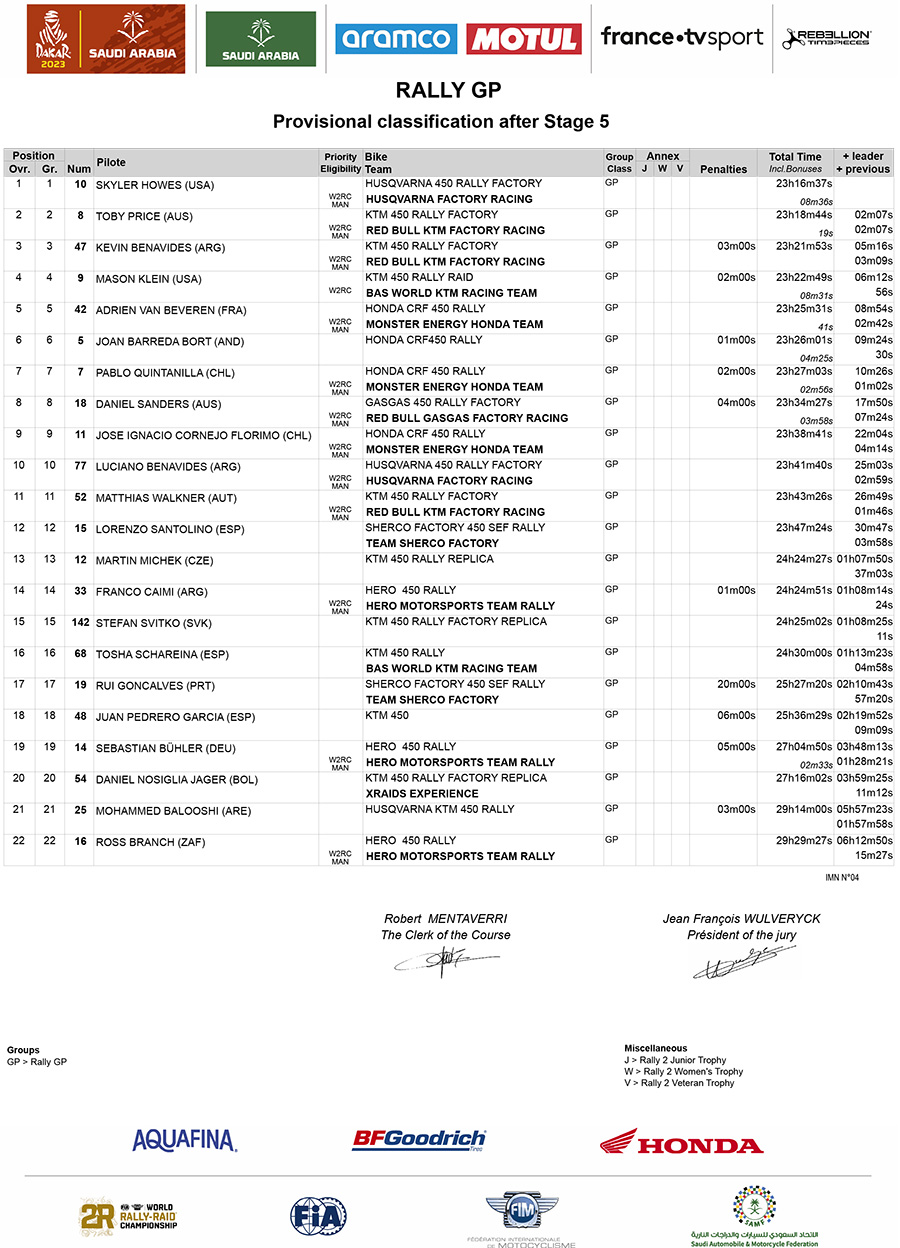 Photo Credit: Honda Racing + A.S.O. | J.Delfosse DPPI | F. Le Floch | F. Gooden