Dakar 2023, stage 5 daily notebook: "It was a brutal crash…a big one"
Enduro21's notebook hot steps over from the KTM service area where we've been busy watching the bikes get fettled after stage five, ready for story later this week. But today's standout moments were big ones including an almighty crash from yesterday's winner Joan Barreda, knocking himself out and taking Toby Price down in the process...
The rally took a turn today, an interesting one considering how it had been panning out. A turn for the worse if you're name is Daniel Sanders. The overnight leader of the rally say he felt rough in the night and woke up this morning not the same guy who went to bed. The results sheets showed as much from the off with Chucky losing time all the way instead of capitalising on what should have been a good starting position.
"It's been a bit of a struggle today to say the least." Said a groggy Chucky. "When I woke up, I didn't feel good at all. I had no energy, couldn't really eat or drink anything, so it seems like I've picked up some kind of bug, I guess. So yeah, it's a bit of a bummer after starting the rally so well."
The GASGAS crew say basically 'he'll be alright' in a way any Aussie will appreciate we're sure but the truth is he didn't look to clever climbing off his bike tonight.
"My back hurts so much, the dunes just never stopped"
Nobody we saw in the Ha'il bivouac looked too clever pulling their legs over the back of their bikes tonight to be fair. The days have been long and it is taking its toll.
Anyone who rides off-road knows what bits of you ache or wear out. Blister, back ache, wrist ache, leg ache, knocks and bruises... "my hands are done," said Kevin Benavides at the finish.
"Man, this was really physical on the body," adds Skyler Howes. "We were pretty much standing up the entire time through the stage."
"I'm totally spent," said Mason Klein. "My back hurts so much, the dunes just never stopped. So many times I was ready to pull over, I was SO done. When I saw the finishline I was so happy." At that point he only had 130km on road to go – sitting down we're guessing!
😤 The streets every time I'm late for work. 😅#Dakar2023 pic.twitter.com/B0YgSkhKSQ

— DAKAR RALLY (@dakar) January 5, 2023
Riding in groups, never a good thing?
As the stage unfolded today, the leading riders kinda got together in a gang of four: Joan Barreda, Skyler Howes, Toby Price who'd done a lot of catching up by this point, and Kevin Benavides.
They then all got confused around one waypoint and blew a heap of time which more or less handed the stage win to the Honda boys next up the track. "It was really difficult to find the tracks today" was a common comment from riders at the finish. "We basically got lost and couldn't find a waypoint and were going round in circles to try and find it which lost us all bunch of time." Explains Howes.
Sorry, not sorry for keeping quoting Skyler in our notebook by the way. But he is really good at communicating and always gives good information (and vibes) about the stages.
The perennial problem with following the navigation on days like today is there are so many tracks out there. It makes it really easy to take one direction which is kind of right, and looks right on the navigation, but is actually just a fraction wrong.
You can be very, very close to the waypoint but not actually able to find it because you strayed slightly one way or the other unwittingly.
Don't forget, there's not a flag or burning pile of tyre out there in the middle of nowhere to show where the waypoint is. It's invisible so finding it can be frustratingly difficult even though it is under your nose.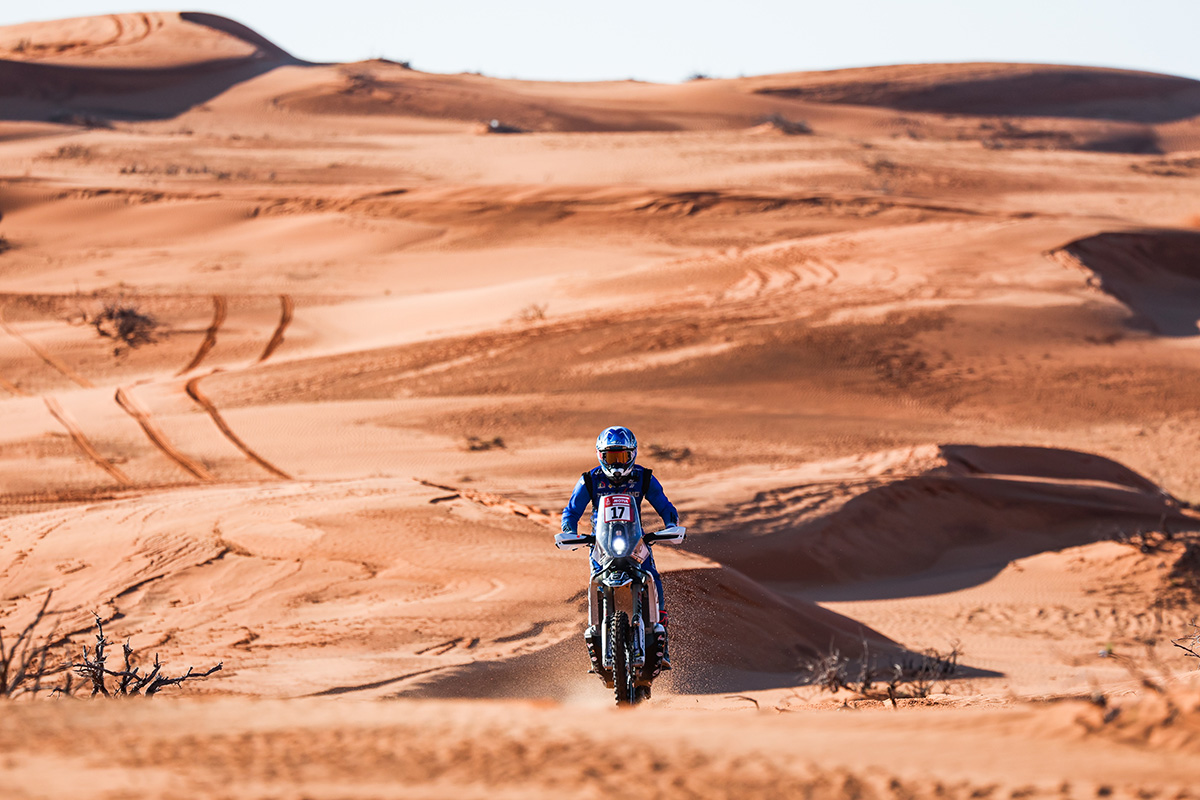 "Dakar racers are a different breed, or at least that guy is anyway."
Later in the stage a gang of five were together closing out the day behind Van Beveren and just maintaining their positions.
The next moment…"I don't know what happened, I pretty much shut my eyes." Said Toby Price as Bang Bang Barreda lived up to his name again.
Around 20 kilometres from the stage end Joan had a crash right in front of Price and ended up taking them both down, with Barreda knocking himself out in the process. "Barreda had a crash and I ended up hitting him or the bike," said Toby who tonight was another rider looking pretty stuff getting off his bike. He went down on his shoulder he said, so we'll see how that affects him after the KTM physio has done his magic.
"I was basically watching it from the side," adds Howes, "and it was a super brutal crash. It was a big one. "We stopped there for a while to help Joan and Toby get up and we had to wake Joan up actually, he was asleep. Surprisingly he got back on and continued the stage at full pace. Man, Dakar racers area. Different breed, or at least that guy is anyway!" Ain't that the truth.
Stage changes in the next days...
As we write this, the organsers have made a change to the planned stages. The bivouac in Al Duwadimi is water-logged from all the rain two days ago.
That means tomorrow night we head to Riyadh with the riders completing a shorter, modified route and then slogging 300km to the bivouac.
Potentially the race will then deviate back to Al Duwadimi the following day, stage 7 (was stage 8) but the organisers will make a judgement likely tomorrow.
Photo Credit: A.S.O. | J.Delfosse DPPI + Rally Zone