2023 Sonora Rally results: Daniel Sanders extends race lead with stage 3 win
Results from stage three of the 2023 Sonora Rally, round three of the 2023 World Rally-Raid Championship in Mexico where GASGAS Factory Racing's Daniel Sanders took the win and boosted his overall lead ahead of Tosha Schareina and Ricky Brabec.
Stage three promised much as the longest of the rally – three and a half hours, 350 kilometre of special stage today – and a dive into the Sonora sand dunes and camel grass the shores of the Sea of Cortez, beginning and ending in Puerto Peñasco.
Daniel Sanders' speed out front means he comfortably took another stage win and with it a now seven-minute lead as the time bonuses (for leading) add up. The GASGAS Factory Racing rider led on the ground all day on this longest special of the race with Toby Price and Ricky Brabec challenging Chucky's times (when you remove time bonuses).
"Crazy day leading the pack out," Sanders says, "it was super cool to win the stage after a long day in the desert. Dodging cows, side by sides and sending it down the beach! It's always a disadvantage opening but I didn't let it happen, winning the stage with out the bonus time is cool."
Ricky Brabec, four-time winner of the Sonora Rally, finished 7m40s behind after being handed a minute speeding penalty with exactly the same as Price in the dust but without the time benefits (more on all this below).
Schareina holds his own
Sandwiched between Sanders and the factory Honda and KTM of Brabec and Price is a rider still weirdly absent from official communications from many sources (so much so we couldn't find a picture of him today), Tosha Schareina.
The Spaniard sits second overall and, we remind you, has been gifted a factory Honda for this rally to boost the red army in the face of the soldiers on the Austrian bikes. And he's doing a remarkable job to sit ahead of so many full-factory riders – not least the whole Monster Energy Honda Rally team.
Sure, he's benefitted from time bonuses on each day and if you do the maths, and remove his time benefit from stage three, he would have finished in seventh, behind Matthias Walkner.
But these are the rules and the reason for those bonuses is to reward the riders who lay down the tracks for others to follow, navigate the fresh piste and hold their position. The Spaniard is doing just that and is earning his potential podium spot here.
2023 Sonora Rally stage 3 results: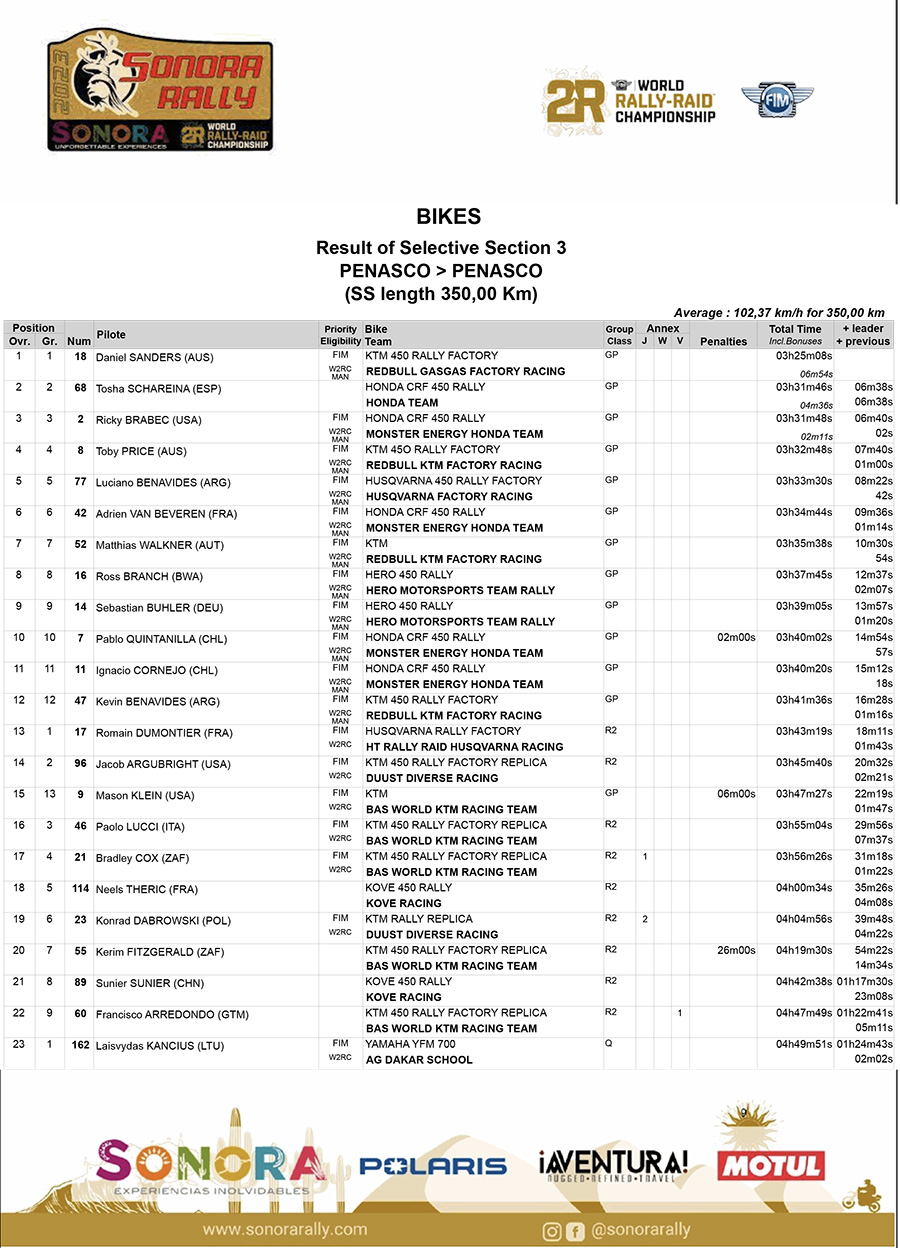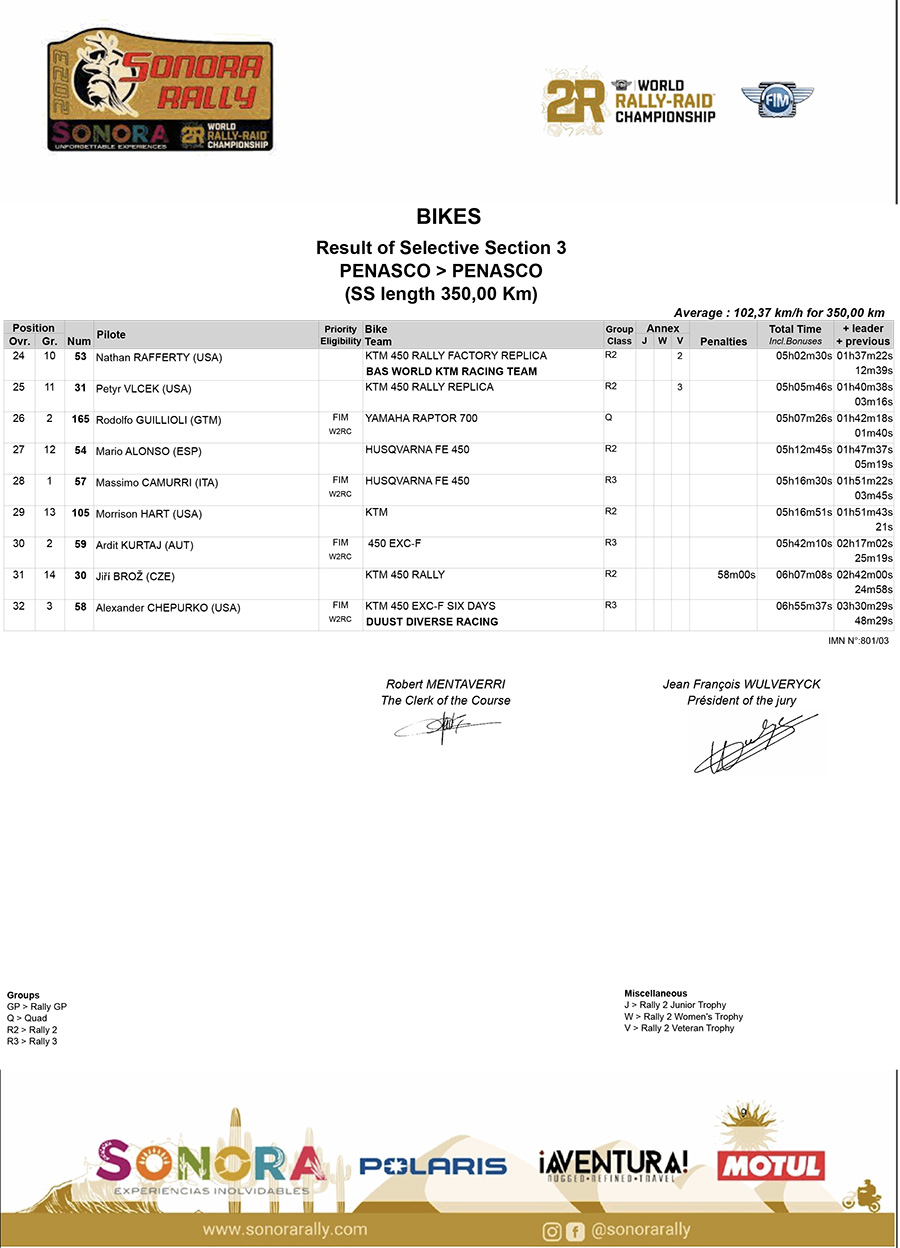 Only 10 percent navigation on the stage
A feature of the Sonora race so far is speed, limited navigation (sections which traditionally slow riders down and cause them to make mistakes) and the fact the leading riders are able to maintain position, and therefore basically keep their place in the classification in no part thanks to the time bonuses.
Stage three's special timed section might have been 314 kilometres long but in contrast to so many other rally stages, the actual navigation element in Sonora is working out to be minimal.
Toby Price explains: "It's a little frustrating as there must have only been about 30 kilometres over the whole day where you actually had to take care of your navigation, the rest was just fire roads and riverbeds. I tried to make up time on the guys in front, but the bonus is a big advantage on these kind of stages."
Slow down boys!
The time bonuses help but riders could help themselves by not riding too fast in the speed limited zones. Stage three saw Ricky Brabec, Pablo Quintanilla and Mason Klein all take time penalties for "over speed".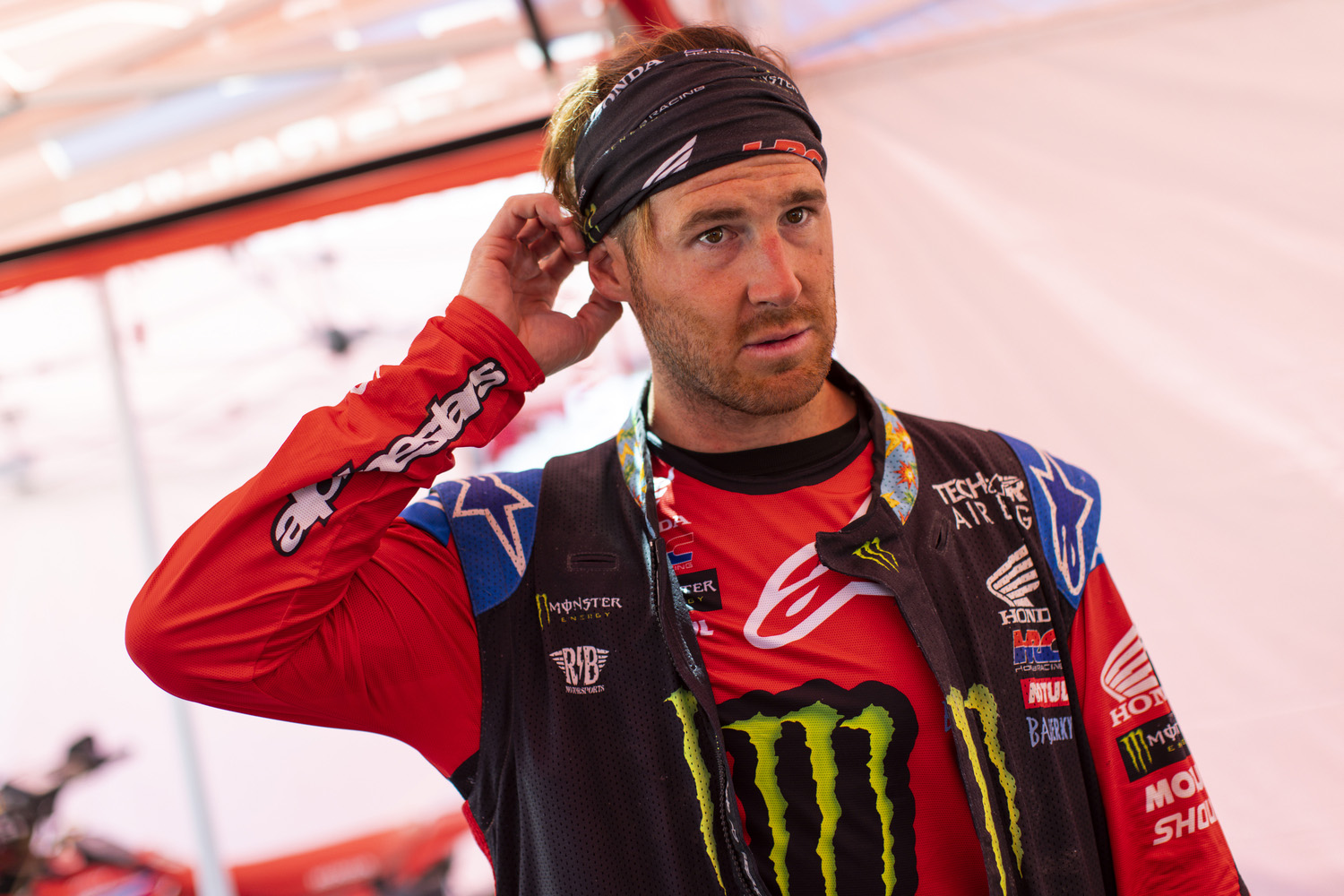 If you're interested, Ricky got slapped with an additional minute for going too fast in the liaison, although he explains he, "had a little issue with my signal, causing a speed penalty and not giving me a noise, not letting me know about dangers and speed limits."
Pablo was handed two minutes for speeding in controlled zone on the special and Mason a huge six minutes for the same.
Three and a half hours of racing and just 30K of needing to carefully use the roadbook isn't what these guys are used to. It's not all straight lines and flat fire roads though. Big sections of the stage three were sandy, camel grass and whooped-out (hence Dakar champ Kevin Benavides had a hard time on this, his first race back after breaking his leg).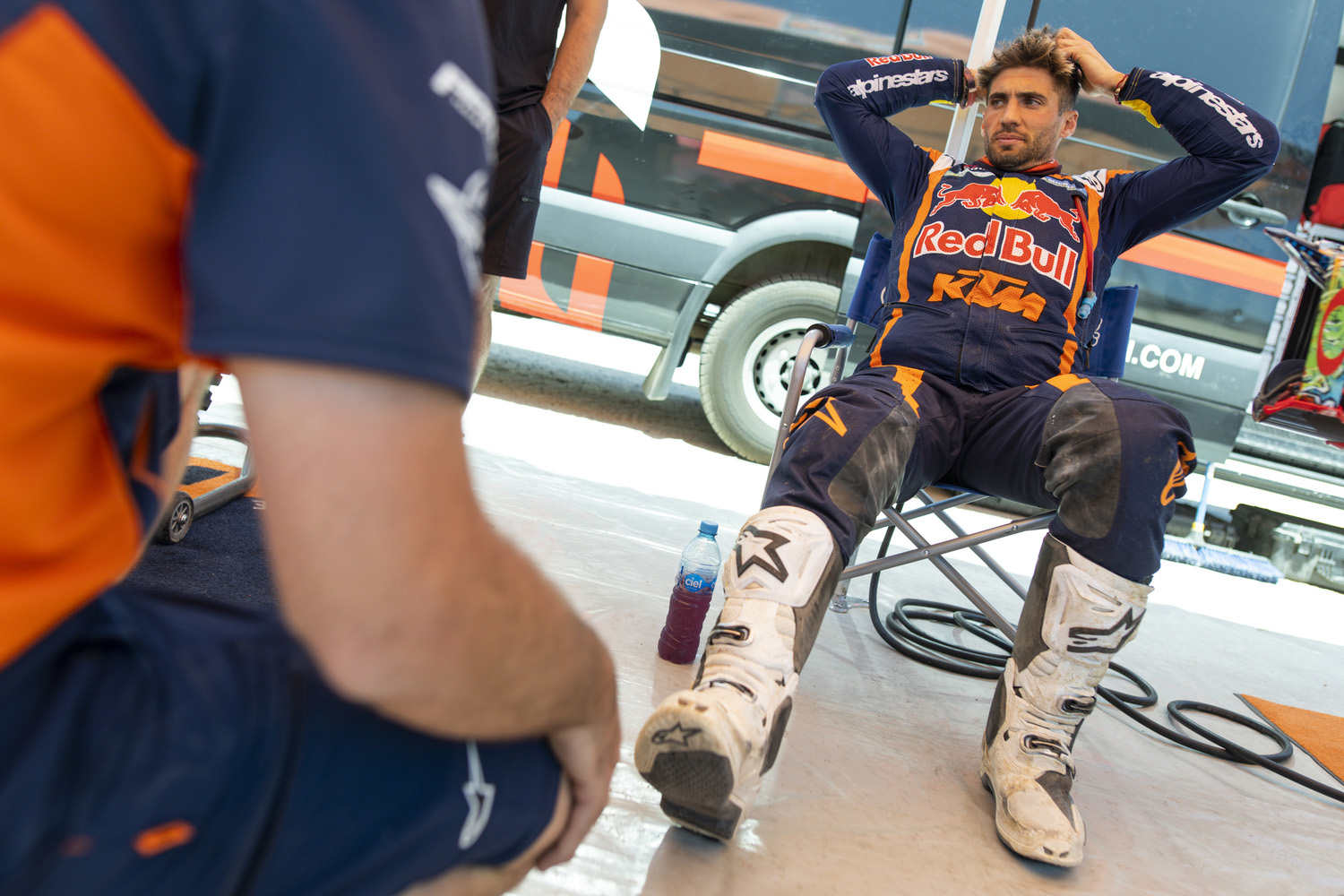 Rally2 wrapped-up?
Frenchman Romain Dumontier continues to dominate the Rally2 category with now an almost 12-minute lead of "local" Jacob Augubright. The American clocked a 2m35 slower time today on terrain he should be familiar with after so much off-road desert racing on his CV. Augubright sits comfortably ahead of Brad Cox who's third.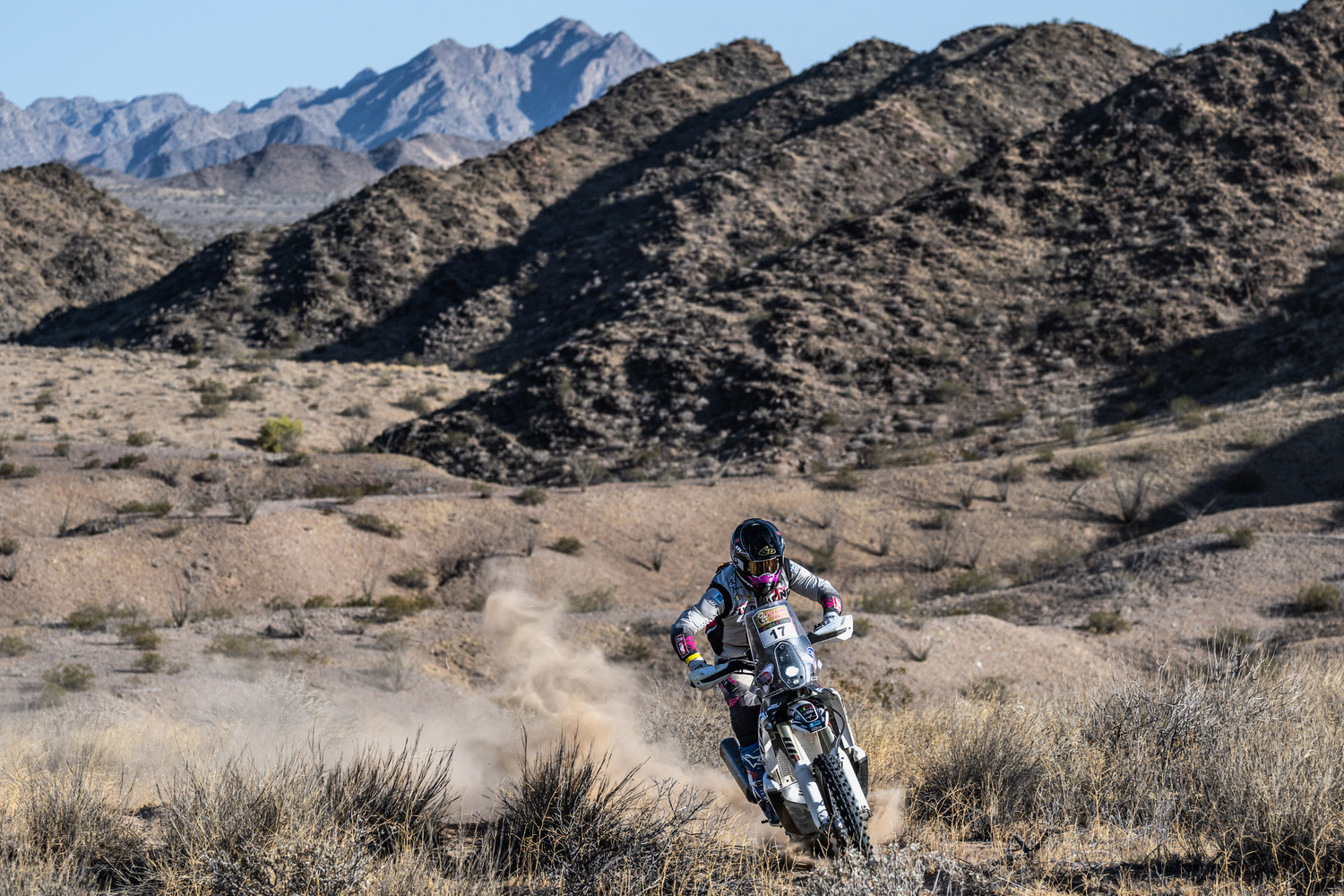 Stage number four will again of a loop out and back to Puerto Peñasco on 485km in total with a 248km of special stage on largely the same mixture of fast tracks, some sand and camel grass and the odd dry riverbed to trundle through.
Overall RallyGP classification
In the overall standings, Sanders opened up a wider gap and now has 6m59s over Schareina, 15m11s to Luciano Benavides (who is quietly plugging away on the Husqvarna Factory Racing), 1m31s ahead of Price and Adrien Van Beveren is a further 35s back completing the top five.
RallyGP classification after stage 3: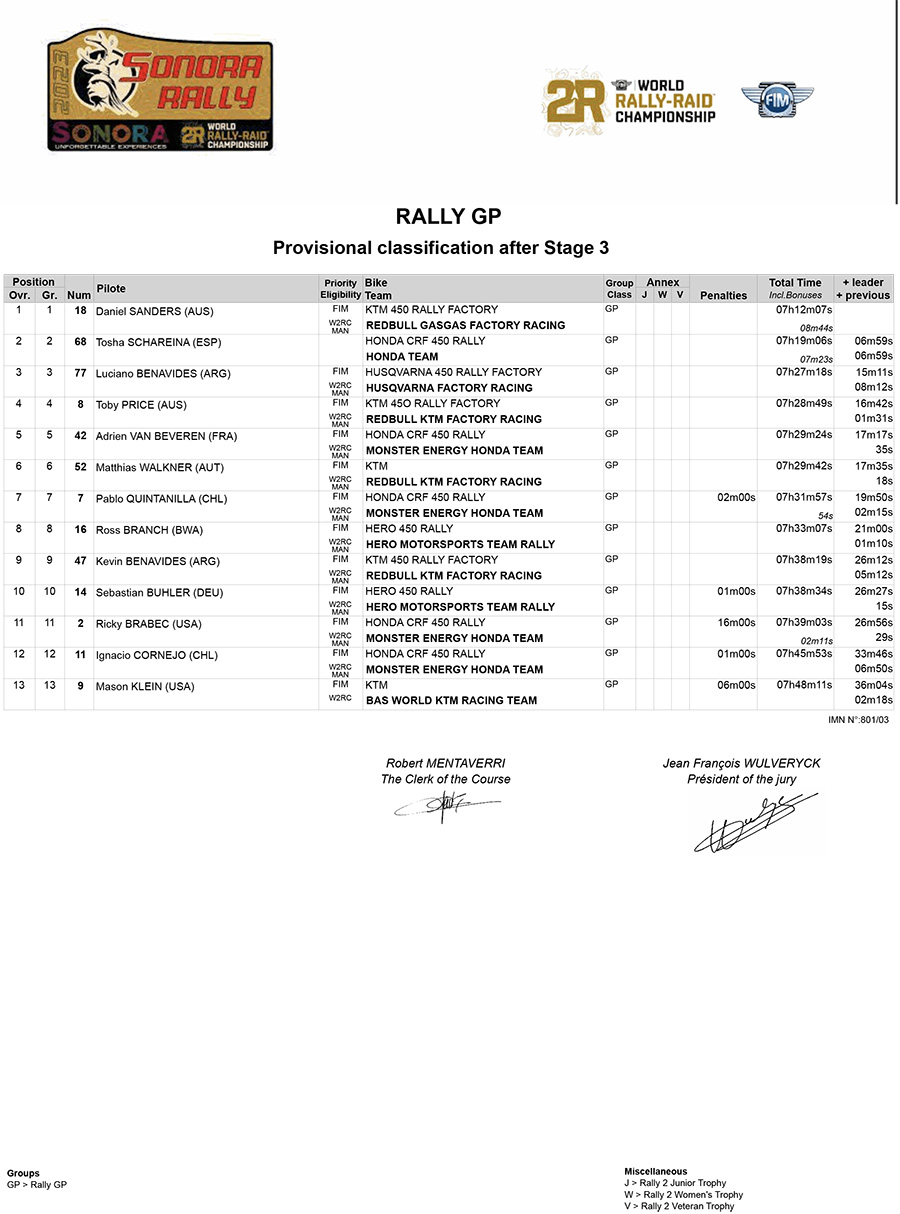 Photo Credit: Julien Delfosse ASO | DPPI + Cin Cin Movies