Sonora Rally results: Toby Price bosses chaotic stage 4 – Sanders leads overall
Results from stage four of the 2023 Sonora Rally, round three of the 2023 World Rally-Raid Championship, a chaotic day in the Mexican dunes for some saw Toby Price claimed a convincing win, setting up a final day showdown – Daniel Sanders on the cusp of overall victory.
Toby Price has been complaining the bonus points making a big difference to the overall results and how hard it was to make up ground physically on the riders in front all week – the bonus points for leading on the stage was helping the top three starters day after day to stay out front.
Stage four's 248 kilometre special from Penasco to Penasco was different, finally Price could catch and pass Ricky Brabec to grab some of those precious bonus points and take a day win in the process.
In the lead of the timing before the 100km mark, Toby showed he is the world championship leader for good reason, the veteran (can we say that?) clearly wants it this week.
"My day has gone well," says Toby at the finish, "I was pushing the whole way. I caught Ricky (Brabec) in the worse place possible – through all the fesh fesh and silt beds, so I couldn't see nothing!
"After I got past him, I pushed on, just trying to do my best for the championship standings. One day to go, so I'll keep things safe and try and stay on two wheels."
Battle for third overall
Around 40 seconds separates Luciano Benavides and Price for third overall making tomorrow's final stage a bit of showdown between these two.
Mixed terrain allowed Luciano Benavides, starting one place behind Price and Matthias Walkner to gain ground too and it is those three who took the stage podium. K Ben was in fast mood too, no doubt keen not to loose out his potential podium place, and in the end the pair were just six seconds apart in the special.
"It seems that from day two if you didn't start in the top three and earn the bonus time, it was really difficult to compete in this terrain." Luciano explains. "I'm lying third right now, but the times are really tight with Toby (Price) and we only have tomorrow to go. I'll give my all and hopefully earn some good points for the championship."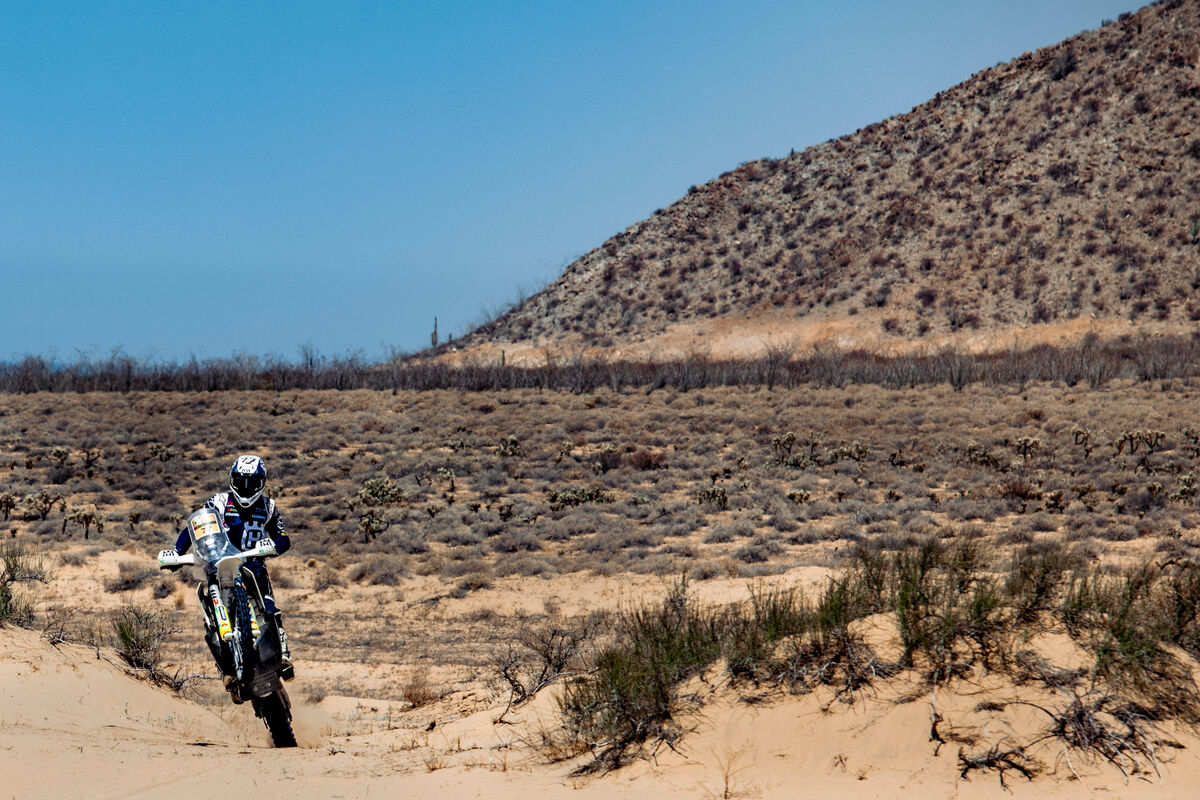 But bonuses meant Toby took the win by just 23 seconds from that man again, Spaniard Tosha Schareina who was bumped from sixth to second thanks to 3m41s time added. Luciano was third on the stage, just under a minute back with the rally leader Daniel Sanders (claiming five minutes of bonuses) in fourth and Walkner fifth.
2023 Sonora Rally stage 4 results: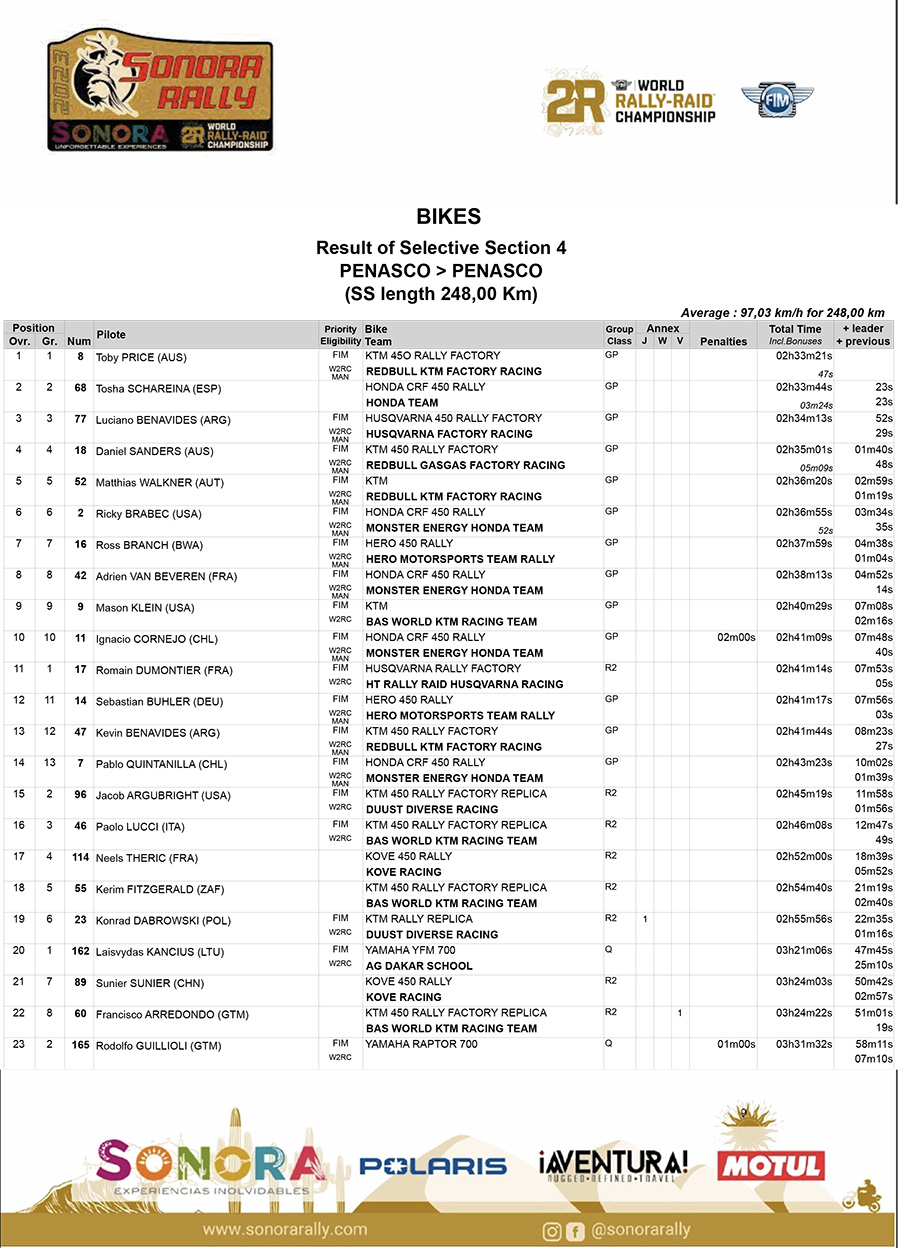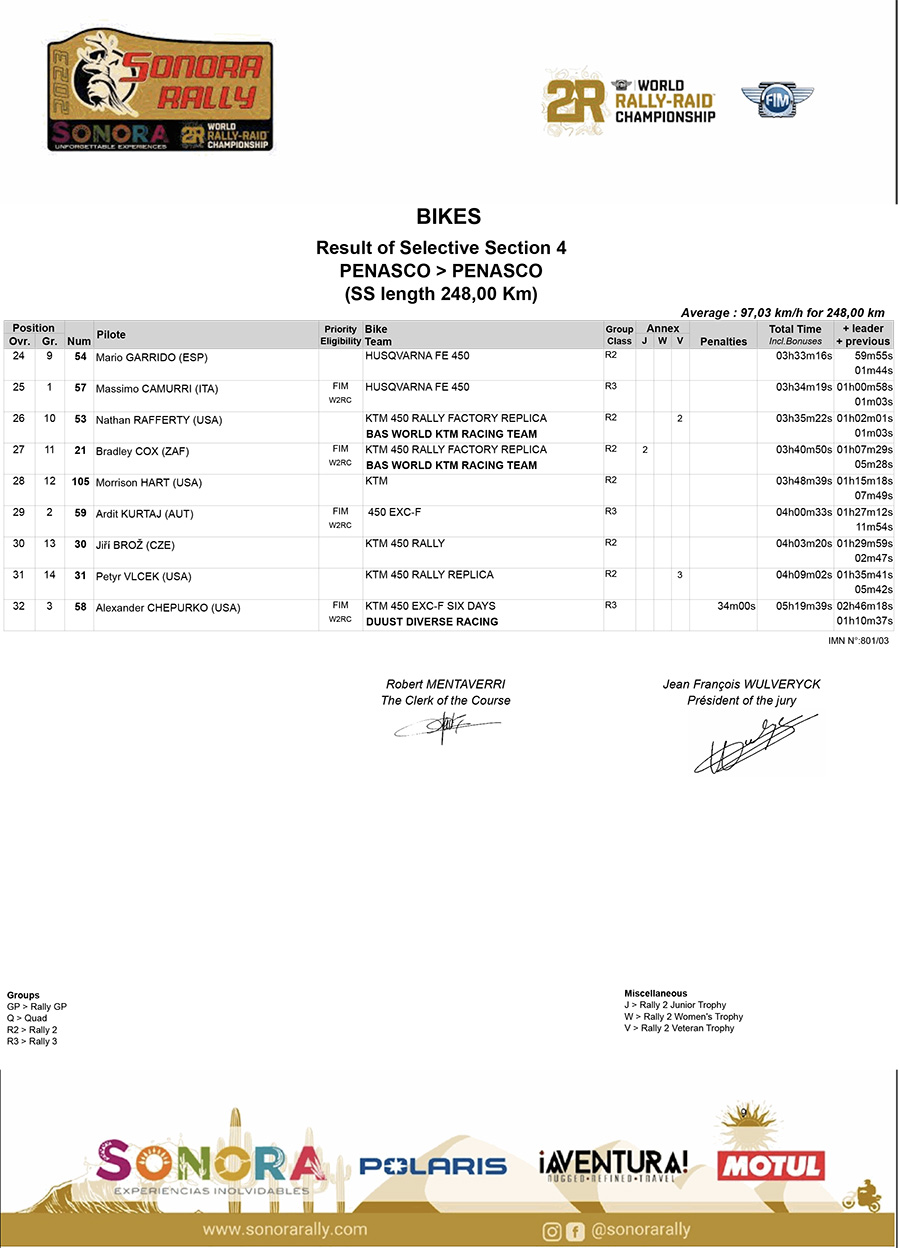 Seven-minute lead is a rare luxury
With the luxury of a healthy lead at the start of the day, Daniel Sanders could rely on his hard work over the previous three days to relax a little on stage four. Despite losing a chunk of time going wrong late in teh satge, after two hours of the special Chucky was 2m30s slower than Price but he has an advantage to play with of six minutes now over second placed Schareina.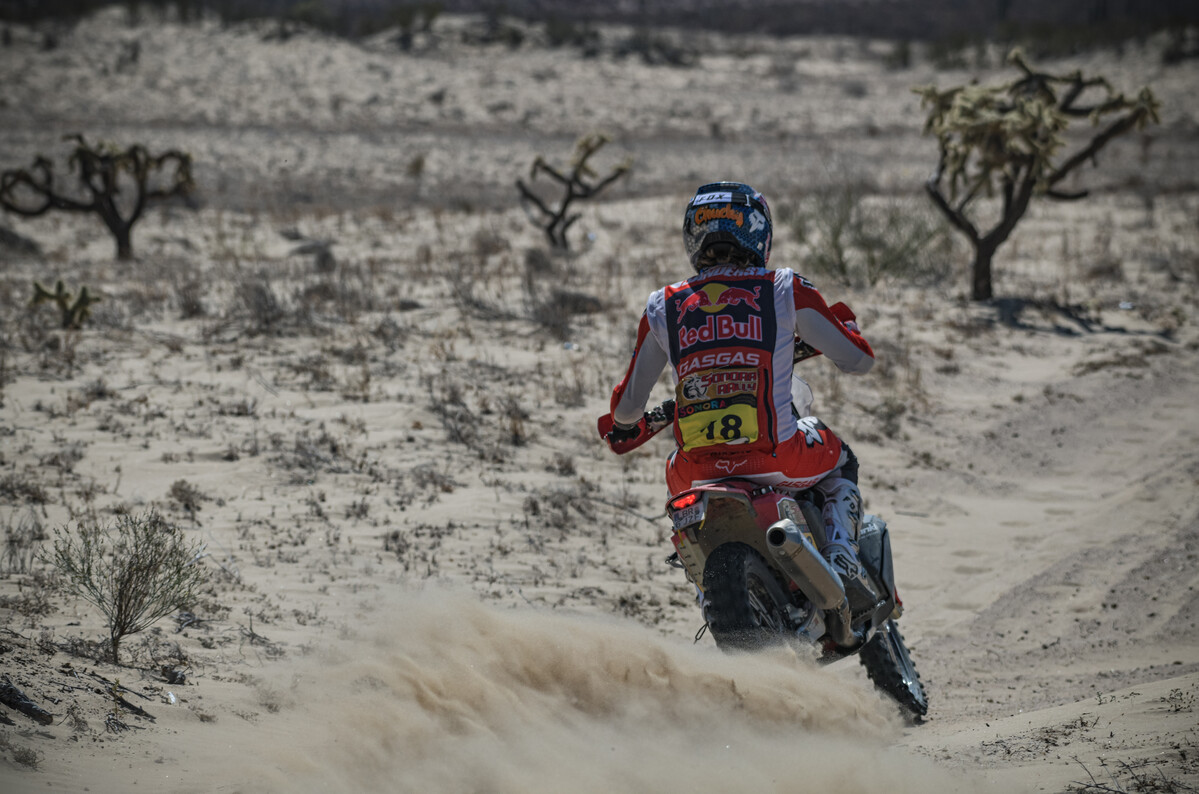 The hard part was leading on a "wild day" out front: "That was a pretty wild day." Daniel explained "Obviously, I was the first rider out this morning, and the road book had a kind of different style, there were a few notes that were a little strange. I kept cruising, found a mistake in the road book, the wrong cap. I went straight, managed to validate the waypoint.
"There was a lot of tricky navigation for me out front. We rode over a fair number of tracks from previous days, but in reverse, as well as some new stuff. I made a big mistake at the end and lost three minutes or so, only about 10 kilometers from the finish. It's a shorter day tomorrow, the final day of the event, so as I won't be leading out in the morning, I hope I can have a good day."
Overall classification after stage 4, one day remaining: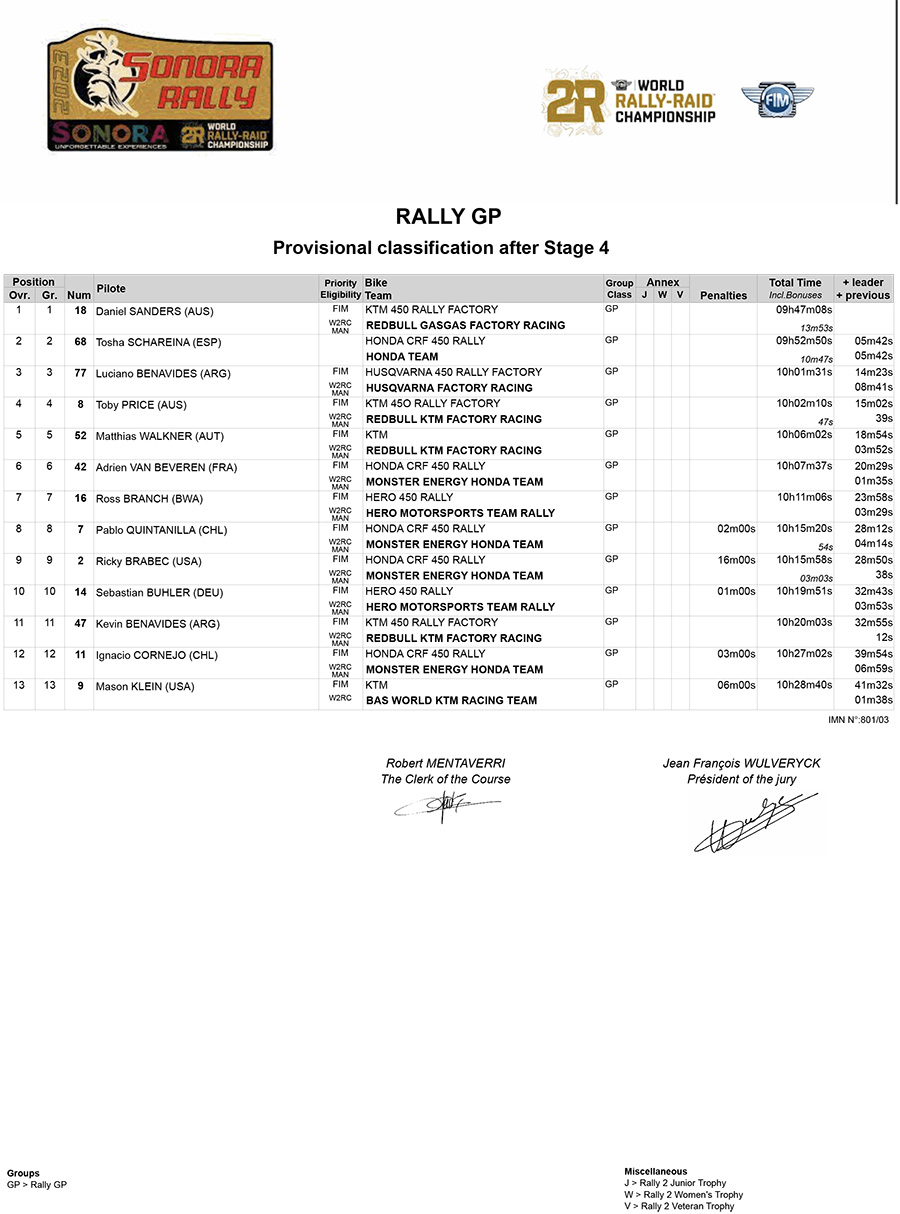 Mistakes in the road book
A wrong CAP bearing in the road book at km 76,84 today caused a bit of mayhem. The organisers admitted the error in the stage – an indicated CAP 298 should have read CAP 233 – and that caused several FIM competitors to head in the wrong direction.
Some riders chose to follow the drawing, some the CAP heading including Adrien Van Beveren, Kevin Benavides, Nacho Cornejo and Pablo Quintanilla who were able to re-join the rally route around 20km later but they lost time and it was a headache to sort out.
In the end they basically cut that section out of the day for every rider – the benefits of the electronic systems competitors have these days is organisers know where they are at all times so can see the errors and simply edited that out.
Dumontier holds 16-minute lead in Rally2
Romain Dumontier continues to be the class act in the second tier class, Rally2. The Frenchman finish P11 but four minutes ahead of Jacob Argubright and almost five faster than points leader Paolo Lucci.
One more day
Stage number five, the last of the rally, heads to San Luis with a healthy dose (259km) of liaison but a relatively short (139km) of special stage whichthey say will not be easy with plenty of sand. It's still all to play for, until the big-boned human sings and all (the final stage of '23 Dakar proved that), but with such a lead Sanders' has the win in his hands.
Photo Credit: Cin Cin Movies