2023 Sonora Rally results: Sanders makes history with maiden W2RC win
Results from the final day of the 2023 Sonora Rally in Mexico where Red Bull GASGAS Factory Racing's Daniel Sanders has taken victory on stage five and with it his maiden FIM World Rally-Raid Championship overall win.
A relatively short 139 kilometres of special timed section took the riders just over one hour to complete today, the final day of the Sonora Rally. Setting the fastest time and taking the overall victory, Daniel Sanders becomes the first rider in history to win the ISDE outright and a round of the World Rally-Raid Championship.
Remarkably this is only his third ever W2RC race, and GASGAS' third victory (after Sam Sunderland's Dakar and Abu Dhabi victories in 2022).
Fight for third to the end
The final day belonged to Sanders who won his fourth out of five stages ahead of Tosha Schareina who was second both on the day and in the race, 8m23s behind the winner. It's been equally impressive from the Spaniard who was gifted the ride from Honda to make up the numbers and has beaten all of the factory HRC boys.
"It feels like it's been a long time coming," said Sanders at the finish. "Dakar's the big one but getting wins in the world championship is also super important. I've had some bad luck with speed penalties and things like that in some events, so to finally get a world championship win means a lot to me.
"I feel like I've ridden well this event, leading out on several days, and generally having a good run through the event. I'm improving still, and thanks to the team who always give me a great bike I feel like things are really coming together now."
Price the points leader
Behind them though it was drama to the end as Toby Price attempted to overhaul a 40 seconds gap to Luciano Benavides in the overall time sheets to steal third place in the race.
Price looked like he had it nailed, leading the timed special all the way until a navigation error near the end allowed Benavides back on the podium. Lots of riders found that final waypoint hard to validate but Price suffered most. His only concilation is slightly extending his championship points lead over Benavides, with two rounds to go Toby is seven points clear.
Explaining what happened, Price said it was a stupid mistake, "I didn't quite get the right road, so I had to cut across and then come back, and then when I was back on the road I turned left instead of right. A silly mistake, but it ended up costing me the podium. That's racing unfortunately – the championship still looks good, but I'm gutted to have missed out here in Mexico, right at the very last stage."
The result is Lucian Benavides is third, 17m16s behind Sanders to Price's 19m43s deficit in fourth. Matthias Walkner is the second factory KTM home and completes the top five overall.
Rally 2 class
French rider Romain Dumontier wins the Rally 2 class convincingly in Mexico. Taking each day in class, Dumontier was almost 20 minutes to the good of second placed Jacob Argubright. Championship leader Paulo Lucci saw his points advantage slashed in finishing third – he's raced each round while Romain missed round two.
All three finished ahead of last year's Rally2 champion Mason Klein who had a tough week in Mexico finishing 16th overall and last in the GP class.
Overall final classification after stage 5 (top 30):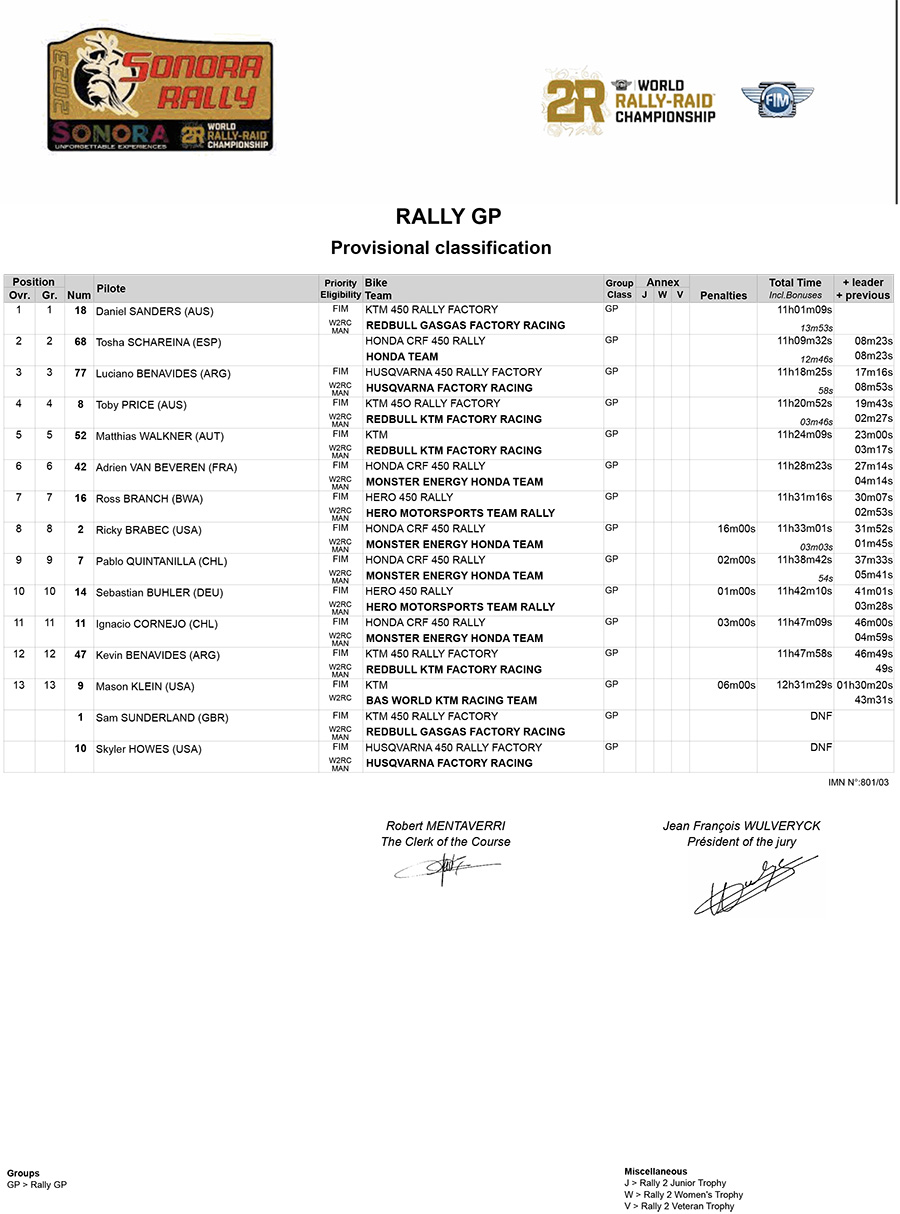 2023 Sonora Rally stage 5 results: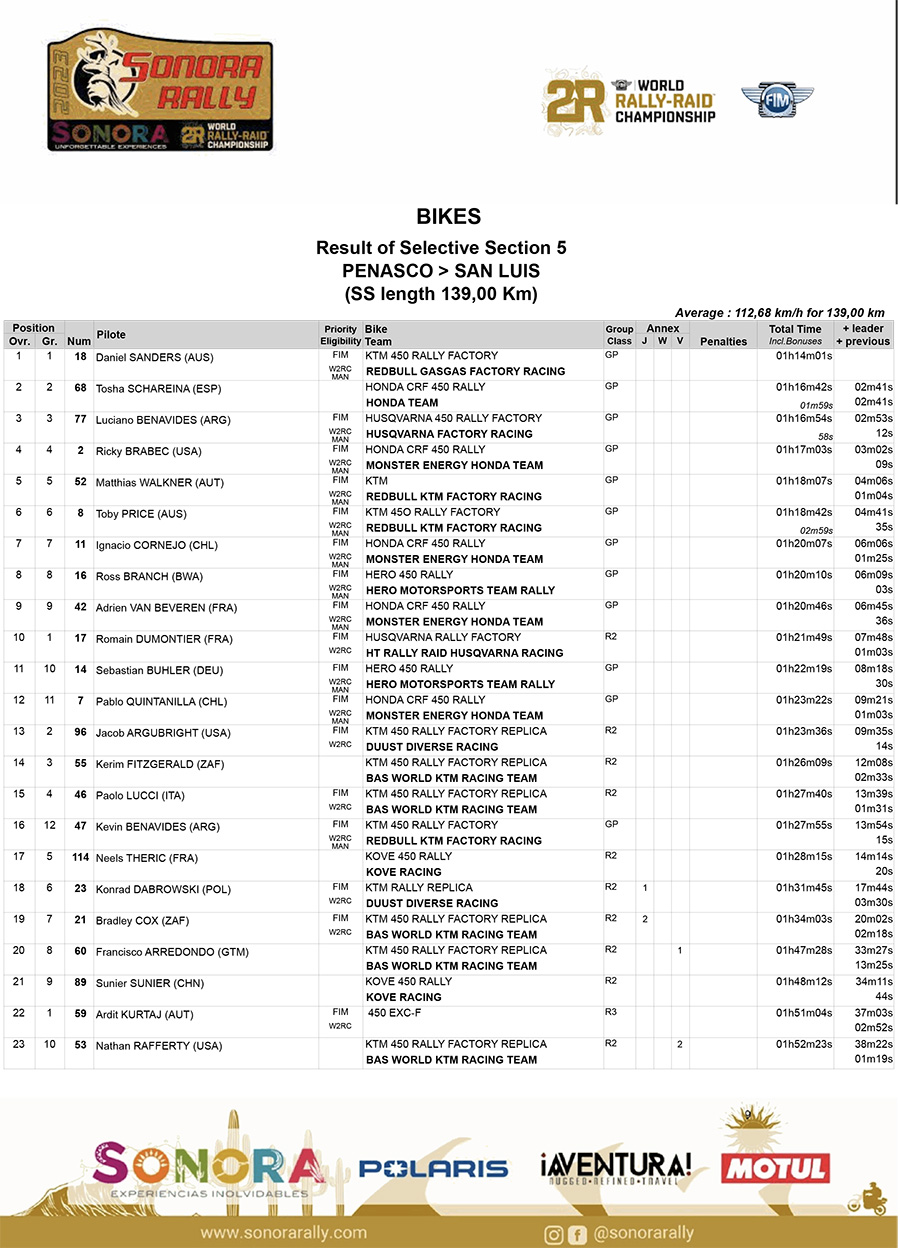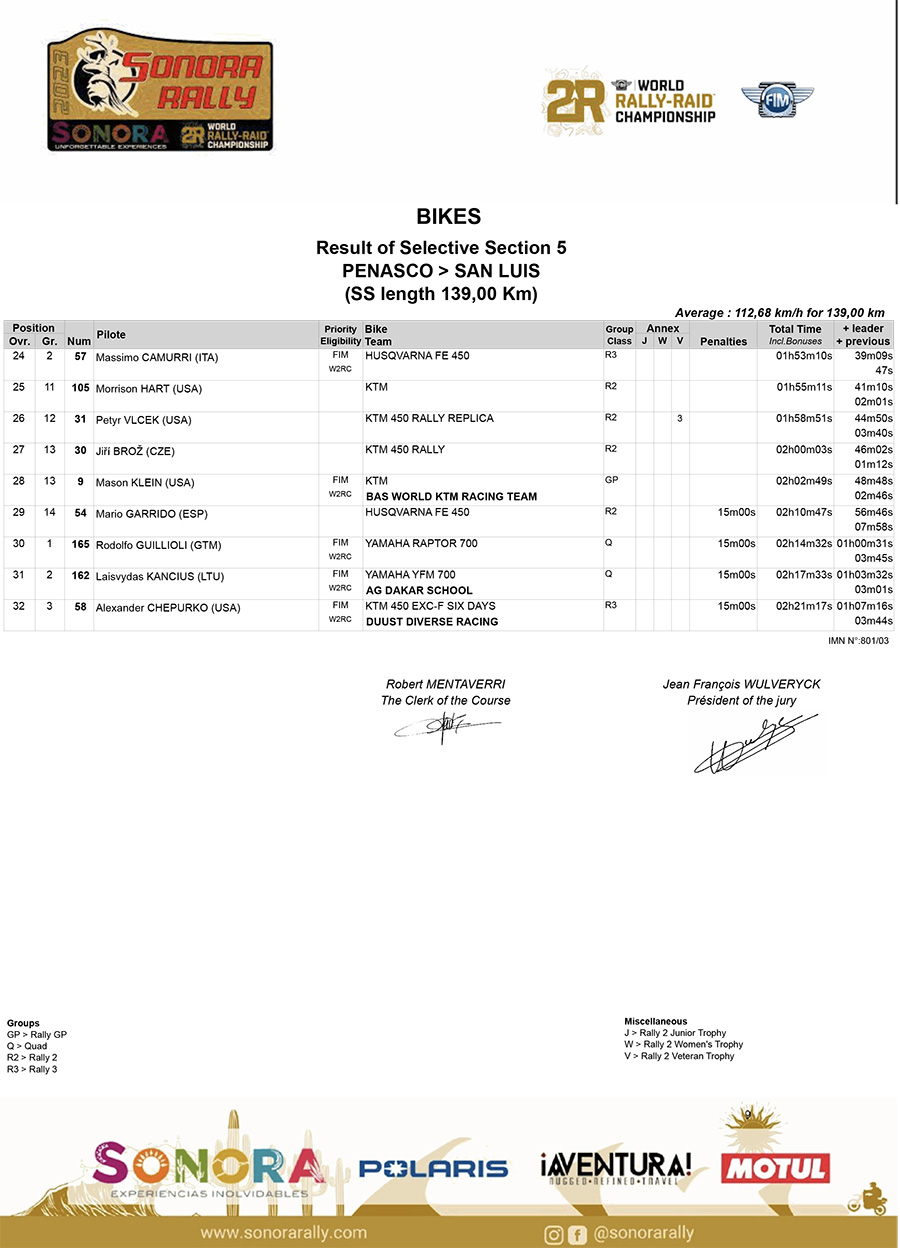 Photo Credit: A.S.O.| DPPI Images | J. Delfosse