Cross-Country Rallies World Championship: Branch leads in Kazakhstan, one day to go
Monster Energy Yamaha Rally Team's Ross Branch remains in charge of the Rally Kazakhstan overall results at round one of the 2021 FIM Cross-Country Rallies World Championship with just one stage remaining. The Botswanan rider sits four minutes ahead of Red Bull KTM Racing's Matthias Walkner who takes second on the fourth stage ahead of GASGAS Racing's Daniel Sanders.
Branch sits poised to take the first Rally World Championship round of the season but continues seemingly to live off the buzz of being at the races and enjoying riding his bike. "I focused a lot on my navigation," explained Branch, "it was sometimes a case of going slow to go fast because of the rain. It was also quite slippery in some parts of the stage. It was good fun though, and my bike is running well.
"I'm really looking forward to the last day tomorrow. It's gone by really quickly and I've had a great week with the team here in Kazakhstan."
Stage four, the longest of the event due in part to the 263.10km of liaison, once again tested all competitors with a variety of terrain and demanding navigation. A 40km route through sand tracks and dunes proved especially tough. And rain for the entire 308.8km special added an extra challenge, with the ground becoming slippery, especially in the slower technical sections.
Rockstar Husqvarna Skyler Howes set the fastest time on the penultimate stage but after the previous day's tyre problems, the American was racing for pride and experience not points today.
Walkner heads chasing pack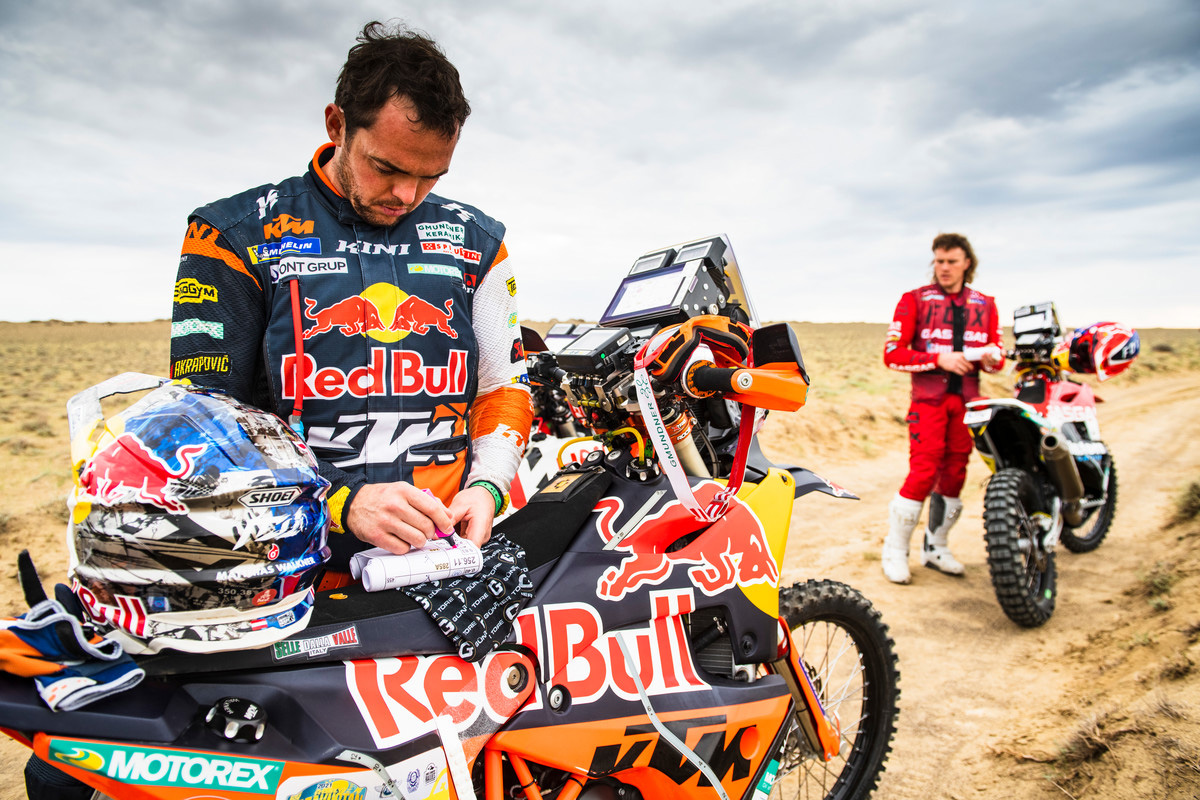 Red Bull KTM's Walkner has a four-minute gap to close down if he wants to win this rally. "I think that had to be the toughest day of the rally so far for me." Said the Austrian. "It was raining for pretty much the whole stage and that made it quite slippery in places, especially in the more technical sections. The dunes were nice but were followed by a very physically demanding area full of camel grass – that really took it out of you. I tried my best to push right to the end, and I'm happy with both my riding and the bike – that's working really well. Tomorrow I'll go out and do my best again and see what happens at the finish line."
Sanders enjoys the sand
"I'm really happy to finish third." Said Sanders after his best stage results of the rally. "I rode with Matthias Walkner for a while, which was good, and after the fuel stop we finally hit some proper sand dunes. When we got into them I was able to pass Walkner, and then I passed Skyler Howes not long afterwards, so I knew my pace was good.
"I could then ride in clean air and I was really happy with my riding today. Today's stage was a lot like what we have at the Dakar so it was fun to be back in the sand and I'm looking forward to more of the same tomorrow."
The 2021 Rally Kazakhstan concludes with the 352.34km stage five tomorrow, Sunday. It is still all to play for in the final special which has a total distance of 267.02km raced against the clock.
2021 Rally Kazakhstan – stage four results: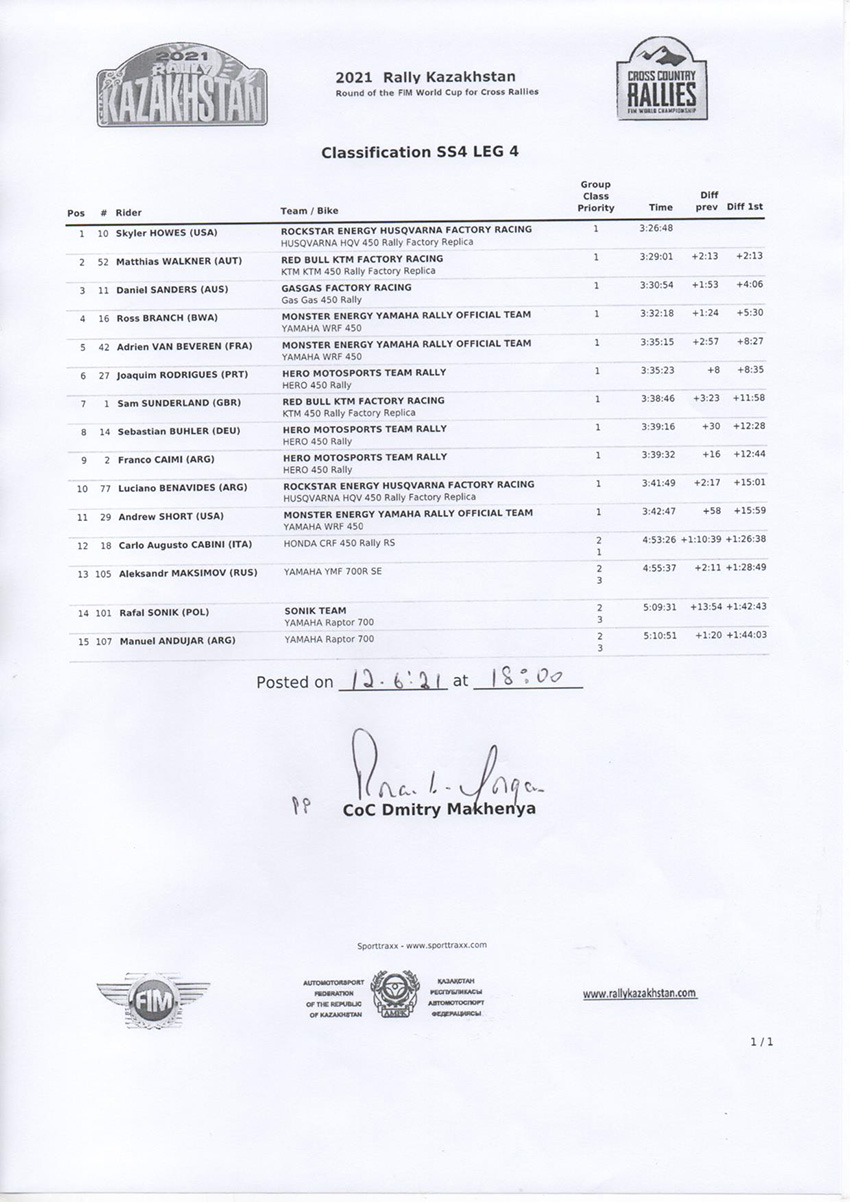 2021 Rally Kazakhstan – general classification after stage four of five:
Photo Credit: Rally Zone + Rudy Carezzevoli