Maiden Cross-Country Rallies World Championship win for Ross Branch in Kazakhstan
Monster Energy Yamaha Rally Team's Ross Branch has claimed victory at the opening round of the 2021 FIM Cross-Country Rallies World Championship, Rally Kazakhstan – Sam Sunderland crashes out of the final stage breaking his pelvis.
With a four-minute lead entering the final day of racing at Rally Kazakhstan, Branch's main objective was to maintain that gap over second-placed rider, Red Bull Factory Racing's Matthias Walkner.
In the end it was a tough call for Walkner who second rider away on the final stage and went on to finish two minutes down on Branch who took second on the stage which was won by Hero Motorsports rider Joaquim Rodrigues.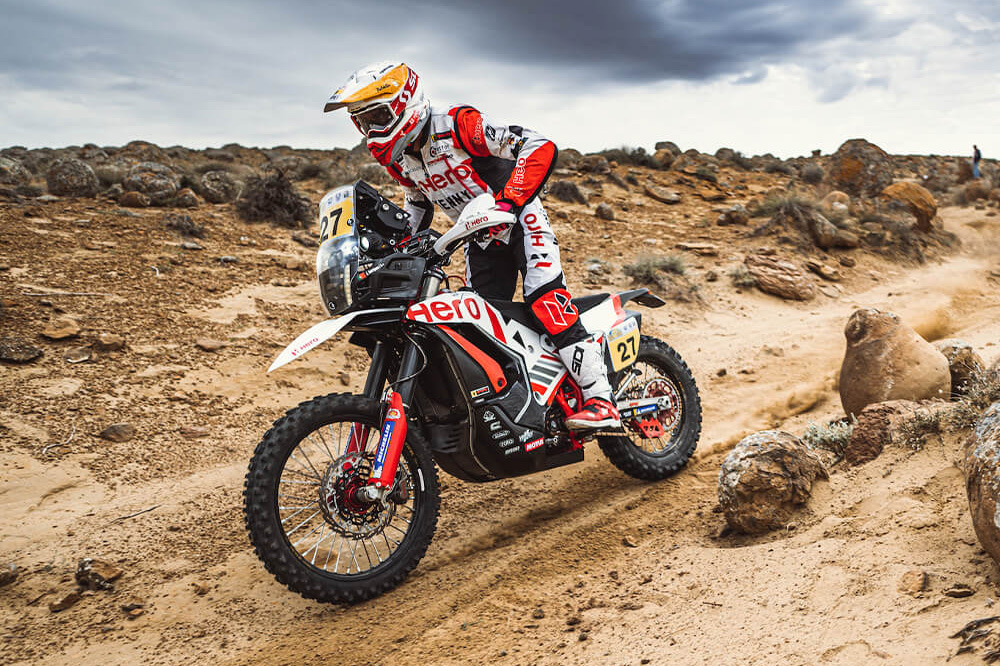 After extending his lead to just over five minutes, Ross earned his first ever victory in the FIM Cross-Country Rallies World Championship. "All-in-all it's been an amazing week here in Kazakhstan and I'm so happy to come away with the win." Said Branch at the finish. "Before this race I really focused on working on my navigation and it certainly worked here. I opened stages and finished up front on each stage so I can't ask for anything more.
"Overall, I've really enjoyed the whole week. It's great to be racing again and the team has done a fantastic job with the bike and it's just been an awesome experience. I'm really happy to have won for myself and the team."
Broken pelvis for Sunderland
The fifth stage of Rally Kazakhstan was cut short 158 kilometres into the special due to an issue with the event's refuelling equipment, which effected all riders. It was short but it was long enough for Sam Sunderland to be caught out by an almost invisible depression in the dirt and crash at speed. Rockstar Husqvarna's Luciano Benavides stopped to help Sam at the scene until medics arrived. Check Luciano's video of Sam's wheel tracks...
Sunderland has since who said on his own social media channels that he has a broken pelvis but is thankful for the airbag system which prevented a worse injury.
Walkner consistent for P2
Meanwhile ahead of Sunderland on the stage and on the timing sheets, Matthias Walkner rounded out the week in second place after holding the position across the five stages.
"Second place overall is good," concluded the Austrian, "it's a little frustrating to be just four minutes away from the win after close to 15 hours of racing, and I know I made a couple of mistakes earlier in the race that cost me that time, but this is the nature of rallying. I'm especially happy that on the days where I was opening the stage, I was able to maintain a good pace and not lose too much time to the guys behind, so that's really encouraging. I'm feeling good and already looking forward to Silkway."
Yamaha put Dakar gremlins to bed
Joining Branch on the podium was his Yamaha Racing teammate Adrien Van Beveren in third. It was an equally consistent five days for the Frenchman who says he is not normally a fan of hard, fast and rocky terrain. Along with Andrew Short in fifth place overall it was a successful rally for the Yamaha team.
"I'm super-happy to have finished third overall in the rally." Said Van Beveren. "It's great for the team to have three riders in the top five and it's nice to see Ross take the win, he deserved it. This rally isn't really on my favoured terrain, I would have preferred more sand, so to finish third here is a great result for me. I'm now looking forward to the Silk Way Rally."
2021 Rally Kazakhstan stage 5 results:
1. Joaquim Rodrigues (Hero) 1:19:51
2. Ross Branch (Yamaha) 1:20:58 + 0:01:07
3. Daniel Sanders (GASGAS) 1:21:22 + 0:01:31
4. Skyler Howes (Husqvarna) 1:21:28 + 0:01:37
5. Adrien Van Beveren (Yamaha) 1:22:17 + 0:01:59
6. Matthias Walkner (KTM) 1:22:17 + 0:02:09
2021 Rally Kazakhstan overall results: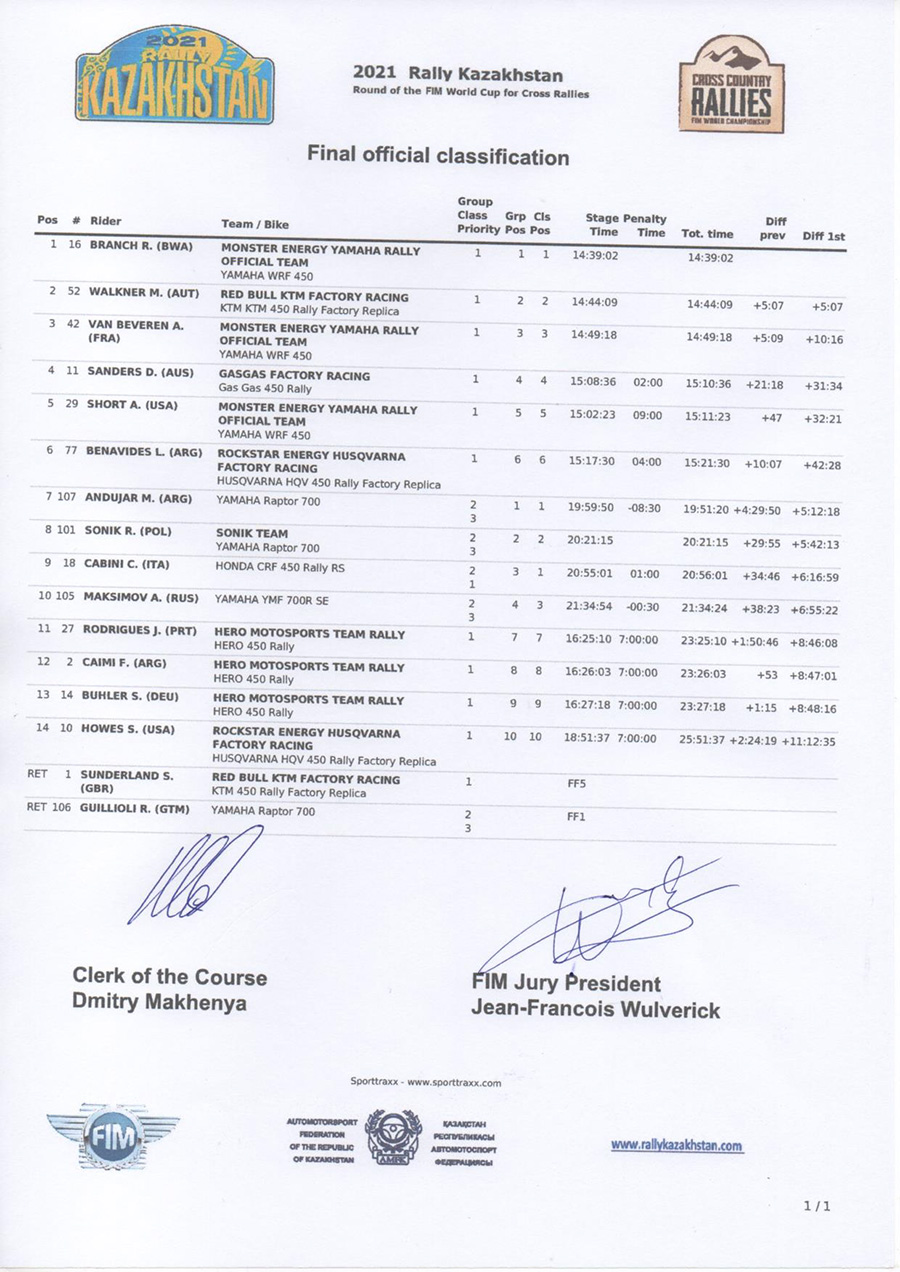 Round two of the 2021 FIM Cross-Country Rallies World Championship is the Silk Way Rally on July 1-11.
Photo Credit: Rally Zone + Edouardo Bauer