Dakar '23 daily notebook: what maintenance are RallyGP riders doing on their bikes?
Enduro21's daily Dakar notebook comes direct from the marathon stage 11 bivouac, deep in the sand dunes of Saudi Arabia (very) Empty Quarter and asks: with no assistance and just 30 minutes, what are you fixing on your bike?
No assistance means strictly no humans from any team is allowed anywhere near the bivouac tonight in the Empty Quarter. The Marathon stages were introduced a couple of years back now, to bring spice to the race and add more endurance – read jeopardy – to the race.
That means riders are all on their own after the stage, checking nuts, bolts, air filters and oil levels – although they can help each other.
Baring disasters on the stage, it should be a simple check list but we wanted to know from the riders themselves, what they were actually doing on their bikes?
Interestingly, RallyGP riders only get 30 minutes to check their bikes while everyone else gets an hour. Anyway, here's what five of the leading riders were up to tonight…
Rally leader after stage 11, Skyler Howes, Husqvarna Factory Racing:
"On the marathon stage it's important the bike is in good health and make sure nothing needs to be fixed.
"Overall, we check the oil level, check the spokes are tight, makes sure the air filter is clean – if it's not you can replace it. I also put an air filter skin over mine so we make sure that is clean and replace it. More or less it's just checking everything is all good and protecting it from the weather a little.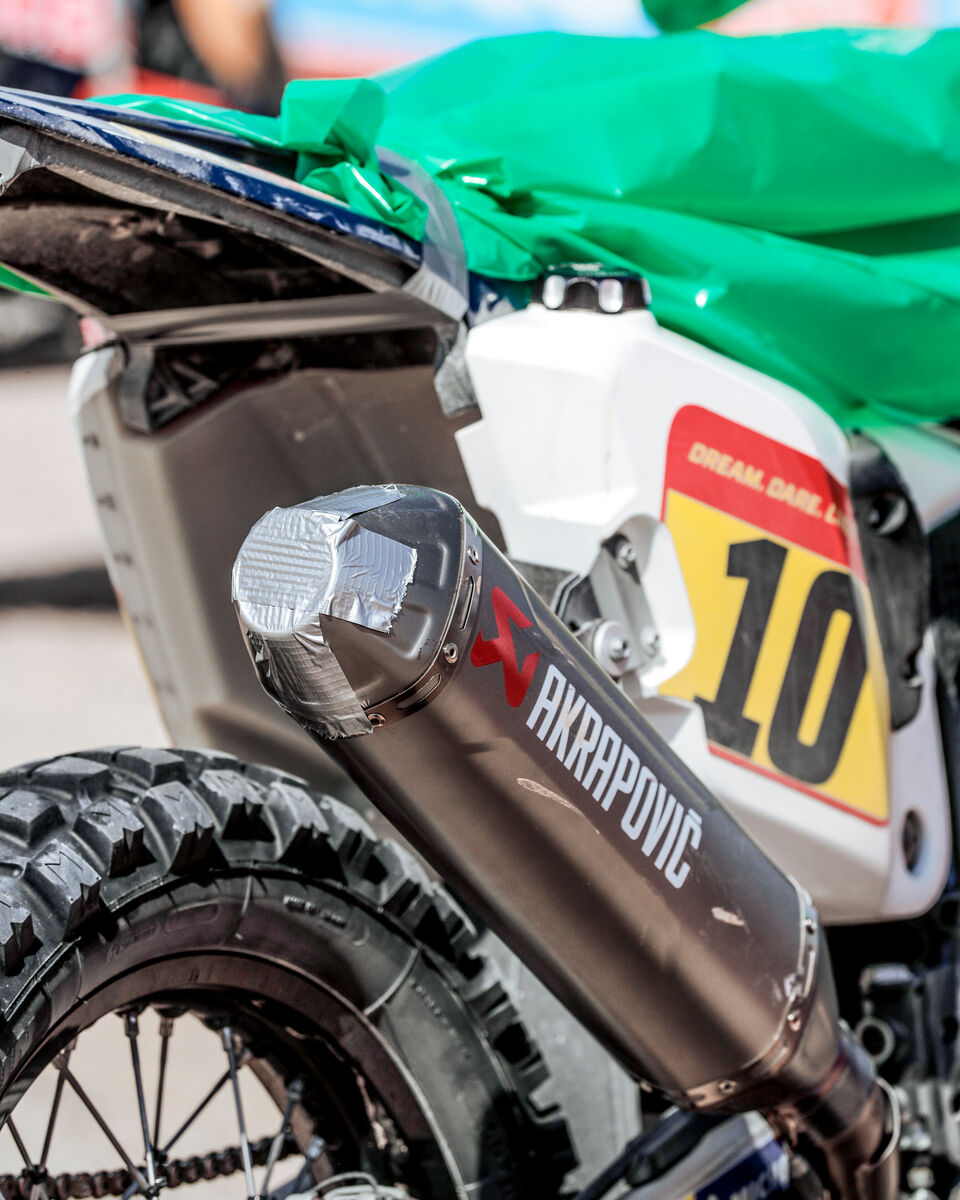 "I had one little fall over in the dunes but it was soft so I have no damage today, all's good. I just lubed the chain and that was it.
"People might wonder why we put garbage bags over the bikes, it's because the deserts gets a lot of moisture in the air overnight so we protect the instruments, the navigation equipment and everything by protecting it."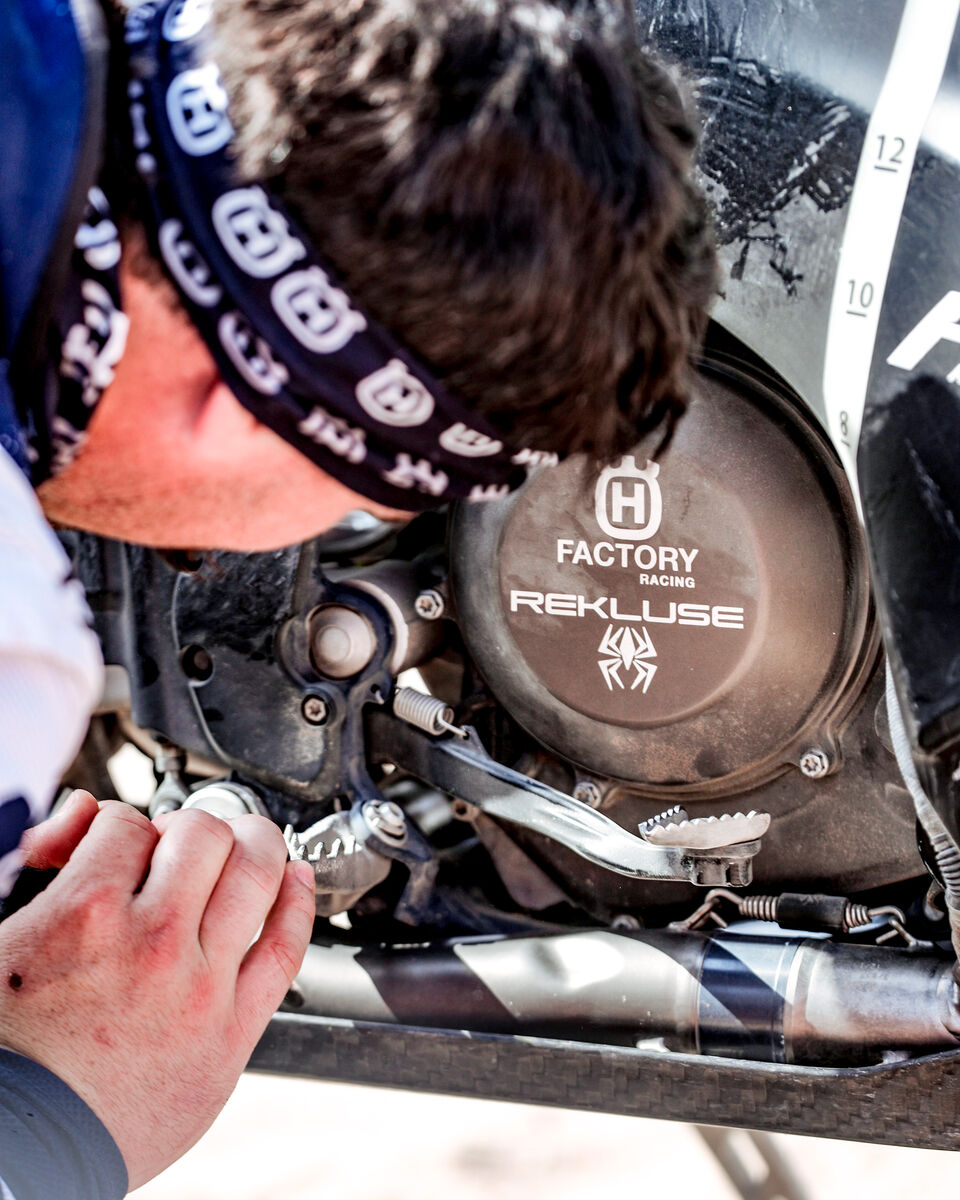 What does Skyler carry in spare parts for this stage?
"We carry a few different things stage. Fuses, an injector, brake pads some things like that, a lever so that we can fix things like that. But anything major we can't and we're out of luck."
Some readers might remember a couple of years ago (when face masks were all the rage!) that tyres were falling apart during the first half of a long marathon stage. Toby Price had to employ bush tactics to make his rear Michelin last the next day.
Massive cable ties around the tyres and rims didn't look pretty but did actually work and he remarkably made it through the next stage.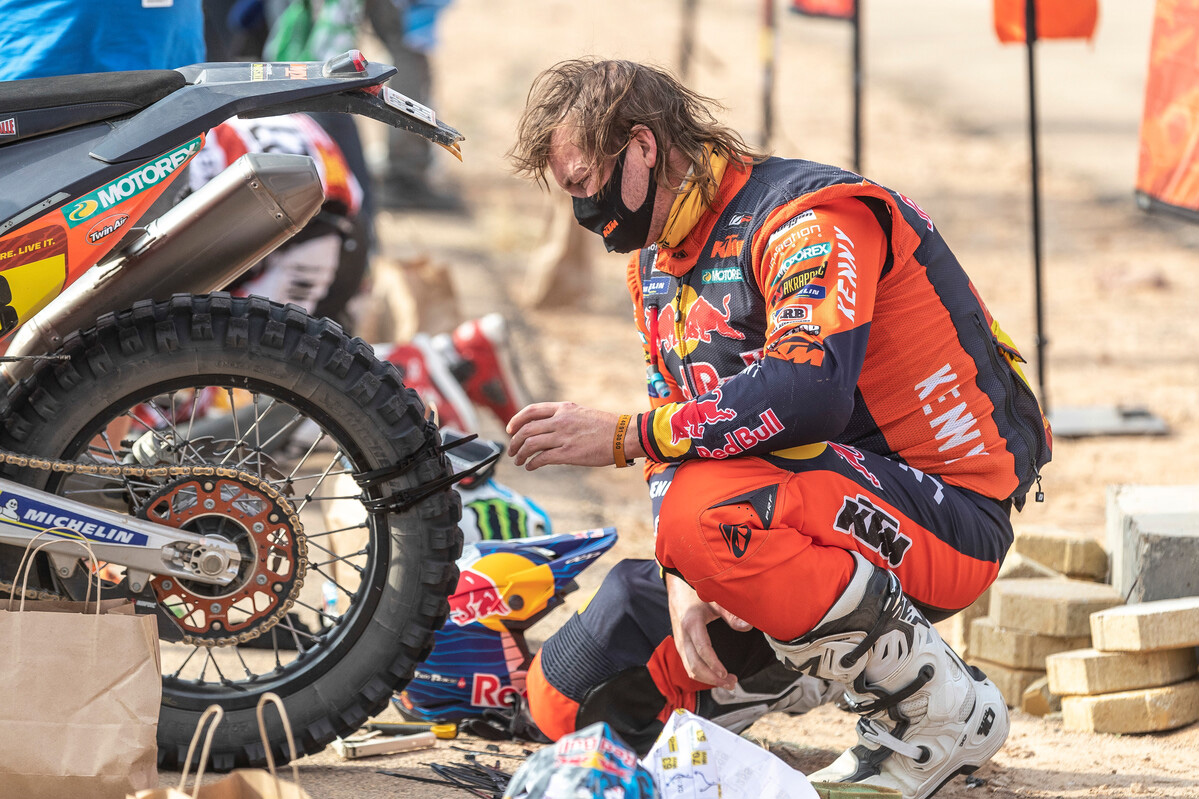 Toby Price Red Bull KTM Factory Racing:
"I just did some basic checks, the filter, remove the filter skin, check the spokes and brakes, make sure there's nothing leaking but my bikes' all good. Nothing major today, no accidents so she's looking good for another day."
What does Toby carry in spare parts for this stage?
"Realistically you can't carry a great deal just a front brake and clutch lever, a rear brake lever and a clutch plate but nothing much else, it's not like you can put a set of handlebars in your back pocket. That's why the marathon stages are difficult and you have to be cautious."
Bulletproof bikes, just don't crash
The truth is bikes are pretty bulletproof and to last two days is no great stretch, they seem more concerned with what the damp desert air is gomingto do that anything else. Over many years of development, these bikes and the customers versions so many are using at the rally are designed to be this reliable.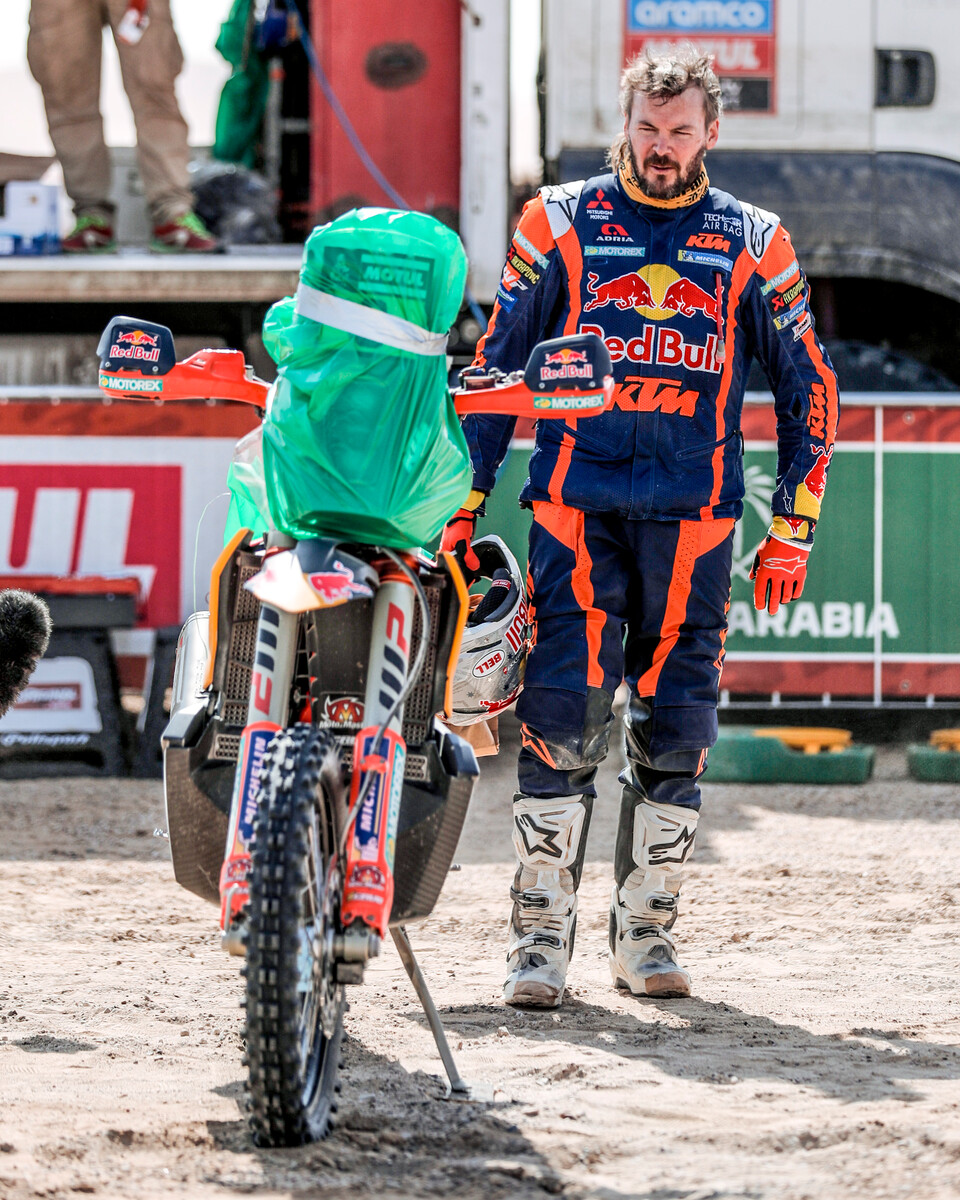 The only problems anyone can have is to crash and need something you simply haven't got. Occasionaly in the past we've seen factory riders loan parts, even swap tyres with a lower ranked rider – occasionally money has exchanged hands from a factory wanting to keep their top rider going.
The good thing for riders today it that the soft dunes make life easy for the bike. As most of us know, soft sand doesn't really do much to your bike if you crash.
Adrien Van Beveren, Monster Energy Honda Rally Team:
"I checked nothing special really just the oil level, the clutch adjustment, the spokes are tight and overall I went around my bike to check everything is correct and as it should be. But the bike is fine and we put some plastic over the front to protect it from the humidity.
"We carry some Motul oil in case but we don't need it because the level is ok. We are a team so we don't all carry a big quantity, we can help each other."
Our snooping around the paddock during the '23 Dakar shows the oil (and filters) is getting changed each day normally. It's looking a little browner than when it goes as it runs out the sumps as a rule but it's far from needing to be changed and no great risk to run it for two days say the oil companies.
Kevin Benavides, Red Bull KTM Factory Racing:
"The first thing is to turn everything off and make sure we don't drain the battery. I checked the instruments to make sure it is all working properly first. Then, like everybody else I checked the air filter, the spokes, oil, brakes and a general check around it to makes sure everything is as it should be. Not loose and these things. I carry an air filter as well because it is easy to put it in your pocket to have a fresh one for tomorrow. There are no problems with my bike though."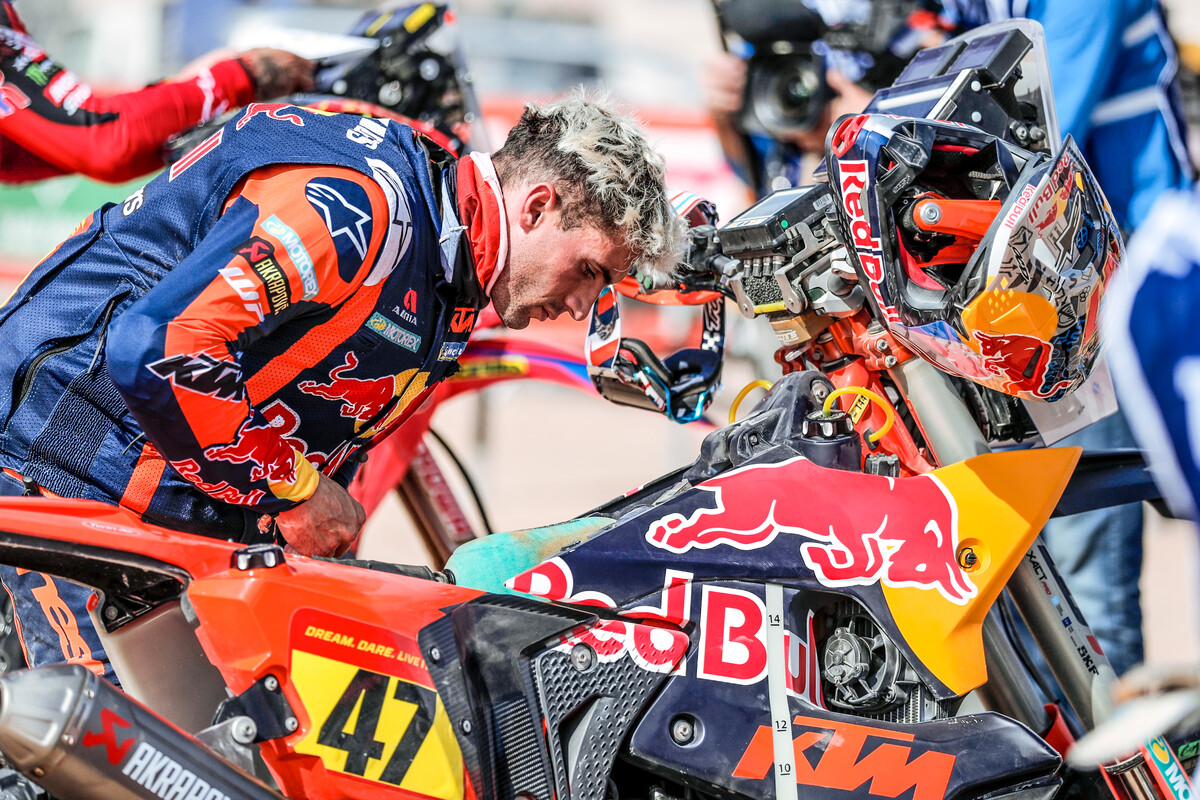 Mason Klein BAS KTM Rally Team:
"I checked nothing really, just the basic stuff to make sure it looks good. I took the covers off and checked the filter, put a trash bag on the navigation equipment and seat and that's about it."
Which spare parts did Mason carry for the bike? (Some riders are clearly more worried than others!): "Nothing. Some zip ties, that's it."
Full results and report from stage 11 here: 2023 Dakar Rally: Stage 11 results – fight for victory heats up, Luciano Benavides wins, Howes regains control
Overall classification after stage 11, Rally GP class (top 10):
1

10 - S. HOWES (USA)

HUSQVARNA

38h47m43s
+00:01:00
2

8 - T. PRICE (AUS)

KTM

+00:00:28
+00:01:00
3

47 - K. BENAVIDES (ARG)

KTM

+00:02:44
+00:03:00
4

7 - P. QUINTANILLA (CHL)

HONDA

+00:14:14
+00:02:00
5

42 - A. VAN BEVEREN (FRA)

HONDA

+00:15:24
--:--:--
6

77 - L. BENAVIDES (ARG)

HUSQVARNA

+00:18:06
--:--:--
7

18 - D. SANDERS (AUS)

GASGAS

+00:21:40
+00:04:00
8

11 - J. CORNEJO FLORIMO (CHL)

HONDA

+00:25:40
--:--:--
9

9 - M. KLEIN (USA)

KTM

+00:31:35
+00:04:00
10

52 - M. WALKNER (AUT)

KTM

+00:44:45
--:--:--
Photo Credit: Rally Zone