2023 Dakar Rally: Stage 11 results – fight for victory heats up, Luciano Benavides wins, Howes regains control
Results from stage 11 of the 2023 Dakar Rally where Husqvarna's Luciano Benavides takes his third stage win ahead of a resurgent Daniel Sanders and Toby Price on crucial stage 11 – fourth place means Howes regains the rally lead.
Dakar '23 stage 11 in a nutshell:
A very real sense of a fight for overall victory played out today on stage 11. Yesterday we dared to ask, "can we think about a winner here?" The cards were beginning to stack in favour of Skyler Howes and Toby Price, with Kevin Benavides as an outside bet.
Price and Howes took advantage of their later start positions but K Ben is definitely not lying down and baring disaster, this is a three-horse race now.
Adrien Van Beveren passed the first rider away, Ross Branch, by KM50 and continued to open the piste, claiming over three minutes of bonus points for his efforts in the sea of sand.
The Husqvarna rider Luciano Benavides is on that see-saw of rally stage results which see him win then lose time the next day. Today, from 13th place, he capitalised and goes from no Dakar stage wins to three in a week.
Howes didn't capitalise on his later start position (18th) as much as we expected, two minutes behind his teammate is not bad going however and he gained back the race lead.
He sits just 28 seconds ahead of Toby Price who was invisible on the timing screens all day due to an Iritrack problem. He was there though and finished third, 13 seconds faster than his main rival Howes.
Like his brother, Kevin Benavides lives and trains a lot in the dunes and had a storming ride today. 10th and six minutes down doesn't look so good but P4 start position should have meant time loses (those around him lost nearly 10 minutes). But Argentina's only Dakar winner sailed the sand sea and capped the gap to leave him 2.44 overall behind Howes.
Daniel Sanders was just ahead of Luciano at the start line and just behind him at the final timing beam (though never actually overtaken on the ground). Sanders' second place on this stage is his best result since getting stung with a stomach bug on stage five.
Another contender in the first week, Mason Klein, also effectively ruled himself out today. From a favourable position the youngster looks to have burnt his '23 Dakar candle finishing P27 and dropping to ninth overall and over 30 minutes to the bad.
The scale of this part of the Arabian peninsula is unbelievable. A huge expanse of dunes stretching across and into the UAE and Oman. This is what opening the stage looked like today…
🏍 Carving fresh tracks in the Empty Quarter. 😍#Dakar2023 pic.twitter.com/oxhPQDJnko

— DAKAR RALLY (@dakar) January 12, 2023
With the stage running in his playground, Michael Docherty was one of the Rally 2 riders mixing it with the factory boys, despite his third placed start. Leader Romain Dumontier was the class stage victor though, taking P7 overall and still in charge despite an overnight engine change costing the Frenchman 15 minutes.
After an engine and gearbox change overnight, Original by Motul top dog Charan Moore had to swallow a 15 minutes time penalty. That aside, the class victor today was Mario Patrao narrowly ahead of Javi Vega who is the new class scratch leader nine minutes.
Stage 11 results: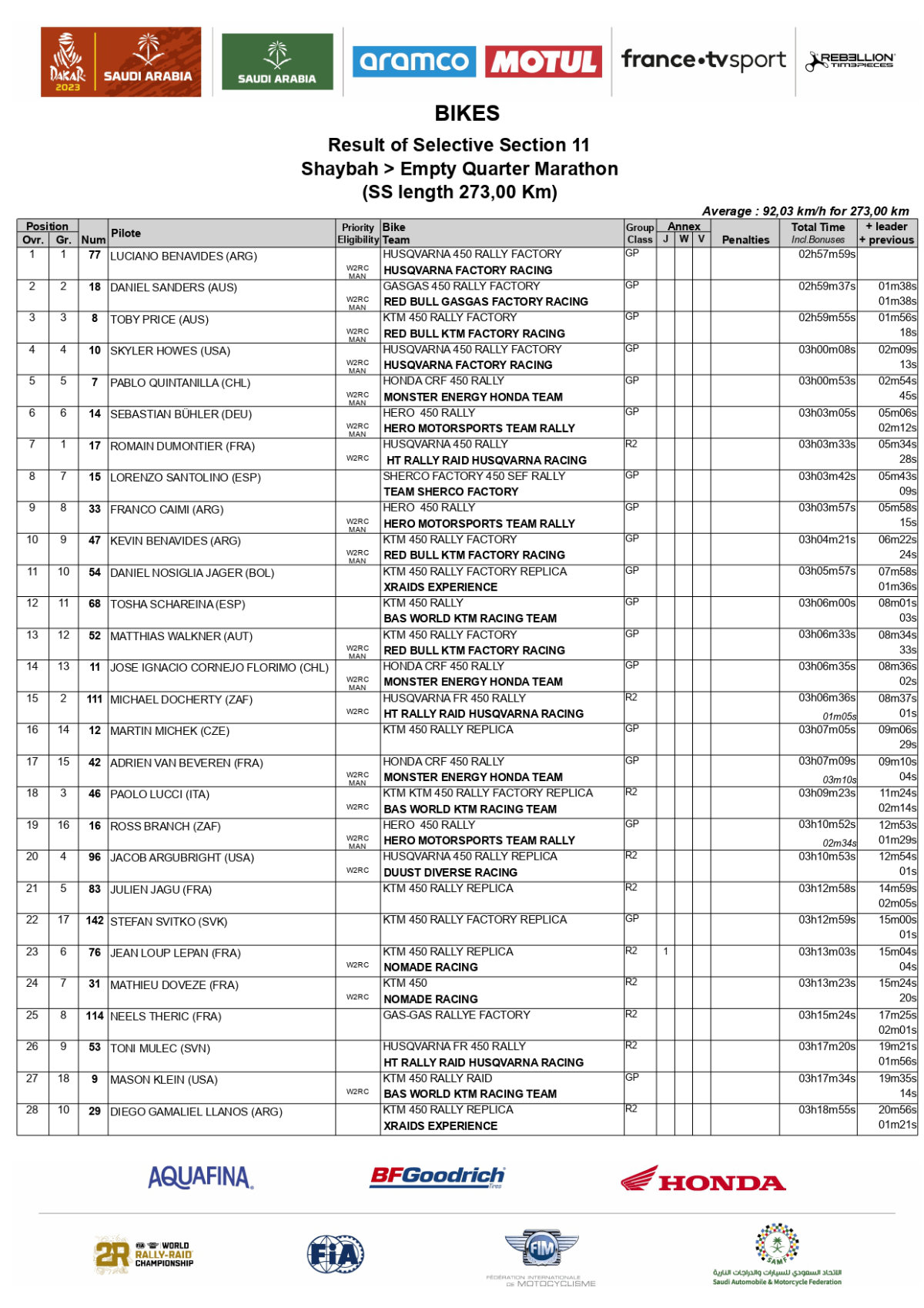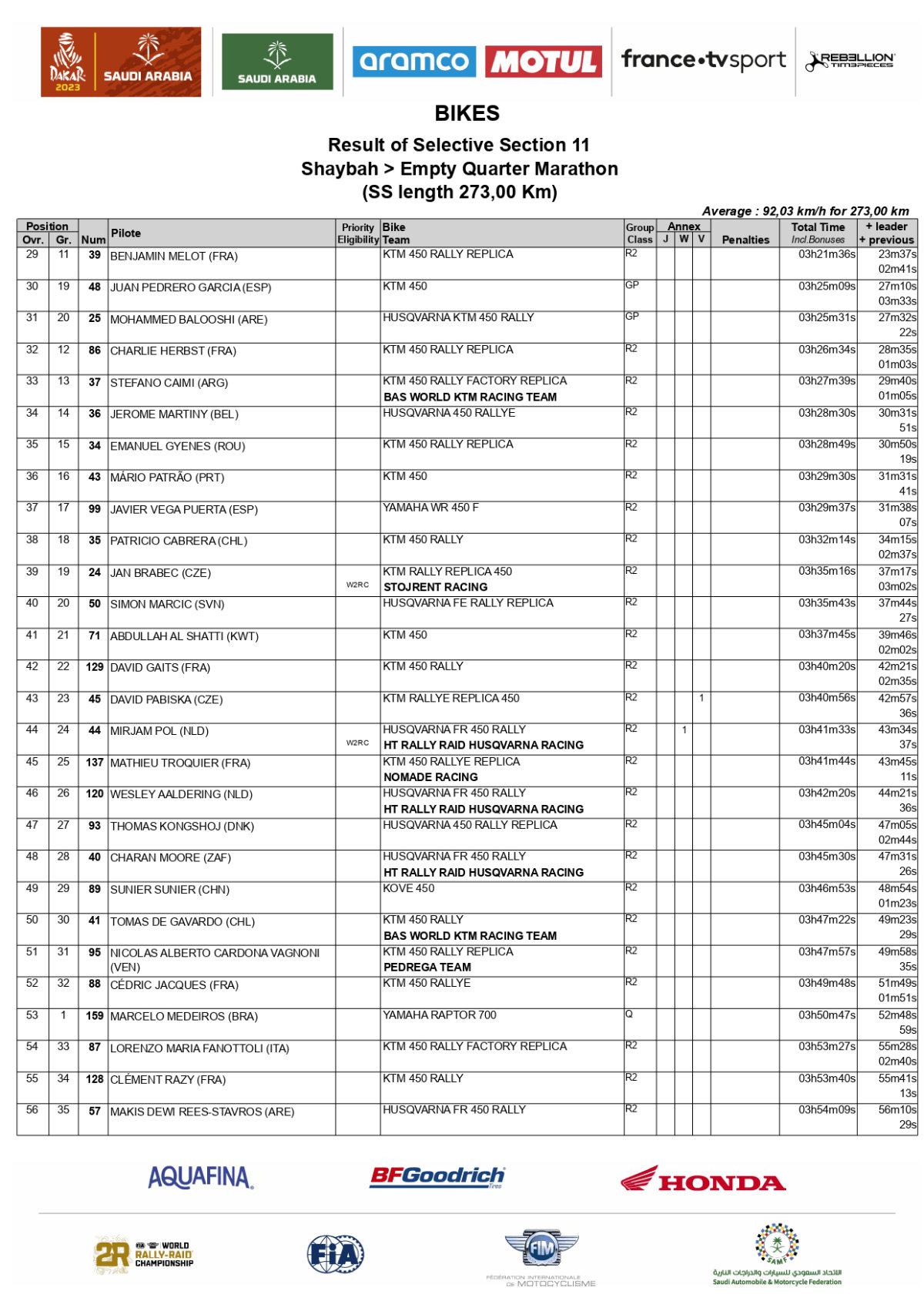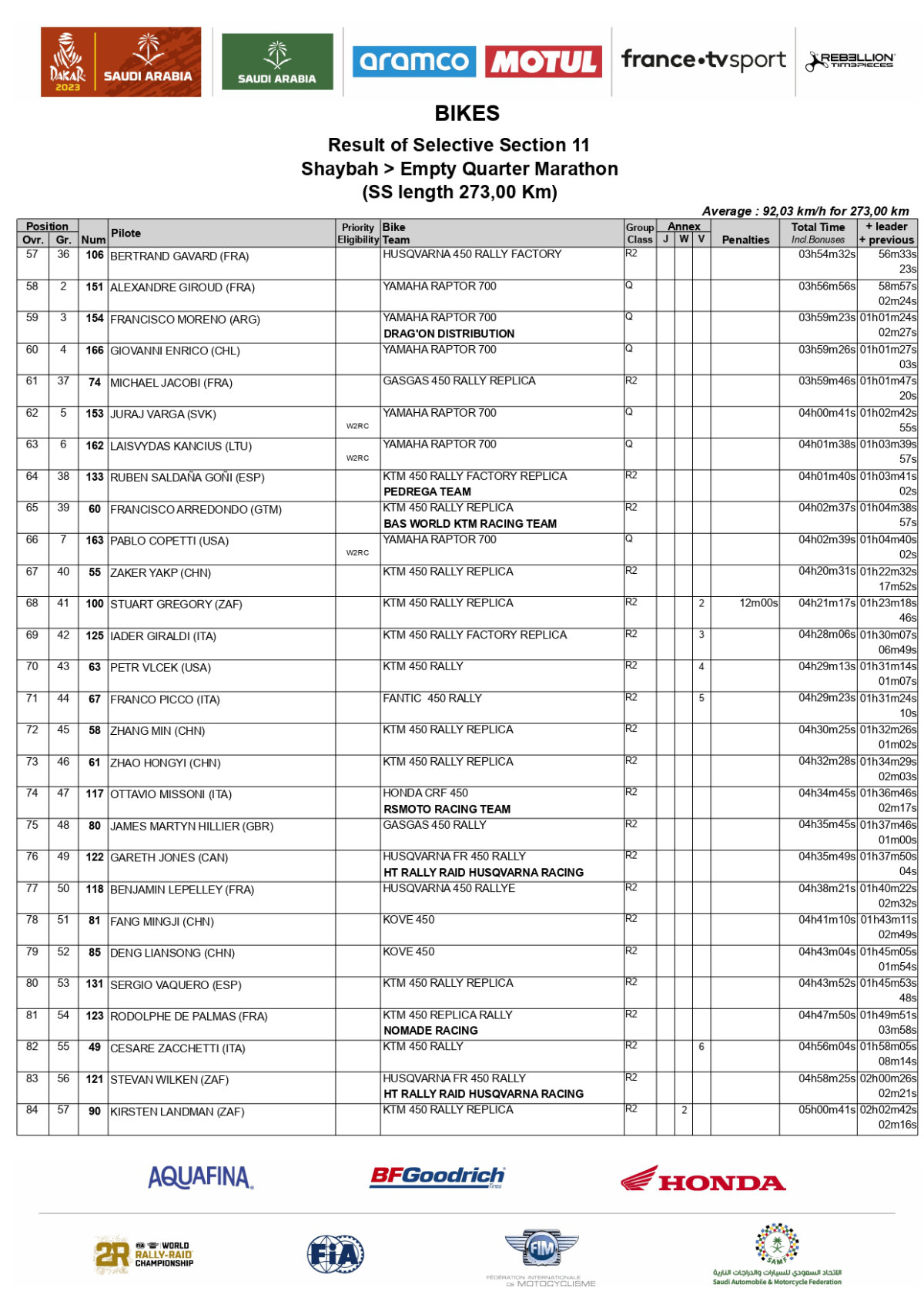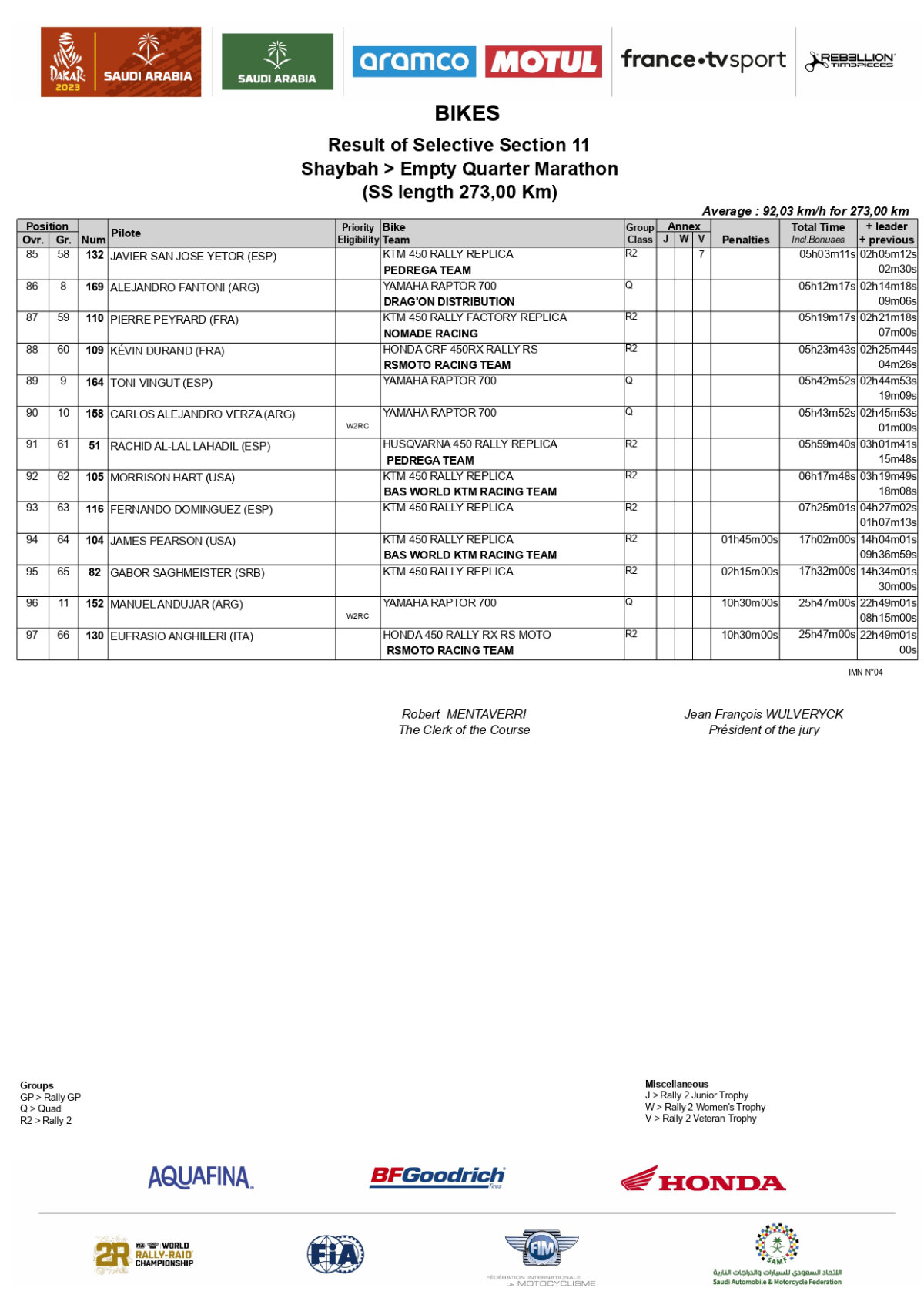 Overall classification after stage 11 – Rally GP: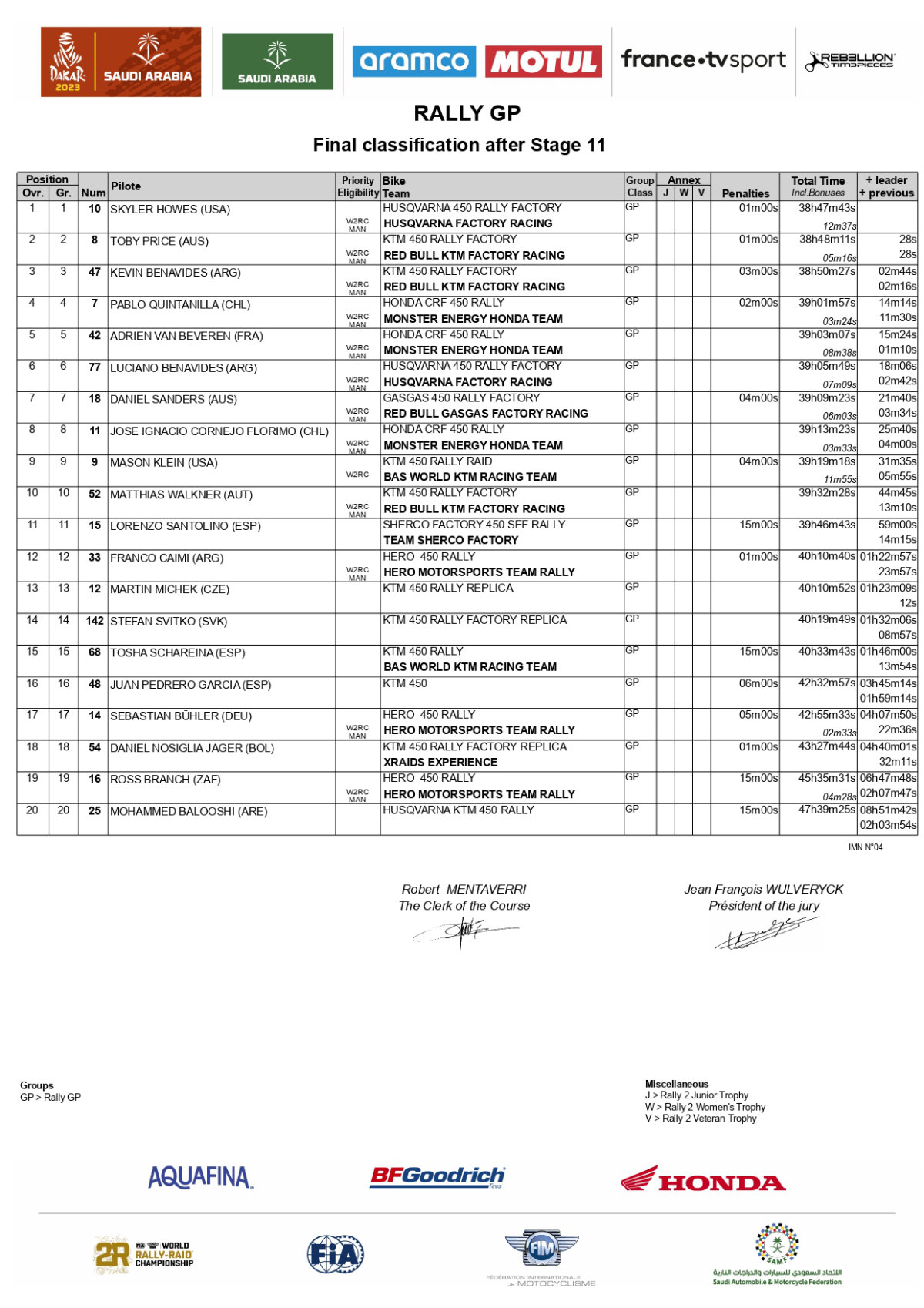 Overall classification after stage 11 – Rally 2: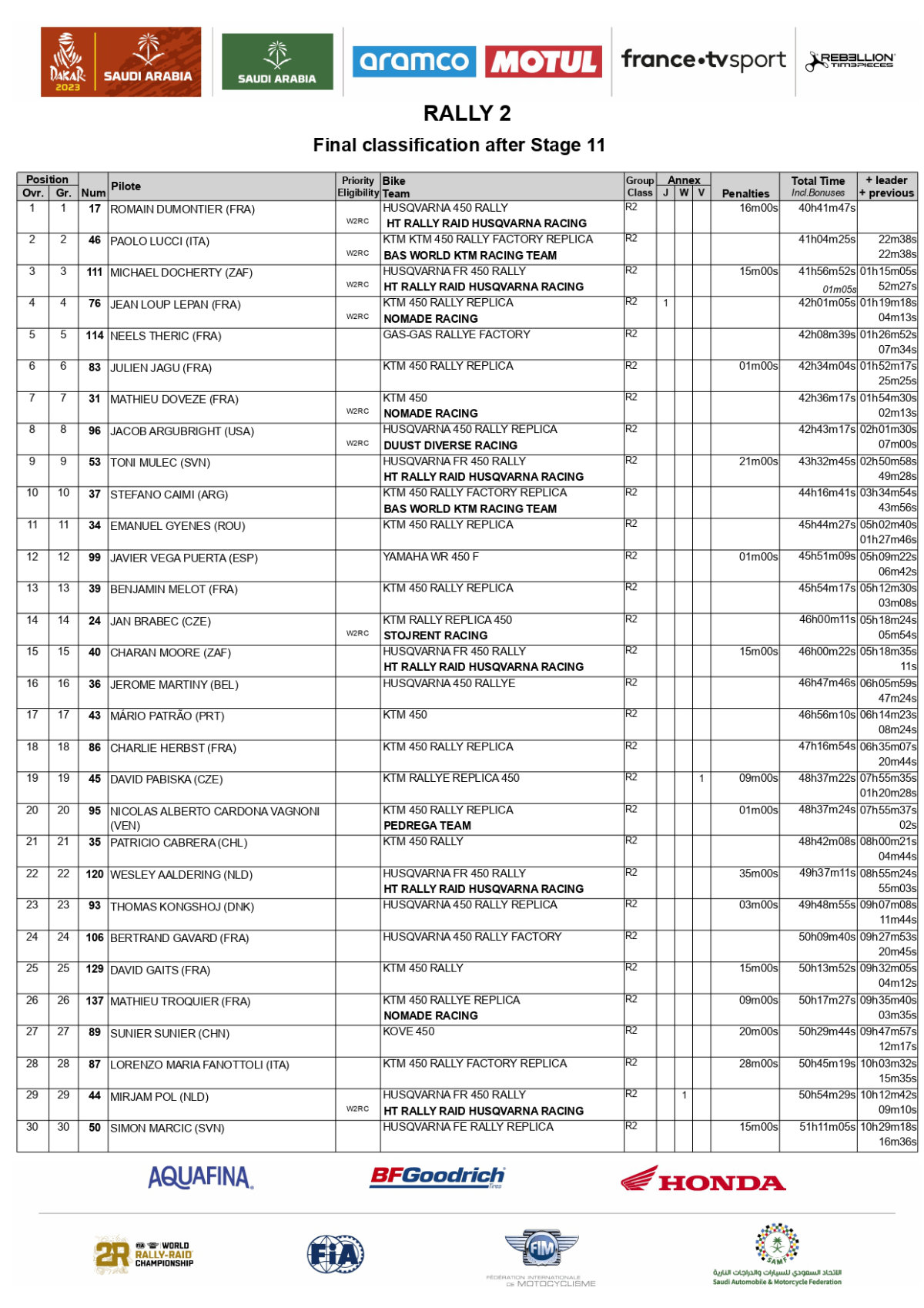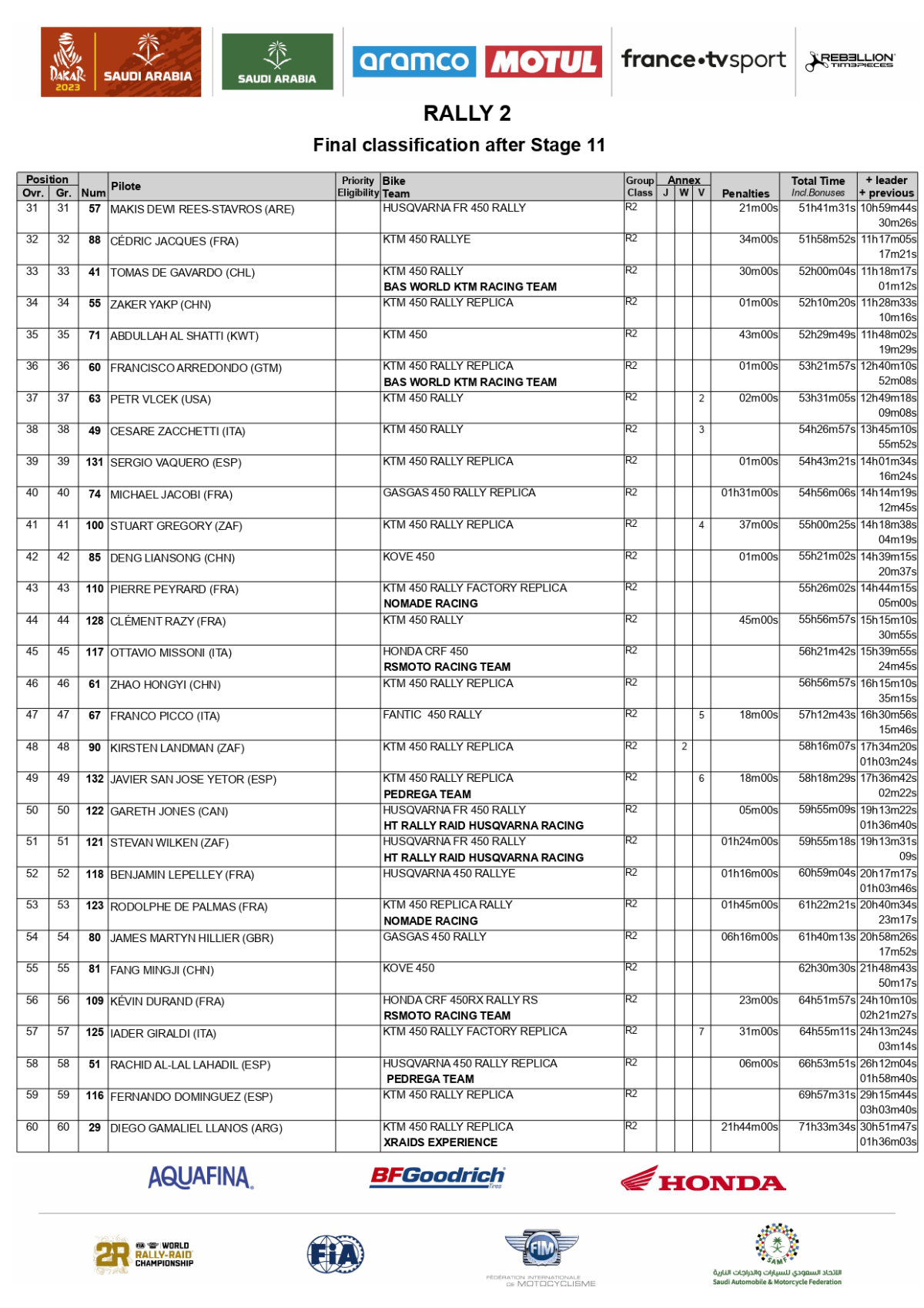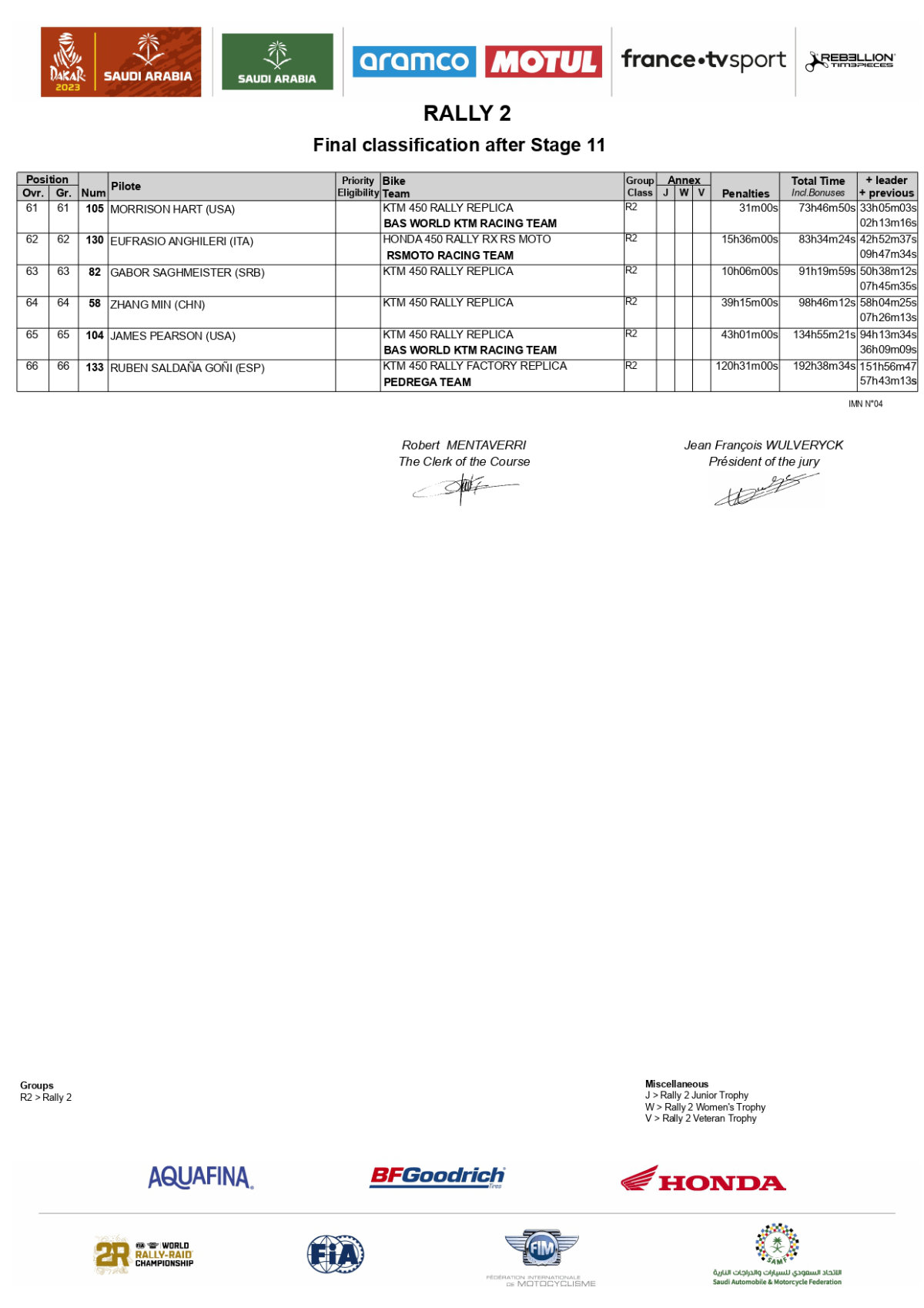 Photo Credit: A.S.O | F. le Floc'h