Dakar '23 daily notebook: stage 10 – engine swaps, ketamine, and can we predict the winner?
Enduro21's daily Dakar notebook from the stage 10 bivouac in Shaybah talks to the riders about ketamine injections, soaks up the best atmosphere in the paddock, and ponders the potential for a two-horse race.
Riders raced just 114 kilometres in the special stage today. Does that sound like an easy day to you? Think again.
The first departure from the Haradh bivouac this morning (actually it feels like last night) was 3:30am for Luciano Benavides, which means his special prize for winning stage nine was to get up at 2:30am and lead everyone on a six hour, 467km road section. Suddenly stage 10 doesn't seem so easy.
Today's Enduro21 notebook is short because we've been putting together another feature all about what happens to the bikes at the end of the stage. Fly-on-the-wall style we camped out in the KTM/Husqvarna/GASGAS service area and took notes. Stay tuned for how many parts they throw away each day...
"They injected him with ketamine, and he started talking about Ariel square fours."
The atmosphere seems a little more relaxed, despite all the work naturally going on ahead of the marathon stages ahead. The best atmosphere, and friendliest place to wonder around on an afternoon, is the Originals or Malle Moto class as it is still commonly called.
It genuinely feels like one big team effort. There's a good craic and the stories flow. Stories like:"they injected him with ketamine, and he started talking about Ariel square fours." We'll just leave that one where it is...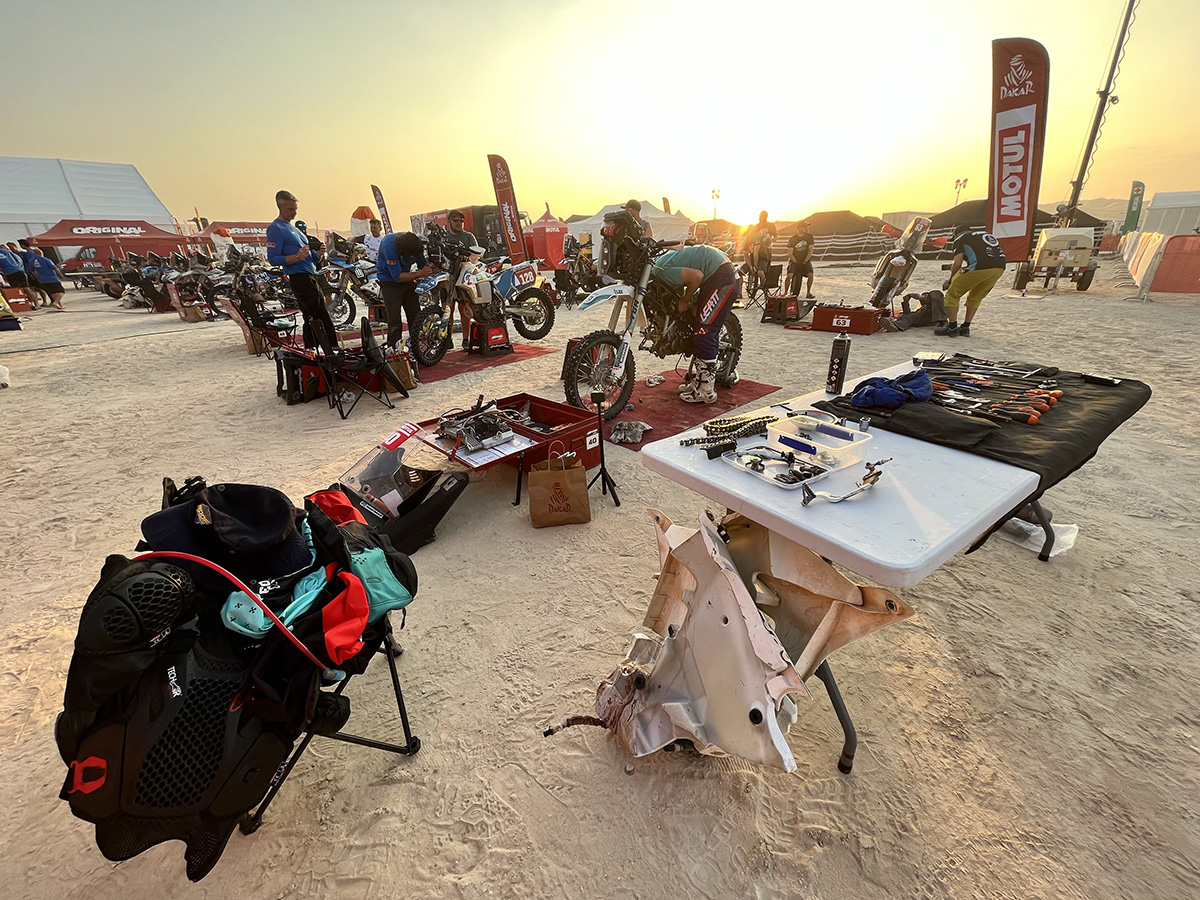 People are still busy and no one more so than the Original by Motul class official leader, Charan Moore (above). He's nursed his bike home tonight he says, worried to death it wasn't going to make it after the transmission cried enough.
Moore bought some favours (with the emphasis on 'bought') and has spent a couple of hours straight swapping a complete engine and gearbox procured from another team. It'll mean a 15-minute penalty for Charan but he will still lead despite that.
He's not the only one, one of the awesome team of American riders, James Pearson (no relation!), was doing an engine swap too while his wife watched on. It passes the time, especially when you have to do it all on your own.
Dare we think about a winner here?
Onto to the main event and it could be, COULD be time to really start thinking about who might win this race. There are just four days left and a lot of racing kilometres still to go but the pendulum could be swinging towards just two riders.
With 12.37 of bonus points stacked up, Skyler Howes is certainly earning his place at the sharp end of the standings. It contrasts with the current race leader Kevin Benavides' big, fat zero bonus points earned.
It shows there are two ways of biting this cherry: try to keep out front as much as possible and counter the deficit of leading with the bonus points like Howes and Price or be like Kevin and live just inside the top 10, avoiding the ups and downs. Both are proving fruitful for these three.
Without the bonus time Howes would currently be in fifth place but he has mastered the trick of taking the rewards for leading on the ground – 1.5 seconds per kilometre for first, 1s/km for P2 and 0.5 s/km for third up to the first refuelling point usually around 200km.
Meanwhile Benavides is mastering the art of finishing fourth through eighth or ninth on a stage and not getting the bonuses but also not sawing up and down the leaderboard.
So, it is possible to look at the days left and say it is more likely the '23 Dakar victory will be between Skyler Howes and Toby Price, with Kevin Benavides as an outside bet? Maybe.
Why? Because tomorrow is another long dune stage, longer than today with Howes and Price starting in very favourable 18th and 19th places. That means the pendulum swings back in their favour plus the stage is longer, so the time gap or advantage should be larger tomorrow night.
The penultimate stage is shorter again so will not play so favourably into Benavides' hands which means Howes and Price will carry more into the last day, which is a shorter blast, a load of it along a beach, and where we'll likely see a stalemate on times.
Probably tomorrow will be the crucial stage. It depends on the gaps tomorrow night.
* Disclaimer: normally when we write things like this it all flips on its head the following day. If it does, you'll find us outside, pointing at the moon.
Overall top 10 classification after stage 10:
| | | | | | |
| --- | --- | --- | --- | --- | --- |
| 1 | 47 - K. BENAVIDES (ARG) | KTM | 450 RALLY FACTORY | 35h46m06s | +00:03:00 | |
| 2 | 10 - S. HOWES (USA) | HUSQVARNA | 450 RALLY FACTORY | +00:01:29 | +00:01:00 | |
| 3 | 8 - T. PRICE (AUS) | KTM | 450 RALLY FACTORY | +00:02:10 | +00:01:00 | |
| 4 | 42 - A. VAN BEVEREN (FRA) | HONDA | CRF 450 RALLY | +00:09:52 | --:--:-- | |
| 5 | 7 - P. QUINTANILLA (CHL) | HONDA | CRF 450 RALLY | +00:14:58 | +00:02:00 | |
| 6 | 9 - M. KLEIN (USA) | KTM | 450 RALLY RAID | +00:15:38 | +00:04:00 | |
| 7 | 11 - J. CORNEJO FLORIMO (CHL) | HONDA | CRF 450 RALLY | +00:20:42 | --:--:-- | |
| 8 | 77 - L. BENAVIDES (ARG) | HUSQVARNA | 450 RALLY FACTORY | +00:21:44 | --:--:-- | |
| 9 | 18 - D. SANDERS (AUS) | GASGAS | 450 RALLY FACTORY | +00:23:40 | +00:04:00 | |
| 10 | 52 - M. WALKNER (AUT) | KTM | 450 RALLY FACTORY | +00:39:49 | --:--:-- | |
It feels nuts to think there are only four days left but after so much cold and wet, these sand seas of southeastern Saudi feel like another world. The Dakar you expect: dry, dusty and dune mountains as far as the eye can see in every direction is suddenly here.
Photo Credit: Enduro21 + Rally Zone