Isle of Man TT winner Hillier to race Dakar Rally
Road Racer James Hillier is set to make history and become the first Isle of Man TT winner to race the Dakar Rally in 2022 with RICH Energy OMG Racing.
British road racing specialist James Hillier – who sits just behind John McGuinness in the all-time fastest ever laps of the Isle of Man course – is aiming for the start line on Glencrutchery road in the Isle of Man and in the Saudi Arabian sand to become the first TT winner to race the Dakar Rally.
"Being involved with the Dakar project with RICH Energy OMG Racing is seriously exciting." Says Hillier. "It's a massive task but I have full faith in the team and can't wait to continue our preparations with some more testing and a few rally events as soon as possible to really settle into this new challenge."
Hillier is no stranger to off-road having competed in various races over the years including the Red Bull Erzbergrodeo in 2017 where Enduro21 caught up with him after he had literally loaded up his camper after the Senior TT and driven himself to Austria.
James will also compete at the Abu Dhabi Desert Challenge and Dubai International Baja events, subject to ongoing Coronavirus restrictions, in preparation for the 2022 Dakar.
Watch this eye-opening video of Hillier from that 2017 TT:
IOM TT and Dakar in one season
OMG are an established British Superbike team who announced they would step up to Isle of Man races with Hiller before the 2020 TT was cancelled due to the Coronavirus pandemic.
The OMG team have confirmed Hillier will return for the 2021 road racing season as part of and in the same season take on the Dakar Rally – clearly, they like a challenge.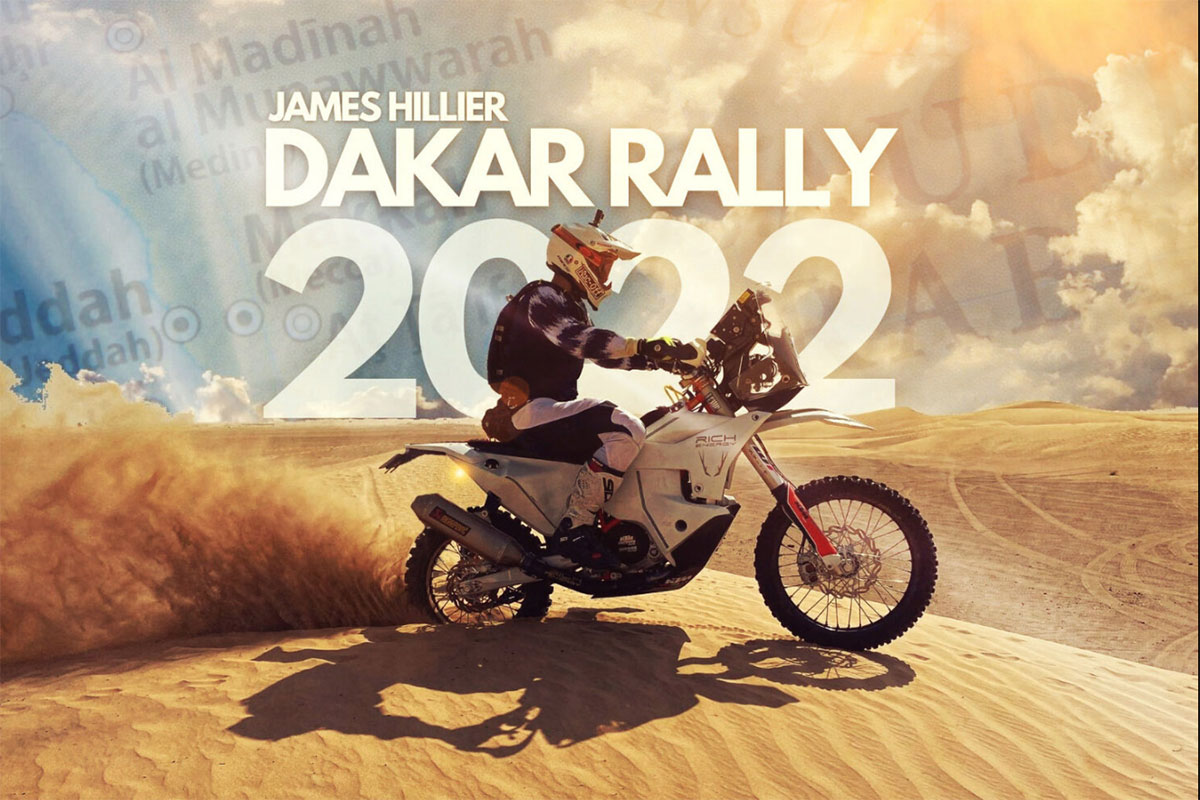 "We're very excited to continue working with James for the 2021 roads season and also on our newly announced Dakar project, which will see us take on the world's toughest endurance race and the world's first road race in the same 12 months." Explains Alan Gardner, Team Owner at RICH Energy OMG Racing
"It was massively disappointing to not have the opportunity to get out on the roads this year after all the hard work the team and riders have put in, but we're already preparing the bikes for 2021.
"The Dakar will be a huge milestone and shows just how far we have come as a team. Combined with our commitments from grassroots level in the OMG Ohvale Cup, right up to elite sports championships on circuits, roads and now off-road."
"The Dakar Rally is an extraordinary motorsports event," says RICH Energy's Kay Johnson, "we are excited to see RICH Energy enter the competition in an unorthodox way, supporting TT race winner James Hillier in his maiden Dakar event. We're looking forward to tracking his progress, and via our website we'll be posting regular updates from James throughout his journey."
More information: www.omgracing.co.uk
Photo Credit: Enduro21 | Robert Lynn + OMG Racing