Kevin Benavides wins 2021 Dakar Rally - Brabec second
Monster Energy Honda rider Kevin Benavides has become the first South American rider to win the Dakar Rally as he completes a HRC one-two finish ahead of American Ricky Brabec – Sam Sunderland completes the podium in third for Red Bull KTM.
There were no team orders in this final, 12th stage of the 2021 Dakar Rally as Ricky Brabec put on an immense charge to try and overcome his teammate in the race to the flag. With a seven-minute time gap starting the day, the reigning champion had no choice but to go all out and claimed two minutes back, winning the stage overall in the process,
It was not enough as Benavides set an equally impressive pace, overtaking stage 11 winner Sam Sunderland to lead on the ground, racing 'blind' out front and win the rally by an overall margin of 4:56s.
Finishing first on the road was a fitting way for the Argentinian to close out his rally and become both the first Argentinian and South American to win the historic event.
1987 was the last time Honda riders occupied the first two places on the podium. Back then it was Italian Cyril Neveu ahead of Frenchman Edi Orioli across in African continent.
The charge from Sam Sunderland fell flat on today's stage as the Red Bull KTM rider opened the stage but got overtaken on the ground by Benavides and on the timing sheets to finish in 12th place on the day and 13 minutes down. It was still enough for Sam to finish third and claim a precious podium for KTM.
Daniel Sanders becomes the best-placed rookie this year with fifth on the final stage to bring home fourth place overall in what was an immensely difficult debut Dakar for the Factory KTM team rider.
Skyler Howes wins the battle for fourth with a very solid P5 on the final stage putting him clear as best placed privateer.
Sherco and Lorenzo Santolino claim their best-ever Dakar result with seventh on the day, 10 minutes down on Brabec, to claim sixth overall. Sherco claimed three riders inside the top 20 at the finish with Rui Goncalves 19th and Harith Noah 20th.
Adrien Van Beveren went out today which means no official Yamaha rider made the finish line in this Dakar.
Laia Sanz once again finishes the Dakar inside the top 20 with 17th place overall.
David Knight was 20th on stage 12 which means the Dakar rookie finishes in 24th overall.
Lithuanian Arunas Gelazninkas finishes first in the Original by Motul, 'Iron' class of riders racing unsupported in a total time of 55:04:23.
Meanwhile, on four-wheels, Stephane Peterhansel wins his 14th Dakar trophy...
2021 Dakar Rally final classification: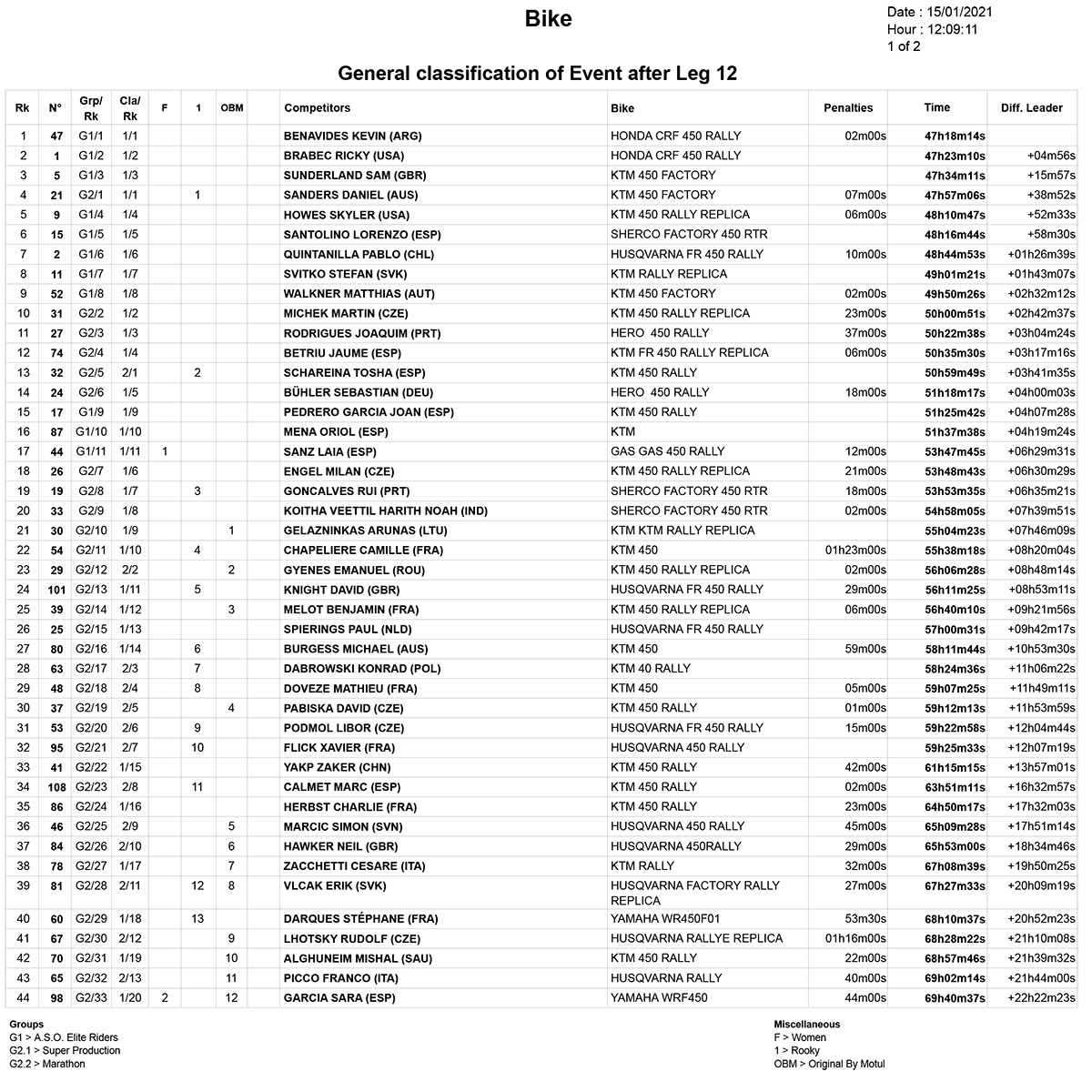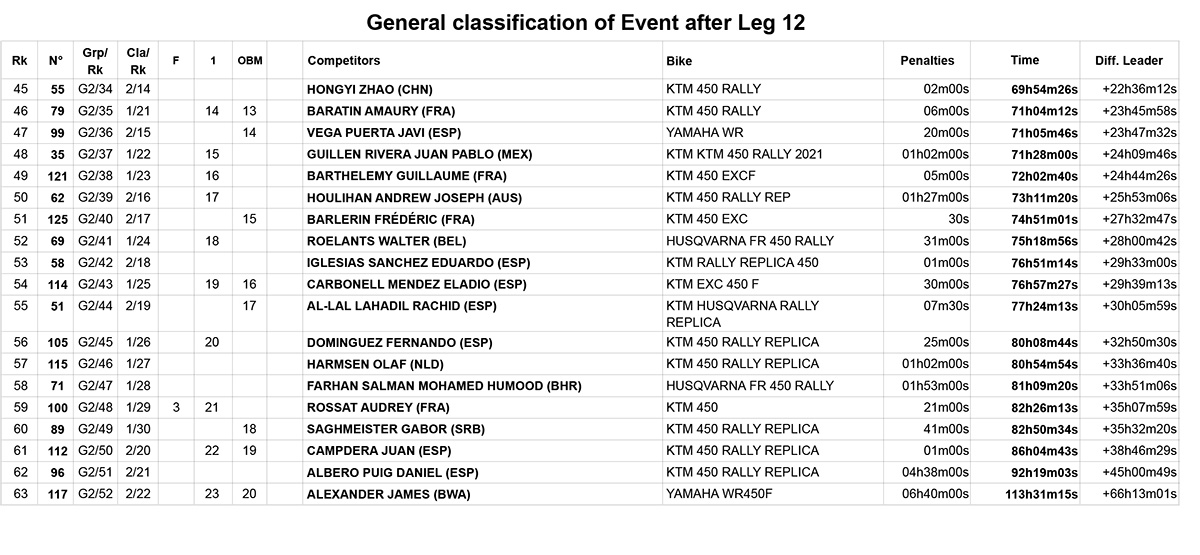 2021 Dakar Rally stage 12 results: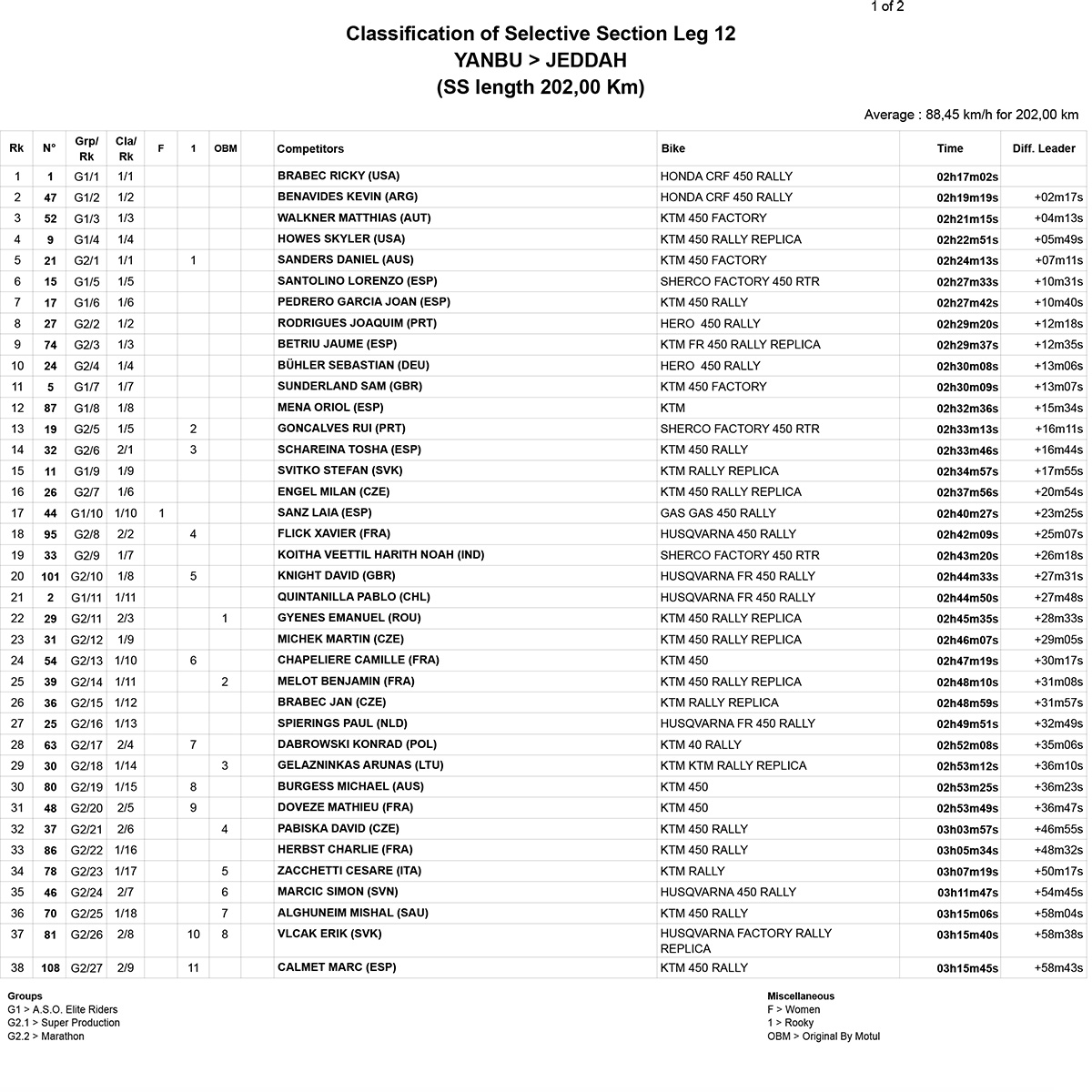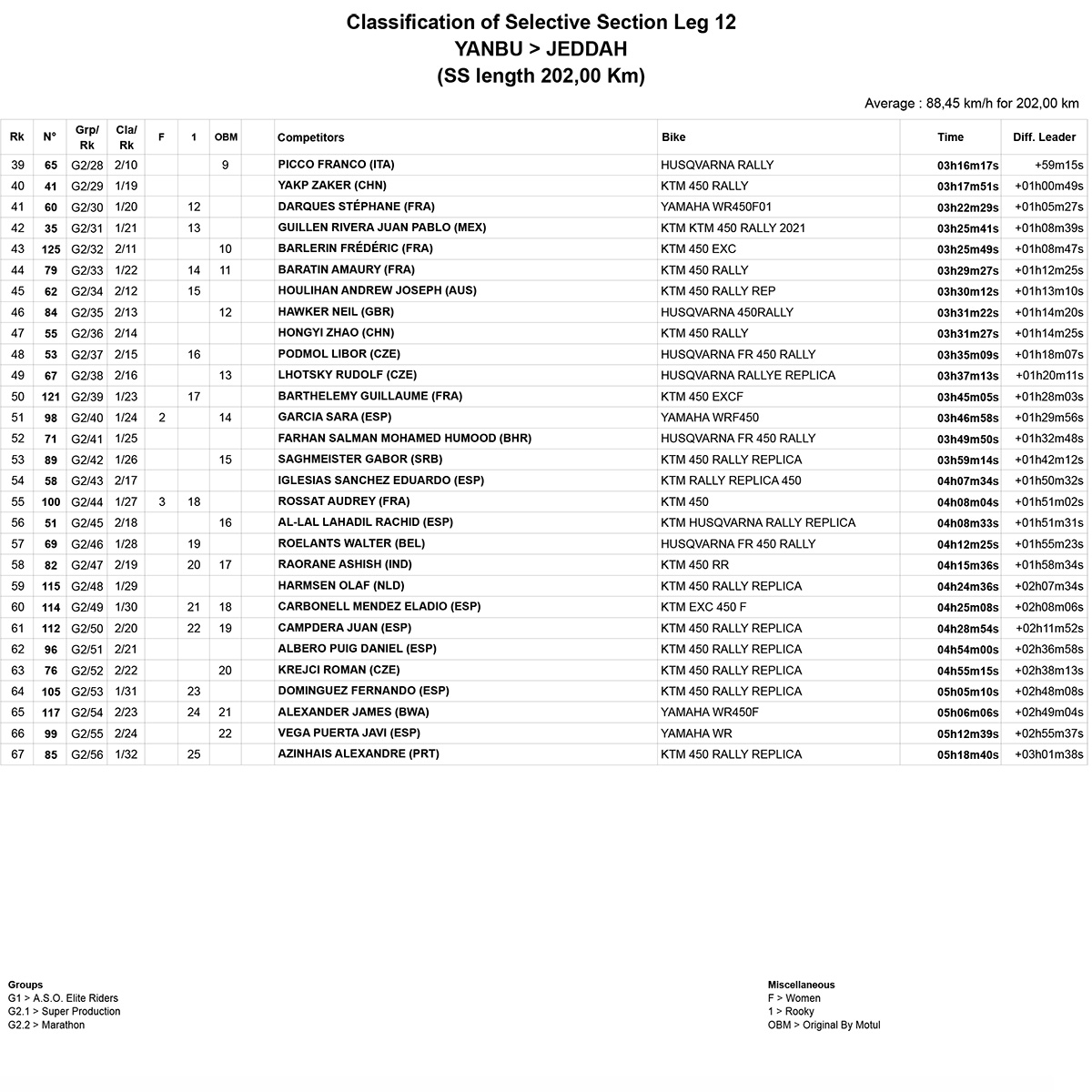 This is how hard they were trying on the last stage #fullgas
🏍 @kmbenavides cruising on his way to Dakar 2021 victory!#Dakar2021 pic.twitter.com/tIxA8IGYyM

— DAKAR RALLY (@dakar) January 15, 2021
Benavides - first South American winner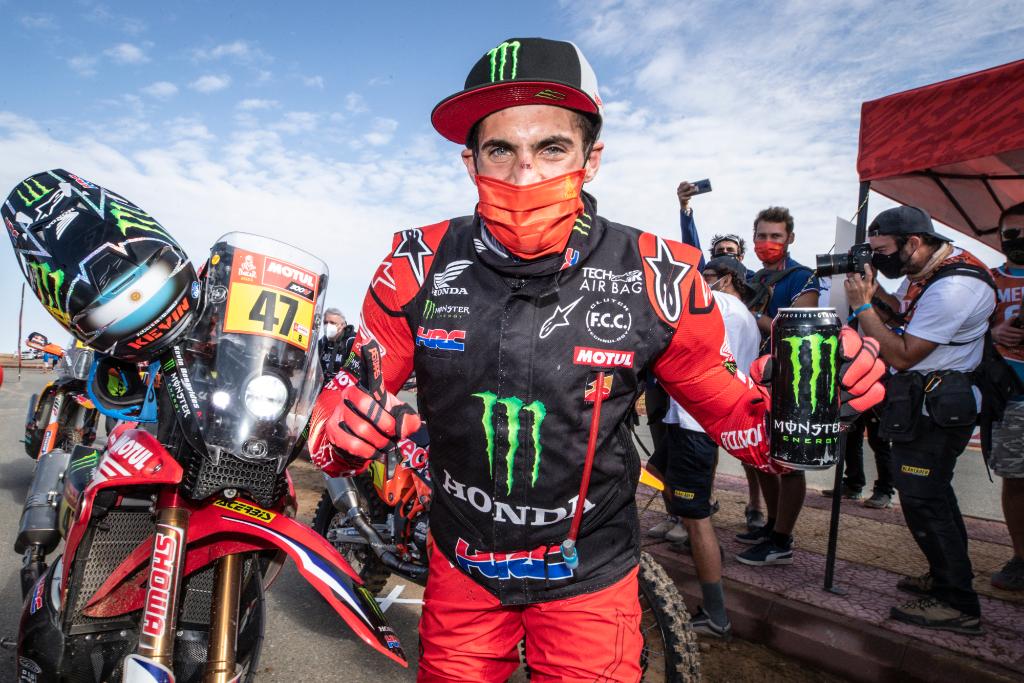 32-year-old Benavides first raced the Dakar in 2016 where he finished P4 and followed that up with P2 in 2018 (2017 he did not race due to injury). 2019 he was P5 before engine issues saw him 19th in 2020.
Here's what the 2021 Dakar Rally winner had to say at the finish:
"It was absolutely crazy. I started third and after fifty kilometres I was in front opening the stage. I feel that everything was complicated, because Ricky started to catch up with me. I started to push a lot, all day, and stayed focused, so I did a good job today. Also, I went at one hundred and ten percent, but now it's true: I've won the Dakar - I'm so, so happy!
"I did some mistakes, for sure. I think it's impossible to do a perfect Dakar. The important thing is to always continue, to stay calm and focused day by day and to work hard day by day.
"On stage 5 I was worried, because I crashed so fast and hit my head and my ankle and felt a lot of pain. On that day I said maybe the Dakar is finished for me. But I continued pushing. Now I still have some pain, but at the moment I am more happy than in pain, so it's no problem.
"I think where I won the race was today, in the last kilometres! You couldn't think of winning during this Dakar, you had to keep focused. You don't think, you just concentrate on the action and nothing else, because everything can change in one second.
"I am really proud to be the first South American winner. My dream was also to make history and now I am the first South American guy to win the Dakar. That is amazing for me. For sure, we did a really good job all throughout the Dakar like team-mates. Nacho had a really bad crash and also Joan, but we did a really good job as a team".
This is what it meant to Laia Sanz to finish her 11th Dakar (every, single one she has entered btw) in 17th overall and her eighth in a row inside the top 20...
Photo Credit: Rally Zone