Spanish Enduro: Josep Garcia blitzes round two in the Infiesto mud
Results from the second round of the 2022 Spanish Enduro Championship in Infiesto where Josep Garcia displayed his world class talent in muddy conditions, taking the win minutes clear of Jaume Betriu.
2022 Spanish Enduro Championship Rnd 2 in a nutshell:
Round two of the '22 Spanish season travelled to the Asturian town of Infiesto, a regular location for the National series up near the north coast of Spain.
Across the two days of competition in slick conditions, Josep Garcia picked up where he left off last weekend at the Trefle Lozerien French Classic enduro Garcia with victory both in Scratch and in E2 on both days. A winning margin of more than two minutes ahead of his closest rival on day one, extended to three minutes on Sunday in a display head and shoulders above his rivals.
"I came to Infiesto with great enthusiasm, because I have always really liked this type of special: techniques, with stones, water, roots, grass…" said García. "It's a good race and a good training session for the World Cup. From the beginning, when I walked the stages, I liked them a lot.
"I came here after winning the Trèfle Lozérien, with a very good feeling on the bike and I set the best time in the Supertest. On Saturday I went out intending to set a good pace from the start. And so it was, despite some mistakes, I managed to win the Scratch and E2. Today we started with the same goal, to fight for victory, and I'm even happier, if possible, for having achieved victory again, without making any notable mistakes, despite how complicated the terrain was."
Jaume Betriu returned after recovering from the injury and was straight back to the top. Although he was a distant next best rider to Garcia scratch, the WP Auge rider comfortably won in E3.
Third scratch position on day one, and first in E1, went to Belgian Antoine Magain whose Sherco team have committed to the Spanish series this season along with Zach Pichon. The day two E1 victory went to Jordi Quer who surprised everyone by being the fastest ahead of Magain with Pau Tomas P3.
Despite not having his best day (judging by his times) Pichon achieved a comfortable victory in the Junior Open and fifth place scratch on day one. Day two saw the Frenchman retire with a bike problem.
The Extreme test looked like this (before it rained):
In Junior 125cc, the victory went to Àlex Puey, with Lluis Gonfaus second and Alfredo Pellicer third. On day two Julio Pando turned up the gas to take the Junior Open win and a repeat P7 scratch.
Despite having stopped competing in EnduroGP to be the Spanish national team coach, Cristobal Guerrero caused a surprise today by sneaking into third place overall on day two, 3m58s behind the leader.
Mireia Badia has achieved an overwhelming victory in the Women's category on both days. She was the only rider capable of completing both laps on day one and finished almost 15 minutes clear of the second placed Anitua Esteban on day two.
The next round of the Spanish series is on September 16-18 in Iraneta.
2022 Spanish Enduro Championship Rnd2, day 1: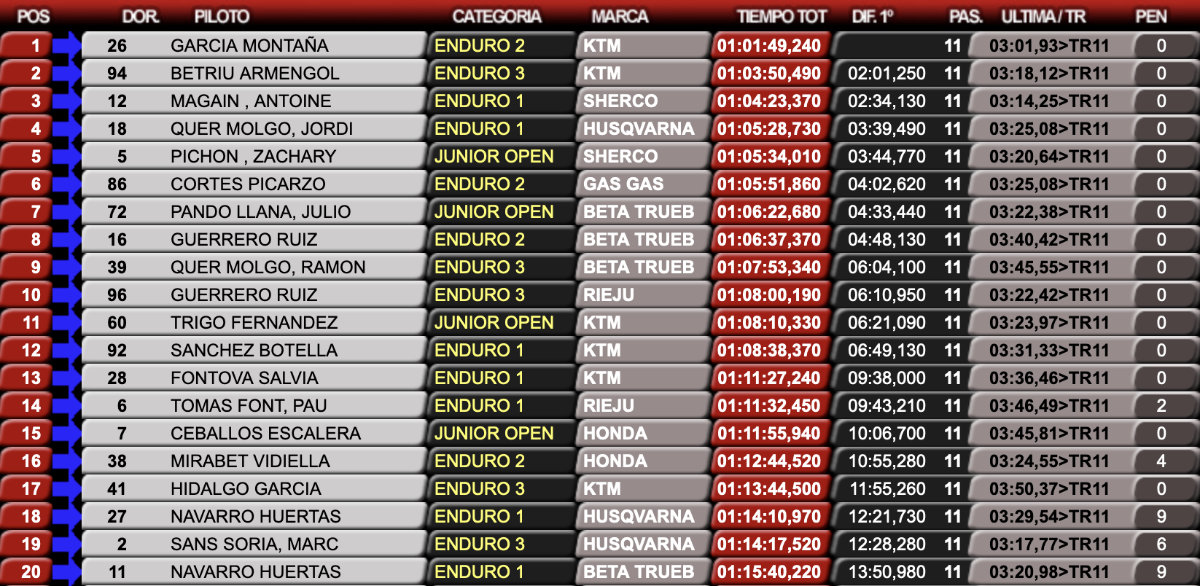 2022 Spanish Enduro Championship Rnd2, day 2: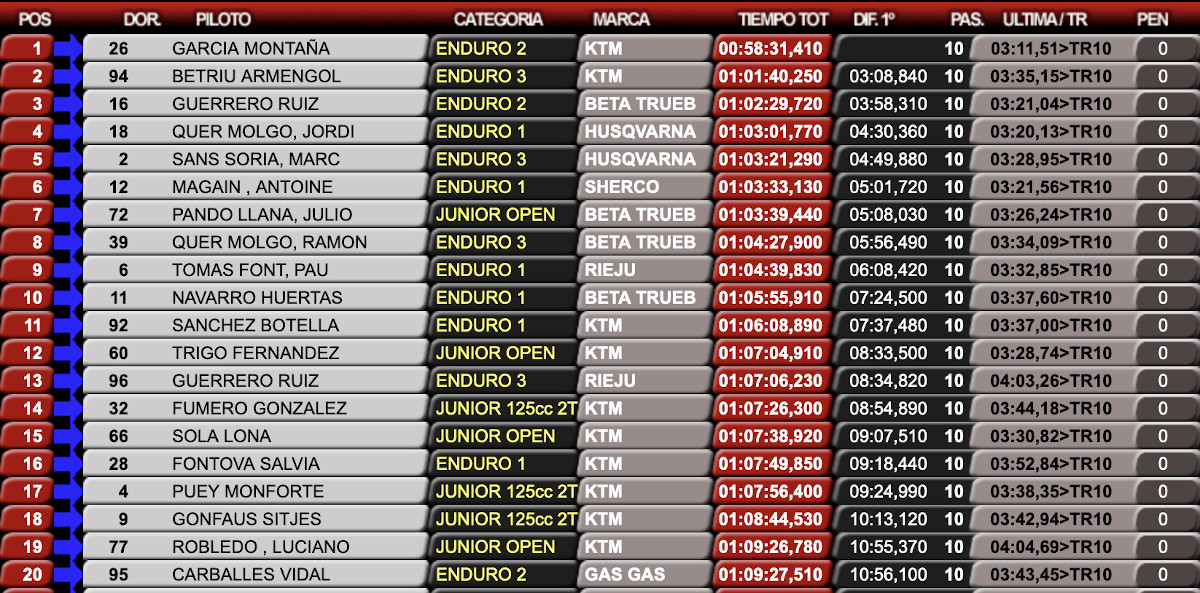 Photo Credit: Lluis Llurba