2021 SuperEnduro World Championship is go – 3 back-to-back races in April
The 2021 FIM SuperEnduro World Championship finally gets the go-ahead with a back-to-back, three-round series planned at the Papp Lazlo Sport Arena in Hungary this April 1-4.
Enduro21 had been expecting the news for some weeks but have been waiting on the official go-ahead for a concentrated 2021 FIM SuperEnduro World Championship in a Budapest 'bubble'.
Three races over four days
The first round of the 2021 series will take place on Thursday April 1 followed by a rest day, where the Hungarian organisers will make changes to the track ahead of round two on Saturday April 3 on the modified course.
The first two rounds will see three finals for the Prestige and Junior classes, plus two finals for the European Cup.
The 2021 FIM SuperEnduro World Championship will come to a close on Sunday April 4, with the qualified riders from the previous day automatically transferring through to the two finals that will ultimately decide the medal winners in the two main classes.
"Good news" says Billy
Enduro21 caught up with 2020 World Champion Billy Bolt who is already out in Spain preparing for this super-condensed SuperEnduro season.
"It's good news," says Billy, "I really hoped it would happen after a long off-season when we would normally have been racing indoors.
"I'm in Spain now training and just got back on the SuperEnduro track in the last couple of days and I'm feeling good."
Taddy Blazusiak and Jonny Walker, the 2020 championship overall second and third-placed finishers respectively, have twists in their plots heading into the 2021 races. Taddy has been spearheading the GASGAS Factory Racing team basically since the finish of the 2020 indoor season while Jonny has made a dramatic move to Beta Racing at the start of 2021.
Like Bolt, Walker has also been on the rocks and logs training in recent weeks and has not only changed motorcycle but looks set to buck the four-stroke trend indoors by sticking with his new love, the Beta RR 300 two-stroke.
We could also see Manuel Lettenbichler return to the indoor series representing the Red Bull KTM Racing crew who of course previously had Taddy and Jonny at the helm – although Mani did not seem super-keen when Enduro21 caught up with him last week.
Another podium contender who's moved manufacturers is Pol Tarres who could make his international debut having signed to race with Yamaha Europe.
Live coverage, some spectators
The plan is to allow for some spectators in Budapest but at present it is not clear quite how many may be possible due to restrictions still being eased in Europe. As ever your main source for catching the action will be live Enduro-TV.com live feed which event promoters ABC Communications are currently finalising.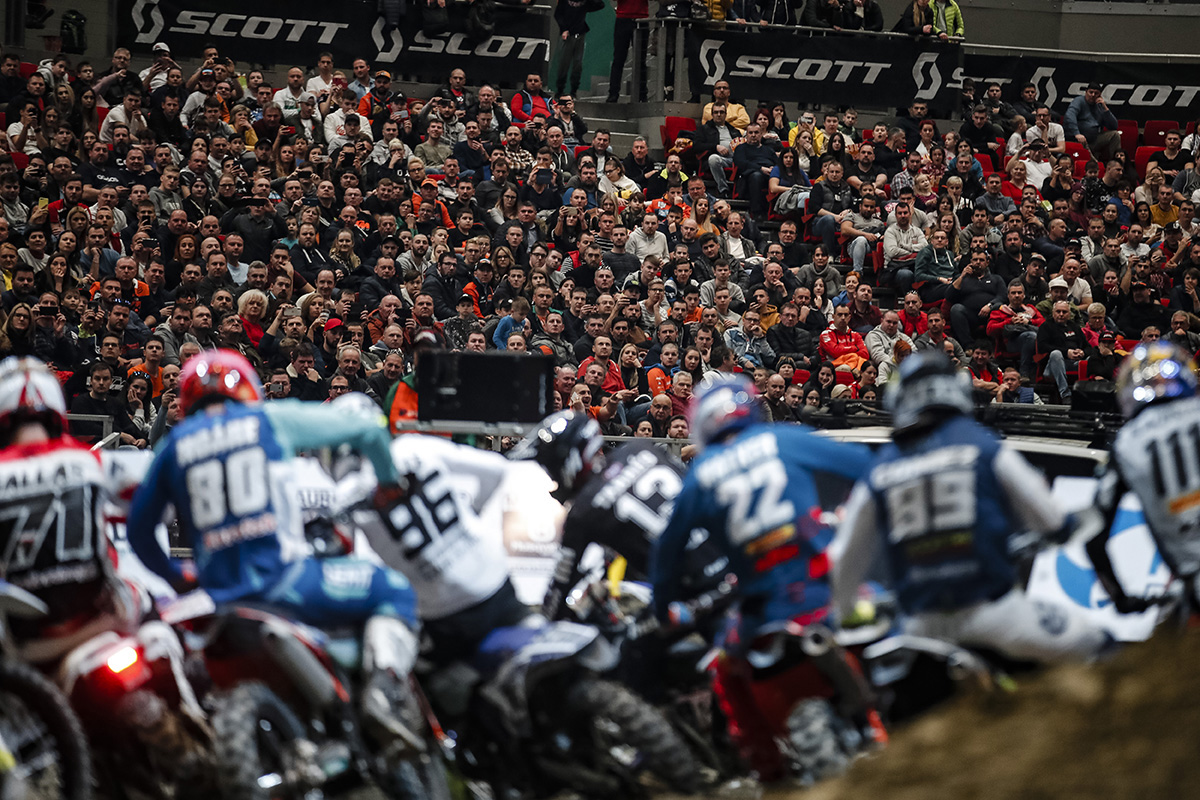 "We are relieved and happy to finally announce that we will have a FIM SuperEnduro Championship in 2021." Said Bastien Blanchard, ABC Communication CEO. "It has not been easy, as for almost a year we have been governed by health restrictions.
"I would like to take this opportunity to thank the Polish and German organisers who have been looking for solutions to offer some racing.
"After many months of negotiations with the government and the Budapest arena, Adam Hadobas decided to take up the challenge of organising three rounds over one weekend with the number of spectators limited of course, and which remains to be confirmed.
"The riders will certainly respond, and to allow as many fans as possible to follow this 2021 edition, a live broadcast via EnduroTV will of course be put in place."
All the official results from every round, plus the bikes, interviews and comment will be right here on Enduro21.
Photo Credit: Enduro21 | Andrea Belluschi