2022 SuperEnduro World Championship: results from Rnd 3 – Billy Bolt's masterclass in Jerusalem
Results from round three of the 2022 SuperEnduro World Championship GP of Israel in Jerusalem where an unstoppable Billy Bolt once again put on a masterclass to take three wins ahead of Jonny Walker and Taddy Blazusiak.
SuperEnduro GP of Israel, round three in a nutshell:
Taddy Blazusiak set the fastest timed practice lap in the Pais Arena but a mistake in Superpole by, err, the super Pole, allowed Billy Bolt easy passage to his third three-points for qualifying fastest this season.
The track was the biggest talking point of the night with a very tight and technical lap generating some serious arm pump and plenty of crashes for the noisy Israeli crowd.
Colton Haaker grabbed the holeshot in the first moto and managed to hold off Bolt for a couple of laps but inevitably Billy found a way by where others seemed to struggle.
Taking the win, Billy was two seconds a lap faster and lapped everyone up to Taddy in fifth – it was ominous for the rest of the night.
Haaker, Jonny Walker and Cody Webb were the feature act all night with battles in at least two of the three motos. Mistakes often decided the dogfight and in race one Haaker made the mistake, Jonny said thanks and went on to grab the P2 spot ahead of Webb.
Heat two saw Taddy out front from his front row start (reverse grid, seventh in Superpole placed him there) but within one lap Jonny and Billy were on his tail after playing it smart in the first lap carnage.
Again Billy made it look easy as he ticked off his rivals for the lead and another comfortable win. Jonny took a nosedive to hand Taddy P2 with Diogo Viera having his best result of the season in fourth.
Heat three saw Billy take a holeshot and ride his own race, genuinely making it look too easy for a maximum points haul and now a 50 point lead in the championship.
The fight of the night happened in heat three between Webb and Walker (and intermittently Haaker). There was nothing in it until Webb stalled the Sherco on the second last lap, allowing Jonny and Colton through – shame, it was the best we've seen of Cody.
That gave Walker a 2-3-2 scorecard for second on the night and P2 in the points on 136, eight ahead of Haaker and Blazusiak who are tied third on 128. Taddy didn't have the best of nights (scoring 5-2-4) but did enough for third overall.
2022 SuperEnduro round 3 results – Prestige class
Heat 1: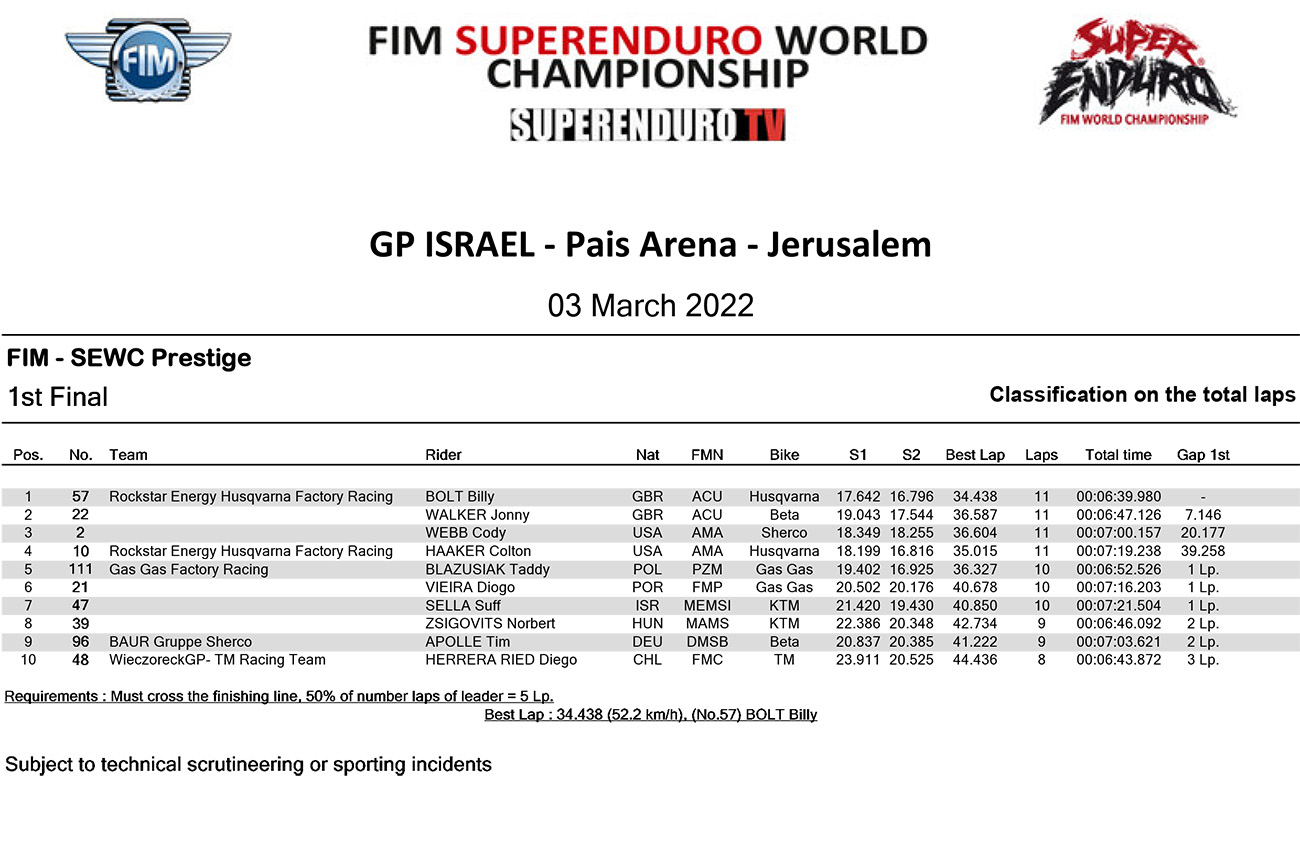 Heat 2: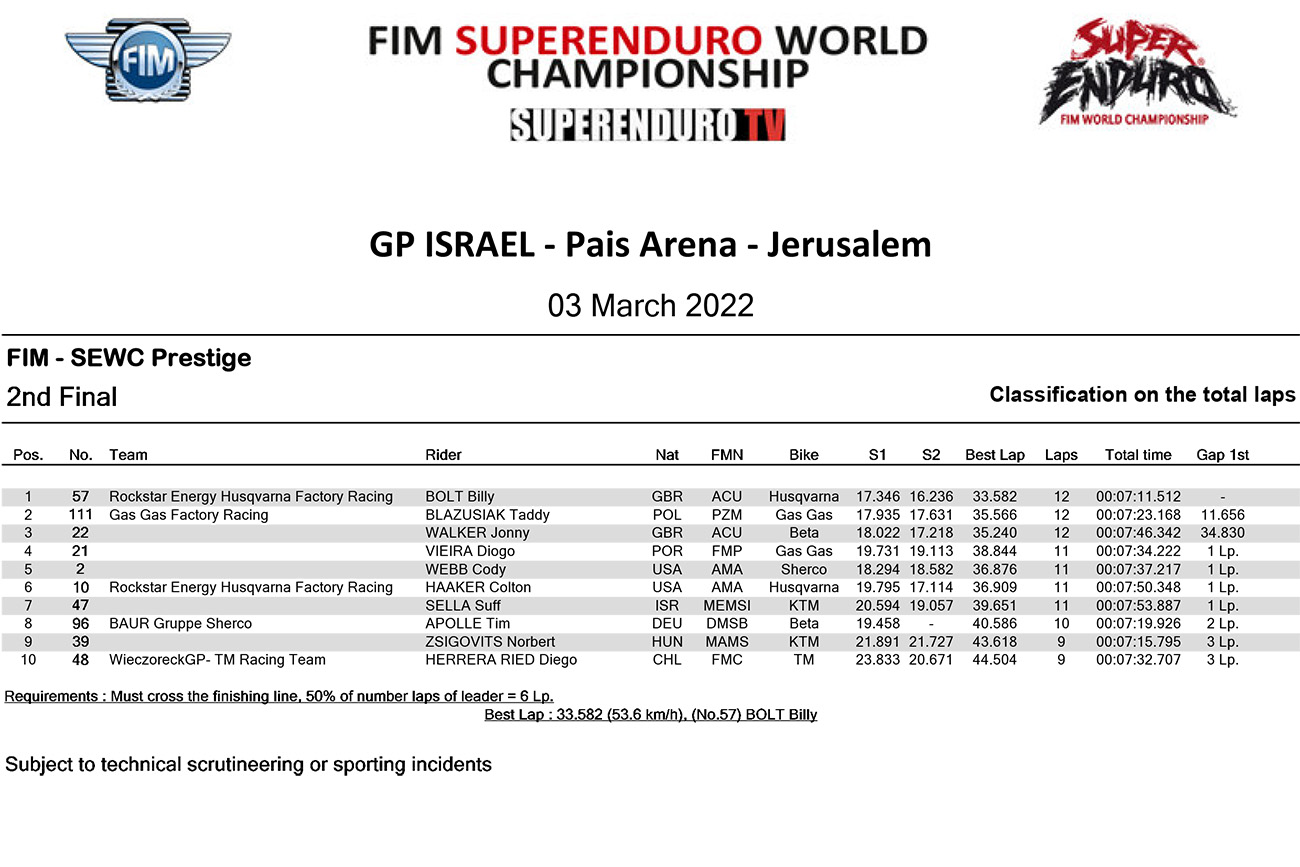 Heat 3: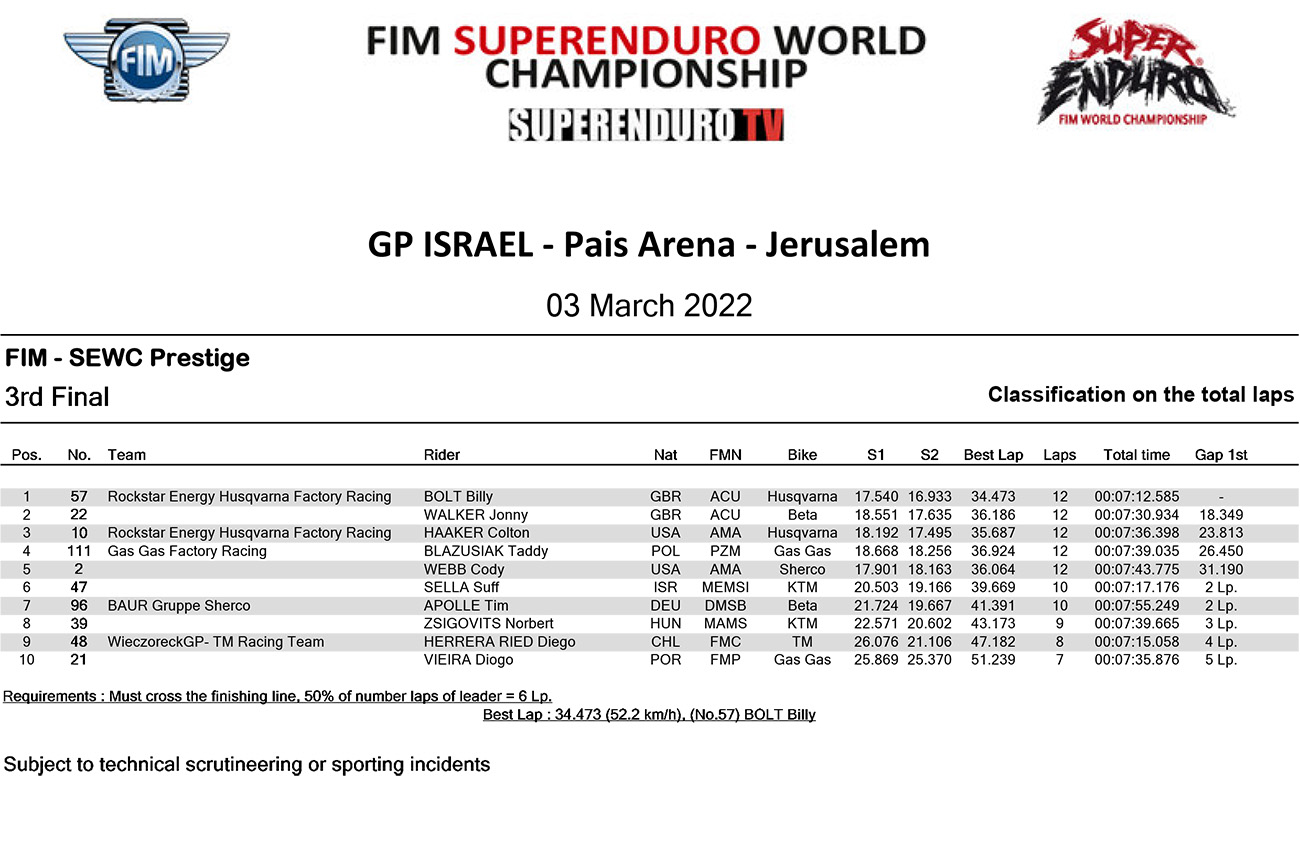 Overall: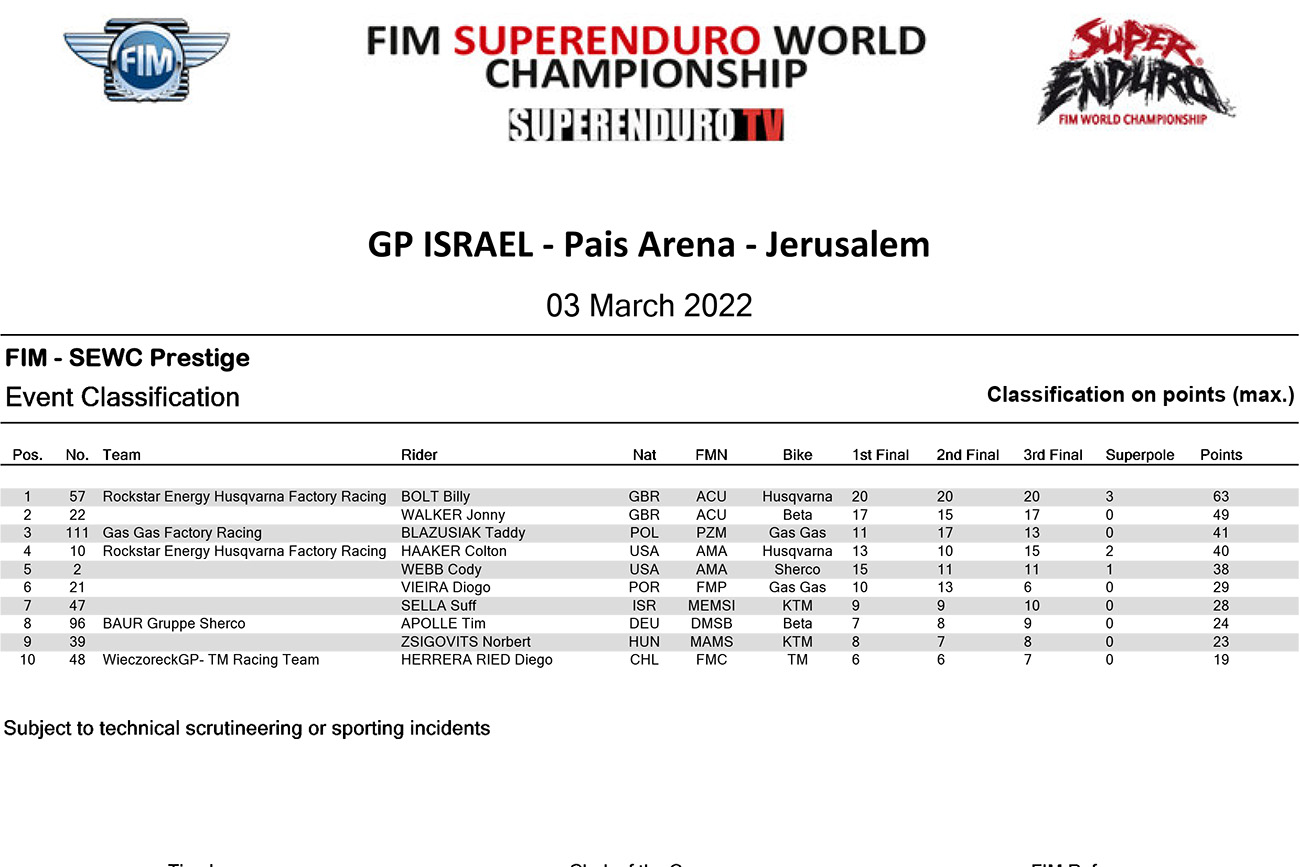 Superpole result: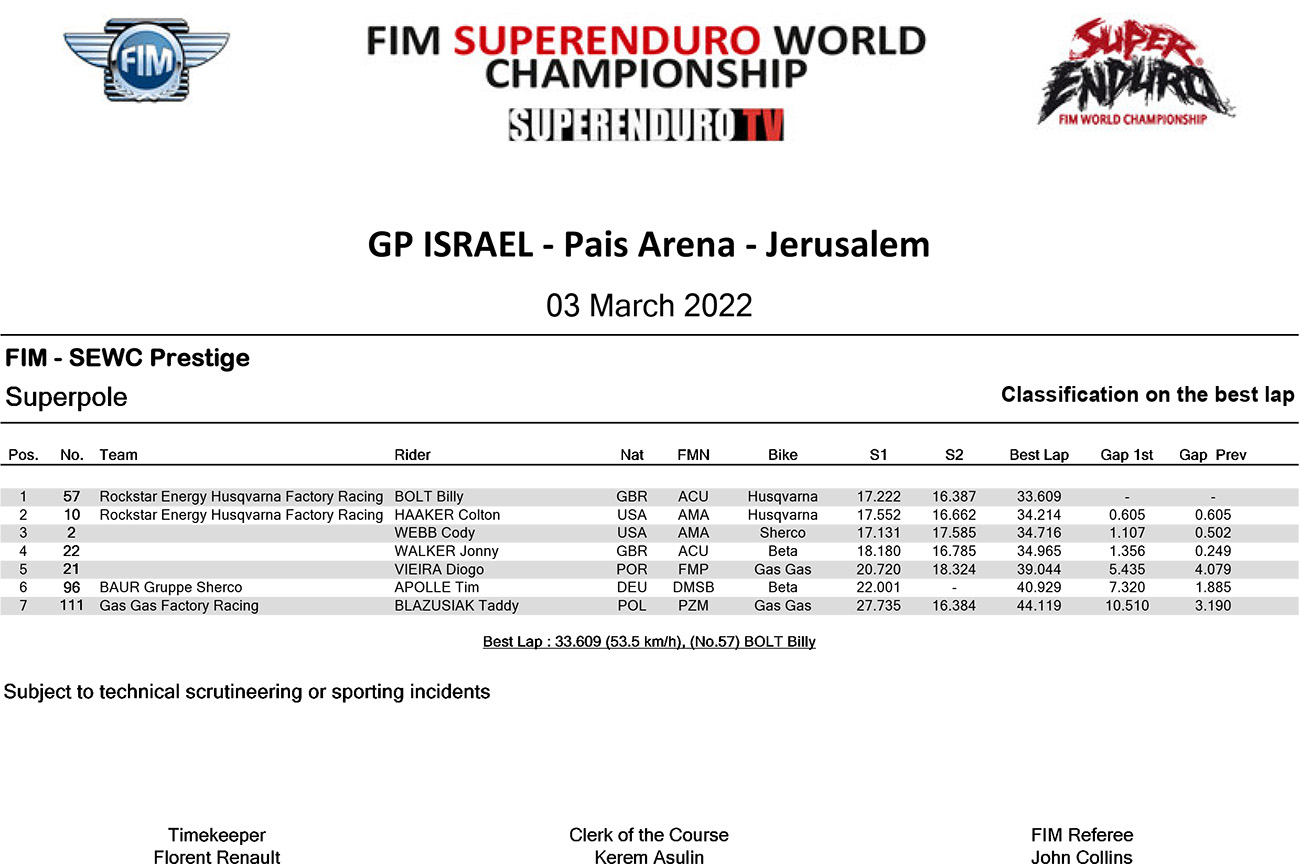 * There were no Junior or European Championship races at the GP of Israel.
Photo Credit: Nir Amos