Can anyone beat Billy? SuperEnduro showdown this weekend in Germany
Well, can anyone beat Billy Bolt? The final two rounds of the 2022 SuperEnduro World Championship will play out on consecutive nights this weekend in Riesa, Germany and the odds are stacked in the Husqvarna Factory Racing rider's favour.
A packed programme across two days of racing inside the SachsenArena in Riesa this weekend will see the 2022 SuperEnduro World Championship decided. In reality, we could see the major classes sewn-up on Saturday as both Billy Bolt and Dominik Olszowy carry healthy points advantages and look to take the Prestige and Junior crowns.
Mathematically three riders could put the kybosh on Billy Bolt taking back-to-back SuperEnduro Prestige class titles this weekend but the Husqvarna Factory Racing rider is in the form of his life and betting against him would take bravery with the bookies.
Bolt has amassed a 50 points advantage following a near perfect season so far full of superpole and moto wins. With 63 points up for grabs across a GP (three points for the superpole fastest time plus 20 points for each of the three moto wins), Billy can finish on the podium on Saturday and take the crown.
Whether it goes to Sunday's final round depends on what the other guys do. Jonny Walker is 50 points behind, Taddy Blazusiak and Colton Haaker are a further eight points back.
It's a cliché to say it, anything is technically possible: Billy could knock a hole in his engine casing or derail a chain and DNF a moto. But the fight for second place in the championship, and the bragging rights of taking a win away from Bolt, will be the only realistic reasons why we don't see the world title handed out on Saturday.
Championship standings heading into rounds 4 & 5: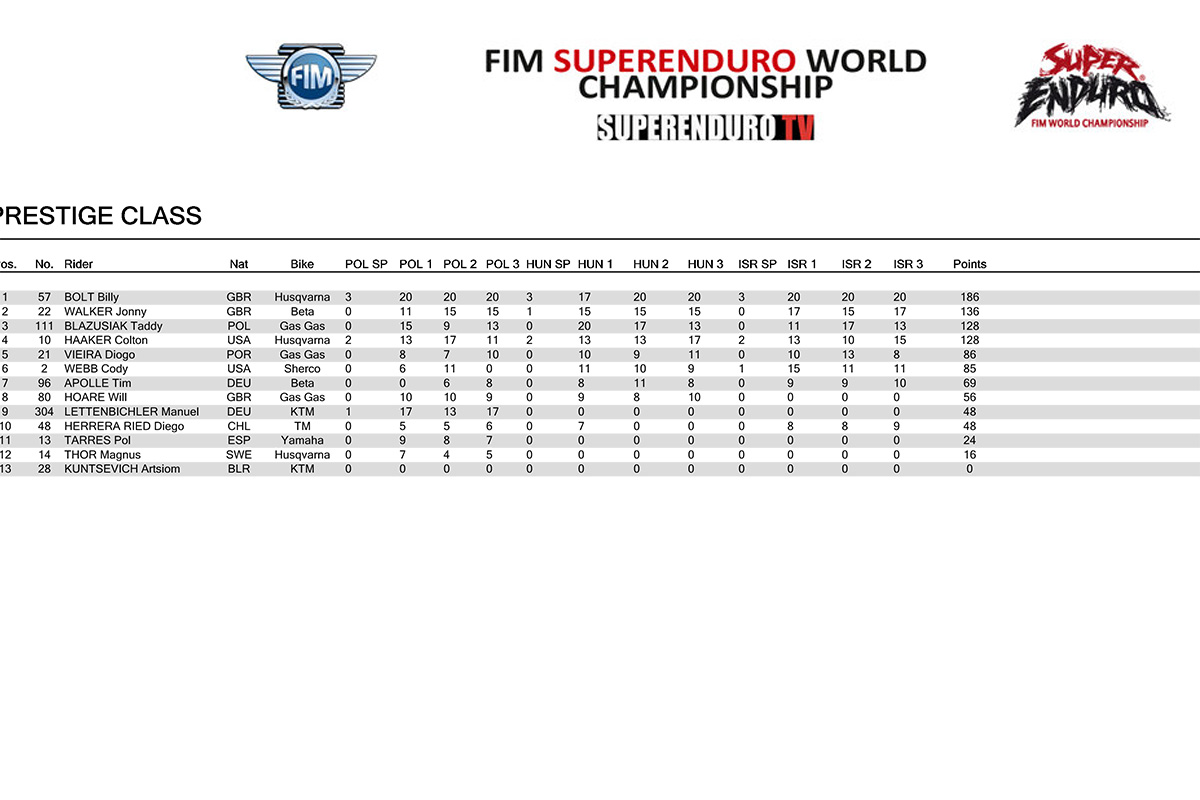 It doesn't look likely though does it? With age and experience comes wisdom and Billy has looked as much in charge of his head as he has his bike and the technical indoor tracks this season.
Whether it was the reversed grid second moto gate drops where Billy calmly watched the chaos unfold at the first turn or two before sling-shotting past, or the rare occasions when another rider has been out front, Billy has taken his time and picked the moment to make passes. All this while looking like the track was his to play on with energy in hand while his rivals made it look like harder work.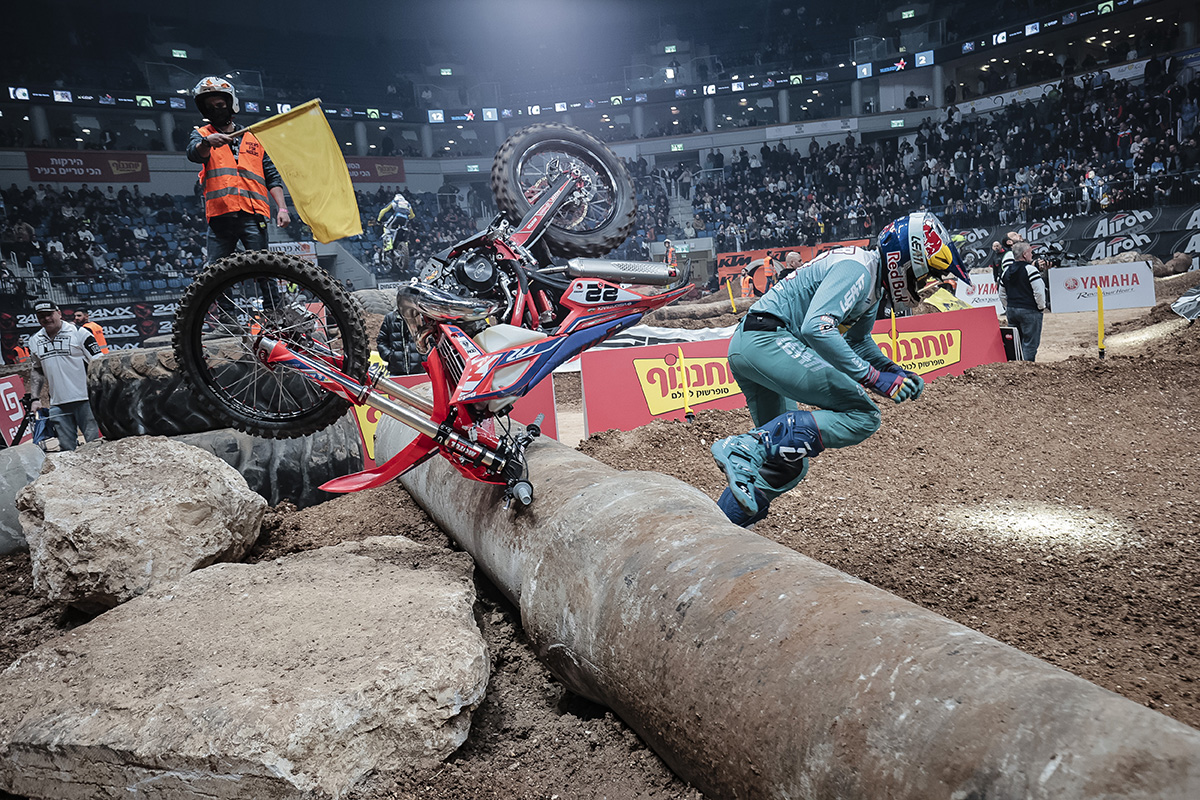 Jonny Walker, Taddy Blazusiak, Colton Haaker and Cody Webb are without doubt doing everything they can to take moto wins and this weekend will be their last chance on what usually is a spectacular track inside the Sachsen Arena.
The German organisers have a history of building a great layout and this year we'll see the circuit raced in opposite direction on separate days.
Whether it be up and down results over a night's racing from Taddy, a couple too many crashes from Jonny at the last GP or a lack of purposeful training from the Americans, there have been plenty reasons. Now's the time to make a statement.
Olszowy aiming for 2020 Junior title
The Junior World Championship class dropped out of the last round in Israel but they are back in Germany for their final flings of the season. Dominik Olszowy is also a clearly dominant rider in class and with a 38 points lead, he too can be crowned champion on night one in Riesa.
Local rider Leon Hentschel is second in the Junior championship and will have his home crowd helping push to break his Polish rival's record. Leon sits just two points ahead of Frenchman Fabien Poirot who's two ahead of Milan Schmueser.
Suff Sella took a podium last time the Juniors raced plus he was the only rider in class to compete in Israel, his home round, where he stepped up to the big boys class for one round. The fight for Junior class podiums will be as entertaining as ever.
Junior chmapionship standings ahead of the final rounds: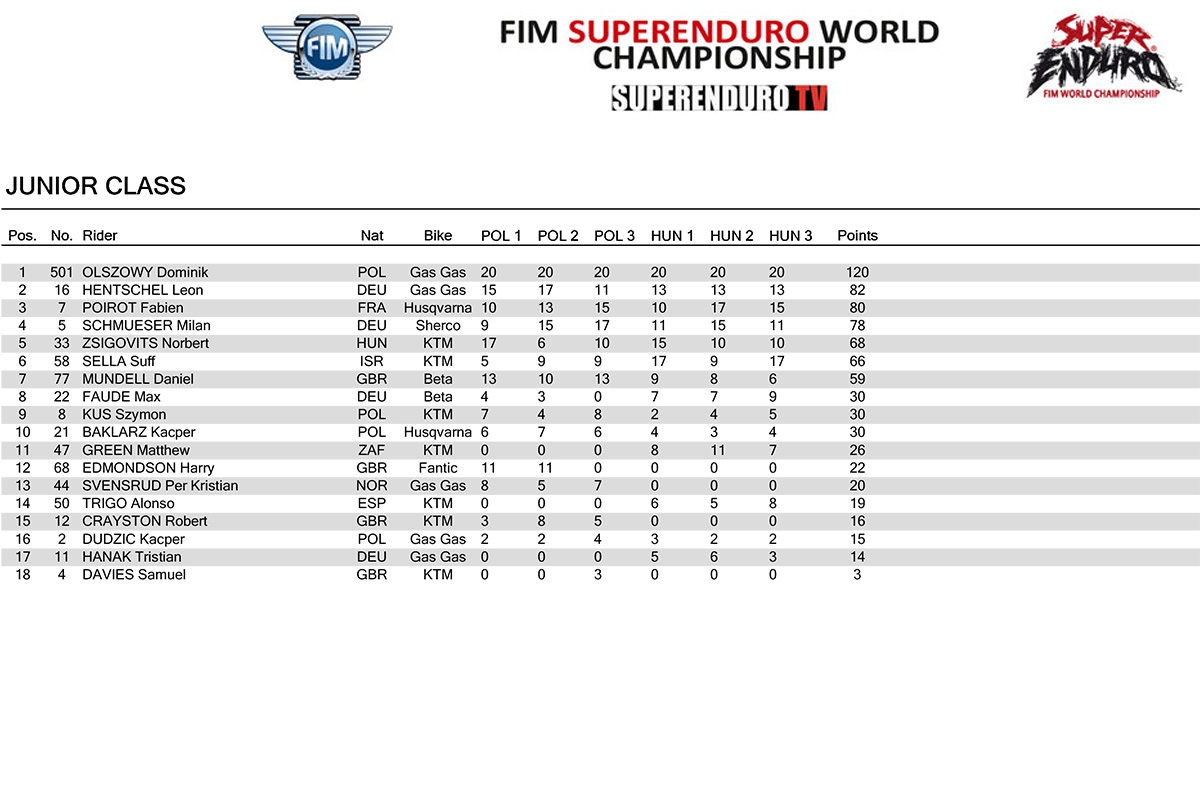 Action begins with practice and qualifying on Saturday afternoon ahead of the evening races. On Sunday everything moves forward a few hours with the main heat races in the afternoon and early evening. Enduro21 will bring you all the results and news as it happens.
Photo Credit: Future7Media | Andrea Belluschi + Nir Amos