SuperEnduro results: Billy Bolt crowned 2022 World Champion in Germany
Results from the penultimate round of the 2022 SuperEnduro World Championship in Riesa, Germany where Billy Bolt claims his second indoor world crown with the win – Taddy Blazusiak crashes out of the title challenge with a suspected broken wrist.
SuperEnduro GP of Germany 1, round four in a nutshell:
The die was cast from first practice at the technical but beautifully built track in Riesa when Billy Bolt set a six seconds faster lap than anyone else.
Colton Haaker then pulled a superfast and super-smooth superpole lap which looked to be favourite but Billy went balls-out for the three points and nailed it 1.4s faster.
Three different race leaders on the opening lap of heat one was a blistering start to the night before Billy muscled past Colton and claimed another easy win.
Taddy hit bad luck once again this season when a heavy smack against a log early in heat one badly injured his wrist, potentially breaking it. That sadly puts him out the championship fight for this season.
Colton Haaker went on to record a comfortable P2 behind his teammate with Cody Webb looking odds-on for third until he dropped his Sherco in the final corner which handed it back to Jonny Walker at the flag.
Heat two brought drama for Bolt who got tangled up in turn one, was dead last and went on to crash two more times in the race.
Colton and Cody made hay out front while the champion elect made his way through the field but inevitably, and slightly unbelievably, Billy rattled through to the front with two laps spare. If it ever looked like Bolt was playing a different game to everyone else this heat was it. "I think I have a bit of speed on everyone else tonight" said Bolt which might be the understatement the season.
Heat three saw Jonny Walker and Colton Haaker have the race of the night for second place proving both have plenty of fire in their bellies despite neither being happy with their riding on the night.
As sure as the earth is round the FIM SuperEnduro World Championship was Billy's though with another heat win. That gives him an unassailable points total of 249 to claim the title one round early.
Second and third place on the night is also for the championship podium which will go right down to the wire tomorrow (on the same track ridden in reverse direction) between Colton and Jonny. Both end Germany 1 equal on 181 points.
After all that the Juniors were the support act but Suff Sella showed racing in the Prestige class at round three in Israel has helped his form by posting fastest qualifying times. He looked fast all night but too many mistakes kept him in check and third overall.
Championship leader Dominik Olszowy was a lowly fifth in practice but clicked into gear when it mattered to take a 1-2-1 scorecard and the overall win – maintaining his 100% record and all-but grab hold of the 2022 Junior crown.
Milan Schmmuesser kept the home crowd happy with a race two win and P2 in the final moto for second overall.
Sonny Goggia was also in a league of his own in the European class setting fastest times in qualifying by seconds. He carried that through to the race one win but Alessandro Azzalini upset the apple cart in heat two with a win for second overall ahead of Mark Szoeke.
2022 SuperEnduro round 4 results – Prestige class
Heat 1: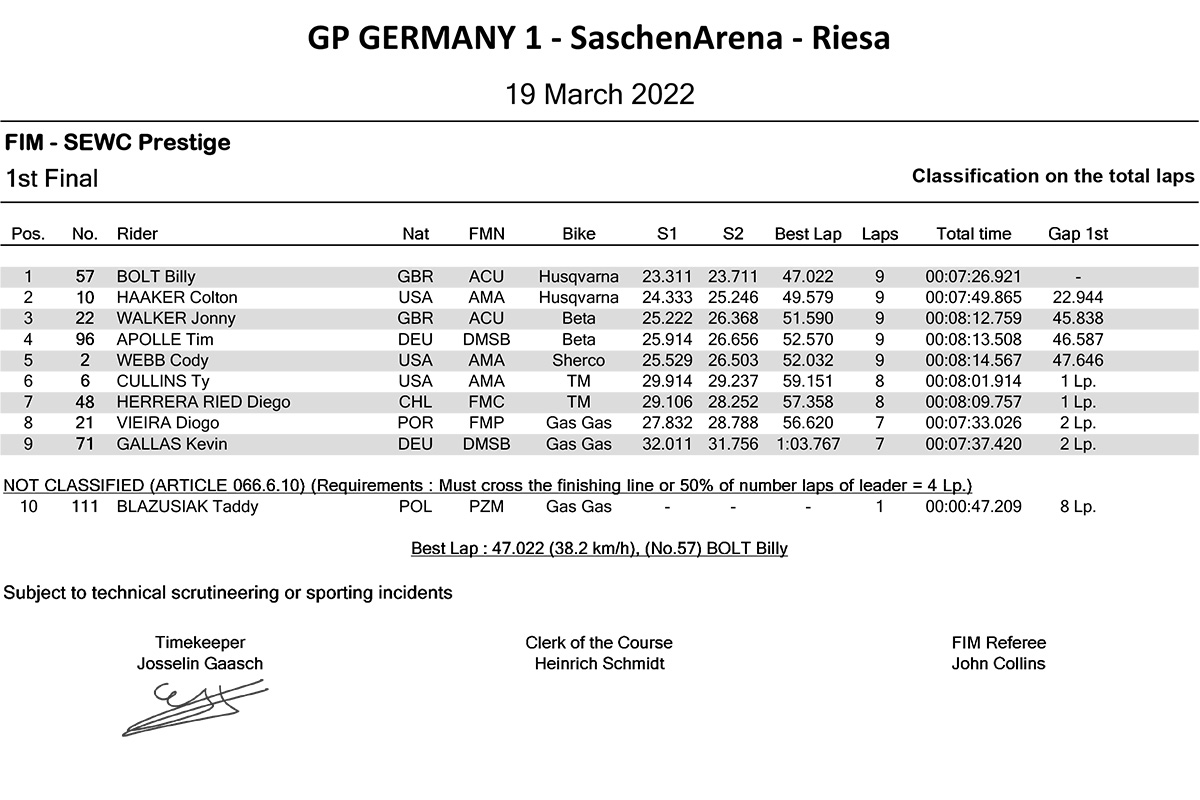 Heat 2: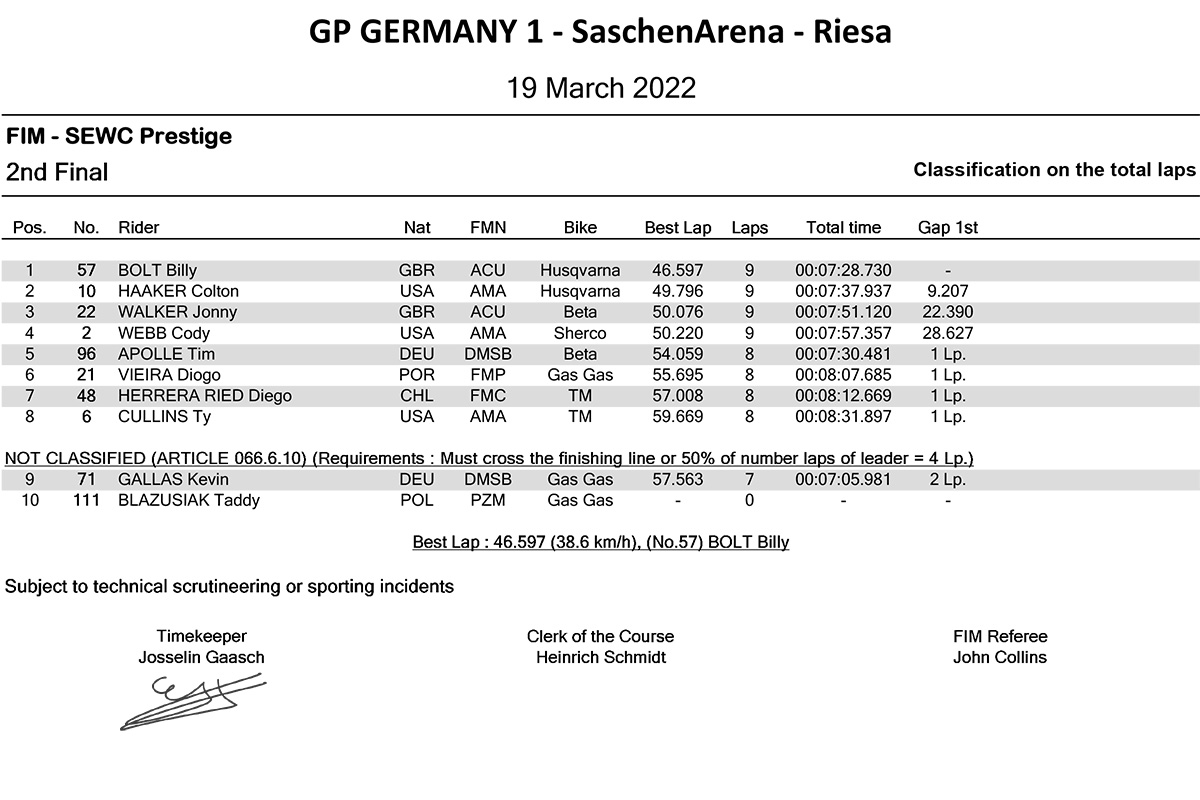 Heat 3: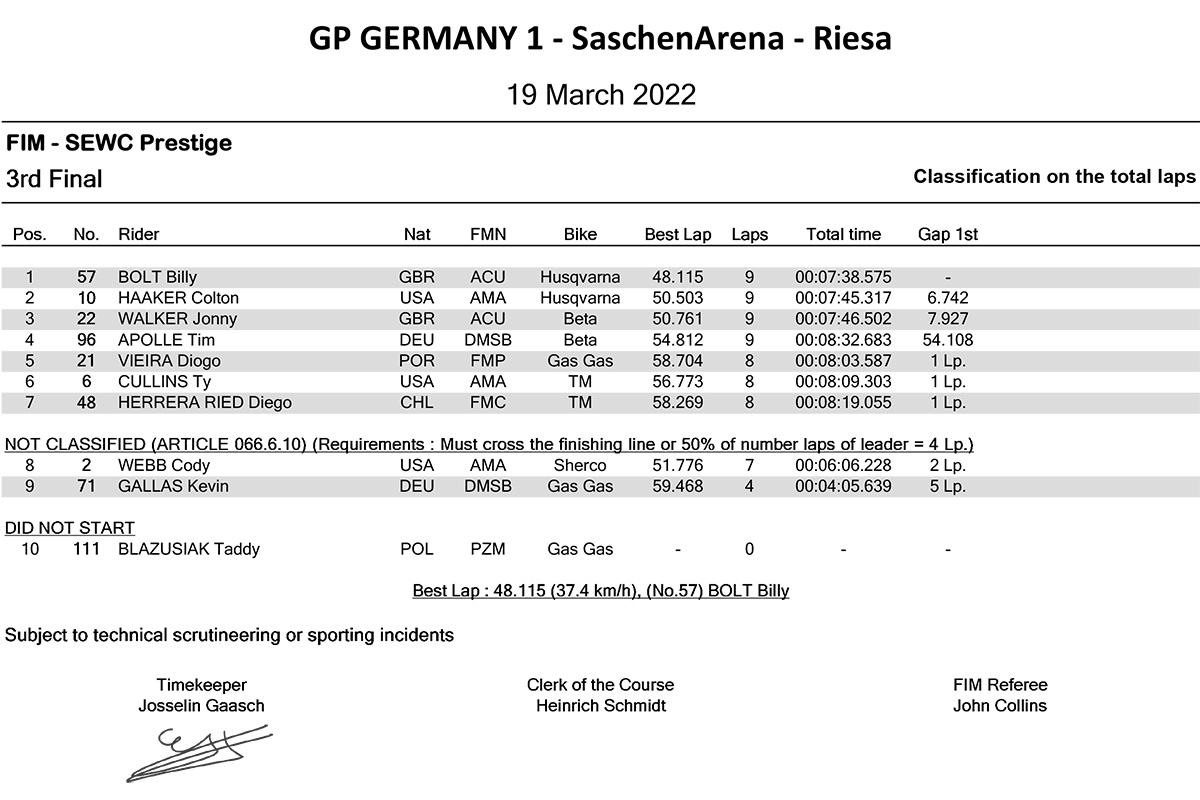 Championship positions after Germany 1: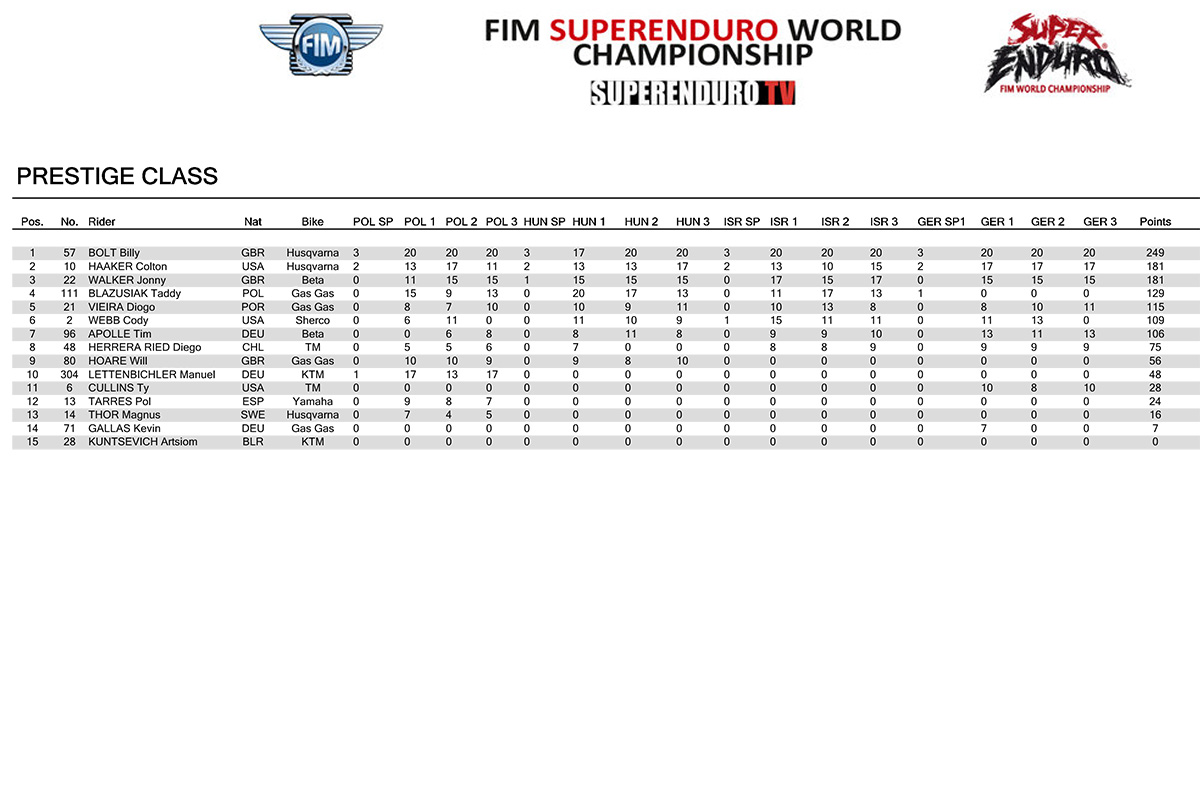 Superpole result: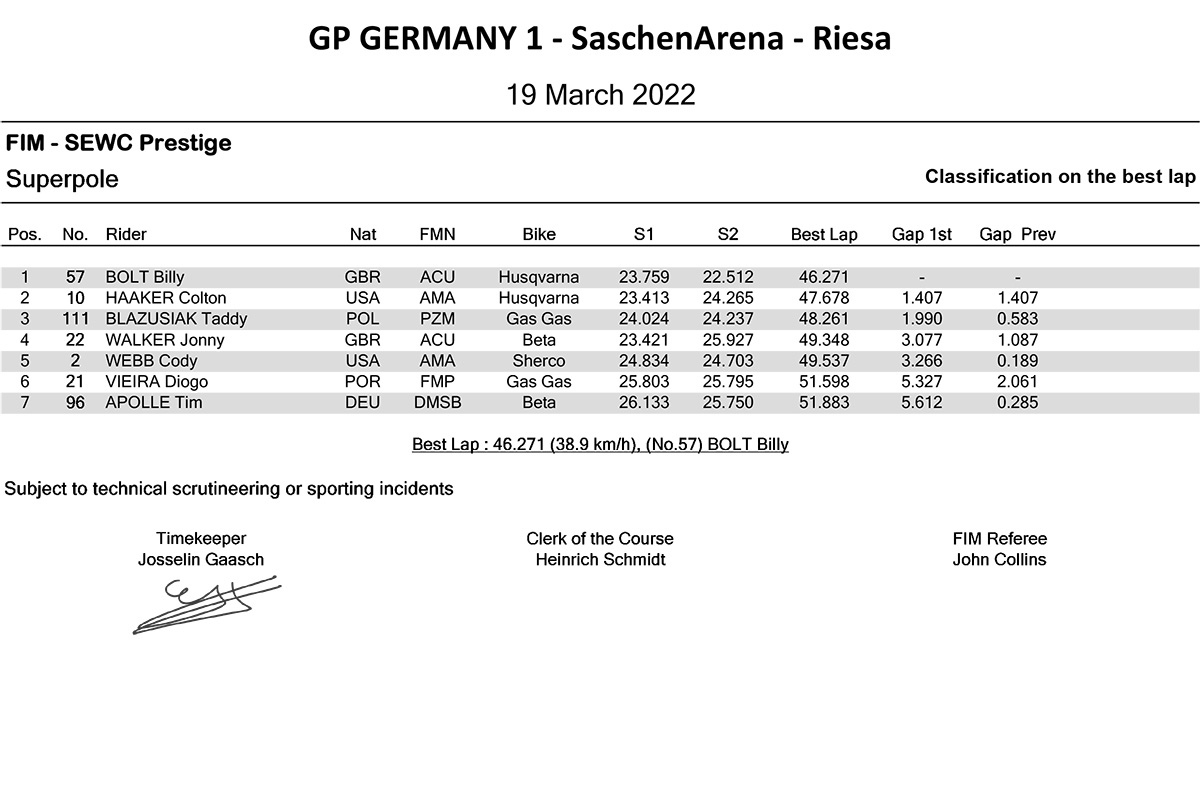 Junior class, heat 1: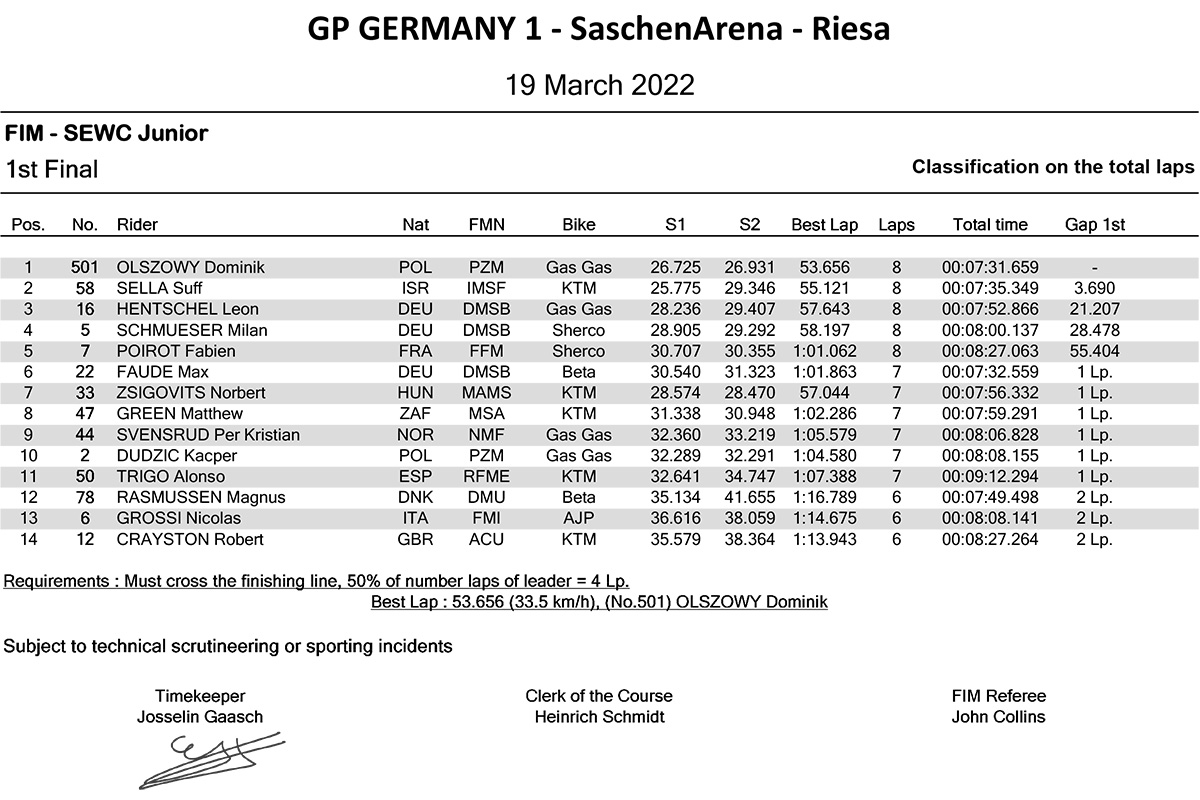 Juniors heat 2: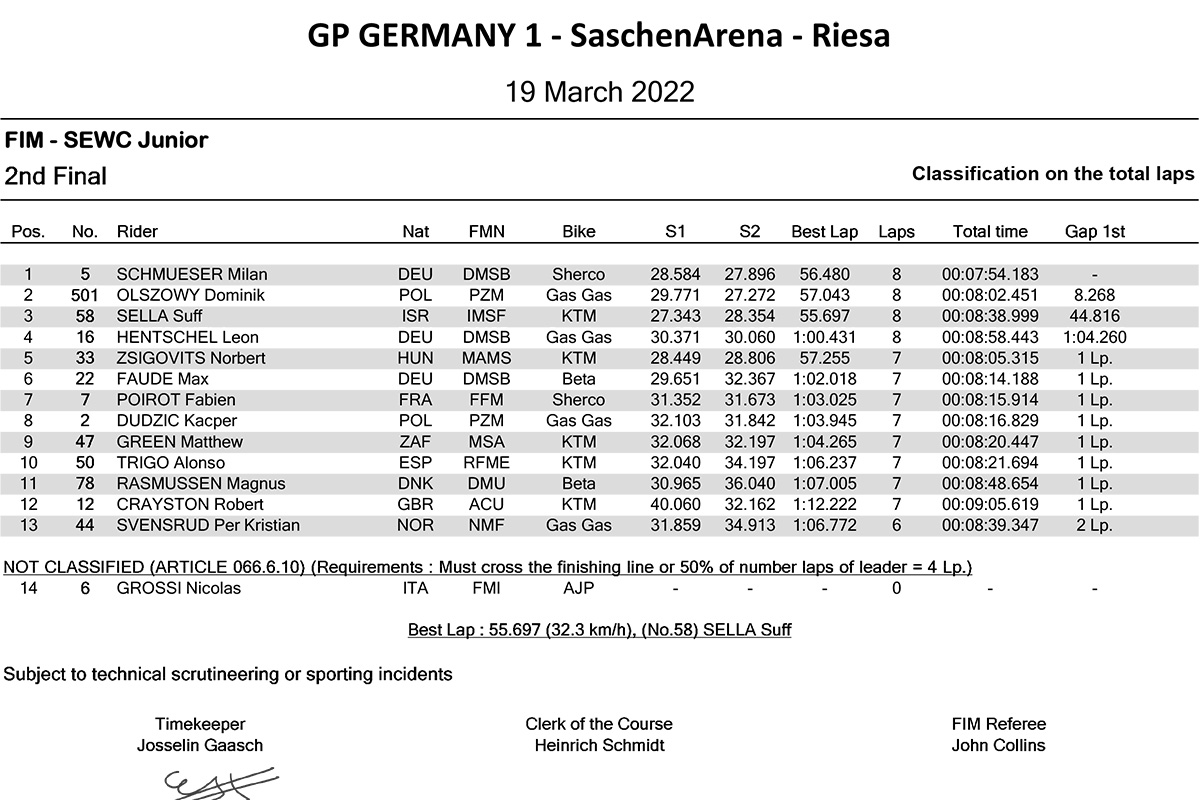 Juniors heat 3: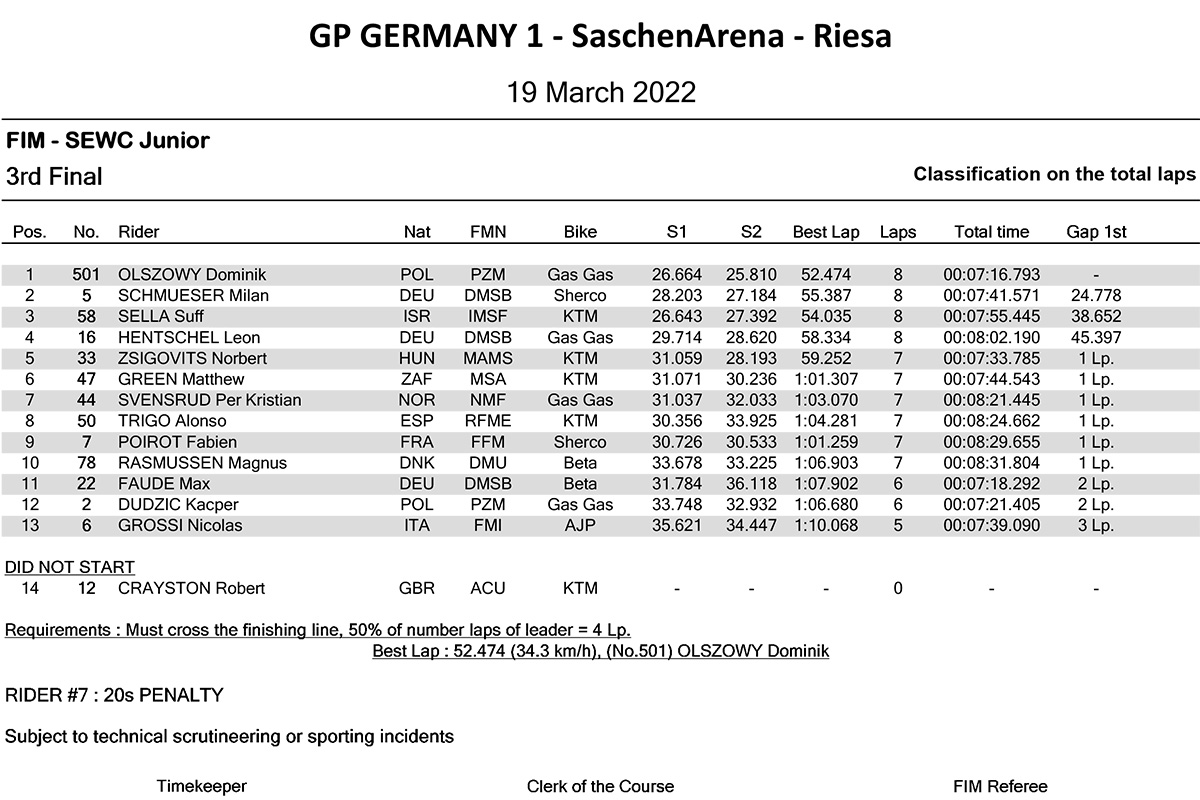 European championship results: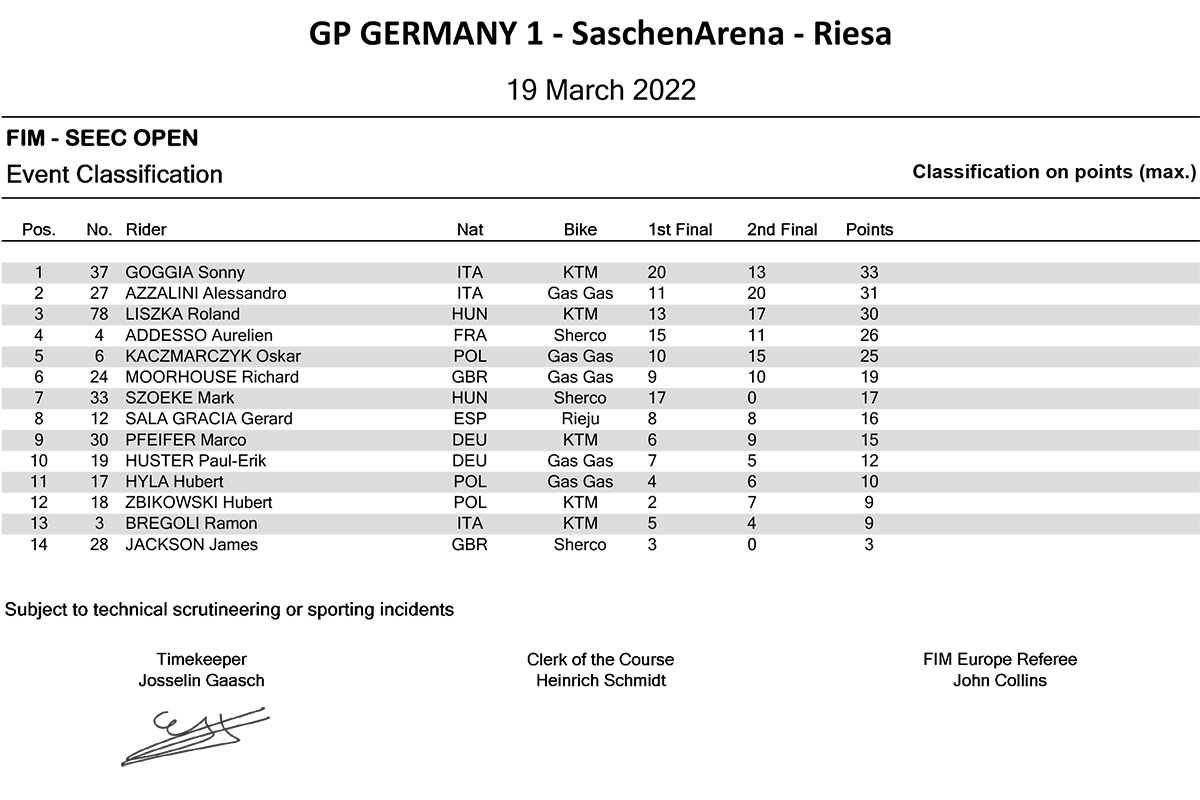 Photo Credit: Future7Media | Nicki Martinez