2021 AMA National Enduro: Rnd1 at Sumter sees Champion Baylor on a GASGAS
The 2021 AMA National Enduro season kicks-off this weekend with champion Grant Baylor ready to defend his NEPG crown and make his GASGAS debut with the KLM Motorsports team.
The new season arrives on the back of a fairly insane 2020 but with 900 riders signing up to race this opening round in South Carolina, 2021 promises a fresh start – albeit it with strict covid regulations still in place.
After delivering his and Sherco's first-ever National Enduro Championship in 2020, Grant switches to a GASGAS 450, a bike at least he should be familiar with following years on a KTM model.
Grant has never been known to come out to the first round firing but he's at least arriving fit and ready at Sumter which proved a major factor in putting his successful 2020 season together.
His brother Steward is top of the list of reasons why defending the crown is not going to be easy. Steward starts the 2021 season with some stability also and crucially a proven race winner on the AM Pro Yamaha YZ450.
The elder Baylor brother has his sights on a fifth National Enduro Championship and if he begins 2021 in the same way he closed out 2020, who'd bet against it.
The Red Bull KTM factory riders Ben Kelley and Josh Toth will also enter round one in Wedgefield with a different perspective – mainly that Toth will be there at the start line. After missing the opening rounds in 2020, Josh put together race wins to become a title challenger but then injured his hand at the Lead Belt NEPG round and, despite racing just two weeks later, it was the end of his title chances.
KTM teammate Kelley meanwhile was the Sumter winner back at the start of 2020 – which seems like such a long time ago now. Unfortunately Ben was another rider to suffers injuries in the season and never repeated that win. A solid off-season will surely see him back and wanting to repeat that Sumter success.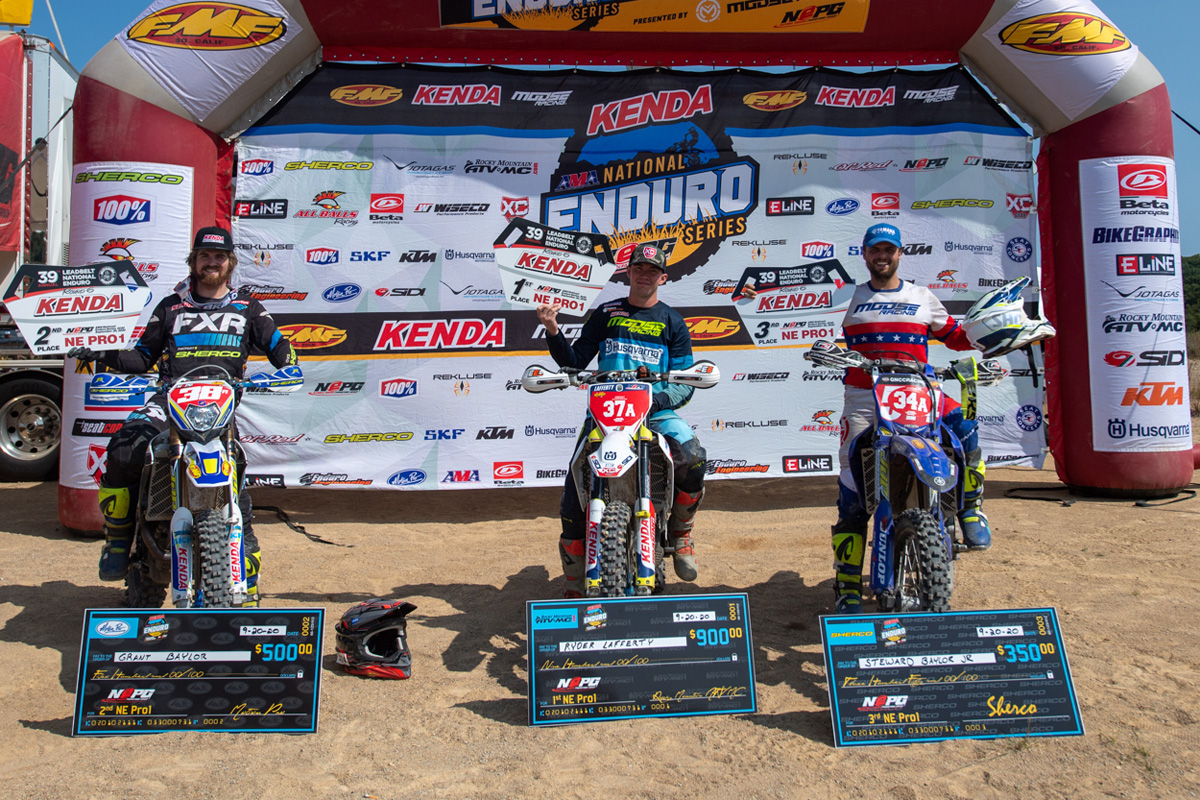 Riders to watch out for as potential race winners include Ryder Lafferty. The young XC Gear/ Enduro Engineering Husqvarna rider took a win in 2020 by just one second from those Baylor brothers on the day and finished the season in fifth with two podiums to his name.
Other riders to watch out for include the returning Ricky Russell in the Coastal Racing GASGAS team, Thorn Devlin on the Beta, Evan Smith, Liam Draper and last year's Pro2 National Enduro Champion, Craig Delong who moves up to the Pro1 class onboard his Rockstar Energy Factory Husqvarna.
The Pro2 class then will see the previous two year's champions move up a class which means the 250s are wide open this season. Vince Smith, Hunter Bush, Noah Clark, Ben Nelko, Jesse Ansley…pick a winner.
Women's Elite class contenders
The 2021 Sumter National Enduro has a strong field of Women's Elite Racers with 17 riders signed up for the opening round.
Mackenzie Tricker comes off back-to-back Women's Elite National Enduro Championships but the Australian ended 2020 with surgery on a nagging knee injury. She still is not 100% and claims to have hardly ridden a bike since last October which makes the Sumter National Enduro her first time on a bike.
2018 Women's Elite National Enduro Champion Tayla Jones is back racing for the first time at Sumter since her knee surgery last year. Tayla is clearly a proven race winner as well as a multiple ISDE champion and though not fully fit, will start as one of the title favourites.
Rachel Gutish was one of the 2021 season's surprise packages as she took her Factory Beta across different race disciplines from extreme enduro to winning four NEPG rounds. Rachel is a die-hard racer that is known to race Saturday, drive halfway across the country to race again Sunday and contend for a win both days. She could just as easily get on a hot streak and win a National Enduro Championship.
Don't forget Brooke Cosner also who put herself on the podium at each round last season and starts 2021 very much a contender.
Enduro21 will bring race reports and results throughout the 2021 NEPG season.
2021 AMA National Enduro Series schedule:
February 7 Sumter National, Wedgefield, SC
April 25 Cajun Classic, Forest Hill, LA
May 16 Dragons Back National, Arrington, VA
June 13 Cherokee National, Greensboro, GA
July 25 Rattlesnake National, Cross Fork, PA
August 22 Lumberjack National, Bergholz, OH
October 3 Muddobbers National, Matthews IN
October 17 Zink Ranch National, Sand Springs, OK
November 7 Gobbler Getter National, Stanton, AL
More information: www.nationalenduro.com
Photo Credit: Shan Moore + Simon Cudby