2022 AMA National Enduro: Ben Kelley wins Dragon's Back National Enduro
AMA National Enduro Series resumed for round two and the Dragon's Back NEPG event with Ben Kelley taking a dominant win – Steward Baylor returns to racing after neck fracture.
After a disappointing seventh-place finish at the opening round of the Kenda AMA National Enduro Series in Sumter, South Carolina, FMF KTM's Ben Kelley dominated the action at this weekend's Dragon's Back National Enduro, round two of the series in Arrington, Virginia.
Last year's winner, Grant Baylor (REV Motorsports GasGas), won the opening test of the day before Kelley took control, winning the remaining five tests to outdistance Grant by over 44 seconds for the victory.
"Seventh at the first round and then first here at round two; I'm happy," said Kelley. "I wasn't really so prepared for the first round, but I still gave it my best and it was a seventh. So, I wasn't too stoked on that. I've just been riding good lately and I rode the past two days in some tighter hard-pack trail, just trying to get better at these. I think that helped."
Grant's win in test one was the only downer for Kelley's impressive day. The National Enduro Promotions Group (NEPG) is offering a bounty for any rider who can win all six tests at any round and for the Virginia round the bounty was up to $2000. Grant took home an extra $500 for playing the role of spoiler and now the bounty for round three will be $3000.
Kelley didn't seem too bothered by missing out on the extra $2000. He seemed more excited about how he performed.
"After Grant won the first test, I won test two," said Kelley. "From there, I just kept clicking them off. I kind of found my flow and was riding good. I had energy. I was just going fast, flowing around the corners and kind of hitting my marks. It was nice. It was probably the best I've ever felt at an enduro, besides Sumter in 2019."
Baylor G back on the podium
Grant Baylor was pleased with his fast start, which he's not usually known for, and although he won the Dragon Back Enduro last year, he was still happy to get a good chunk of points at this year's round knowing good well it's a long season and a lot of things can happen.
"We've had good luck here in the past in Virginia," said Grant. "I had some good confidence going into today, but I had a rough week leading up and hurt my back. Just came out first test, tried to just run it smooth and come through in a strong finish there and ended up winning it. I kind of surprised myself with that.
"Then after that, I felt like I was going better and better as the day went on, but my results weren't really showing it. I was kind of just staying right there, second place, third place all day. I just didn't have any flashes of brilliance today. Kind of just smooth and steady day for me."
Lafferty takes final podium place
Coastal Racing GasGas' Ryder Lafferty continues to impress and added a third overall finish to go with his runner-up finish at the opener in Sumter, South Carolina.
"I started off kind of slow but then made some changes to the bike," said Lafferty. "I didn't think it was going to be this dry, hard-pack, but we changed some stuff to the bike and got better. Stu (Baylor) was creeping up on me. Toth was, too. I was like, I can't let Stu beat me. I had to wick it up there at the end. I had a good gap the last three and just kind of brought it on home."
FMF KTM's Josh Toth had a bad second test when he clipped a tree and smashed his hand, which might have cost him a podium. He still had a solid day for fourth overall.
"I just started off not super comfortable, kind of in the looser stuff," said Toth. "I was just a little too timid and rode on the cautious side all day. I just didn't have the speed for everyone. I kept it on two all day, but like I said, just wasn't blazing fast today."
Dragon's Back National Enduro results: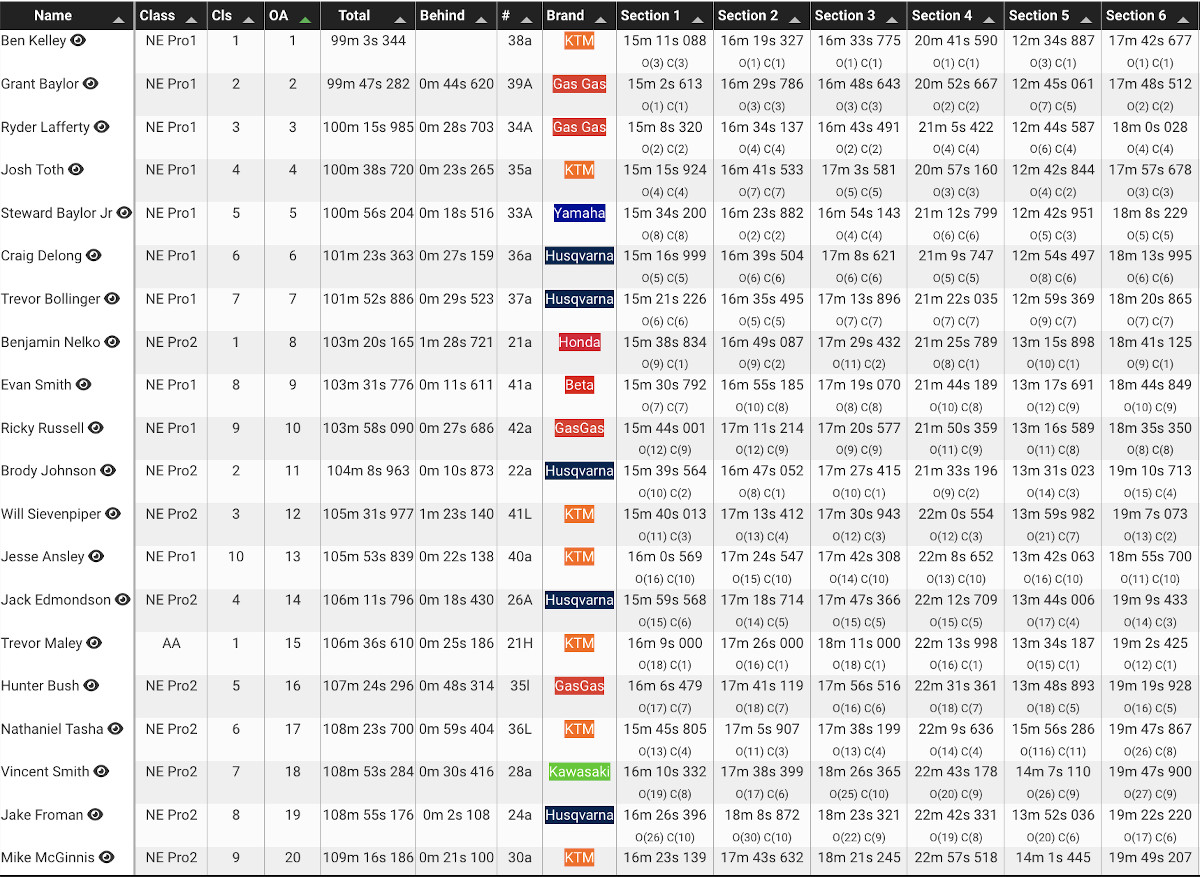 Steward Baylor back at the races
A surprise entry was Steward Baylor, who is just 11 weeks out from breaking a vertebra in his neck. The AmPro Yamaha rider's main plan was to salvage some points for now and then come on strong when he's a little healthier, but he surprised a lot of people with a fifth overall finish.
"I want to say this is my worst finish at a national enduro in maybe four or five years," says Stew, "or at least tied my worst, so I'm not really stoked on it, but given the circumstances and the amount of time on the bike, I think I'm happy with it."
Steward won the first round in Sumter, so he was the points leader coming into the Virginia round.
"I just threw away the points lead; I tried everything I could to finish fourth and at least keep it tight, but late in the day I was just really struggling to stay strong through the test."
Despite a hard crash in test three, Rockstar Energy Husqvarna's Craig DeLong managed to recover for sixth overall with teammate Trevor Bollinger taking seventh overall.
Second Pro 2 win for Nelko
Steel City Men's Clinic's Ben Nelko (Hon) made it two for two for wins in the NE Pro 2 class for 2022 with an impressive performance that netted him the NE Pro 2 victory plus eighth overall.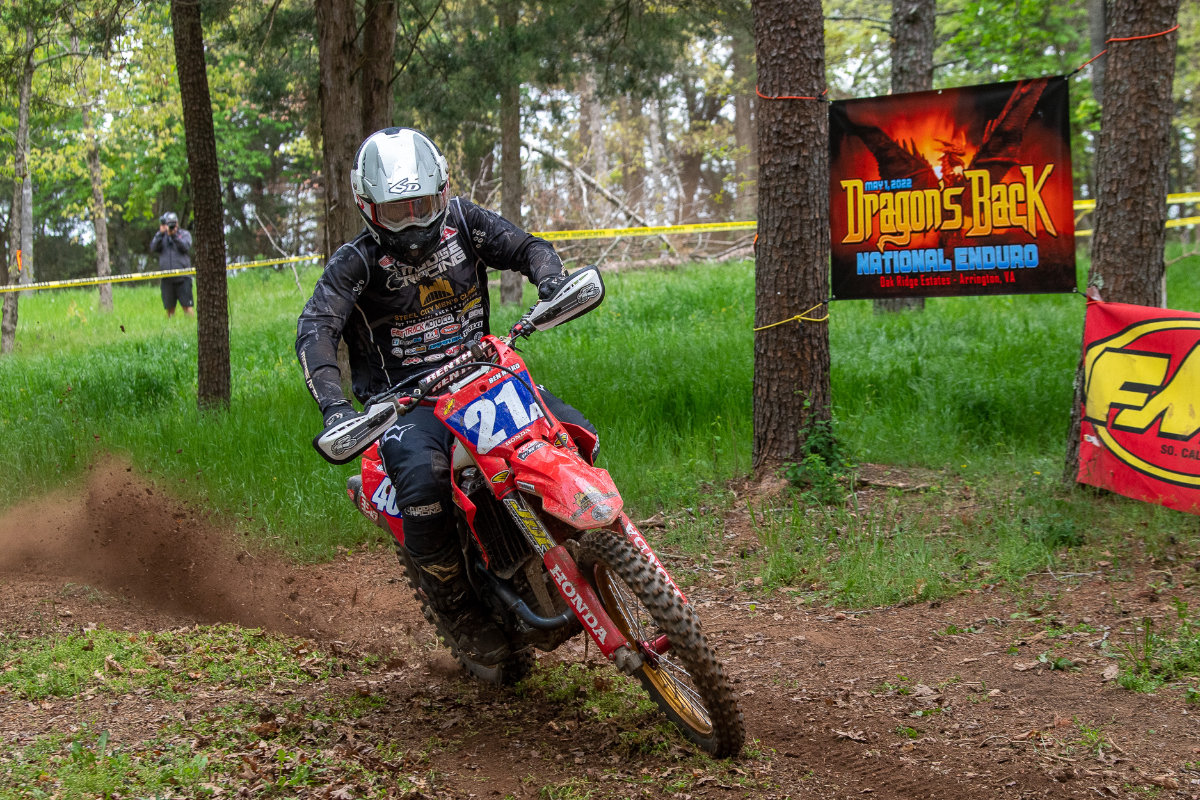 "I struggled the first half of the day," admitted Nelko. "I just wasn't really feeling real confident on the bike. Brody (Johnson) was ripping. So, I had to turn it around and try to ride as fast as I could, but as safe as possible too."
FXR Husqvarna's Evan Smith came in just 11 seconds behind Nelko for ninth overall, while Coastal Racing GasGas' Ricky Russell rounded out the top 10.
Magna1 Motorsports Husqvarna's Brody Johnson was second in the NE Pro 2 class with an 11th overall finish, with Will Sievenpiper (KTM) was 12th overall and third in the NE Pro 2 division.
Full house of test wins for Archer in Women's class
AmPro Yamaha's Rachel Archer won every test to claim the win in the Women's Elite class.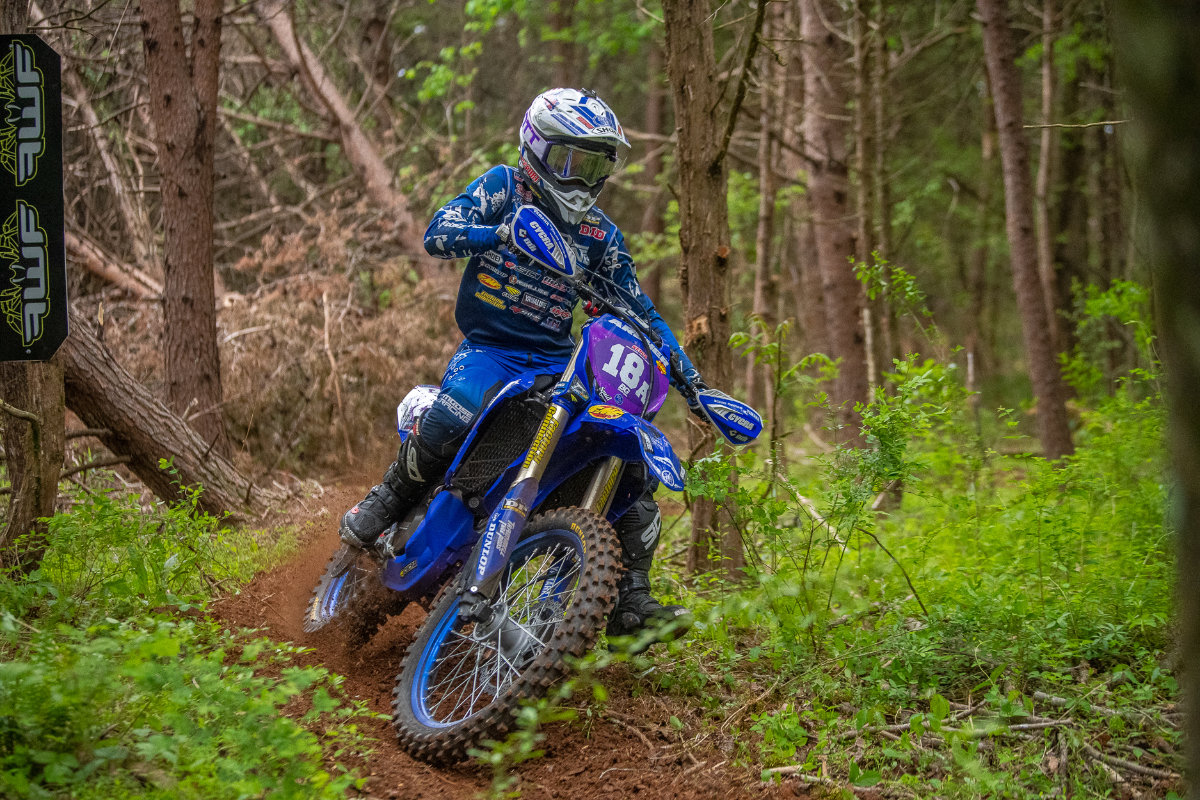 "I went down once in the second test; I was kind of stuck between a tree and I got out pretty quick," said Rachel. "Then rode a solid day. I won every single test and felt good."
Enduro Engineering Fly Racing KTM's Mackenzie Tricker was second, while Brook Cosner was third on a Yamaha.
Trevor Maley (KTM) was tops in the AA division, with Andrew Clark in third on a Sherco and Dakota Devore in third on a KTM.
The Open A class win went to Ryan Piper (KTM) with Chase Landers (Hsq) and Zach Toth (KTM) finishing second and third.
The Kenda AMA National Enduro Series resumes on May 15 for the Lead Belt National Enduro, round three of the series in Park Hills, Missouri.
More information: www.nationalenduro.com
Words and Photo Credit: Shan Moore