2022 AMA National Enduro Series: Grant Baylor Wins the NEPG title at Zink Ranch
Grant Baylor wraps up the 2022 Kenda AMA National Enduro Series championship after a thrilling victory at this weekend's Zink Ranch National Enduro in Sand Springs, Oklahoma.
Round nine of the 2022 NEPG series turned out to be one of the best so far this season with the Grant Baylor topping his brother Steward by the narrowest of margins after the final test.
With the win at round nine, the REV Motorsports GASGAS rider now holds an insurmountable 44-point lead which means he claims his second national enduro title in two years, and six in a row for the Baylor brothers combined.
Grant got off to a fast start, winning the opening test of the day by seven seconds ahead of Coastal Racing GASGAS' Ryder Lafferty. However, test one was the only test Grant won all day, but his consistency was enough to keep him in the lead the rest of the way, finishing second, third, fourth, fifth and second in the final five tests.
FMF KTM's Josh Toth won tests two and three, while Steward won the final three tests after not getting the best of starts, finishing fifth in test one. However, his late-race flurry put him in position to challenge Grant for the win in the final test. Grant went into test six with a 10-second lead over Steward. Steward won the test by just over nine seconds ahead of Grant, leaving Grant with the victory by less than a second.
"When Steward won test five by 11 seconds, I knew I had to do something different in that last test," said Grant. "I really wanted to win today because I didn't want the championship battle to linger into the final round in Alabama, so I gave it everything I had and just sent it and I got the job done.
"It was a crazy tight race and I'm just so pumped to get it done and bring it home one race early."
Between the two of them, the Baylor brothers have accounted for seven out of 10 in the NEPG series. "This is kind of our bread and butter," added Grant. "We grew up racing tight single track and we've just always excelled in the tighter stuff."
Hammering lines and blowing berms works for Stew
As he often does, Steward started slow but came on strong in the end, but this time came up just short. "I started off really, really slow, which has kind of been the way it's been going these last few," admitted Steward. "The first three tests weren't going my way and I was missing a lot of lines. The lines that I did take, it seemed like everything was always sketchy. There were a bunch of rocks that were hidden under the grass, so midway through, I just ended up hammering the main line and blowing up the berms and that was a lot better for me."
Josh Toth was in the mix all day and went into the final test just two seconds behind Grant. "I knew Stew was right behind me close, so I pinned it that last test," said Toth. "I did what I could, but Stew laid it down and gave it to us that last test. I'm bummed to lose a spot and end up third, but overall I think I was seven seconds out of the win, so it was close."
Ryder Lafferty also had a shot at the win, but a couple of tip-overs in the final test were just too costly for the Coastal Racing GASGAS rider and he ended up fourth.
"I lost a bit of time in the last one, but all in all, I feel better than I did in Indiana," said Lafferty. "I feel good. I feel like my normal self. It sucks that it's so close like that to come up short. But, all good. I'm healthy. So, just keep plugging forward and use it fuel to the fire."
Ricky Russell had some good test times, but inconsistency plagued the Coastal Racing GASGAS rider and he settled for fifth. "I had a good test, bad test, good test, bad test. So, I don't know. When I was riding good I felt like I was in the mix, but I was just to hit and miss." Explained Russell.
Sixth went to Craig DeLong, who was not pleased with his day after expecting to do better but still just struggled. "Something about the open fields with the hidden rocks. I don't really care for that. I have my limit, and in that type of conditions I'm not really willing to go over that." Said the Rockstar Energy Husqvarna rider whose teammate Thad DuVall wasn't a fan of the terrain either in seventh.
Eighth was Trail Jester's Racing KTM's Jesse Ansley, who is returning from a couple of injuries/illnesses, but took eighth overall. Meanwhile, Beta USA's Evan Smith was consistent on his way to a ninth-place finish, going 9-8-9-7-8-9 in the six tests.
Zink Ranch National Enduro results (top 20):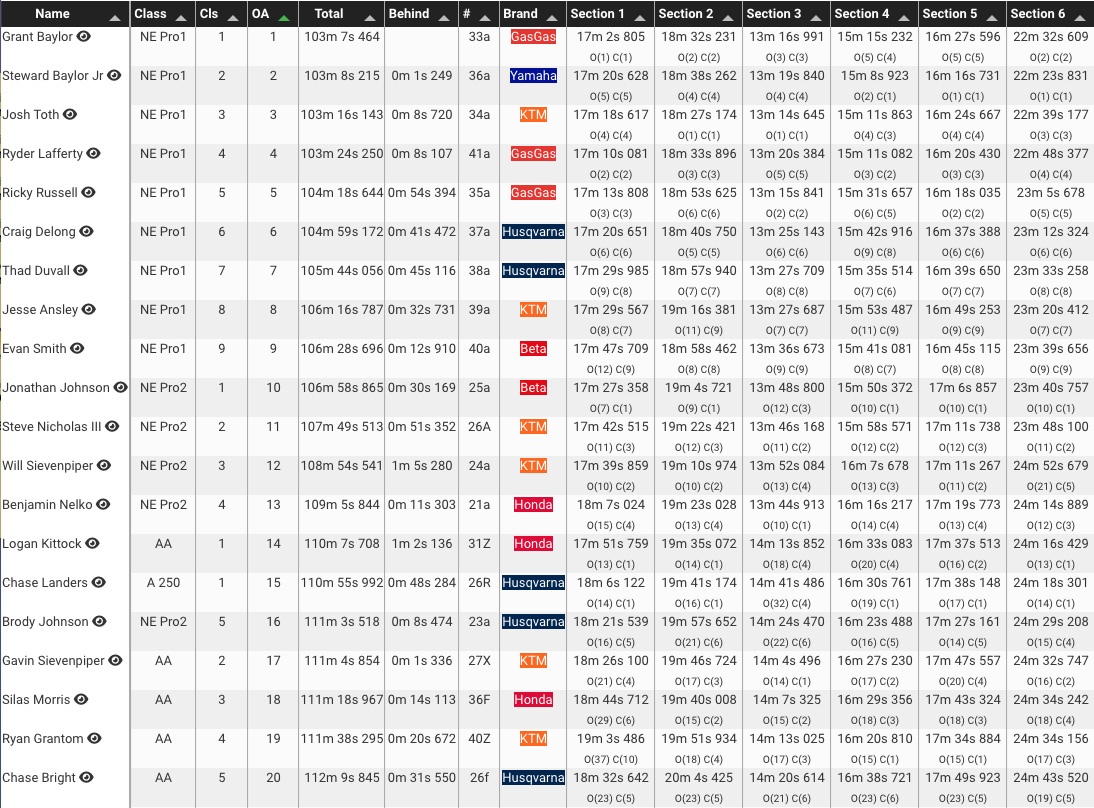 Jonathan Johnson tops NE Pro 2 class
Tenth overall and first in the NE Pro 2 class was Beta USA's Jonathan Johnson. "Ben Nelko beat me in the first test, but from there on out, I just won the rest of the tests," said Johnson. "I made one mistake, but still ended up winning that test, too. So, just being consistent paid off today."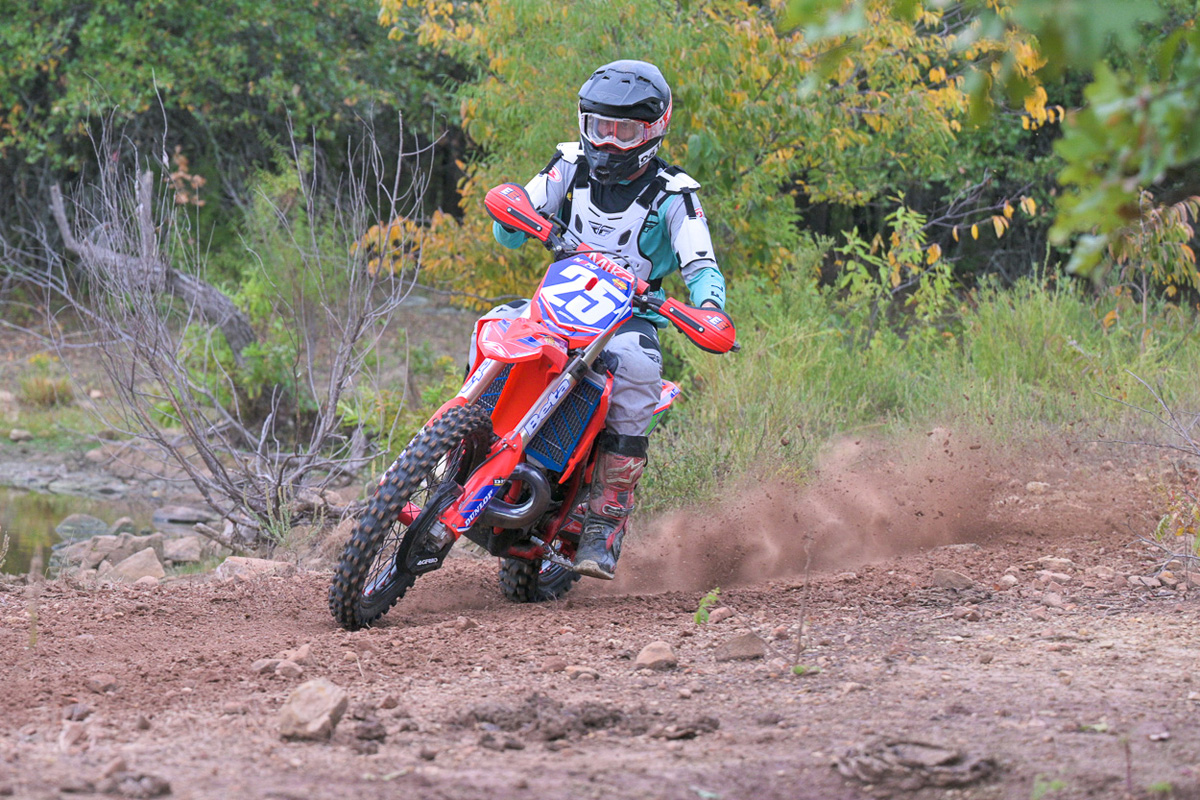 Nail biter Women's Pro result
The Women's Elite class was another nail biter, like the Pro class was, with AmPro Yamaha's Rachel Archer nipping Enduro Engineering Fly Racing KTM's Mackenzie Tricker by 0.6-tenths of a second. Tricker won the first two tests, but them Archer picked up the pace and won the final three.
"It started off a little slow," said Archer. "I kept missing the cheater lines and was just trying to stay on the main track and it was holding me up a little bit. But once we got into test three, it was more my style and a little rockier and a little more technical and I was able to pull off three wins in the last three tests and take over the lead and win by half a second. So, it was good to win today. I can relax a little bit going into the last round."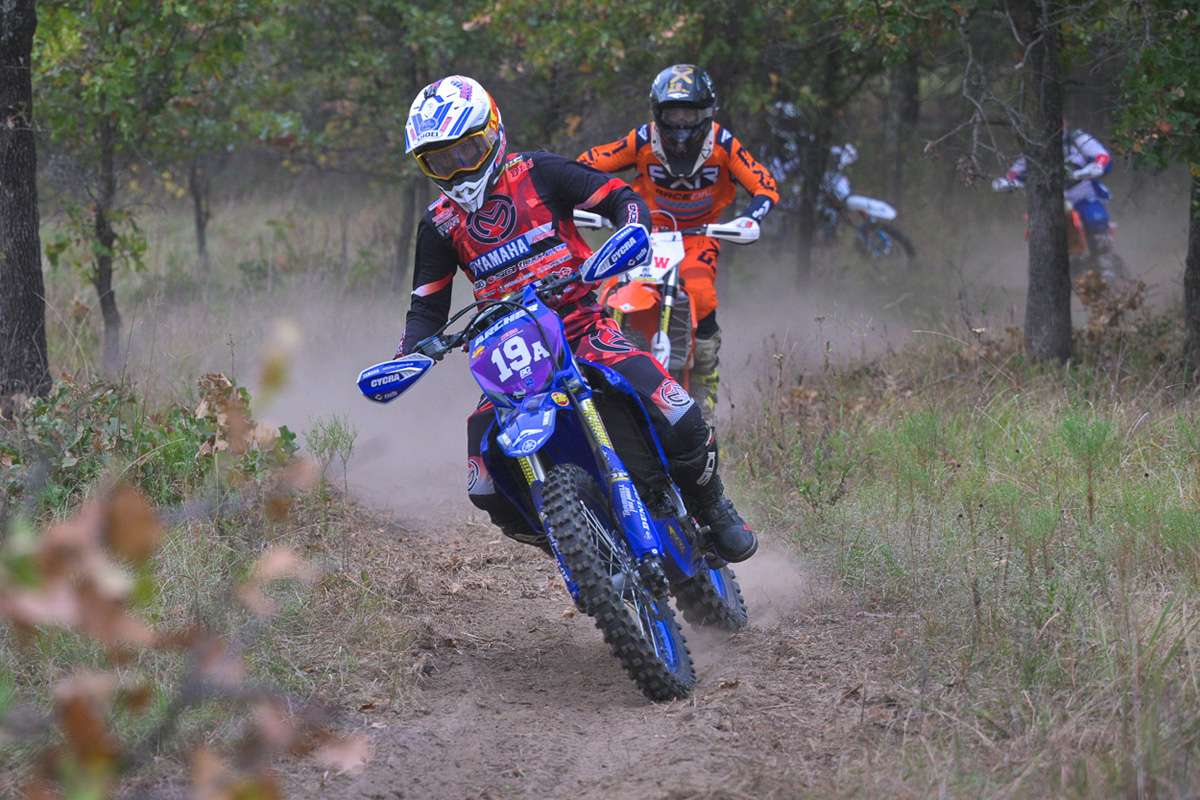 The Women's Elite class gets one throw-away score, and counting those, Archer has a 21-point lead over Tricker heading into the final round in Alabama. Brooke Cosner (GG) was third at Zink Ranch.
Colton Brown (Yam) won the Open A class ahead of Honda riders Derek Gravitt and Adam Hollenkamp.
In the 250 A division, it was Magna1 Motorsports' Chase Landers with the win ahead of Grady Faint (KTM) and Jhak Walker (GG).
The Kenda AMA National Enduro Series wraps up on November 6 at the Gobbler Getter National Enduro, the final round of the 2022 series in Sand Stanton, Alabama.
More information: www.nationalenduro.com
Words and Photo Credit: Shan Moore