AMA National Enduro: Grant Baylor closes on title with Muddobbers win
The 2022 AMA National Enduro series landed in Matthews, Indiana for the historic Muddobbers, round eight of the season where Grant Baylor stepped closer to a second career title – Pro 2 class top three finish within three seconds of each other.
Taking his fourth win of the season at what was the 69th annual Muddobber's National Enduro, and his third victory in a row, Grant Baylor is now odds-on favourite to take the NEPG title with two rounds remaining.
Behind him, the Pro 2 class boys including Ben Nelko, Benja Herrera and Brody Johnson all finished within a remarkable three-seconds of each other at the finish.
Grant won three of the six tests on route to a very healthy 35-second margin of victory over FMF KTM's Josh Toth who returned the podium for the first time since round four.
It was Grant's day though and the REV Motorsport's GASGAS rider backed it up by finishing second-fastest in the remaining three tests. Before the race, Grant admitted that the Muddobber's course is one of his favorites, although he didn't get off to the best of starts…
"I went down once in the first test and came out of there five seconds behind Toth," said Grant. "Then I went down again crossing a log in the second test and again in the third.
"But other than that, it was a really good day for me. I knew it was going to be one of those days where smoother would be faster, instead of trying to go fast, just because of how dry it was, so I just tried to keep it smooth."
With the win, Grant extended his lead to 34 points ahead of his brother, AmPro Yamaha's Steward Baylor, in the championship points, giving him more than a full race cushion with just two races remaining in the series (30 points are awarded for a win).
Six-year Baylor stranglehold
Should Grant hold on and win the title it will make six straight years that one or the other of the Baylor brothers has won the national enduro title. Steward has won it four times, while Grant won the title in 2020.
"I've never been in this situation, where I had the chance to wrap it up early," said Grant. "I think where I'm sitting now, I should just be able to go to this next one in Tulsa and kind of ride it home and hopefully wrap it up. If I do, I do, and if I don't, I don't."
$6000 bounty for winning six tests?
Josh Toth won the Muddobber's race in 2021 and though he hasn't been topping the results of late, the FMF KTM rider came into the race with a lot of confidence and eyeing the $6000 bounty that Enduro Engineering was offering to anyone who could win all six tests.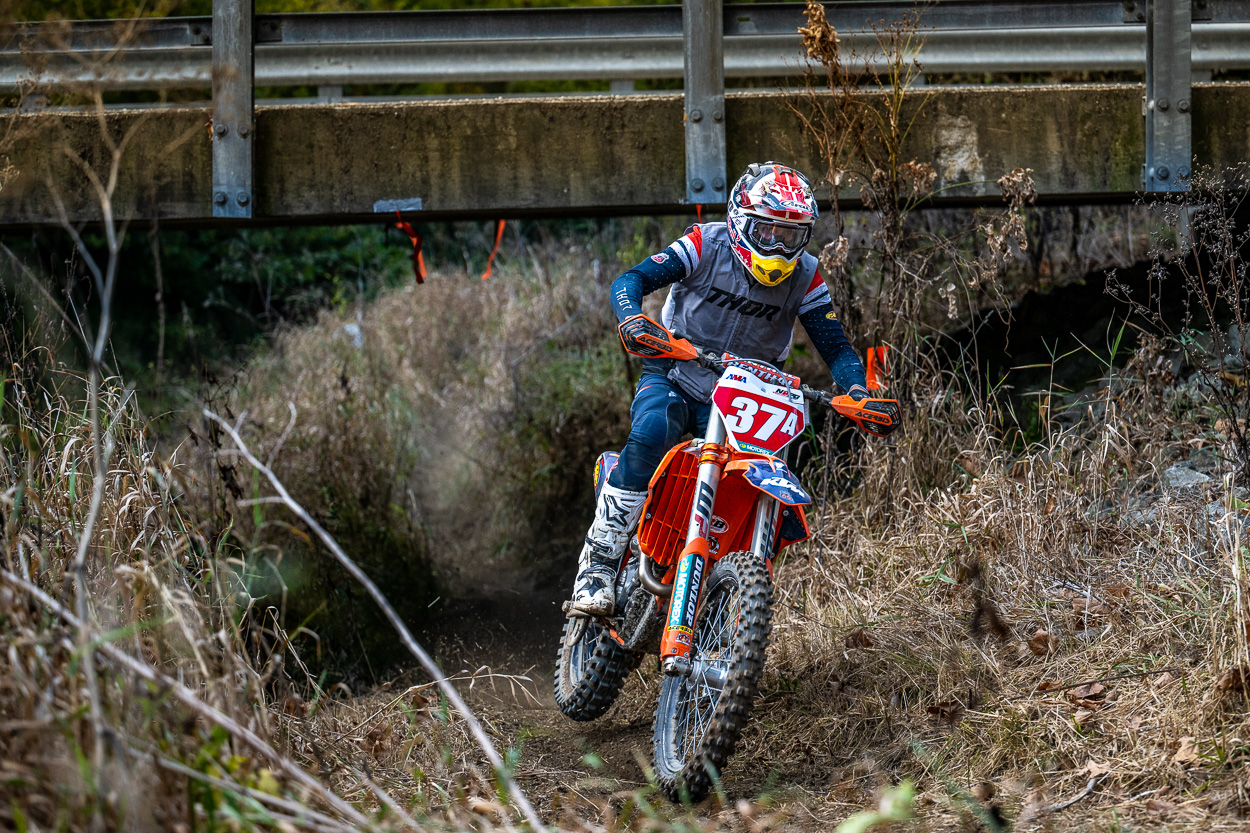 Toth got off to a good start, winning the opening test of the day, but a crash in test two ended all hopes of collecting the bounty.
"Winning the first test felt good, it was a pretty clean test overall," said Toth. "In test two, though, I just had a couple mistakes and went down twice. That was kind of the story of my day. I rode good and then I just had a couple of freak incidents where it just cost me time."
Coastal Racing GASGAS' Ricky Russell landed on the podium for the second race in a row, his third-place finish at the Muddobbers giving him back-to-back third-place finishes in the series.
"I knew it was going to be hard pack and slick, so I came up early and rode a lot, so I was prepared and I felt good," said Russell. "I started off strong and was right in the mix all day."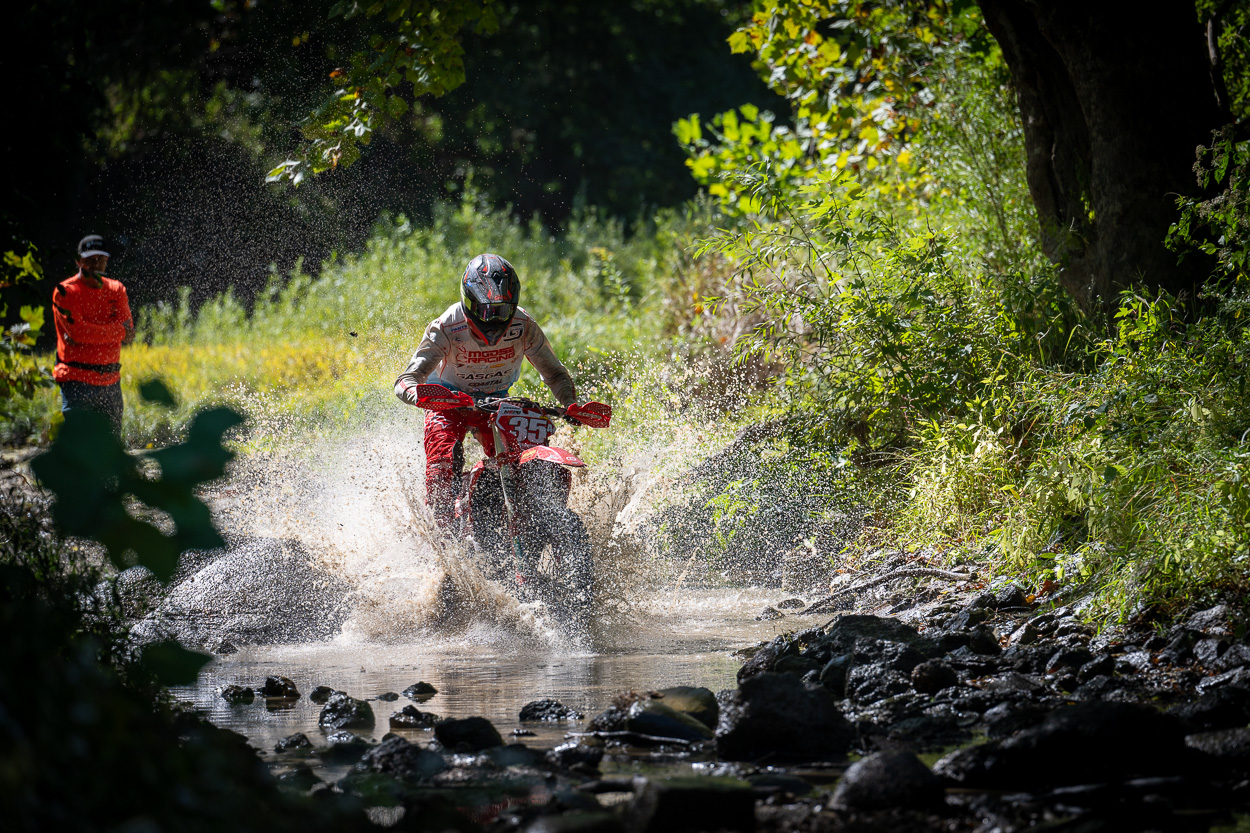 Russell made what he called a "stupid" mistake in the fifth test, which he admitted "kind of killed me": "Even with all that, I wasn't that far off, so I was happy that I was able to salvage a decent test after making that many mistakes."
Am Pro Yamaha's Steward Baylor had a rare off day, admitting the Indiana course was never one of his favorites.
"I just struggled," said Steward. "Today Grant and Toth were riding well, which they always ride well here. And this is one of those tracks where Russell has done well in the past, as well. My results didn't show it, but I rode I think the same as I have in the past here. This just hasn't been one of my strongest tracks."
Rockstar Energy Husqvarna's Craig Delong has been flirting with podium finishes all year and grabbed a runner-up finish two races ago in Ohio. However, a bad choice of tires slowed the Pennsylvania rider in the opening test in Indiana and after swapping them for test two he was consistently top five for fifth overall.
"I didn't really realize how dry it was, so I kind of stuck with my normal set-up for tyres," said DeLong. "It was drier than I expected, so I struggled a little bit with the feeling.
"Overall, I just struggled a little bit with lappers with where I could catch them on the course. It just seems like where I would catch them would just be bad spots. I was a little frustrated because of that."
Thad DuVall was super consistent, with 6-7-7-7-7-7 finishes for the day to finish sixth overall.
"I skipped Michigan just because I wasn't sure how the hip would be after the first GNCC," said DuVall he thinks he needs to get more aggressive in the enduro tests. "I was just riding too comfortable, still kind of nursing the hip a little bit. It's still not 100 %. I rode really good, I just didn't really get out of my comfort zone like I should have to really be challenging those guys."
Trail Jesters Racing KTM's Jesse Ansley returned to racing after missing most of the year with an injury and came away with a decent seventh overall finish. Meanwhile, Beta USA's Evan Smith was a second-and-a-half behind Ansley for eighth overall.
2022 Muddobbers top 25 results: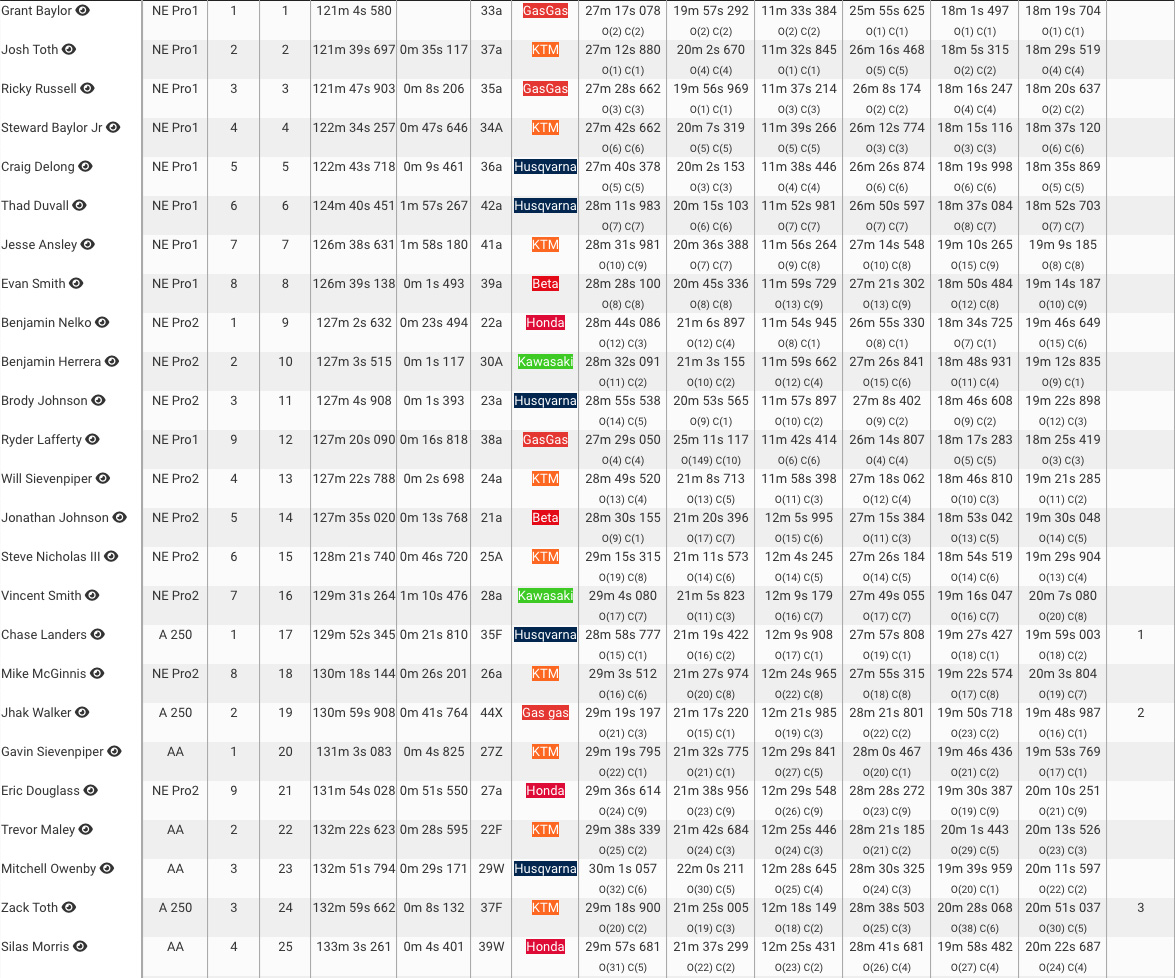 Nelko tops super-close Pro 2 podium
Steel City Honda-rider Ben Nelko topped the NE Pro2 class with ninth overall, beating out Kawasaki-mounted Ben Herrera by a single second.
"The day started off kind of iffy," admitted Nelko. "I got beat by 15 seconds first test.The dirt was super dry, dusty. So, the field sections were dangerous. You had to slow up way early because you didn't really know when the turn was coming. But in all in all, it was a good day. I won by a second and extended the points lead a little more."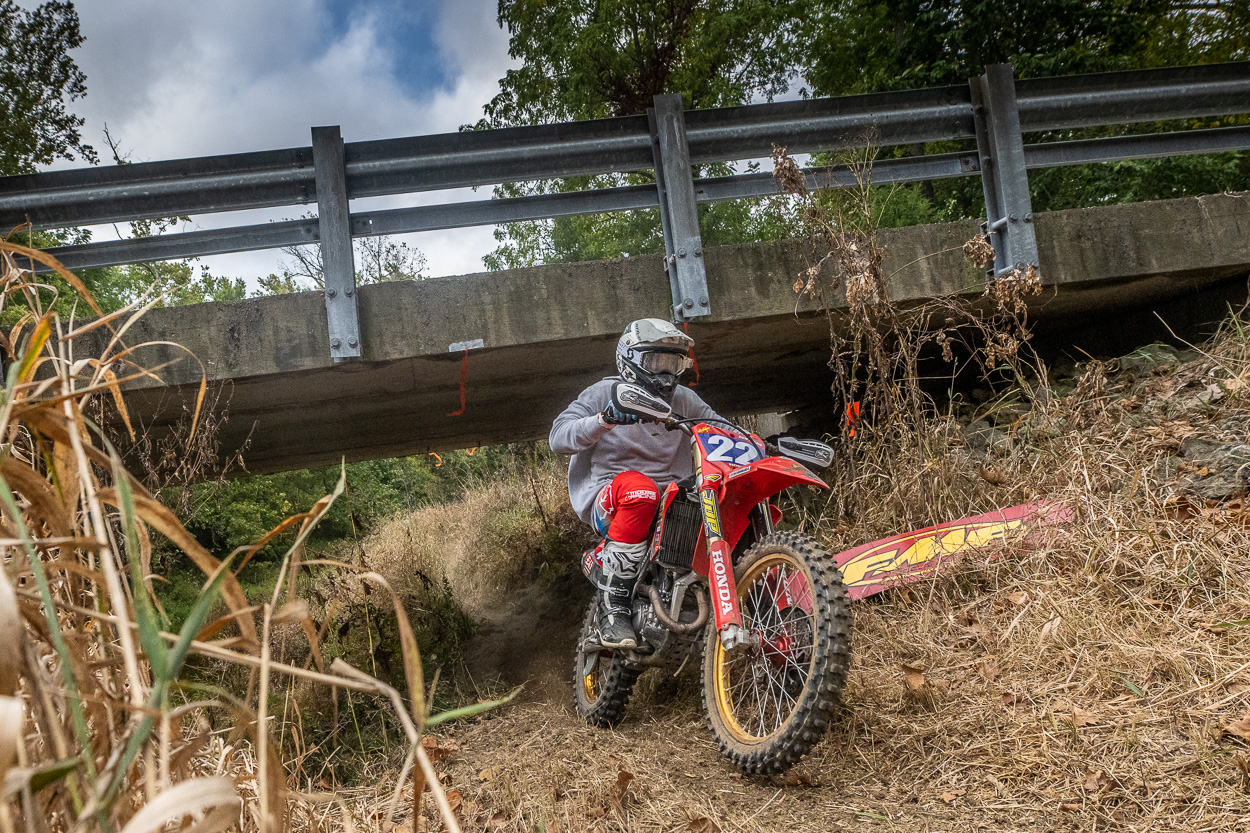 Making his debut in the series, Benjamin Herrera was sandwiched one second behind Nelko and one ahead of Brody Johnson in third.
This was Herrera's first try at a National Enduro and by all accounts it was a low-rent set-up, just Benja, his truck, a can of gas and some snacks all day. Second places showed he found some of the old groove he knows from racing in Europe and EnduroGP.
Magna1 Racing Husqvarna's Brody Johnson finished one second behind Herrera for 11th overall and third in the NE Pro 2 division.
Coastal Racing GASGAS' Ryder Lafferty, who led the series standings at one point, seemingly can't buy luck this season. Lafftery got tangled in barbed wire in test three and took considerable time to get going again, which left him in 12th overall.
Tricker tops Archer for Women's class win
Enduro Engineering/Fly Racing KTM's Mackenzie Tricker won the Women's Elite class, topping AmPro Yamaha's Rachel Archer by nearly two minutes.
"I had a really good day," said Tricker. "I felt good on the bike and I felt confident in the dust so I just was able to make good time."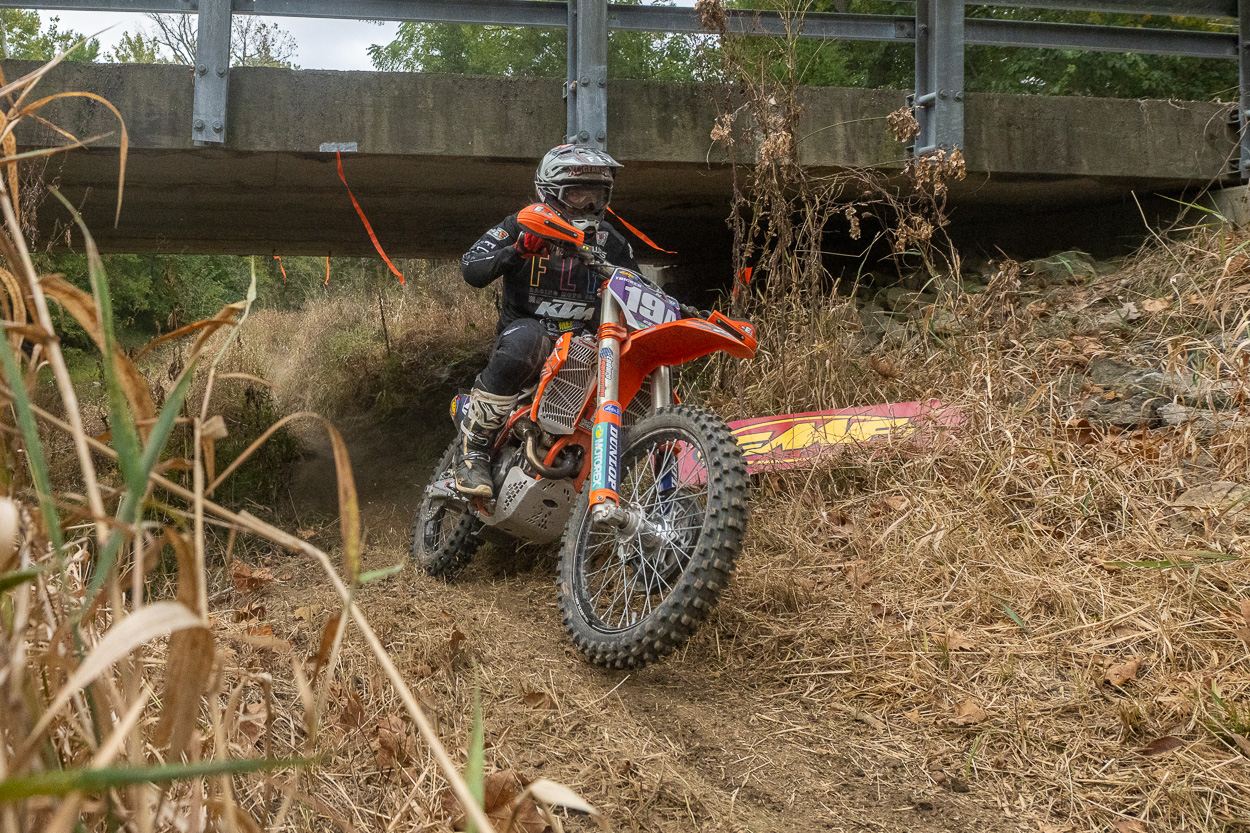 Brooke Cosner was third in class, ahead of Beta's Tayler Bonecutter.
Gavin Sievenpiper (KTM) topped Trevor Maley (KTM) and Mitchell Owenby (Hsq) to win the AA class. Meanwhile, Magna1 Motorsports Husavarna's Chase Landers took the win in the 250 A division over Jhak Walker (GG) and Zack Toth (KTM).
The Kenda AMA National Enduro Series resumes in two weeks October 16 for the Zink Ranch National Enduro, round nine of the series in Sand Springs, Oklahoma.
More information: www.nationalenduro.com

Words and Photo Credit: Shan Moore