$8000 Bounty for Toth at Gobbler Getter NEPG finale
The 2022 AMA National Enduro Series reached its final round at the Gobbler Getter in Stanton, Alabama – with the title already decided, an $8000 of prize money was the goal for anyone who could clean sweep the tests…Josh Toth "rides it like he stole it."
Enduro Engineering put up a whopping $8000 bounty for anyone who could win all six tests at the Gobbler Getter National Enduro. A culmination of a year's long "bounty" programme, the purse had not been collected all season and was up for grabs for anyone nailing six from six enduro tests in this final round of the series.
FMF KTM's Josh Toth was the rider up to the task and swept all six to dominating the final race and collect eight large to sign of the season.
Though REV Motorsports' Grant Baylor had already clinched the Kenda AMA National Championship at the previous round in Oklahoma, there was still plenty left to be decided at the finale in Alabama, including the Women's Elite title, the Futures class championship, and the Beta Cup Champion, which goes to the Beta rider that accumulates the most points in any class, along with other amateur class championships still to be determined.
"I rode like I stole the bike" – Josh Toth
Josh Toth's Gobbler Getter win was surprisingly his first of the season and it came at just the right time. "I'm super stoked and proud of my effort," said Toth. "I knew the bounty had built up going into this last round so I came out swinging. I knew if I won that first test, I'd be the only one eligible. So, I put the pressure on myself all day from there. I just rode like I stole the bike. Just pinned it. I had a couple close calls, but overall, a good day."
Toth got off to a quick start in test one, winning by nearly 26 seconds ahead of Rockstar Energy Husqvarna's Craig DeLong. In the remaining five tests, Toth continued to pour it on until his advantage stood at nearly two minutes by the end of the race, despite a mishap in test three.
"I came into the last left-hander," said Toth. "It was a blind, sharp left turn. I just skipped the rear tire out and went straight into the trees. It was so dense and thick and I just had to hold it wide open to plow through it, and then break out into the other side and turn around and come back. Fortunately, I had enough cushion I guess at that point, but I was really stressing it. I was like, throwing up in my helmet."
With the win, Toth finished off the season second in the NEPG series standings behind Grant Baylor.
Coastal Racing GASGAS' Ricky Russell finished on a high note as well, claiming his best-ever national enduro finish by taking the runner-up spot after posting the second-fastest time in the final four tests.
"I started off a little slow; fifth in the first test," said Russell. "Then I was able to kind of slow it down a little bit and was able to get a bunch of seconds. Toth was just on another level. He was beating us every single test. A few of the tests, I beat all the other guys by a decent amount and Toth was still beating me by a decent amount. So, it was impressive to see him ride like that, but I was happy to get my best enduro result."
DeLong started fast, finishing second in tests one and two, before settling into third at the finish. "I didn't feel like I rode that great, but I was second in the first couple of tests and Toth was kind of on his own level today," said DeLong. "I just kind of tried to ride the same all day. In the second test, I was close to Josh, but in the third test, I kind of fell back. I struggled the third and fourth tests. Just needed to ride a little more aggressive. I was consistent and didn't hit the ground once. But a podium, I'm happy with that."
Thad DuVall continues to ride himself back into "enduro shape" and was third-fastest in three of the six tests. The Rockstar Energy Husqvarna rider finished off the day in fourth overall, missing the podium by 22 seconds.
Fifth was Beta USA's Evan Smith, his best finish of the year. "I felt I was slow in some of the tests but I had good times, especially in the first two tests," said Smith. "Once the tests started to open up, then the rest of the guys caught up with me, but I was consistent enough that I had a good day. It's good to be back where I feel I belong."
Sixth overall went to Coastal Racing GASGAS' Ryder Lafferty, just 16 seconds behind Smith, while newly crowned national champion Grant Baylor was a distant seventh.
"I didn't have anything at stake since I wrapped up the title in Oklahoma, but I wanted to come out here and try to make some bonus money," said Baylor. "I'm not sure if I quite did that, these guys were all really going fast today. I felt like I rode really well all day, but I just came up short."
Trail Jesters Racing KTM's Jesse Ansley rode a consistent race to eighth overall. Meanwhile, Beta USA's Jonathan Johnson topped KTM-mounted Steve Nicholas to finish ninth overall and win the NE Pro 2 division.
2022 Gobbler Getter National Enduro results (top 10):

2022 AMA National Enduro series final Pro overall standings: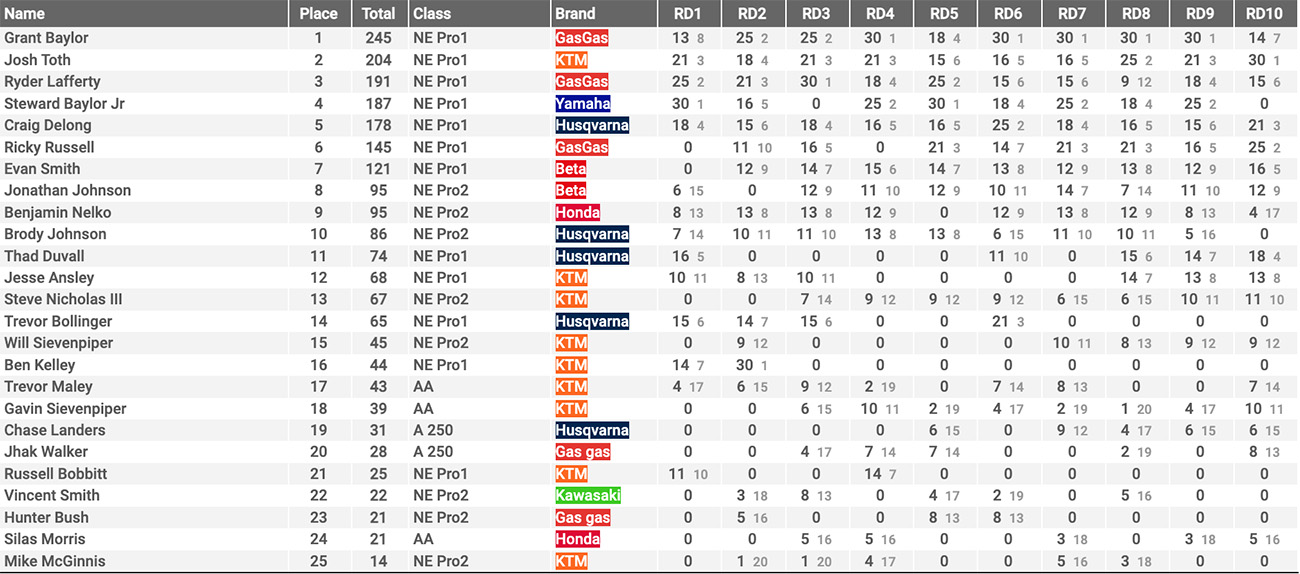 Women's Elite showdown
The Women's Elite class championship came down to the final race in Alabama after AmPro Yamaha's Rachel Archer topped Enduro Engineering Fly Racing KTM's Mackenzie Tricker by less than a second at the previous round in Oklahoma. It meant the two arrived at the Gobbler Getter in a situation where whichever one took the win would be the series champ.
Archer won the first test by five seconds. However, Tricker won the remaining four tests to take the win and the title – her fourth on the bounce in this series. "I lost in Oklahoma by 0.6 of a second, so I had three weeks to think about that," said Tricker.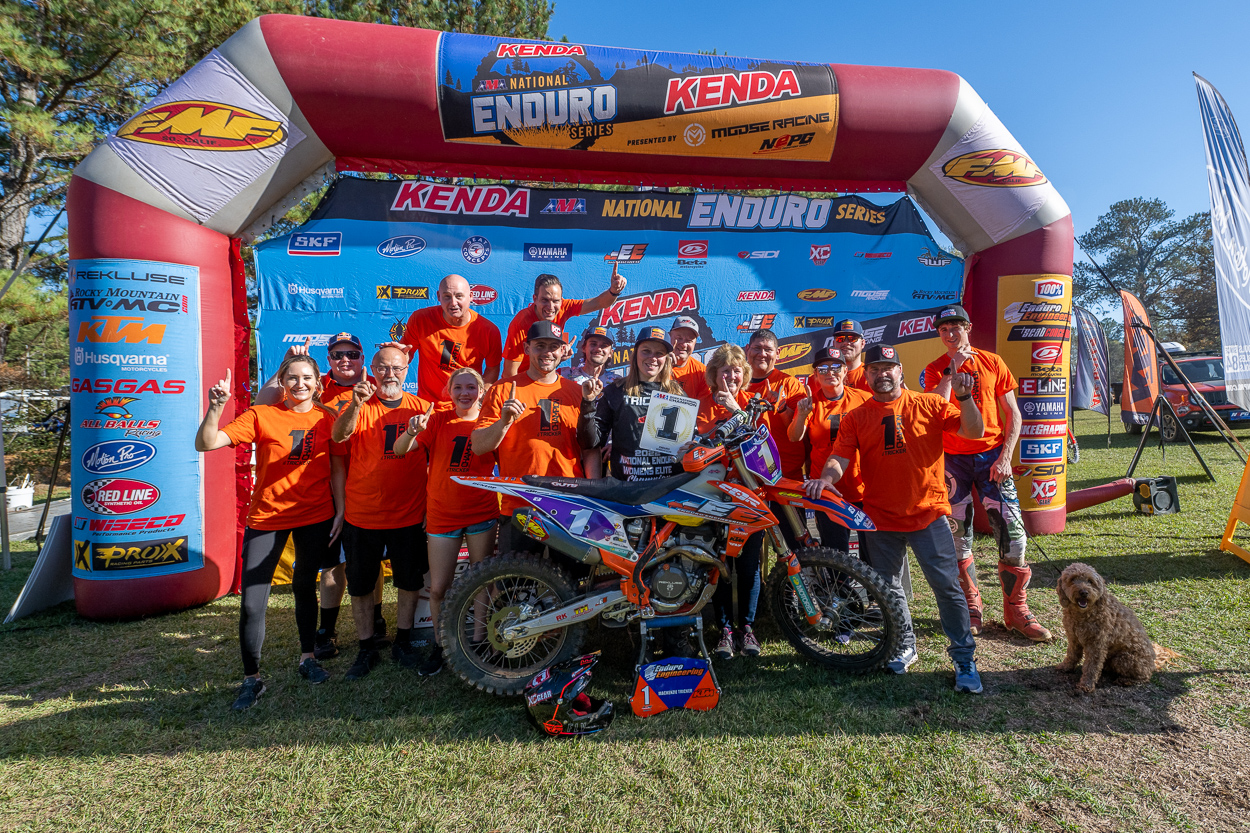 "This weekend I had to win to win the championship. Same with Rachel. I didn't win the first test, but I only lost by five seconds so that's like a win in itself for me since I always start slow. I got arm pump in that test and I also had just a bunch of problems with lappers. I broke a shroud. I hit a tree. There was a lot going on in test one. Then the rest of the day, I just kind of relaxed and started just trying to do good. I was able to win the championship, so I'm stoked."
Classes wrapped up across the board
A record 27 riders lined up to contest the Futures class, and Sherco's Riley Binder came away with the 2022 championship after taking a second-place finish behind James Jenkins in Alabama.
Scott Boyer, meanwhile, won the Beta Cup Championship with a second place finish in the 45 A class behind Matt Stavish and took home a brand new Beta from Beta USA for his efforts.
The AA class was won by Gavin Sievenpiper (KTM) ahead of Trevor Maley (KTM) and Silas Morris (Hon).
Jhak Walker topped the 250A division, while Chase Landers (Hsq) and Ryan Piper (Hon) were second and third.
More information on the Kenda AMA National Enduro Series including full results: www.nationalenduro.com
Words and Photo Credit: Shan Moore