2023 AMA National Enduro: Grant Baylor puts Kawasaki on top at Rnd1
The 2023 AMA National Enduro Series burst into life at the Sumter with reigning champion Grant Baylor taking a maiden win on the Babbitts Kawasaki.
There was no better way for Grant Baylor to start his title defense than to pick up where he left off last year, winning the opening round of the 2023 Magna1 Motorsports AMA National Enduro Series presented by Moose Racing in Sumter, South Carolina.
Grant was eighth at Sumter last year, but came on strong at the end of the season to win his second title in three years. The quick start he got this weekend, despite crashes in the final two tests, one of which tore the radiator off his Babbitt's Online/Monster Energy Kawasaki, could be a bad omen for the rest of the competition.
Grant won the first four tests of the day, but was fourth and second in the final two tests after his crashes. In the end, Grant took the win by just over 20 seconds ahead of Coastal Racing GasGas' Ryder Lafferty.
"I won the first four tests, and I had a good gap going into test five, but then maybe four or five turns into the test I hit a stump and I went straight over the bars in third gear." Explains Grant.
"It was a really gnarly wreck. I got up and the front wheel was locked up on the bike. The levers were bent straight down below the handlebars. So, I tried to get the bike rolling again and get the levers and everything straightened back out. I took off again and then just smoked another tree a mile later and ripped my radiator clean off from the left side. Then I ended up wrecking three more times in that test because my radiator was hanging down behind my front fender, so I couldn't turn right."
If that wasn't enough, Grant crashed again in the final test...
"We got it all straightened out for the last test," continues Baylor. "I knew I still had a little bit of a gap on Ryder, but I wasn't sure how much. So, going into that last test, I just had to kind of put my head down and ride a solid test and ended up making another little miscalculation.
"I hit a big pine tree with the handlebar pretty good, probably third gear. It threw me to the ground and the bike landed on top of me and had me pinned between a tree and the bike. So, it took me a good 10 seconds to get out of that. So, we just tried to ride it in after that. I ended up losing that last test to Ryder by a second, but it was enough to bring home the overall today."
Close for Lafferty...
Lafferty was in the hunt all day, finishing second in every test except the final one, which he won.
"I stayed off the ground and I felt like I had a good pace all day," said Lafferty. "I just kind of rode my own race and worried about myself. It was good."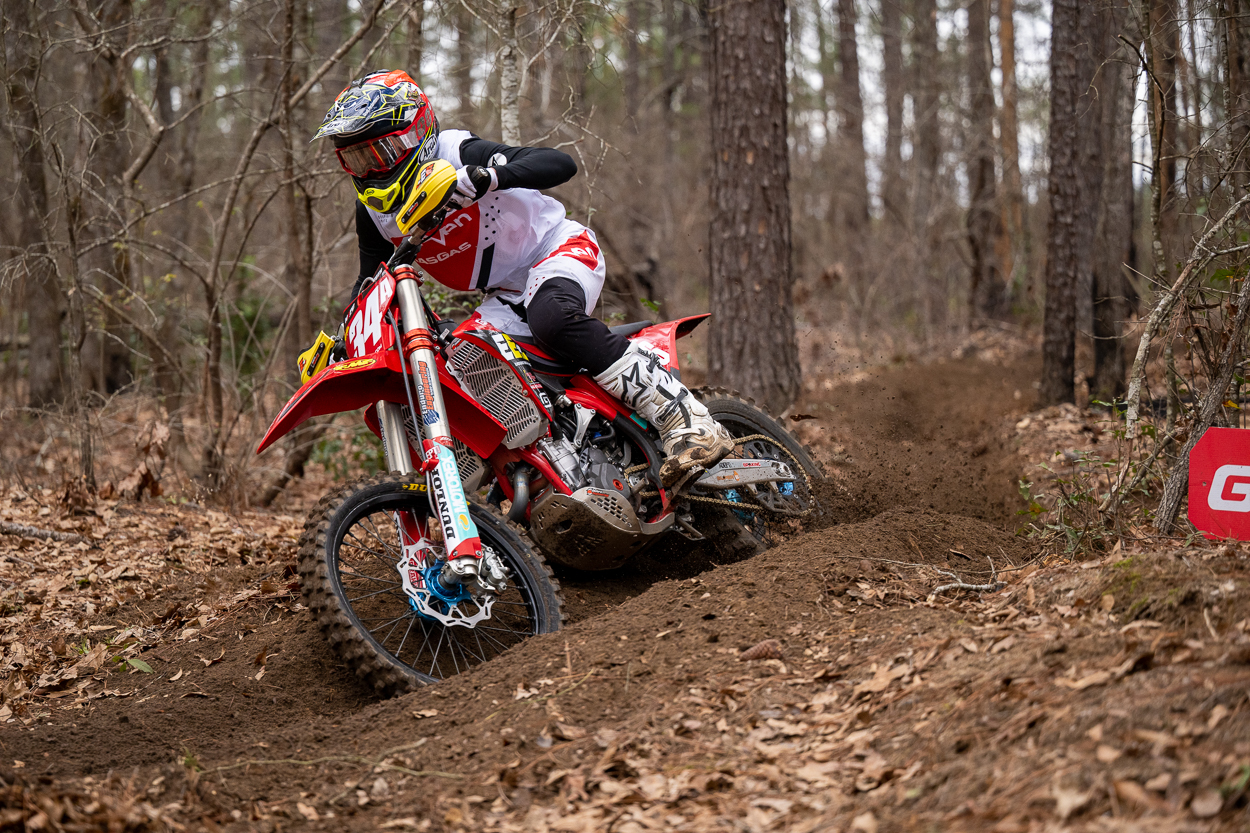 Podium first time out on the Enduro Engineering GASGAS for Toth
After switching teams during the off-season, Enduro Engineering GasGas' Josh Toth looked comfortable on his new bike and brought home a third-place finish behind Lafferty, which included a win in test five.
"Starting off there was just a lot of traffic, a lot of people in front of us," said Toth. "I was doing a lot of revving and yelling and stuff and I just kind of got tight. The first two tests, it took me a while to loosen up, but as the day went on, I felt a lot more like myself and was riding good at the end of the day. I kind of wish I started like that, but overall I'm pretty stoked to come away with a third."
Fourth and the Pro2 win for Draper
AmPro Yamaha's Liam Draper won the NE Pro2 class with a fourth overall finish, winning five of the six tests in the class, despite crashing hard in test five.
"It was a good day, overall," said Draper. "I had a little advantage following Ryder for most of the day since I was on the same row as him. He pulled me the last two tests, though. I just made some silly mistakes missing some good lines and he got away. Other than that, I was pretty stoked. My bike's good. Had fun being back at the enduros."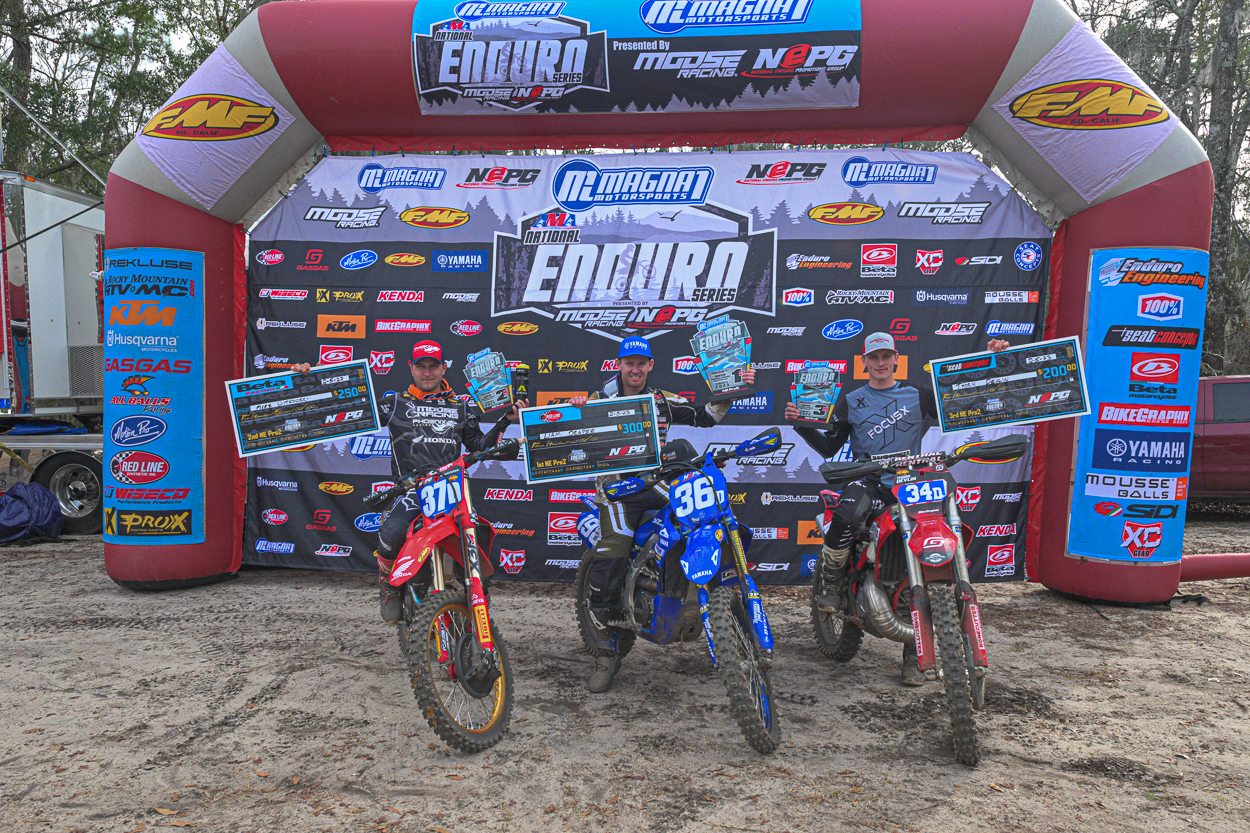 Rockstar Energy Husqvarna's Craig DeLong was third-fastest in three of the six tests, but missed the podium by just over 16 seconds.
"I'm a little frustrated and disappointed," DeLong said. "We were pretty good in the morning and posted consistent test times. We were just kind of in that third place, fourth place spot. I had a crash during the last test, just kind of little stupid mistakes that I don't normally make. But overall, it was a good day."
Phoenix Honda Racing's Mike Witkowski turned in a sixth place finish overall and second in the NE Pro 2 division. Witkowski posted five seconds and a win in the six Pro 2 tests.
Five-time national enduro champ Steward Baylor came into the event a little under the weather and rode a sluggish race to seventh overall on his Tely Energy Racing/Rocky Mountain ATV/MC KTM.
Bonecutter GasGas rider Thorn Devlin finished third in the nE PRO 2 class with an eighth overall finish, while Beta USA's Evan Smith finished ninth overall.
FMF KTM's Ben Kelley made his return to racing after near a year off due to injury and came away with 10th overall, despite a nasty crash in test three.
Women's Elite win for Steede
Trail Jesters Racing KTM's Korie Steede topped the Women's Elite class, beating out GasGas-backed Rachel Gutish by 6.6 seconds.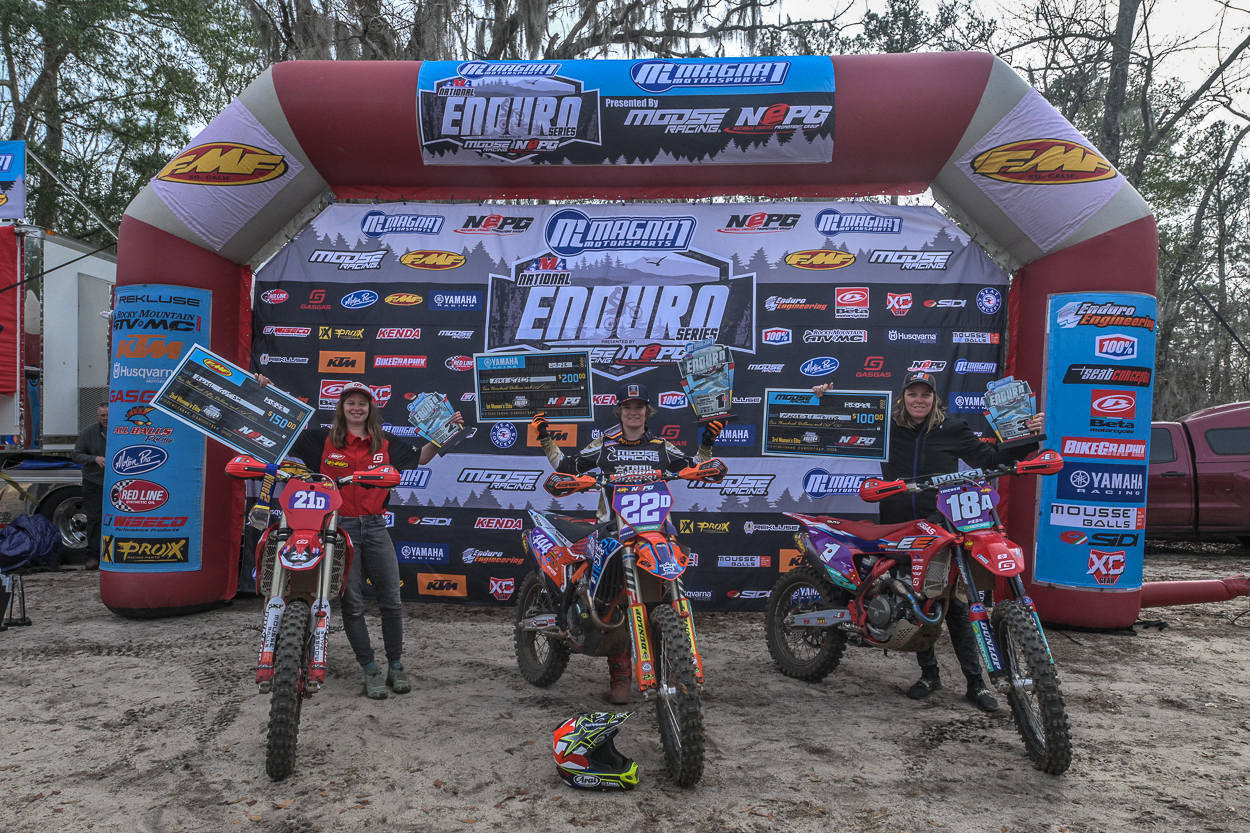 "It started off pretty slow," said Steede. "I had a couple of crashes in the first couple tests, but got better and I'm looking forward to the next one. The first test, I got a little lost. Some people were waving their arms up and I thought I was going the wrong way, but it turns out I wasn't. So I wasted a little time there. Second test, I had a stick go in my vest. It ripped me off the back of my bike. I had another little fall after that. But all day after that I just tried to smooth myself out and stay off the ground."
Enduro Engineering GasGas' Mackenzie tricker was third another 55 seconds back.
Ryder Sigety (Yam) took the win in the Futures class ahead of Husqvarna riders Brayden Baisley and Brody Amos. Meanwhile, Michael Delosa won the AA class on a Yamaha, topping KTM rider Cade Henderson and GasGas-mounted Neil Enman.
2023 Sumter National Enduro results (top 20):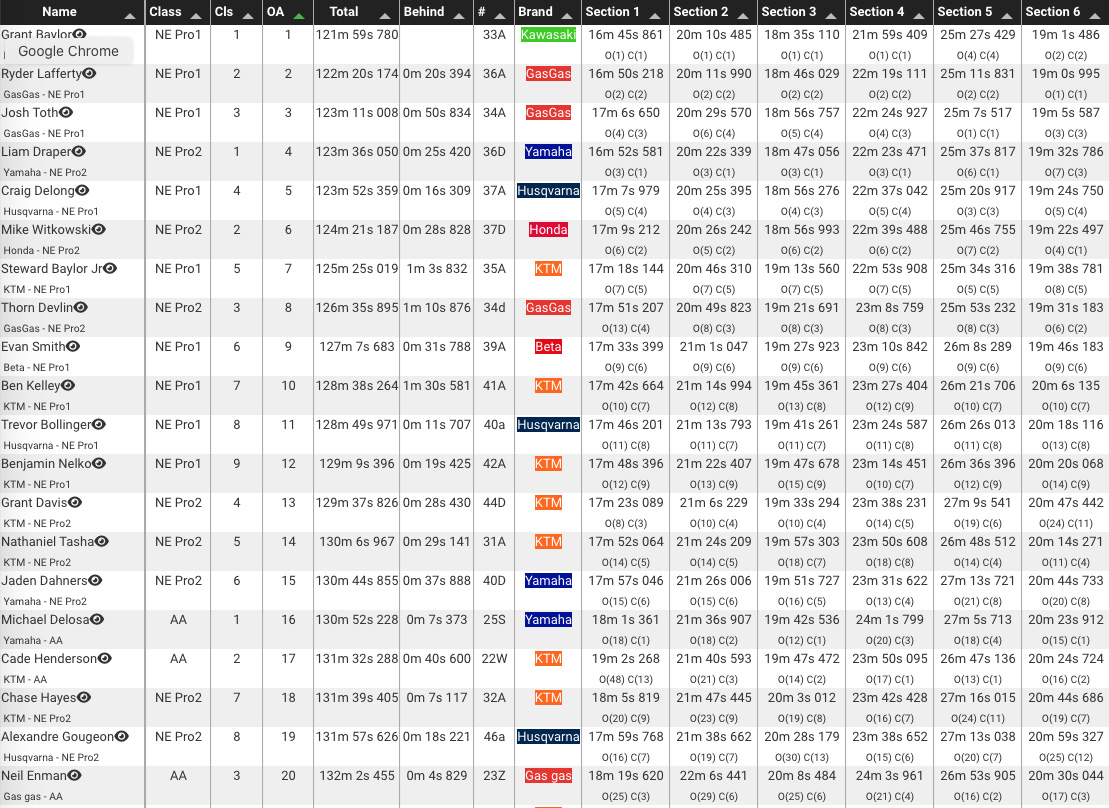 The AMA National Enduro Series resumes action on March 19th in Turkey, Texas, for round two of the nine-round series.
More information: www.nationalenduro.com
Words and Photo Credit: Shan Moore