AMA National Enduro results: Toth on top at Caprock Canyon NEPG round two
Enduro Engineering GASGAS' Josh Toth made it two winners in two rounds of the 2023 Magna1 Motorsports AMA National Enduro Series, topping the Caprock NEPG round two presented by Moose Racing in Turkey, Texas.
Cold temperatures meant jackets were the default at the second AMA National Enduro of the 2023 season as the series headed west to Caprock Canyon. Claiming fastest time in the first three tests of the 75 mile event, Toth beat out round-one winner Babbitt's Online Monster Energy Kawasaki's Grant Baylor by over 14 seconds to claim the victory.
Grant Baylor won the final three tests of six in total after going 5-3-4 in the opening three but Toth was able to hold steady, going 2-2-5 to finish out the race on top of the box.
Toth finished fourth in a Hard Enduro in Hawaii the week before the Caprock and he felt it prepared him for the west Texas event: "That event was a brutal, four-hour event and I think it got me in shape for this weekend," said Toth. "Coming here, it was cold weather here, so it was a pretty easy day compared to Hawaii."
After two rounds, Baylor G holds a four-point lead over Toth in the series standings (55 to 51), with Coastal Racing GasGas' Ryder Lafferty in third with 41.
Reigning champion Grant took second overall, despite having to deal with catching riders from the row in front of him. "There were a couple of Pro 2 riders on the row in front of me and I kept catching them, and that held me up a bit," said Grant. "In one test, they were throwing up a big dust cloud and I thought the track went right and it went left."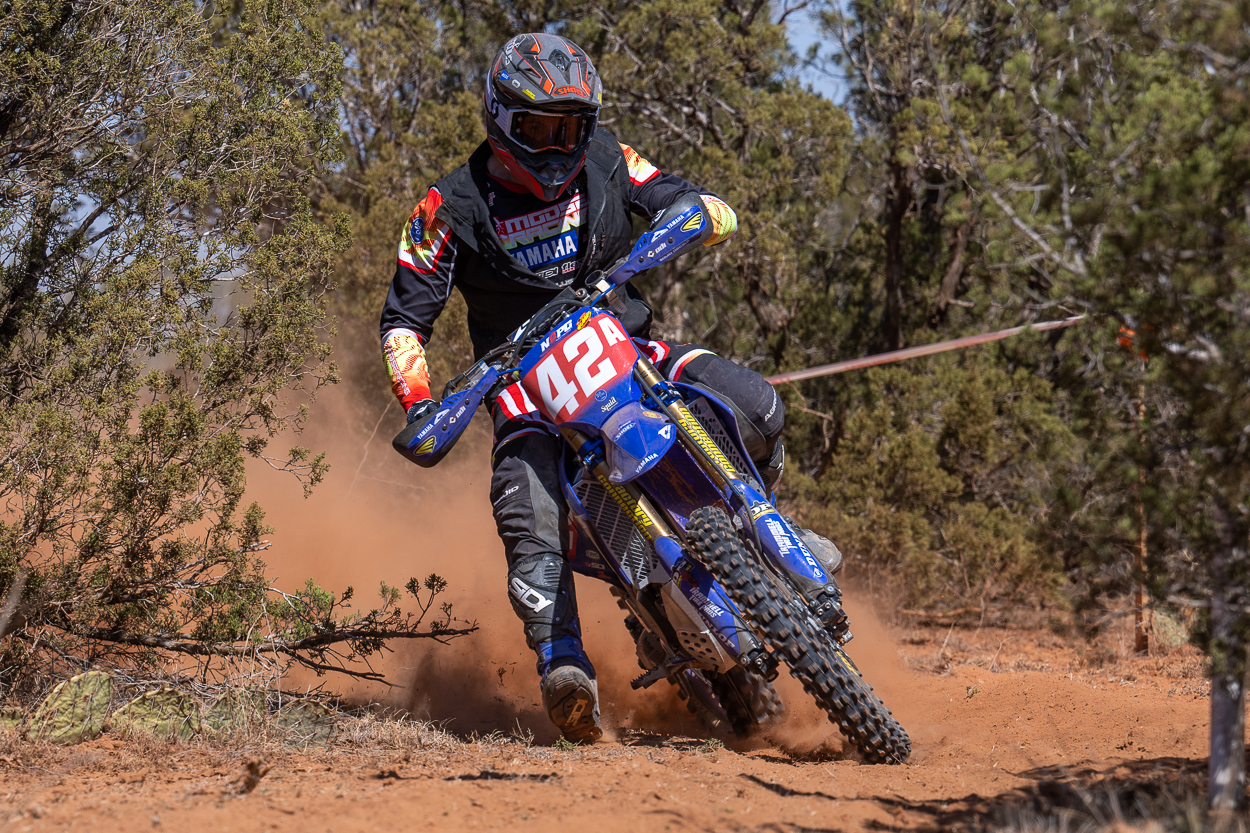 Riding his first enduro of the year, AM Pro Yamaha's Ricky Russell put in a strong performance for third after back-to-back GNCC weekends, finishing 25 seconds behind Baylor. "It's good to be back in enduro racing, I really enjoyed it," said Russell. "I'm from the west coast and there's some desert-type terrain out there so I think I was ready for it."
Rockstar Energy Husqvarna's Craig DeLong matched the fourth-place finish he turned in at Sumter with another fourth in Texas. "It was kind of a mediocre day," said DeLong. "I kind of struggled in the first couple of tests and I came in before test three and made some changes and I felt I was more comfortable going forward. I think me and Ricky were only 14 seconds apart there at the end, so I need to work on being more comfortable from the start."
Fifth overall went to Coastal Racing GASGAS' Ryder Lafferty, who also says he suffered in the dust, as well.
How was your race? Riders talk...
Experience pays off for Devlin in Pro2 class
Winning the NE Pro2 class and finishing sixth overall was Bonecutter Racing GasGas' Thorn Devlin. "I think all my years riding two-strokes and dealing with not having traction helped me cope with the conditions today," said Devlin. "I ran the Baja 1000 at the end of last year, so I had quite a bit of time riding condition like these."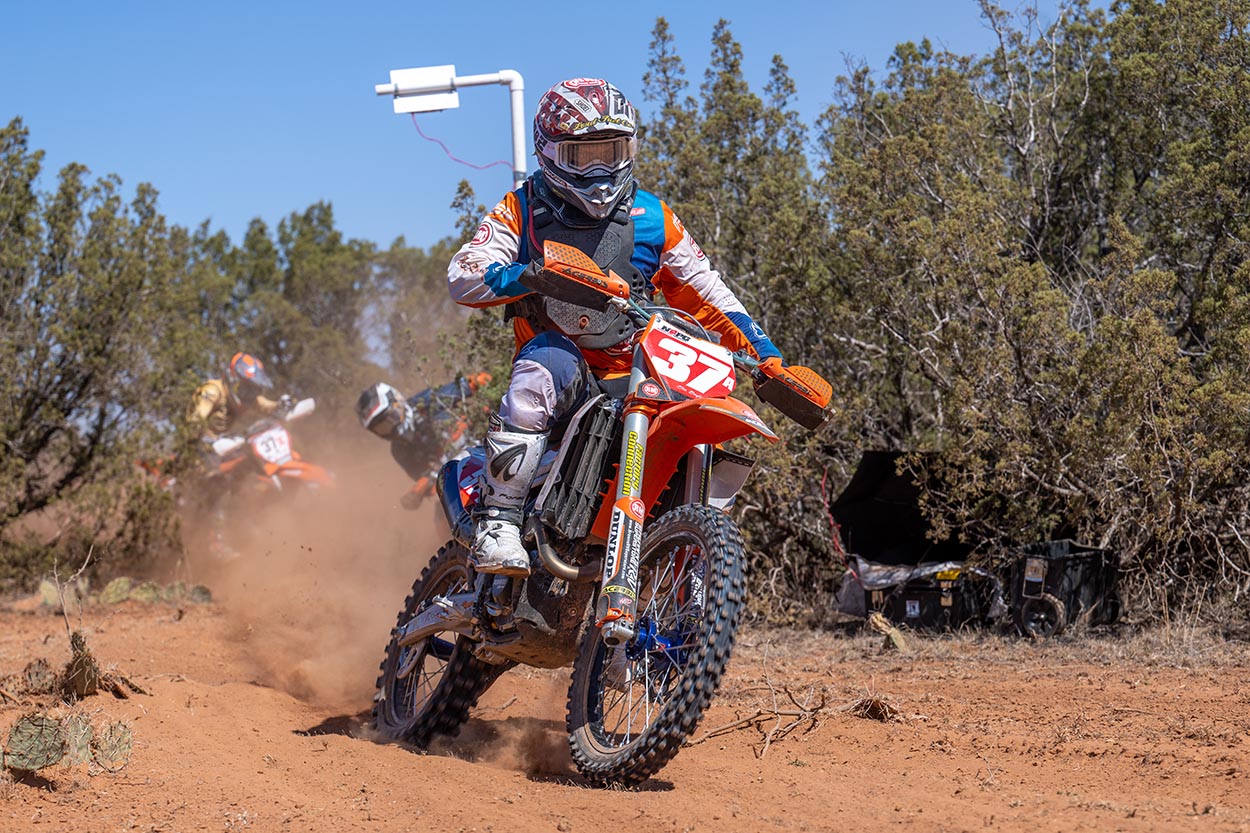 Tough luck continue for Stew Baylor
Tely Energy Racing/Rocky Mountain ATV/MC KTM's Steward Baylor made the best of a rough day to salvage seventh overall. In test two, Steward had his rear tire roll off the bead two miles before the end of the test.
"Today was pretty rough, and between the last two races I've had it's pretty mentally defeating, giving away all these championship points," said Steward. "I was keeping tabs on Craig DeLong, who was on the row ahead of me, and I was keeping a good pace, and then I had that tire come off and I just threw it all away."
Beta USA's Evan Smith had a good day to finish eighth overall and second in the Pro 2 division, while Tely Energy Racing/Rocky Mountain ATV/MC KTM's Nathaniel Tasha was ninth overall and second in the NE Pro 2 class.
AmPro Yamaha's Liam Draper rounded out the top 10 and third in the NE Pro 2 division.
Gutish grabs Women's Elite win
GASGAS rider Rachel Gutish won the Women's Elite division by 1:21 over Enduro Engineering' Mackenzie Tricker. Trail Jesters Racing KTM's Korie Steede was third, just under two seconds behind Tricker.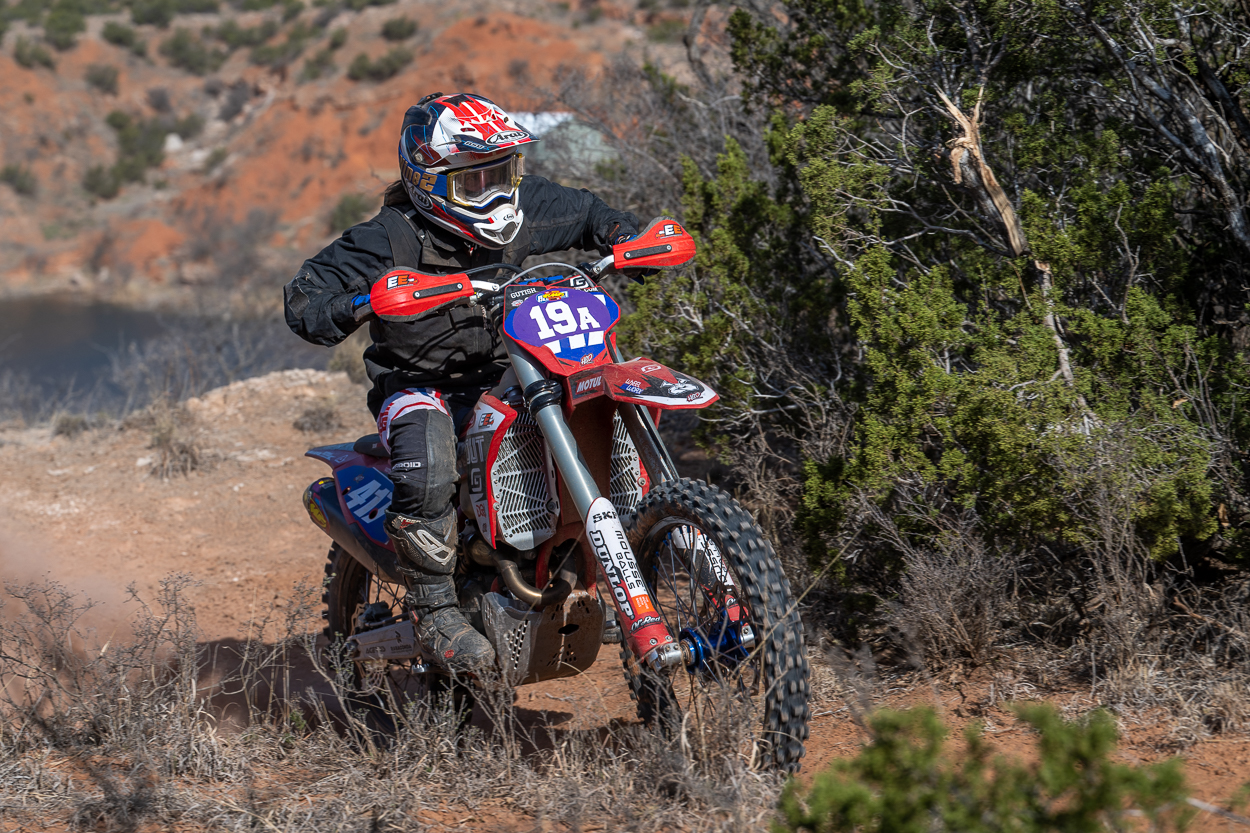 "I won the last time we were here so I like this place," said Gutish. "I don't normally ride the enduro series but I came here to get ready for this year's ISDE and to try and defend my win from two years ago."
Brody Amos (Hsq) took the win in the Futures class ahead of KTM riders Luke Newton and Blaine VanDergriff.
2023 Caprock National Enduro overall results (top 30):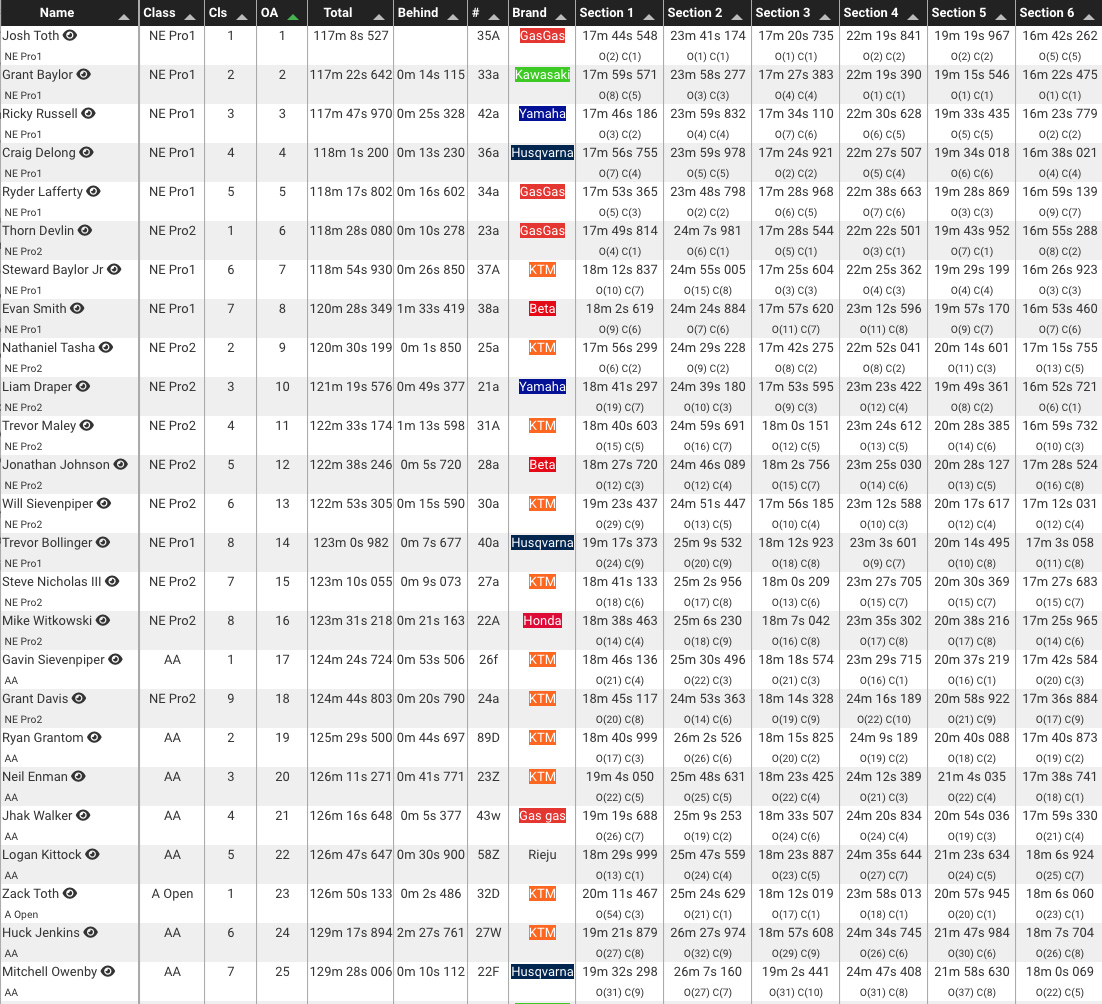 The 2023 AMA National Enduro Series resumes action with the Black Buffalo National Enduro on April 23 in Kingston, Arkansas, for round three of the nine.
More information: www.nationalenduro.com

Words and Photo Credit: Shan Moore