AMA National Enduro: Grant Baylor Dominates the Cherokee NEPG Rnd 5
Thunder, rain and lightning can't stop Grant Baylor at the 57th annual Cherokee National Enduro, NEPG series round five where Liam Draper and Josh Toth joined the Babbits Kawasaki rider on the podium.
Typically hot and humid race conditions were replaced by cooler temperatures in the woods of Greensboro, GA for this fifth round of the Magna 1 AMA National Enduro Series Presented by Moose Racing.
The 57th running of the Cherokee National Enduro was dedicated to the longest serving member of the Cherokee Enduro Riders club, James Bransford, who passed away last fall. James put in a lot of making many of the Cherokee Enduros possible and it was fitting the event paid tribute to him.
The Cherokee Enduro Riders put out a bounty to the three pro classes for anyone to win all the tests and it proved all the added incentive Grant Baylor needed for a near flawless race on his Babbits Racing/Monster Energy Kawasaki. Baylor won all five tests in the NE PRO1 class after the sixth and final one was cancelled due to lightning and heavy rain.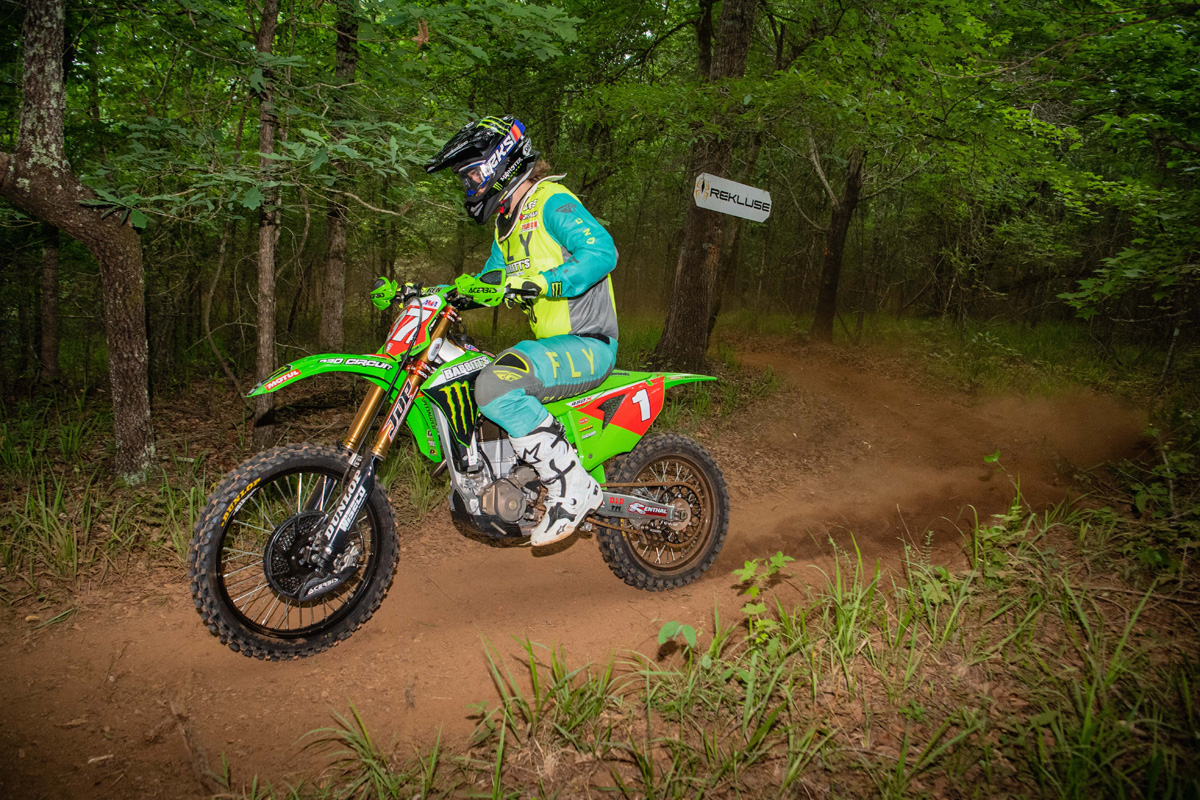 Defending champion and current points leader in National Enduro series, Grant Baylor took home an extra $1000 in James' name: "I won all seven tests here in the past when they ran seven tests so I knew if there was any chance for me to win all of the tests it would be here at the Cherokee. I've always had good results here in the past." Explained Grant. "I was hoping for some dryer conditions and the second test got really slimy towards the end but then section three it soaked in and was pretty good until it really opened up in the final test of the day and it was pretty hairy."
Draper loves the mud
Second overall was NE PRO2 Class winner was AM PRO Yamaha rider Liam Draper who got off to a mediocre start to the day before the rain came down. "Test one was kinda slow for me but when the rain came down, I don't know what it is about this place but when it is super muddy I just love it. From then on it was a super fun day."
Liam was able to grab an overall test win in test four to propel him into contention for that overall podium from the NE PRO2 class. A consistent fifth overall in test five was enough to seal the deal for Draper to get second on the day and win the NE PRO2 class.
Second in NE PRO1 and third overall was Enduro Engineering GASGAS rider Josh Toth who remains in the hunt with Grant for his first ever National Enduro Championship. A second place finish at the mid-point of the season helps Josh: "I was hoping for some rain, and I got it for sure. We got a bit more than I hoped, vision was a key factor and it was challenging, but I felt good and conditions were fun."
Finding the podium for the first time this year is not usual for Rocky Mountain ATV/MC Tely Energy's Steward Baylor Jr in the fifth round of the season. "National Enduros have been home for the last 10-12 years and this is the longest I've ever gone in my career without a podium." Explained Steward. "I just rode a consistent race and tried to ride the edges and find some smooth lines where I could. I didn't feel like I was pushing but this is one of those tracks where you can over push for sure."
Second in the NE PRO2 class and 6th Overall was Bonecutter Offroad GASGAS rider Thorn Devlin. Liam Draper and Thorn seem to be swapping wins in the NE PRO2 all season long. Thorn started the day off hot with a third overall and first in NE PRO2 for the first test: "My first test was good but that was about where I left it though. It was a good day, I didn't ride good but I didn't ride bad just rode consistent and stayed off the ground."
Third in NE PRO2 was Rocky Mountain ATV/MC Tely Energy's Nathaniel Tasha. Consistency was key for podium finishes in the NE PRO2 class. Tasha said, "You can't complain when you end up on the box, just went out there and tried to be consistent and it paid off in the end."
Cherokee National Enduro results (top25):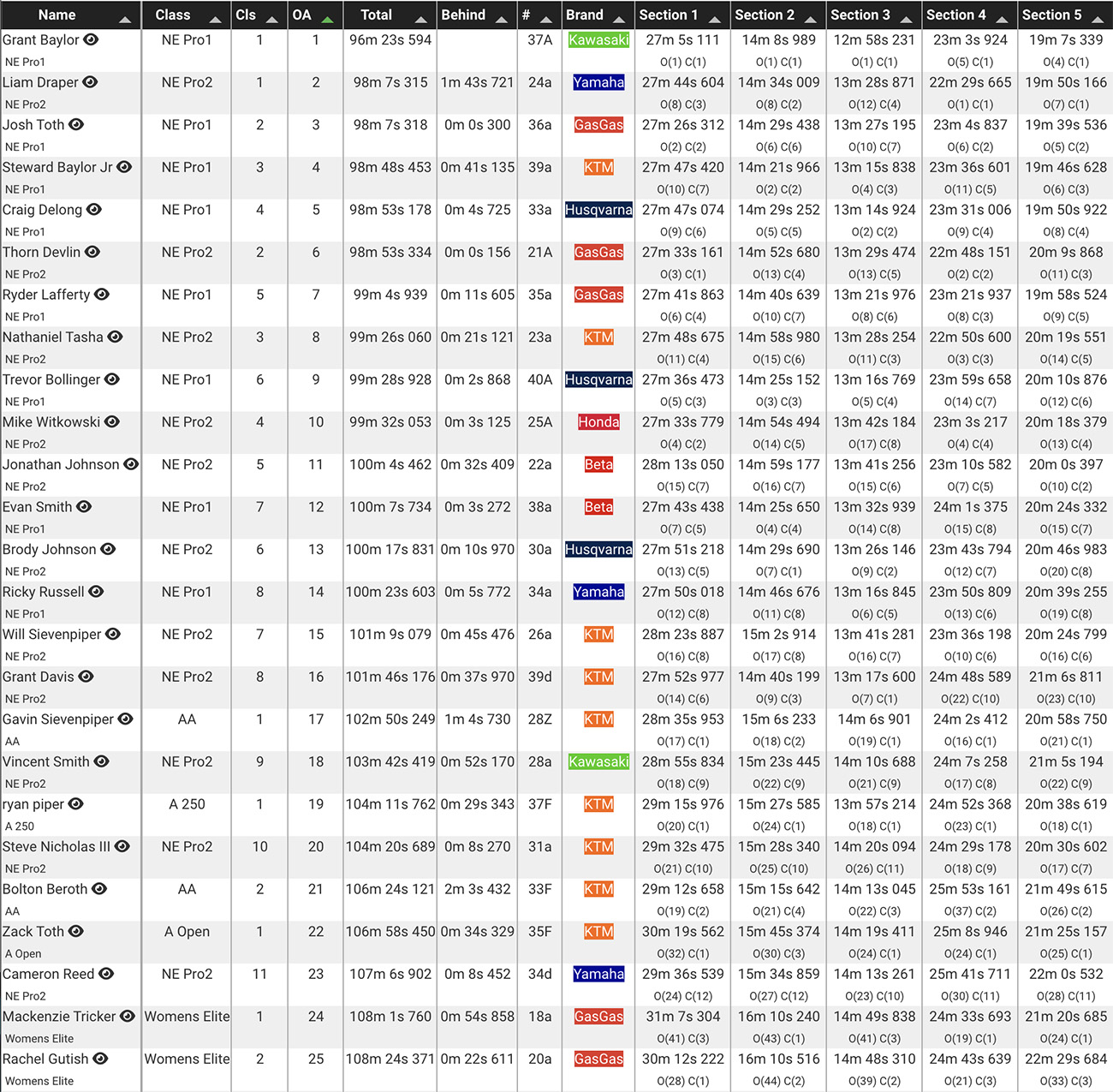 Tricker and Gutish fight for Women's class win
The top Women's Elite class rider was Enduro Engineering GASGAS rider Mackenzie Tricker. She got off to a bit of a rough start when she said she 'gooned it' over a log and ended up in a ravine trapped under her bike, but luckily Mark Hyde happened to be there to help her and save her race. "Going into the last test I knew I was down and needed like 45 on Rachel," Mackenzie explained, "I ended up having a really good test and getting the win which was awesome." Mackenzie was able to squeak out a win over Rachel Gutish by 22 seconds making over one minute in that final test.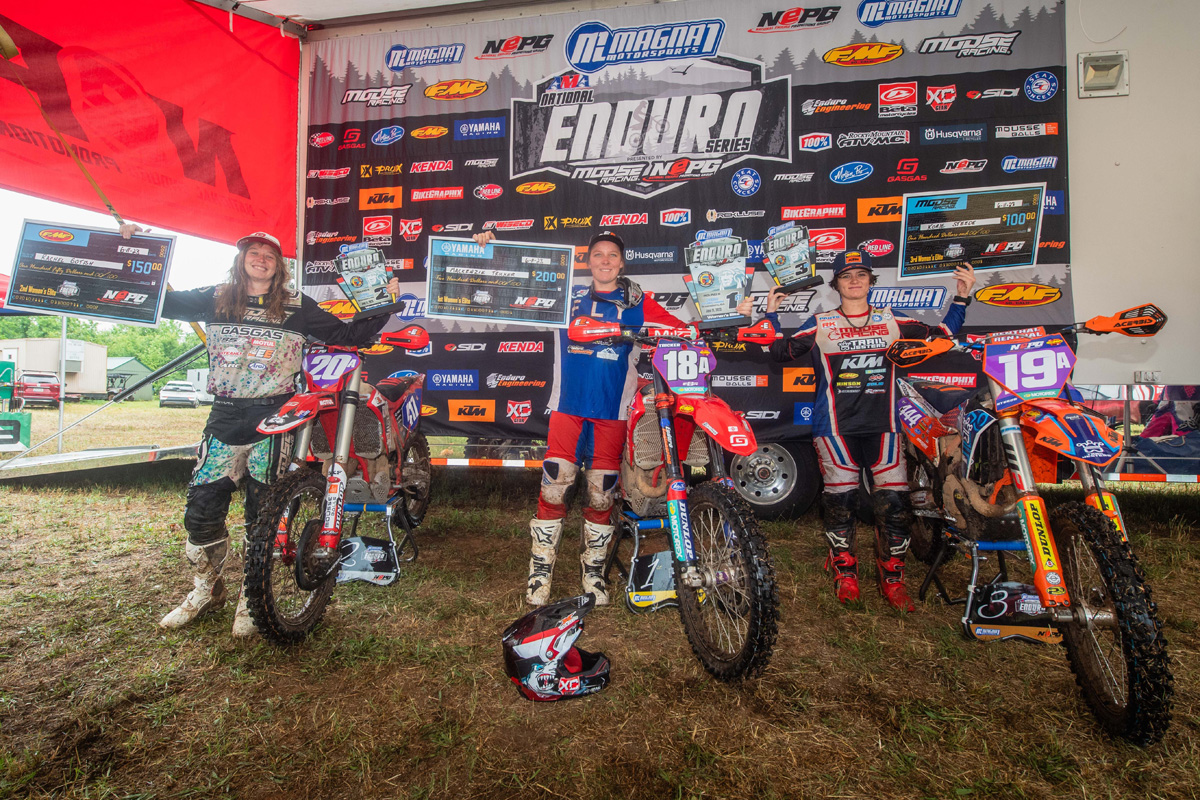 Over and Out GASGAS rider Rachel Gutish was able to land on the podium in Womens Elite in second position: "I had a blast all day, whether it was dry or wet, I thought we actually had pretty good traction. My bike seemed to be hooking up good and I was just out there having fun."
After some food poisoning earlier in the week survival was the key for Trail Jester KTM rider Korie Steede who survived the day and finished on the box in the third position in Womens Elite. "I woke up Thursday with a gnarly case of food poisoning," says Korie, "so I've been on the couch all week. It was a long day for me out there just trying to get through the tests. I think I won one so that actually felt really good."
The top Amateur rider at the Cherokee National Enduro was Gavin Sievenpiper in seventeenth OA and first AA.
The Series continues next month in Pennsylvania for the Rattlesnake National Enduro on July 23rd.
For full results and more information: www.nationalenduro.com
Words Credit: Logan Densmore
Photos Credit: Mack Faint