AMA National Enduro: Maiden win for Craig Delong at Dragon's Back NEPG Rnd4
Craig DeLong grabs maiden win in the Magna1 Motorsports AMA National Enduro Series presented by Moose Racing round four, the Dragon's Back National Enduro in Arrington, Virginia.
Rockstar Energy Husqvarna rider Craig DeLong finally nailed down a Pro 1 victory in the NEPG series. A very strong start in tricky conditions saw DeLong win the first three tests, building a substantial lead over the competition before cruising to victory in Virginia.
"I started off really well the first three tests," said Craig, who posted the fastest time in all three. "It was just really similar to how it is back home in Pennsylvania. Just kind of slick, red clay, a little rooty, which is the kind of conditions I like. So, I just kind of felt at home in the beginning of the day. I built up a good lead in the morning but in the afternoon, I was just a little bit off."
DeLong still managed to win the event by 25 seconds over AmPro Yamaha's Ricky Russell, although he almost threw it all away in the final test.
"I about blew it," added DeLong. "I got stuck on a log and had a couple tries at it. I was kicking myself in the butt for that one, but pulled it through. It feels good to finally get a win."
Three-way battle for runner-up spot
Russell, who is quickly adapting to national enduro competition, came out on top of a three-way battle for the runner-up slot ahead of Coastal Racing GASGAS' Ryder Lafferty, who finished third, and Enduro Engineering GasGas' Josh Toth, who was fourth.
Russell went 1-2-3 in the final three tests to top Lafferty by just three seconds. "I started off kind of slow," said Russell. "It was slick and I was maybe a little bit overly cautious because I just wasn't feeling the traction and was sliding all over the place in the roots.
"Craig just killed us so much on those first two tests. He was on it. He came in prepared and was on it for that slick stuff. From there, I knew I needed to put my head. Going into the last test, me, Josh and Ryder were eight seconds apart.
"I thought I blew it. I had a huge, huge moment, but I somehow didn't crash, but I hit my head on the bars and there was sweat all over my goggles. I had to throw the goggles, but I was able to get to the finish."
Title contender Lafferty
Another strong contender for the '23 NEPG title is Ryder Lafferty, who was a bit disappointed in his third-place finish:"I'm kind of over these thirds and seconds and stuff like that," said Lafferty. "I felt like I fought hard for it all day. I had some sketchy moments and a couple little get-offs, but all in all, I feel like I rode the wheels off my 250."
Toth ended up in fourth, a mere eight seconds behind Lafferty, making for an exciting finish. The Connecticut-native won the fifth test to close the gap on Lafferty and Russell, however it was too little too late.
Fifth went to Babbitt's Online Monster Energy Kawasaki's Grant Baylor, it was the first time the South Carolina rider has been off the podium all year. Meanwhile, Beta USA's Evan Smith had his best ride of the season with a sixth overall.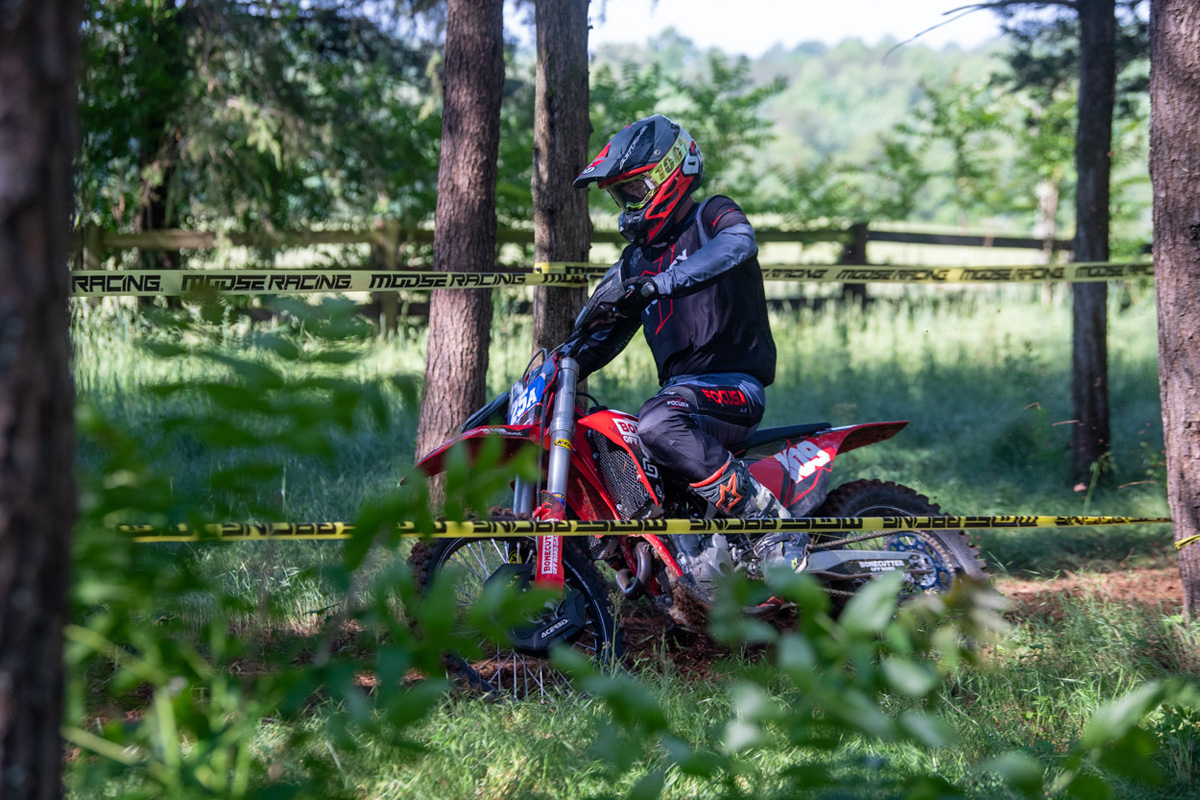 Two-minute Pro 2 win for Devlin
Bonecutter GASGAS' Thorn Devlin won the NE Pro 2 class with a seventh overall finish, topping second place in the NE Pro 2 class by almost two minutes.

"The first section was a lot more slick than the rest of the day and I had a little bit of a get-off in section one, so I kind of had to get up and dial it back down a little bit and ride smooth and just keep it on two wheels." Devlin won three of the six tests in the class.
Big-hitters backing up the top 10
Tely Energy Racing Rocky Mountain ATV MC KTM's Steward Baylor is still fighting the Epstein Barr virus, but still managed a credible eighth overall: "The day was rough," said Steward. "I'm still not 100%, but I notice it here more than GNCC, which is weird. I think in national enduros you just have to be so sharp and when you're not 100% here, you notice it a lot more just being a little bit slow to react. It was just one of those days where I just kind of knew that I didn't want to go any faster. I felt like I was making mistakes any time I did. So, I just rode my race."

FMF KTM's Ben Kelley is still building his speed after breaking his femur in February and finished ninth, while Beta USA's Jonathan Johnson was second NE Pro 2 rider and rounded out the top-10 overall. "The class is stacked this year," said Johnson. "I've had a slow start for sure, but hopefully we're headed in the right direction and we can keep it up here from now."
Jet, set, go for Tricker
Enduro Engineering GASGAS' Mackenzie Tricker, who hopped a plane back to Australia right after the event, won the Women's Elite division, winning two of five tests and topping Trail Jesters Racing KTM's Korie Steede by 52 seconds.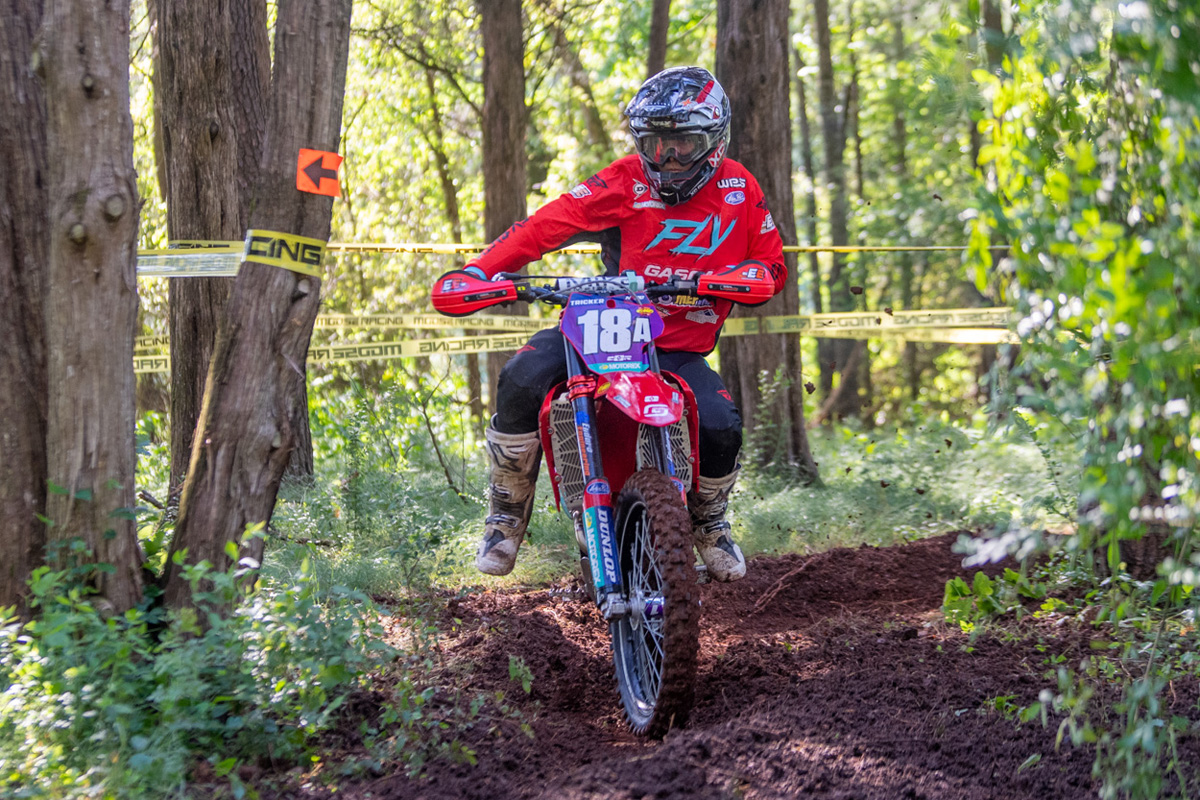 Steede won the opening test of the day to take the early lead, but then battled the remainder of the day with Over and Out GASGAS' Rachel Gutish, who won two tests, for second place. Steede ended up beating Gutish for the runner-up spot by 26 seconds, while Jocelyn Barnes (Hsq) wound up in fourth.
Class round-up
Dylan Dela Cruz (KTM) topped the AA class ahead of Jhak Walker (GG) and Neil Enman (KTM). Zack Toth (KTM) won the Open A division over Cameron Harris (GG) and Cameron Sisk (Hon).
2023 Dragon's Back National Enduro top 20 results: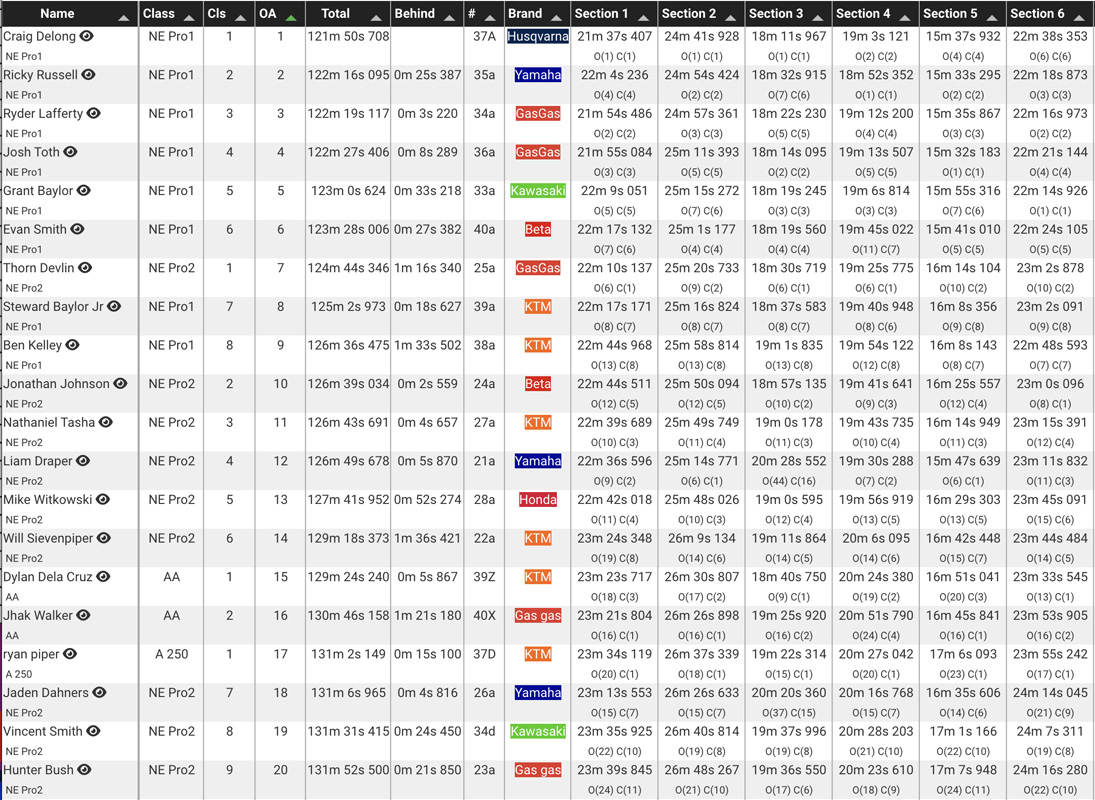 The AMA National Enduro Series resumes action with round five, the Cherokee National Enduro on June 11 in Greensboro, Georgia.
More information and full results: www.nationalenduro.com

Words and Photo Credit:
Shan Moore