AMA National Enduro: Steward Baylor wins the Gobbler Getter
Steward Baylor dominated the Gobbler Getter National Enduro in Stanton, Alabama, taking the overall win by just over a minute from brother Grant Baylor who took a step closer to the 2020 Kenda AMA National Enduro title.
After missing the second race of the series when he found himself without a ride, Steward Baylor has been clawing his way back into contention since jumping onboard the Am Pro Yamaha, but three wins for Grant Baylor, plus six consistent rides, has put the younger brother in the hot seat this season on the FactoryONE Sherco.
The penultimate round of the 2020 national Enduro season in Alabama saw Grant Baylor put in another set of consistent tests including taking the only test win away from Steward in test three. It was all the younger of the two brothers needed to do set up his first-career national championship, not to mention the first North American Enduro championship for Sherco, at the series finale in Texas just so long as he finishes fifth or higher.
For Steward though it was another showing of his speed this second half of the season. "The last two races have been tough, I've come up a little bit short, but today we got the first test win and just kept it going from there. It's just too little too late," said Steward. "At this point, as far as the championship goes, obviously anything can happen, so we will go to the last round in Texas and hope for the best."
Grant is typically a slow starter, but a second in the opening test was a good sign and he backed it up with two seconds, a third and a fourth in the remaining tests. "It was a good day here in Alabama," said Grant. "I started out a little off the pace, but I stayed consistent and then won test three and that was good enough. Steward was just killing it all day. He usually does well here so I was expecting it.
"It was an awesome day for me and the championship points. I'm happy to gain more points and have a comfortable gap going into the last round. Theoretically all I got to do is ride around the last round and bring it home."
Grant's ride, as good as it was, was not without a bit of drama as he dropped his bike in a deep water hole in the last test, "The trail just kind of turned into water." Explains Grant. "I imagined it would be about four inches of water but it ended up being about three to four foot and I went straight over the bars. My bike fell over in the water and I kind of caught it luckily. It kind of scared me though and made me think about the rest of the tests."
Duvall on the podium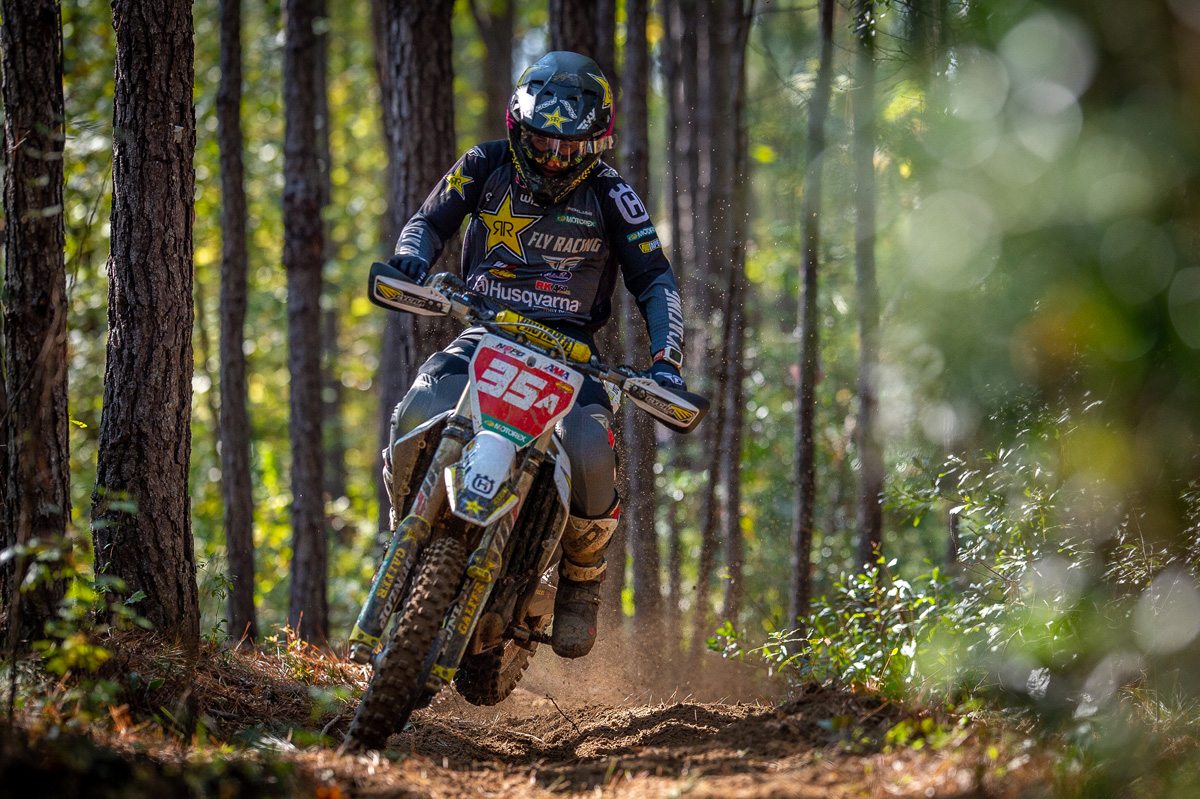 Rockstar Energy Husqvarna's Thad Duvall claimed his second podium finish in a row with a third overall after returning to action from injury just a few weeks ago. "I was consistent all day, finishing in the top three in every test except the last one, and I had brake issues in that one with a few miles to go," said Duvall. "I feel like I'm getting better with each race, just knocking those cobwebs off. It's been a long time since I went that fast. This was the Baylor's back yard, for sure, and any time I'm within striking distance of those two I feel like I've had a good test."
FMF/KTM's Ben Kelley switched to a 350 XC-F for the Alabama round in hopes of shaking things up a bit, but a couple of mistakes kept him off the podium. "I had a pretty solid ride today to finish fourth, not too far off the podium," said Kelley. "Jumping back on the 350 for this weekend felt a little awkward at the beginning but I found my flow throughout the day and really enjoyed the bike and trails."
Husqvarna's Evan Smith hadn't raced a major race since April due to injury, but turned a few heads with a solid fifth overall. "It feels so good to be racing again," said Smith. "My first two tests were quite an awakening, trying to remember how to go fast in tight woods, but around test four or five I started feeling good and I starting feeling like my old self and started having fun."
FMF/KTM's Josh Toth, who underwent surgery to repair an injured ring finger prior to the last round, suffered a string of bad luck, including getting lost and getting caught in a sink hole, which stopped him dead in his tracks. Despite his problems, Toth still managed to salvage sixth place.
Barnes pips DeLong for Pro 2 win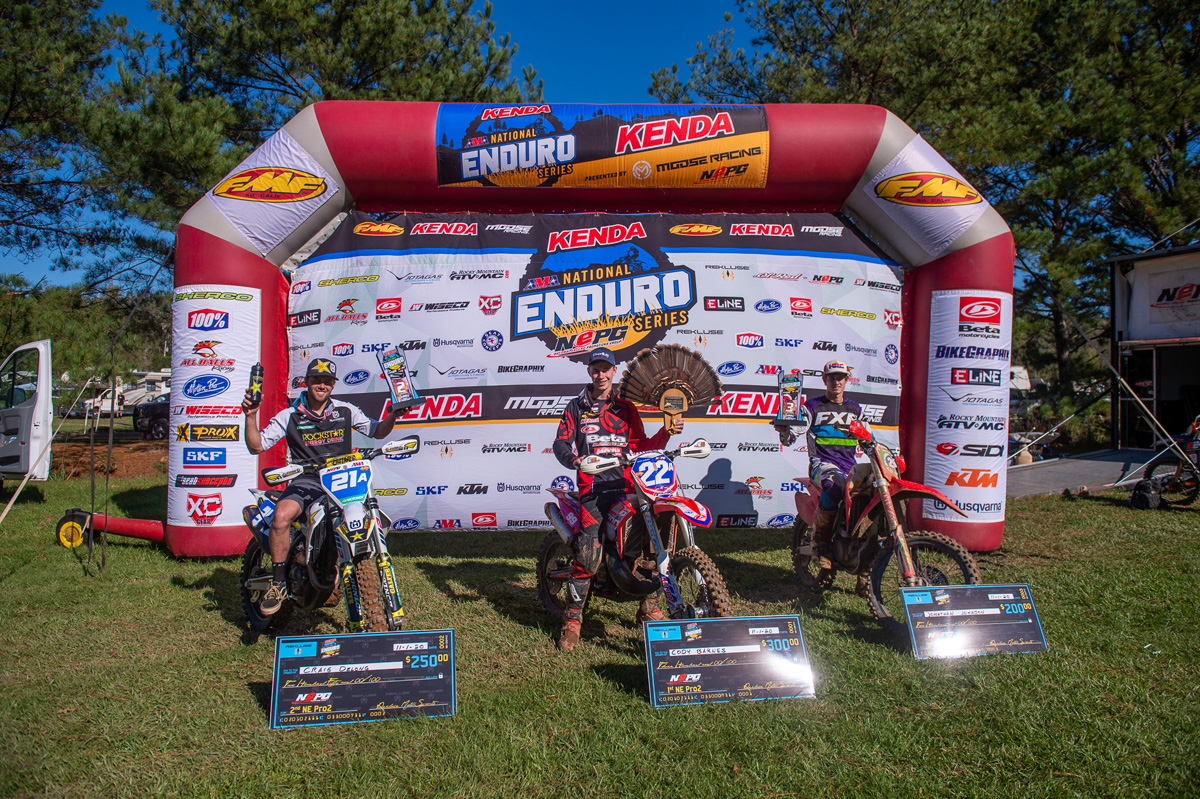 Beta USA's Cody Barnes headed up the NE Pro2 class with a seventh overall finish. Barnes was trailing Rockstar Energy Husqvarna's Craig DeLong by four seconds heading into the final test, but managed to pull out the class win with a strong ride.
"That was super close," said Barnes. "I was behind going into the last test and in my mind, it was just kind of all I can do is give it a hundred percent. That's what I did. I won the test by I think six or seven seconds and that was enough to get the win."
DeLong led for most of the day, but tried to change things up in the final tests, which may have cost him the win. "It was a little bit of a nail-biter there at the end," said Delong. "Just close racing. I had a decent lead for most of the day and then in test five I tried to ride a little bit different in the tighter stuff and tried to be smoother and see if I could kind of tie the stuff together instead of being so sporadic and super aggressive. It kind of bit me in the butt and I lost a lot of time. On the last test I had about four seconds on Cody. I gave it everything I had the last test and it just wasn't enough."
Jonathon Johnson was ninth overall and third in the NE Pro 2 class on a privateer Honda. "Stalling the bike out and having to kick it a couple times cost me a good bit of time in the fourth and fifth test, but I picked it back up there after that," said Johnson. "Cody and Craig were just on it today. So, I didn't have nothing for them there at the end. But we ran well the first little part of it, so it was good."
Zack Hayes rounded out the top 10 on a Coppersmith KTM.
Rachel Gutish's third win of the season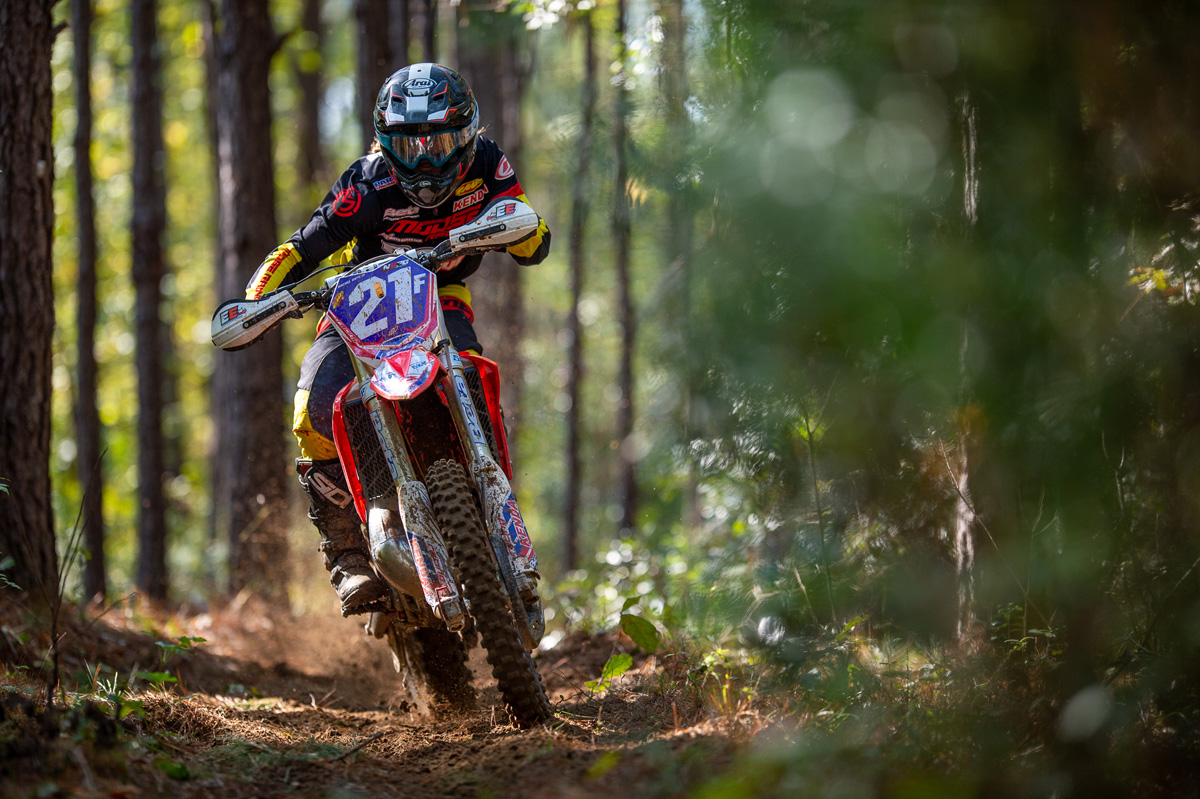 In the Women's Elite division, Beta USA's Rachel Gutish won three of five tests to beat out Sherco's Brooke Cosner by 1m 8s for the win. The win was Gutish's third of the season.
"It was a blast," said Gutish. "The dirt was almost perfect. I'm super impressed given that the roads aren't even cleared yet that they managed to get a lot of debris out of the way. I'm really impressed with how well the club coped with the recent storm. It was a blast. I've always liked this place and it was good to me today."
Cosner was pleased with winning the final two tests. "I had a really fun day," said Cosner. "The dirt, like Rachel said, was absolutely prime today. I've never seen enduro so good. A little tighter than I was used to. Rachel definitely had me there. But we stayed close today and it was a lot of fun."
Ashlee Applewhite rounded out the podium on a KTM. It was her first podium. Meanwhile KTM-mounted Will Sievenpiper took the win in the AA class, beating out KTM rider Kole Henslee and Sherco rider Alex Luger.
OVERALL RESULTS
1. Steward Baylor (Yam)
2. Grant Baylor (Shr)
3. Thad Duvall (Hsq)
4. Ben Kelley (KTM)
5. Evan Smith (Hsq)
6. Josh Toth (KTM)
7. Cody Barnes (Bet)
8. Craig DeLong (Hsq)
9. Jonathon Johnson (Hon)
10. Zack Hayes (KTM)
The Kenda AMA National Enduro Series resumes on November 15th for the Caprock Canyon National Enduro in Turkey, Texas for the series finale.
More information: www.nationalenduro.com
Words and Photo Credit: Shan Moore
This email address is being protected from spambots. You need JavaScript enabled to view it.