Results: Grant Baylor Wins Zink Ranch National Enduro
Grant Baylor grabbed his fifth win of the season at round nine of the Kenda AMA National Enduro Series at the 2019 Zink Ranch National Enduro.

Sand Springs, Oklahoma played host to the penultimate round of the 2019 Kenda AMA National Enduro Series and saw Grant Baylor take his second win on the bounce.
After seven tests and 65 miles of racing, Grant topped his brother and Tely Energy Racing teammate Steward Baylor by 13 seconds to take the win.
Grant won just two of the seven tests, but his consistency in the remaining tests was more than enough to earn victory: "I usually start out a little slow here in the grass track, but I was still able to click off the test win," said Grant. "From then on, me and Stewart were pretty close and he kept me on my toes. This place has never been the best track for me, so I'm definitely happy to come away with the win."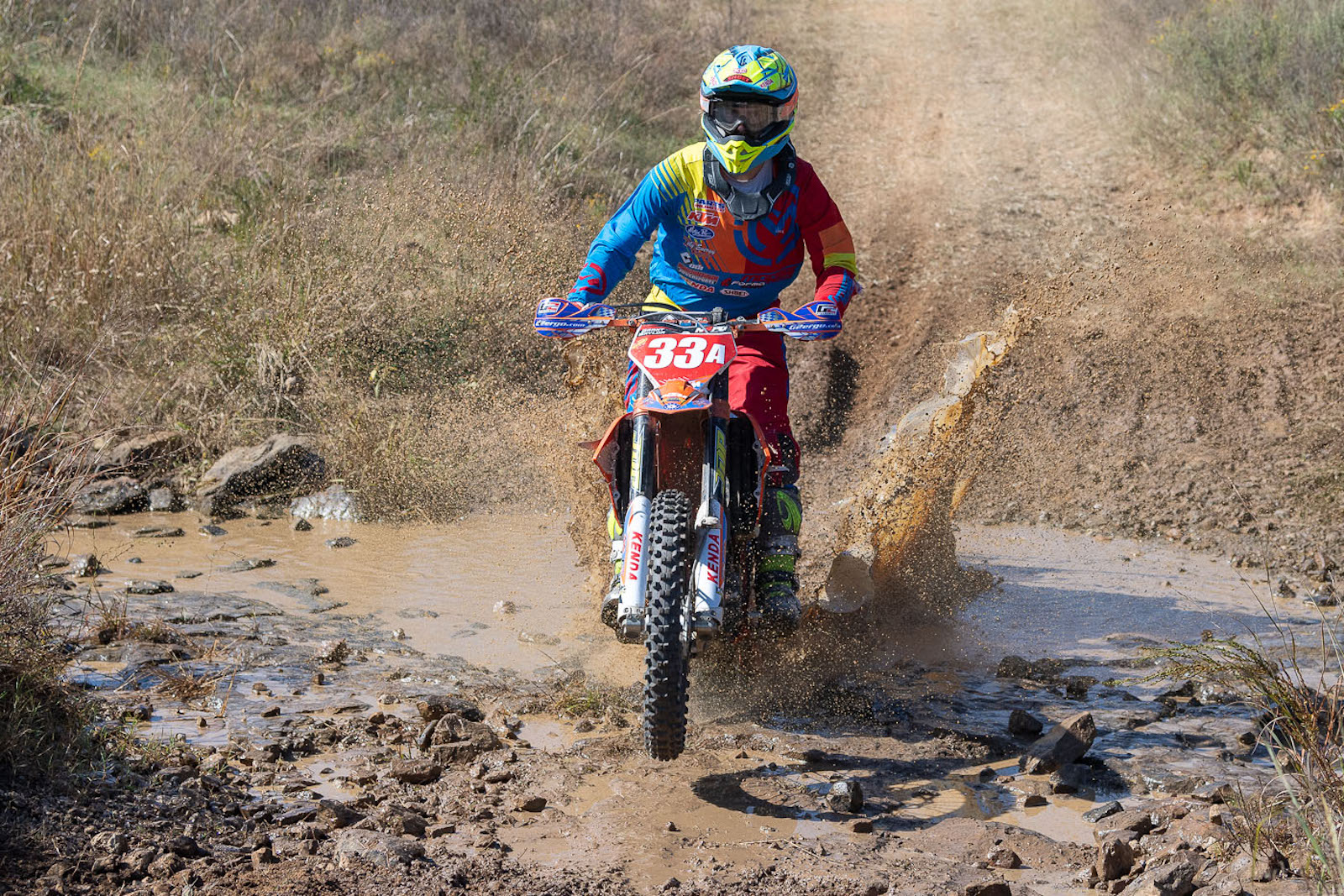 Steward Baylor came into the race with a 31-point lead in the 2019 series standings and with a good chance to wrap up the championship a round early. He only needed to finish ahead of Grant to sew things up but a series of mistakes and solid test times by Grant made sure the championship goes down to the final round.
In all, Steward won more tests than Grant (three), but was too inconsistent in the other four tests to catch his brother: "I should have wrapped it up today; I had every opportunity," said Steward. "I made a lot of mistakes throughout the day and made some bad decisions on setup in test three. Then I broke my thumb in test four. In the last test, I got turned around a mile or so from the finish and lost a good fifteen seconds which is what I needed to clinch the championship. It was a very frustrating day, to say the least."
Steward needs only a top-15 finish at the final round in Alabama on November 3 to clinch the title.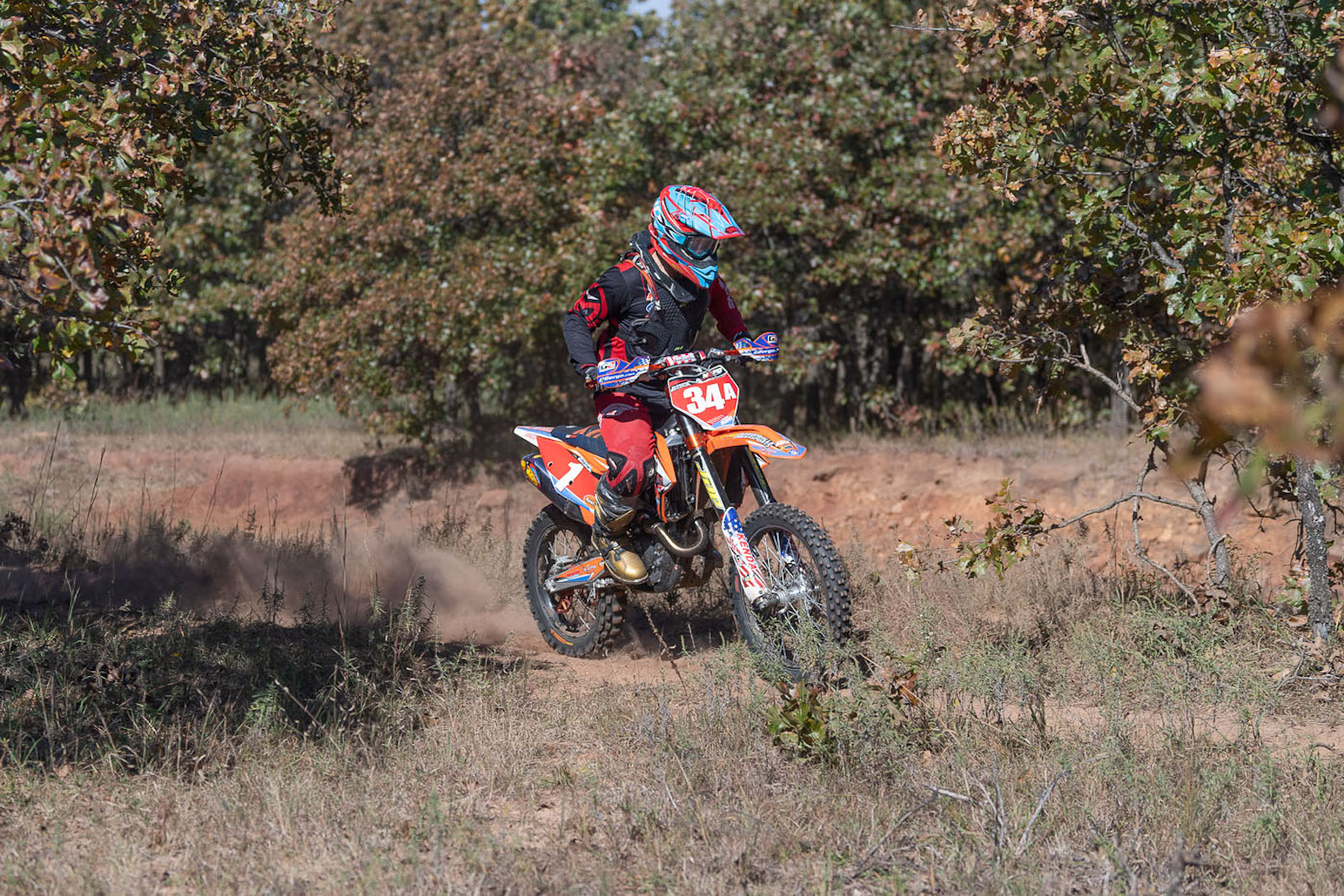 Husqvarna/Max Motorsports/FXR's Evan Smith rounded out the podium in third, a position he's starting to get used to. The Oklahoma race marked the fifth time Smith has finished third in 2019: "I struggled in the sixth and seventh tests," said Smith. "It was hard and slick, and I don't ride that stuff as well, so I gave up some time there. I was competitive until then. But other than that, I didn't have any falls. No big moments or anything. It was pretty steady."
Beta USA's Mike Witkowski got off to a tremendous start and lead overall after two tests having gone 1-2 in the first two: "That's the first time I've ever won a test overall," said Witkowski. "The last couple tests were pretty tough, though, and I struggled a little with all the rocks. I seem to excel in the faster stuff."
Maiden Pro 2 win for Commo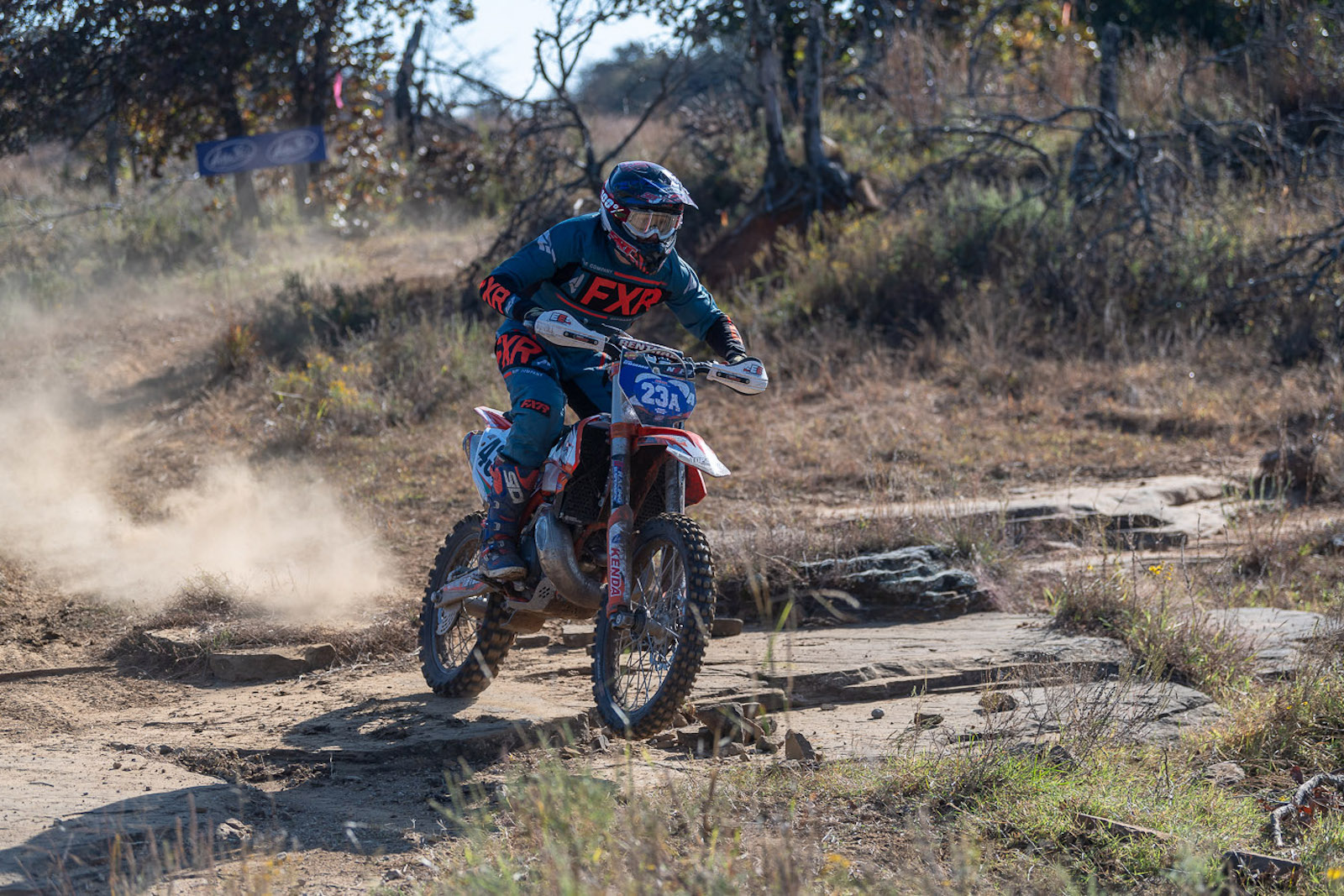 Ron Commo came from behind to finish fifth overall and grabbed his first-ever win in the Pro2 class. The KTM rider was sitting in third place in class (seventh overall), about 12 seconds behind Nate Ferderer and Liam Draper, heading into the final test and after turning in a strong ride, moved into fifth overall and first in the Pro2 class by just two second ahead of Ferderer: "I just knew that this was the shot that I had to actually win one," said Commo. "I was close enough all day. I just rode as absolutely hard as I possibly could in that last test and just didn't make any major mistakes."
Ferderer settled into sixth overall at the finish and second in the Pro2 class on his Suzuki, although he was bummed at missing out on the win by just two seconds.
Liam Draper was seventh and third in the Pro2 division. The Tely Energy Racing rider wrapped up the Pro2 championship at the previous round in Indiana.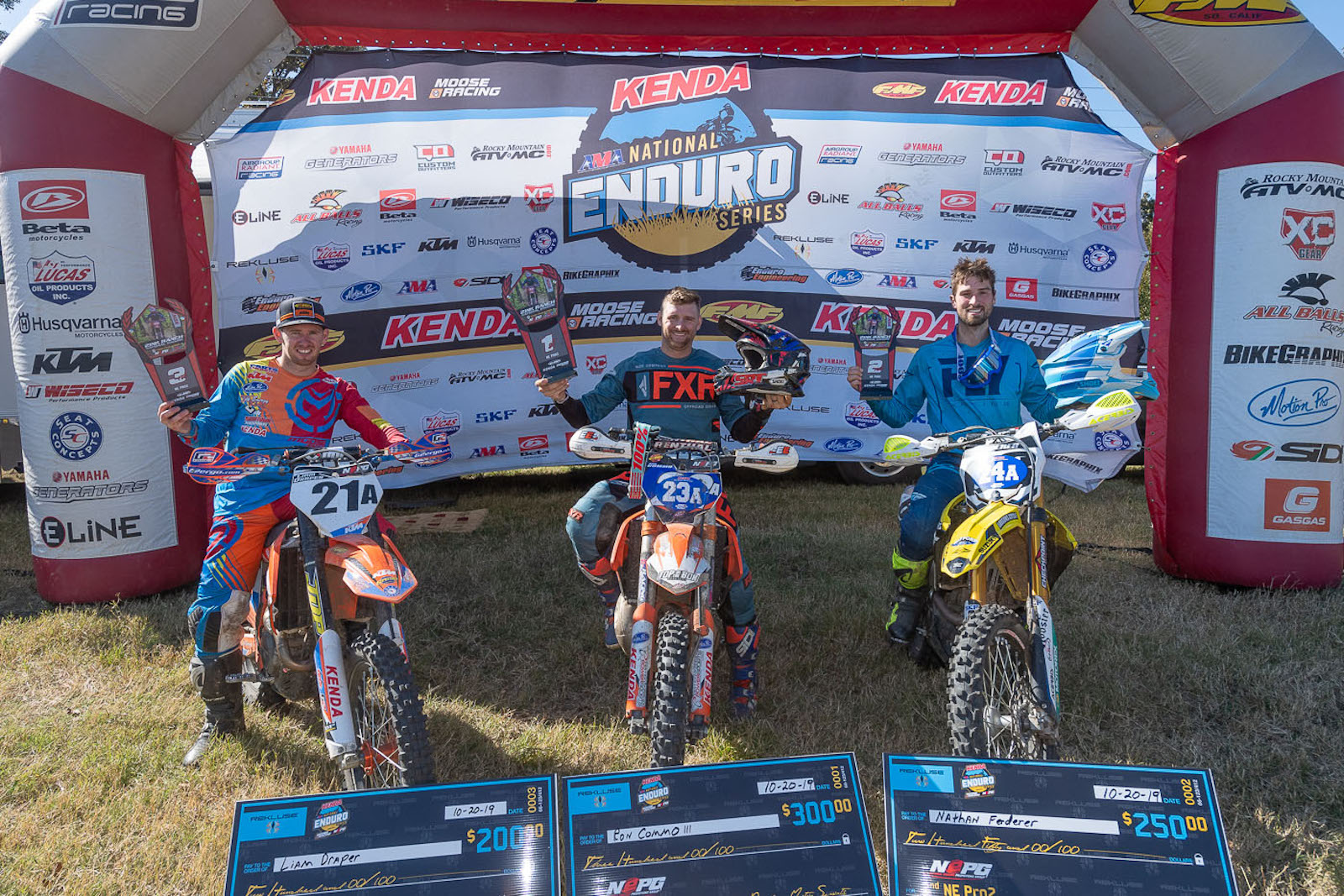 Young gun Noah Clark turned in one of his best performances to date with an eighth overall, and first in the AA class on a Yamaha.
XC Gear/Enduro Engineering/Husqvarna's Jake Froman edged fellow Husqvarna rider Logan Kittock by four seconds for ninth overall. Kittock was also fourth in the Pro2 class.
Thorn Devlin was turning in a great performance, running just outside of a podium position when a crash in test seven just a few feet from the exit sent the North American GasGas rider to the hospital, leaving him with a DNF for the event. Devlin was released from the hospital that evening.
Tricker wins again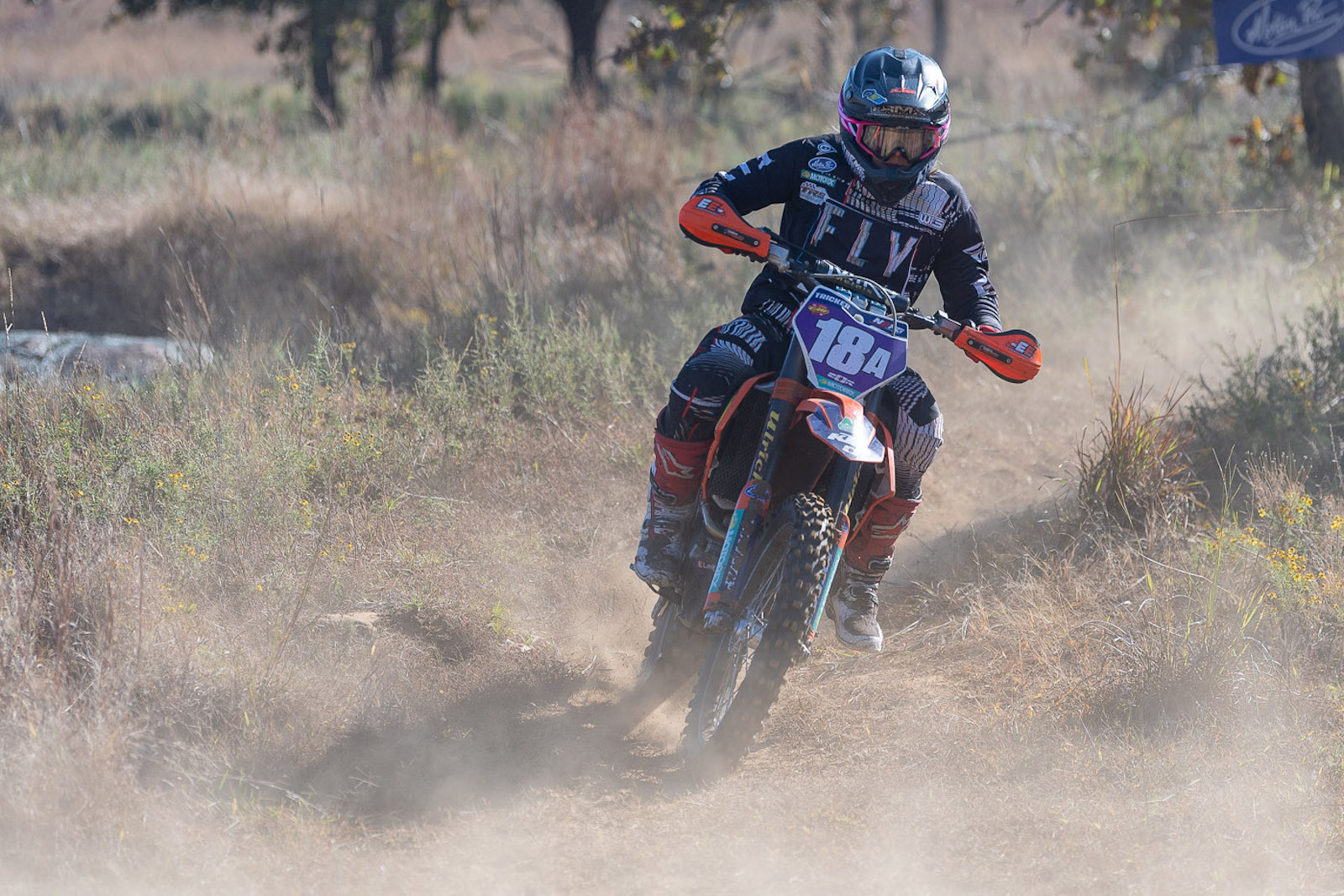 Mepmx/Fly/Grizzly Peak/Traveler's Rest Speedway/KTM's Mackenzie Tricker won five of six tests en route to the win in the Women's Elite class.
"I hit a tree pretty good and locked my front brake up and I had a bunch of wood and bark in there, so I lost like a minute or so in that test," said Tricker.
Rachel Gutish won the fifth test and finished second. The Beta USA rider drove all night to the Oklahoma event after finishing second at the Denver EnduroCross on Saturday night.
Third place went to Dallas rider Ally Spurgeon. "I've maybe ridden a bike twice in two years and I decided to come out here," said Spurgeon. "I bought a bike from a friend. I came to pick it up and decided to ride too. It was a ton of fun. I can't stop smiling right now."
Celebrating the 25th anniversary of the ISDE held at the Zink Ranch in 1994, the Tulsa Trail Riders did a superb job, as usual, with this year's event. They even started the event with a grass track in the same location as one used in the '94 race.
Overall results:
Grant Baylor (KTM)
Steward Baylor (KTM)
Evan Smith (Hsq)
Mike Witkowski (Bet)
Ron Commo (KTM)
Nate Ferderer (Suz)
Liam Draper (KTM)
Noah Clark (Yam)
Jake Froman (Hsq)
Logan Kittock (Hsq)
The Kenda AMA National Enduro Series returns to action on November 3rd for the final round of the Kenda AMA National Enduro Series in Selma, Alabama.
More information: NationalEnduro.com
Photo and Word Credit: Shan Moore