Triumph Motorcycles announce Clement Desalle and Ivan Tedesco as test riders
MXGP to EnduroGP (briefly) and now back to MX with Triumph Motorcycles for Clement Desalle who signs up as development rider (along with Ivan Tedesco) for the imminent release of all-new off-road British machines – still no images of the bikes FYI…
Yes, we're talking motocross and Supercross here but any news about Triumph Motorcycles and their imminent step into the world of off-road racing, pricks up our ears.
In this case the considerable skills of both Clement Desalle and Ivan Tedesco have been drafted into the programme to focus serious attention on the MXGP and Supercross machine development respectively.
It's a break from the norm, in a way, normally we hear a rider or two are signed to a new team or "project" but Triumph and their respective race teams in Europe and the USA are adopting the high-level test rider first approach.
That's not forgetting that another Ivan, Señor Cervantes, is behind the development of the enduro versions of these elusive bikes. We know the bikes exist, we know they've been photographed for publicity and marketing reasons, what we don't have is a single glimpse of one. Their blanket over this one is remarkably heavy one but heres some footage of Desalle (shot on a Nokia 3310...maybe).
Here's what Triumph Racing's have to say about their off-road programme to date:
SMX: Triumph Motorcycles will enter the Monster Energy AMA SuperMotocross World Championship at the start of the 2024 season, with a fully supported factory race program established in the United States to run motocross operations under the all-new global Triumph Racing banner.
Ivan Tedesco - Triumph Racing US Supermotocross World Championship Team
'Hot Sauce' had a career spanning 14 years and won the AMA 125cc West Coast Supercross series twice (2004 and 2005), the AMA 125cc National Motocross series (2005) as well as being part of the Motocross of Nations with Team USA in 2005, 2006 and 2009.
Set-up and operated in partnership with Bobby Hewitt, this new Triumph Racing team will field three of Triumph's all-new 250cc 4-stroke MX bikes in the 2024 SuperMotocross World Championship West and East Coast series before entering the 450cc premier class in 2025.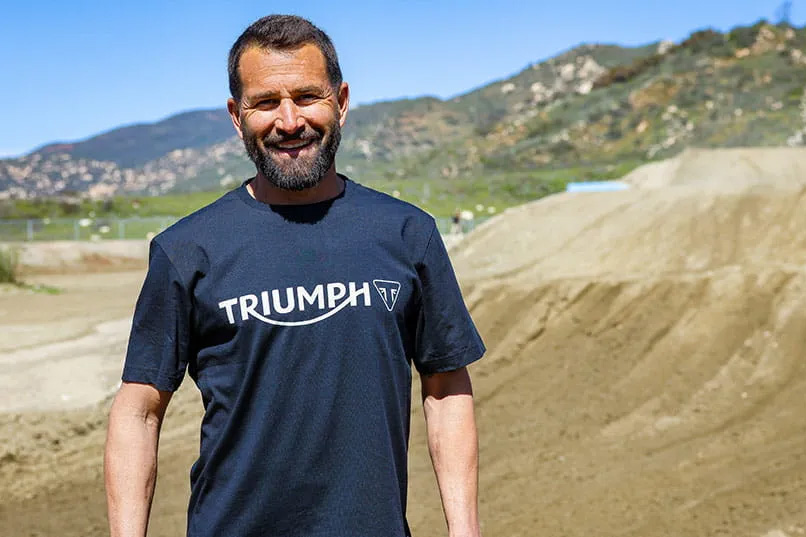 MXGP: Similarly in 2024, Triumph Racing will also debut in the prestigious FIM Motocross World Championship with a factory supported race programme.
This landmark new Triumph Racing Team has been set-up in partnership with Thierry Chizat-Suzzoni, one of the sport's most experienced and successful team owners, who will field two of Triumph's all- new 250cc 4-stroke MX bikes in the 2024 MX2 class, and will add an entry into the 450cc MXGP class in 2025.
Clément Desalle - Triumph Racing MXGP/MX2 Team
The 'MX Panda' competed in the MXGP World Championship for 15 years and was one of the most consistent racers in the series, claiming three vice championships, was third in the world championship three times and twice fourth. The Belgium national finished on the top step of the podium 23 times in his career.
The MXGP/MX2 World Championship team will be based at Thierry's race facility near Eindhoven in Holland, while the SuperMotocross World Championship operation will be based at a dedicated new state-of-the-art race facility in the USA.
UK based
Triumph Racing is based at Triumph's Global Headquarters in Hinckley, UK, where the brand's off-road design engineering department is located – responsible for the concept and development of the powertrains and chassis for the all-new Motocross and Enduro motorcycle range.
Engineering groups at the Triumph factory and the race teams are working closely together on continuously enhancing chassis and engine performance through an intensive testing schedule, led by Ivan Tedesco and Clément Desalle, underway in the USA, UK and Europe, building towards the competitive World Championship debut in 2024.