2021 Andalucia Rally: Quintanilla wins final stage – Barreda wins the rally
Video highlights and results from the 2021 Andalucía Rally where Monster Energy Honda Racing's Pablo Quintanilla took the final stage win and his teammate Joan Barreda took overall victory.
While Ricky Brabec was claiming victory in the Mexican Sonora Rally on the other side of the Atlantic, Joan Barreda was successfully claiming the Andalucía Rally 2021 making it a successful end to the week for the Monster Energy Honda Team.
"It was a difficult last stage, opening the track from the beginning. It has not been easy at all: we have gone through some sections with the track very broken, which we had already gone through in previous days," said Barreda. "You had to keep calm and keep up a high pace, because we knew they were pushing hard from behind. In the end, I felt quite good and we were able to maintain this rhythm until the finish line, having a very good stage that allowed us to win this rally."
Santolino second with shoulder injury
Lorenzo Santolino started third on today's stage, two minutes and 52 seconds behind Barreda, was not able in the end to close the difference and finished third. The gap of 47 seconds behind the winner of the stage Quintanilla, and 36 seconds behind Barreda, meant he had to settle for the second place on the podium.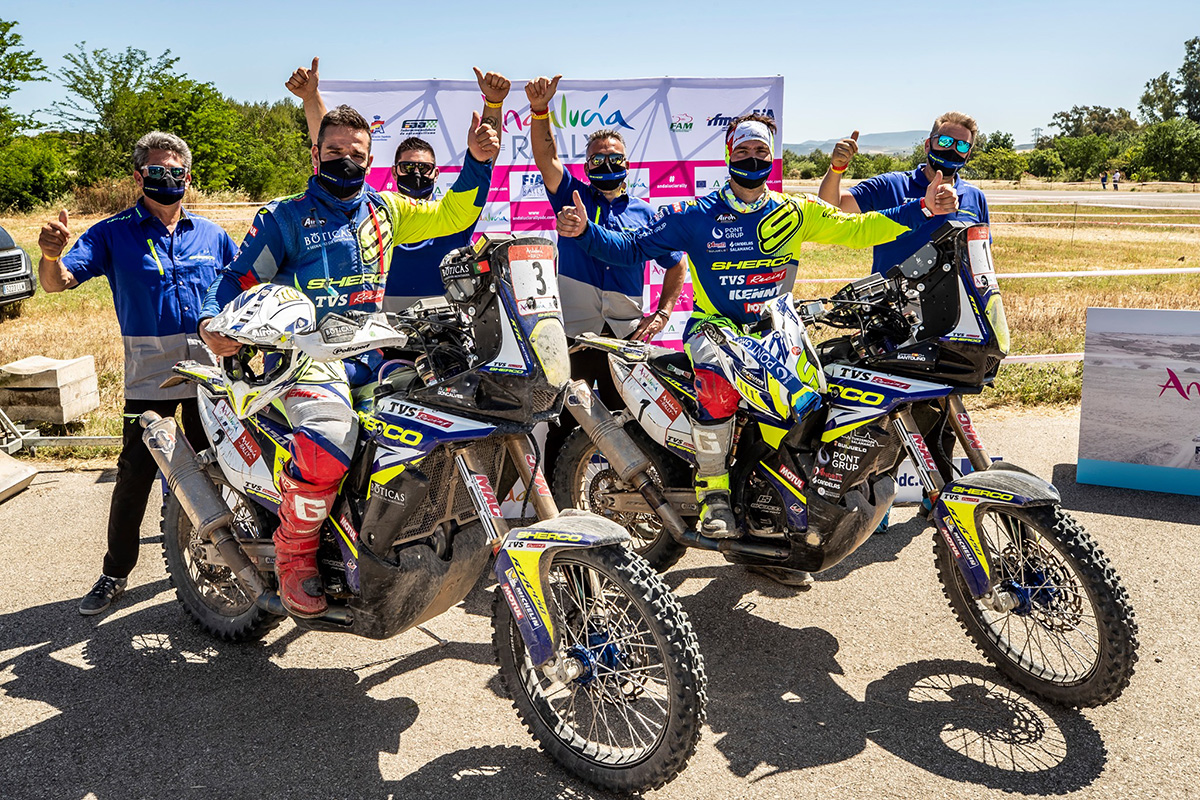 After crashing and hurting his shoulder the week before while preparing for the race, in the end it was not a bad result for the Sherco Factory Racing rider.
Pablo Quintanilla finished his debut race with the Monster Energy Honda team with a victory in the last stage and a third place on the podium, cementing the Chilean's quick adaptation to his CRF 450 Rally bike.
The Hero MotoSports riders had a few issues along the way including engine change but were consistent in their top five stage finishes which meant Joaquim Rodrigues and Franco Caimi completed the top five.
2021 Andalucía Rally stage 4 results: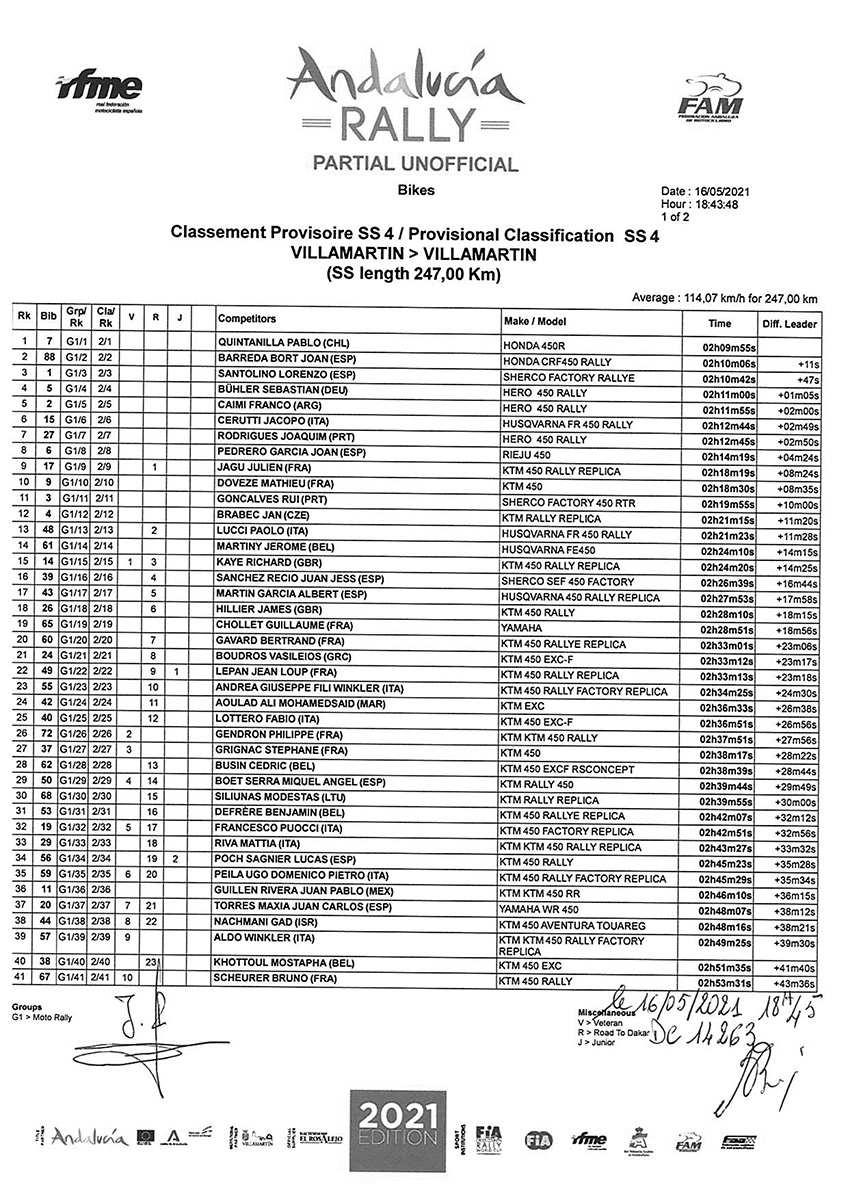 2021 Andalucía Rally overall results: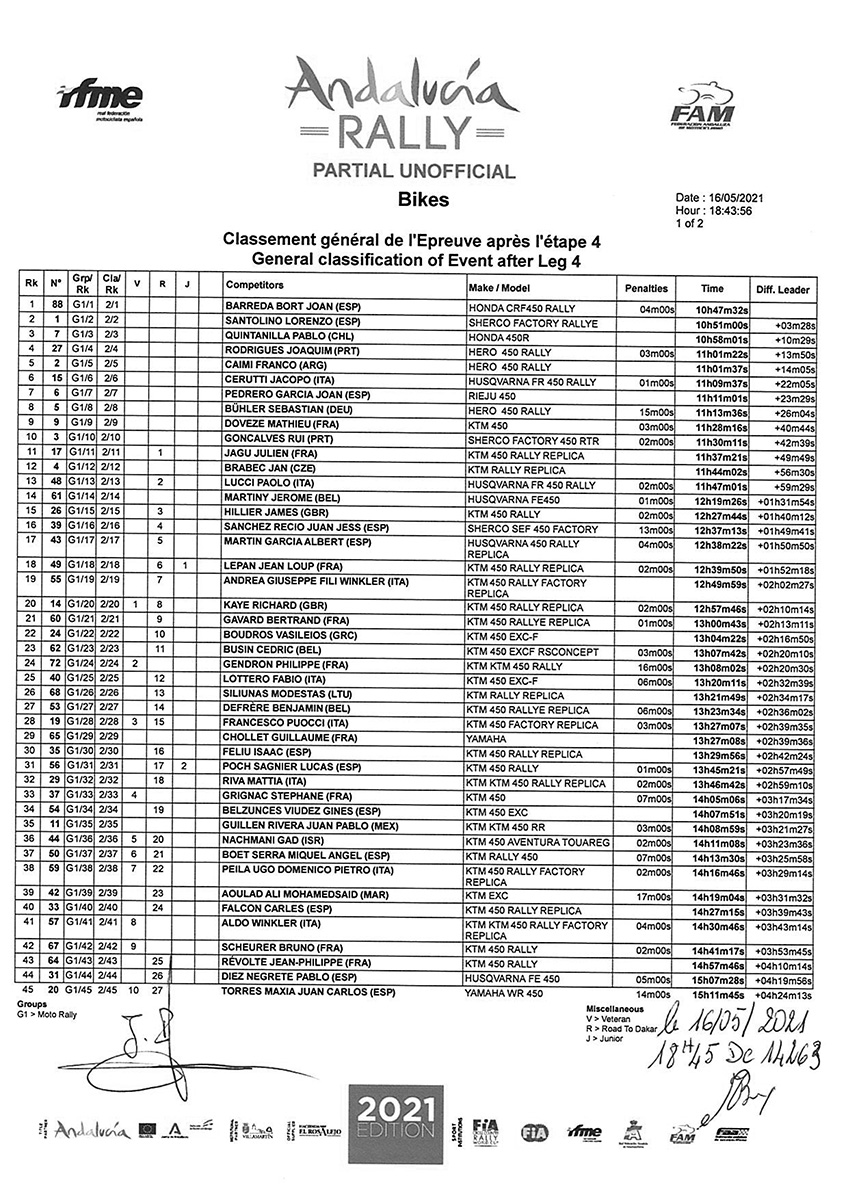 Photo Credit: ODC | Charly Lopez