2022 French Enduro Championship: Espinasse and Larrieu share day wins in Privas
Video highlights from French Enduro Championship round two in Privas where Theo Espinasse was the rider on form to take the day one win but bagged a time penalty on day two, handing the scratch result to Loic Larrieu.
Four years after the French Enduro Championship last visited Privas in South-Eastern France, it returned for the second round of the 2022 season with high temperatures making it hard work for the over 400 riders.
Espinasse sets the mark
It was a return to Privas and a return to the top of the results for Theo Espinasse who took the overall scratch win plus the hotly contested E2 class victory ahead of Hugo Blanjoue (second overall) and Zach Pichon who admitted spending too much time on the floor on day one.
E1 points leader Loic Larrieu topped Till De Clerq and Anthony Geslin in class and took third scracth on the day.
Sherco Academy´s Leo Le Quere, despite having undergone surgery a few days before to solve his back problems, finished first in E3 with Luc Fargier and Antoine Basset rounding out the podium separated by only one second.
In the Juniors, Thibault Giraudon, Yann Dupic and Killian Irigoyen shared the victories on the first day in Junior 1, 2 and 3 respectively. While Justine Geisler was the winner in the Women´s class.
Privas, day one highlights:
Espinasse throws it away on day 2
Christian Miaille, president of the organizing club, had warned that "the second day was going to be particularly exhausting" and so it proved.
Loic Larrieu repeated the E1 class, which makes it four out of four this season, plus took the overall result ahead of his younger E2 class rivals. He was followed home again in E1 by Till De Clerq and Anthony Geslin who are tied on points for second place in the championship after finishing second and third this second day.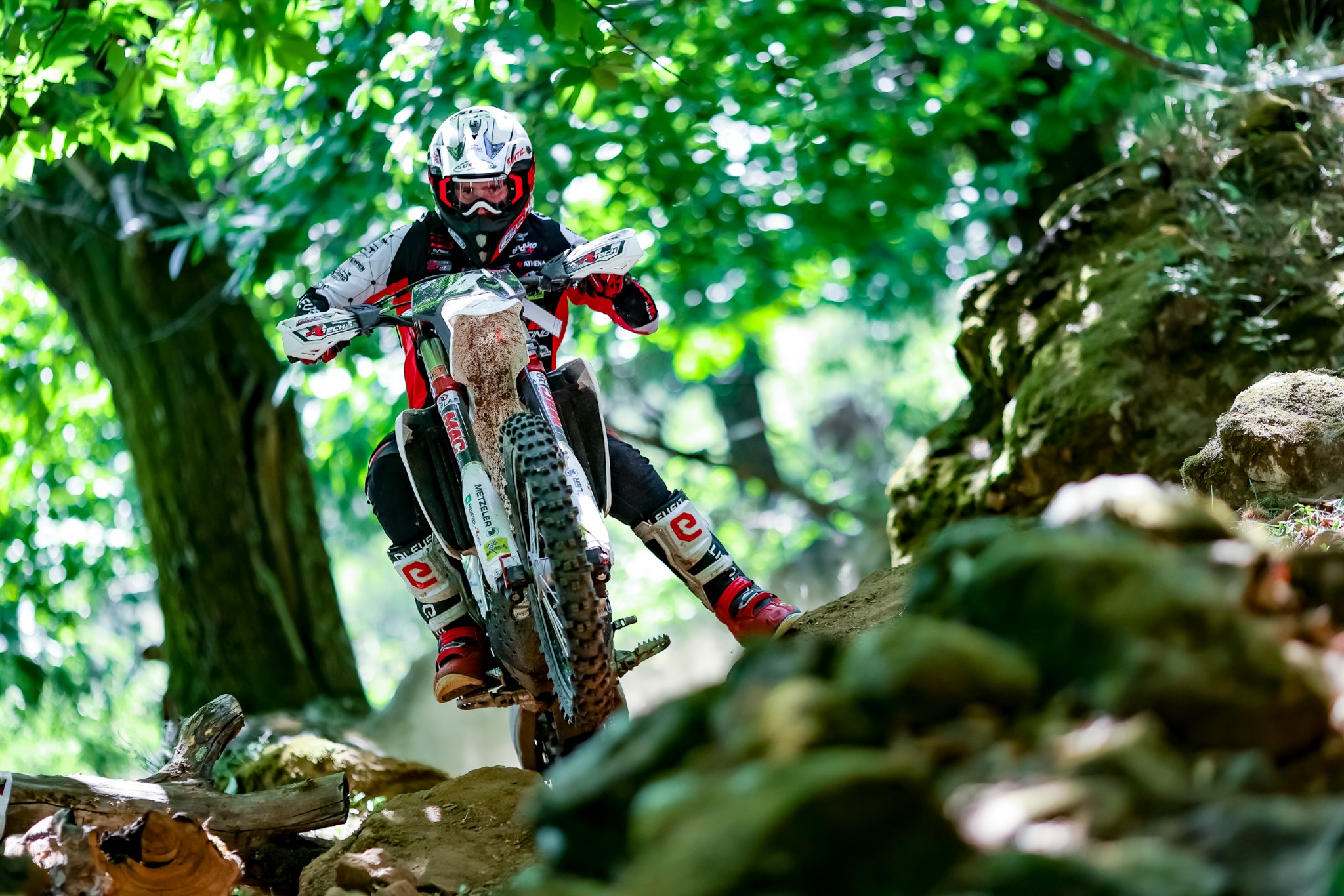 The E2 battle again proved to be the most exiting on day two with Zach Pichon dropping his Sherco less to take the victory. Things could have been different for the overall results though after Theo Espinasse was docked a one-minute refuelling penalty, costing him the scratch win for teh second day in a row. Hugo Blanjoue also had a harder time on day two after crashing heavily.
The net effect was Pichon now leads the E2 championship with Blanjoue and Espinasse, tied for second.
Antoine Basset also turned things around on day two in E3 class beating Le Quere and Luc Fargier on the podium. Thanks to his victory on the first day and the second place on the second day, Le Quere comes out as leader in E3.
In Juniors, Leo Joyon won in JE1, Yann Dupic did it in JE2 and Killian Irigoyen repeated as the winner in JE3. While Marine Lemoine won in Women´s.
Privas, day 2 highlights:
Full results (by class) can be found on the French Federation website: www.enduro-france.fr/resultats
More information: www.enduro-france.fr
Photo Credit: FFM