GASGAS win 2023 SuperEnduro Manufacturer's World Championship
Video short of Taddy Blazusiak's final SuperEnduro round of the 2023 season in Gliwice, Poland where he claimed third place overall and with it the Manufacturer's World Championship for GASGAS Factory Racing.
Spurred on by his home fans, Taddy Blazusiak battled hard at the final round of the SuperEnduro World Championship to secure third in the final rider's standings and confirm GASGAS as 2023 FIM SuperEnduro Manufacturer's World Champion.
Coming into the fifth event of the season in Poland, Taddy trailed Cody Webb by just four points which set up an intense showdown for that final step on the overall championship podium.
Going 3-4-2 over the three races, Taddy not only did what he set out to do to – secure third in the championship behind Brits Billy Bolt and Jonny Walker – but his performance helped to secure GASGAS the coveted SuperEnduro Manufacturer's title.
GASGAS won by a 35-point advantage with Taddy and his protégé Dominik Olszowy and Diogo Vieira contributing to place them ahead of Sherco with riders Webb and Cooper Abbott scoring.
Husqvarna were third, largely thanks to Billy Bolt's scoring with Jonny Walker also putting on the same one man scoring show to put Beta fourth.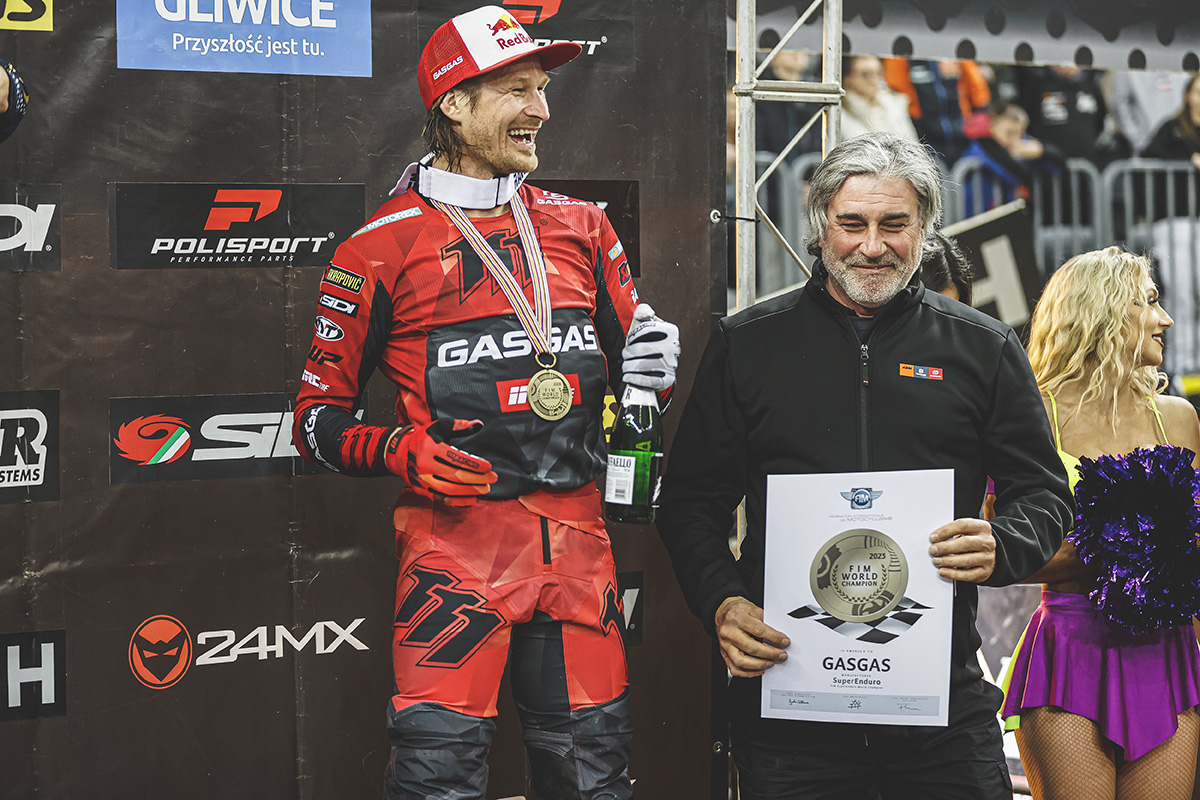 Taddy Blazusiak: "I'm super stoked! We came in with a fighting spirit and had to battle hard in the first two motos. Coming into the third race, I knew I had to give it everything – hospital or third, I had to get it done. In the end it worked out awesome, and for GASGAS to take the manufacturer's title makes the result even sweeter. Thanks to the whole team, they deserve it!"

Photo Credit: Future7Media | Andrea Belluschi