5 things: 2024 Husqvarna Enduro range – test ride and talking points
Enduro21 takes to the Norwegian hills to test the latest generation, 2024 Husqvarna Enduro range. Here's what stood out, how they felt and what matters most about the new TE and FE models…
Much anticipated, the 2024 enduro model range from Husqvarna has finally arrived. Almost a ground up redesign includes brand new chassis', new generation fuel injected two-stroke engines, a fresh look and some much-anticipated major changes to the standard WP suspension.
Enduro21 got a ticket to ride and after busting out some moves for the cameras in the morning, we spent some quality time riding all models around a technical test track in central Norway to get to know them better.
Here's what stood out, how they felt and what matters most about the new TE and FE models…
13 world titles – expert advice
Though the most recent generation Husqvarna enduro models had a fork upgrade and rode the bumps better than a KTM, unless you were trail riding, the OEM equipment simply wasn't a match for the potential of the bikes. Often found wanting, the old chassis' could quickly feel like the ground was winning a fight with the bike.
There are some big changes in the chassis department here but trying to nail down exactly how different into words needed a chat with a 13-time enduro world champion.
"The difference with the new chassis is it wants to go over things, keeps rolling through holes, over logs and rocks". Thanks Juha Salminen, we couldn't have put it better.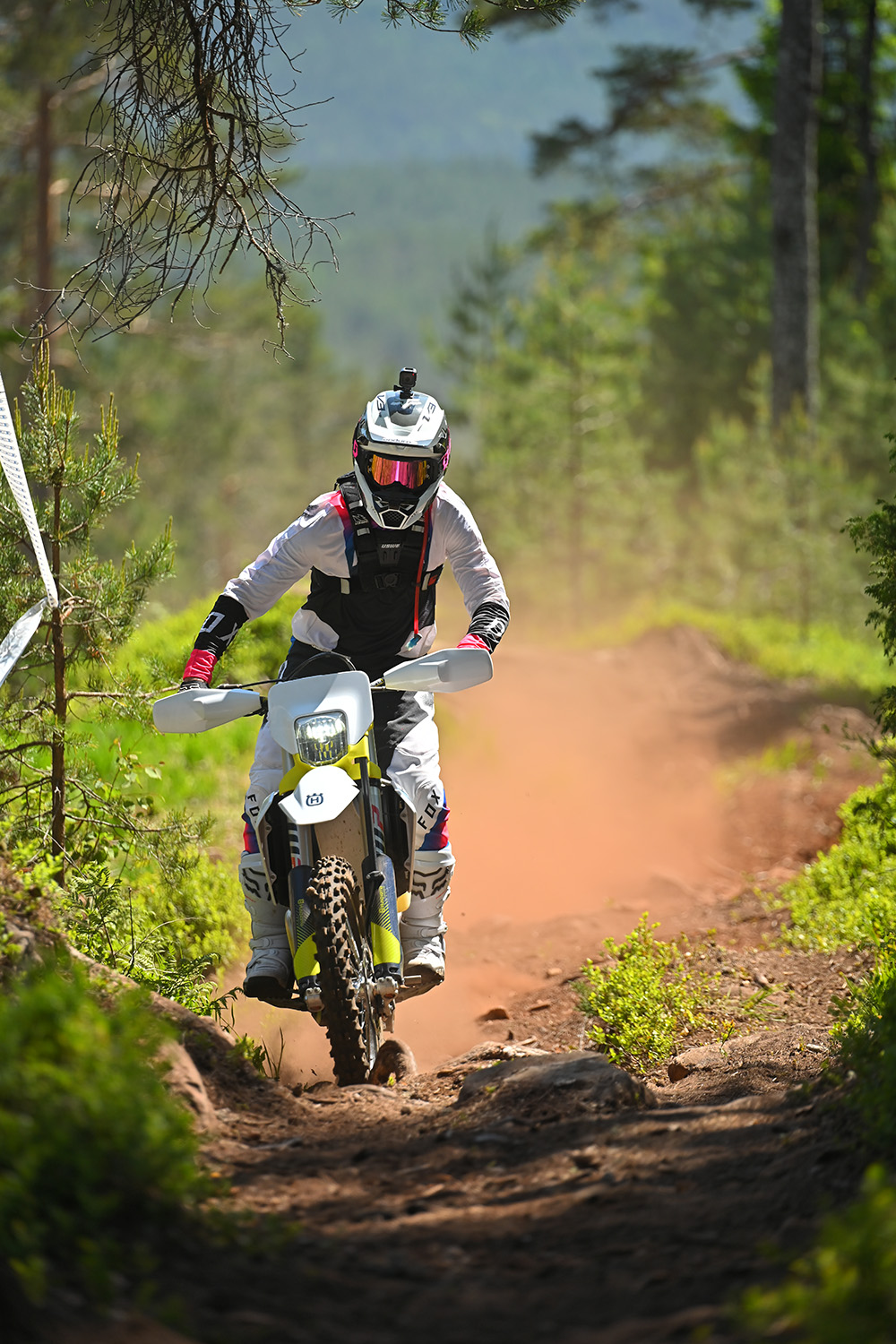 Speed causes less dramas and life is easier
The fact the Pro taper bar bend and footpeg position have changed, adjusting the riding position on the 2024 models, is just the tip of the iceberg with Husqvarna's new chassis feel. A stiffer overall main frame "close to the motocross chassis" sounds wrong for enduro but the new triple clamps, engine mounts, frame wall thicknesses, suspension and swingarm all affect how usable the new TE and FE models are to ride.
More accurate, more capable, better at staying on lines, more willing to change lines, less likely to get out of shape – in short you feel like you're riding better. Obstacles feel less of a problem, riding faster causes lass dramas and life is easier.
The new bars and pegs are part of a rethink about the rider triangle too and the riding position is different. What's the rider triangle? It's the shape we make when we stand on a bike: the triangle points being our feet, hips and hands.
It took some adjusting to and the Enduro21 T-bar came out the backpack a few times to move Husqvarna's standard bar position forwards – we felt they were too far back and meant elbows were too saggy.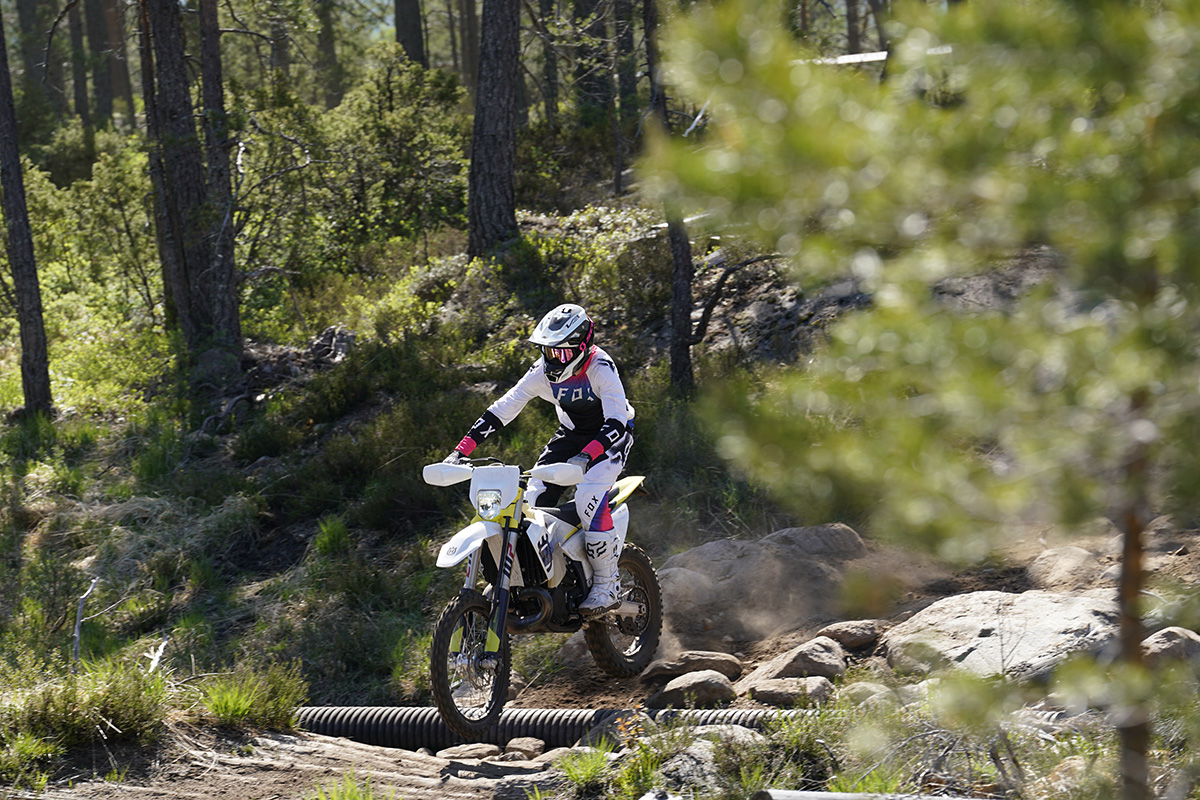 The lower footpegs are a bonus and will save some work – we always swapped out the too-high standard Husqvarna pegs for 5mm lower and further back ones on previous gen bikes, now you don't really need to although we're keen to try 5mm further back still.
The truth is this test needed more proper flat enduro conditions, a few ruts, berms and jumps to get a bit of rage going on and test things to the limit more. The launch test was all very similar and though it gave a good impression on hard enduro terrain and trail riding, we have to admit we need more time riding faster.
We talk about this, the difference compared to the KTM PDS and why setting sag mattered on this test in our first ride test on Enduro21's YouTube channel: 2024 Husqvarna Enduro models – first test ride impressions
TBI two-strokes – what's the difference?
It's not that we're ignoring the four-stroke engines with their new map selection switches, traction control and quickshifters, repositioned motors in the frame, better access to the new cylinder head for servicing and little triangles everywhere so you know when you've dropped the washer.
But the Throttle Body Injection two-strokes are the biggest talking point basically because they replace the TPI 2T engine which has just about been the biggest talking point in enduro since 2018.
Like the 4T, the two-strokes get a two-position map switch as standard and a heap of new electronics including a smarter electronic management system (EMS), new largely fuseless design, a roll-over cut out, a gear sensor delivering different maps for each gear, and a tougher TPS sensor.
The throttle cable is mounted directly to the two-strokes' 39mm throttle body now without a linkage felt like a significant difference – more immediate throttle response and feel for the back wheel is a theme here.
The throttle valve pivots on ball bearings instead of plain bearings now which they claim means "less than half the friction torque compared to the former throttle body and allows a much easier throttle operation".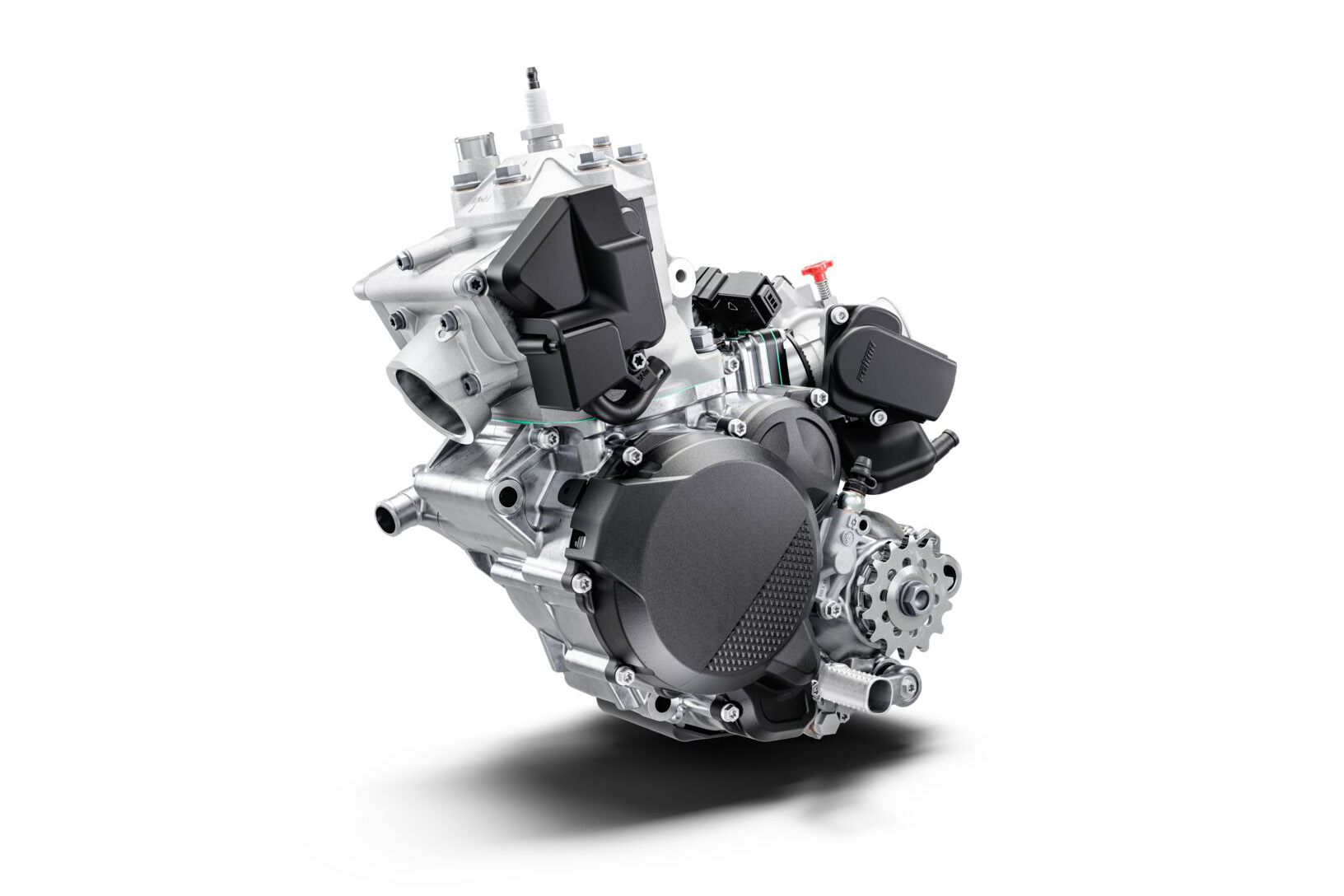 The new Keihin throttle body has dual injectors which is naturally helping with that throttle response as well and as Husky explain "idle is controlled over the throttle valve (not over a bypass system as on the TPI) with one low load injector (positioned as on four-stroke models) and one "top-feed" injector for maximum performance before the throttle valve".
So what does it amount to apart from a sweeter feeling throttle response? A "larger possible fuel air mixture operation window in comparison to TPI" Husqvarna explain with much improved idle control and engine behaviour thanks to the improved air-fuel mix.
It's hard not to trust their words as we headed into corners, dropped down hills and spend time erratically coming on and off the throttle. It's way less prone to hesitations and following our test on the KTM range at altitude a week previous, we also know the new TBI engine is less sensitive altitude, air and pressure changes. Very much what we'd been looking for.
Footnote: big bike vibes
Among the engine and chassis changes transforming the 2024 Husqvarna enduro models is a side effect. In fact it was the same one Enduro21 found on the KTM EXC launch test.
The big bikes are a bit vibey basically with noticeable footrest vibrations a consequence of the new chassis. We only noticed the effect with the 450 and 501 four-strokes and not with any other bike but it is a thing and Husqvarna say it's "something we've heard people saying".
It was enough to give the after-effects and tingling sensation in our feet for a good while after – around 30 minutes after riding the 450 for an hour.
The question is can you live with that as a rider? It's far from the end of the world and the positives of the new bikes far outweigh this single negative but who needs vibey feet?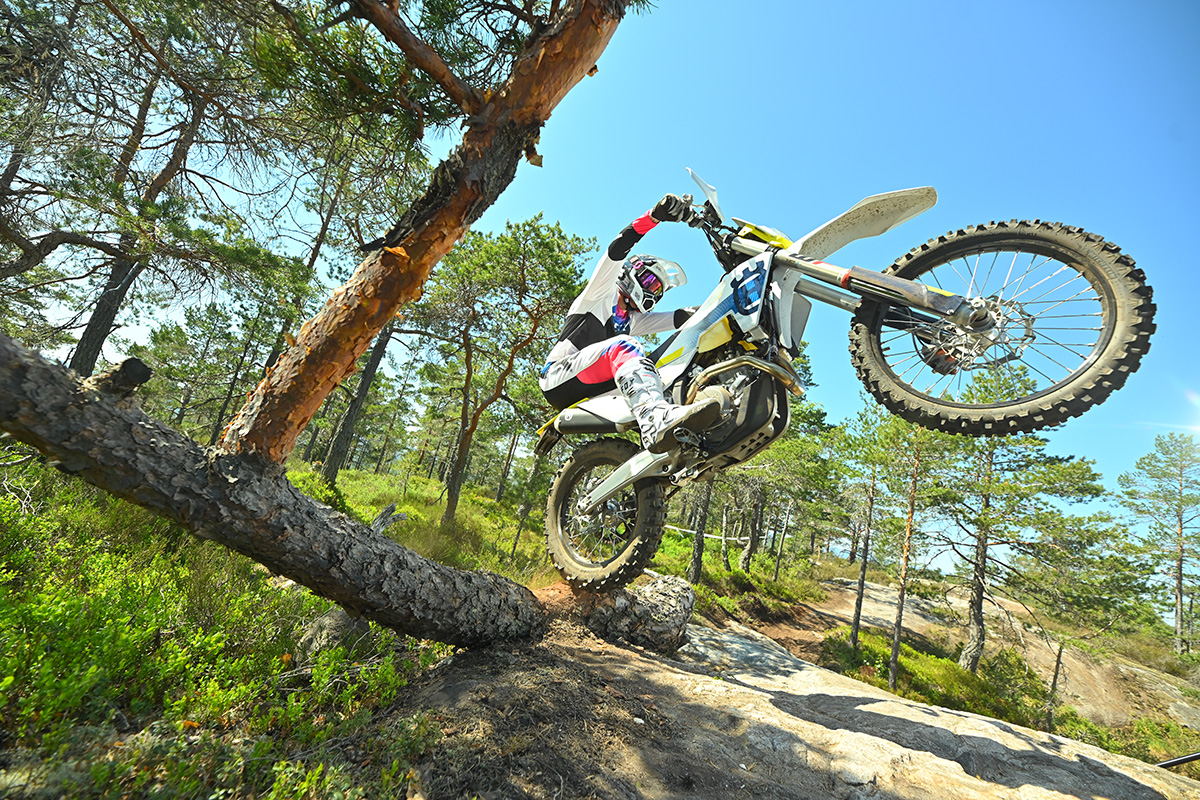 Still hung up on kickstarts? 180 kits sold globally
We get it, some people feel like they need a kickstart and could be put off buying the new Husqvarna two-strokes because they no longer have the facility to install them. Lighter engines, better by design and a long list of mechanical and electrical reliability reasons mean Husqvarna have moved on. Kickwhat? We just don't need you anymore they say.
Some riders say they do but four-strokes haven't had a kickstart option for several generations now and it seems to be just a minority of two-stroke riders feel they need one.
The facts are no-one is actually buying the kits. In the whole world they sold just 180 kickstart kits last year. Read that again, just 180. They moved on.
We put the question to the head of off-road products on the KTM launch, read what they had to say here: Putting it to the KTM man – your 2024 EXC enduro range questions answered
Braktec brakes and clutch – worth the extra money?
"It's not that there's a problem, just something isn't quite right." This is a direct quote from our notebook on the day about the new Braktec brake and clutch system on the 2024 Husqvarnas.
It's a new generation of the Braktec kit fitted to the GASGAS models in previous years, upgraded Husqvarna say, and straight up the brakes work well (despite two bikes developing weeps from their hoses where bolted to the rear master cylinders in this first day of press testing).
"Superior sensitivity and action" thanks to new pad compound, lever geometry and reduced lever offset (16mm now, was 17mm) is all true, there is more feel. But we were not quite sure they hadn't' either tamed it too much or if the Braktec is just not as good as the Brembo.
The specification is user-friendly rather than strong and they don't have the feistiest bite which some of us at least prefer.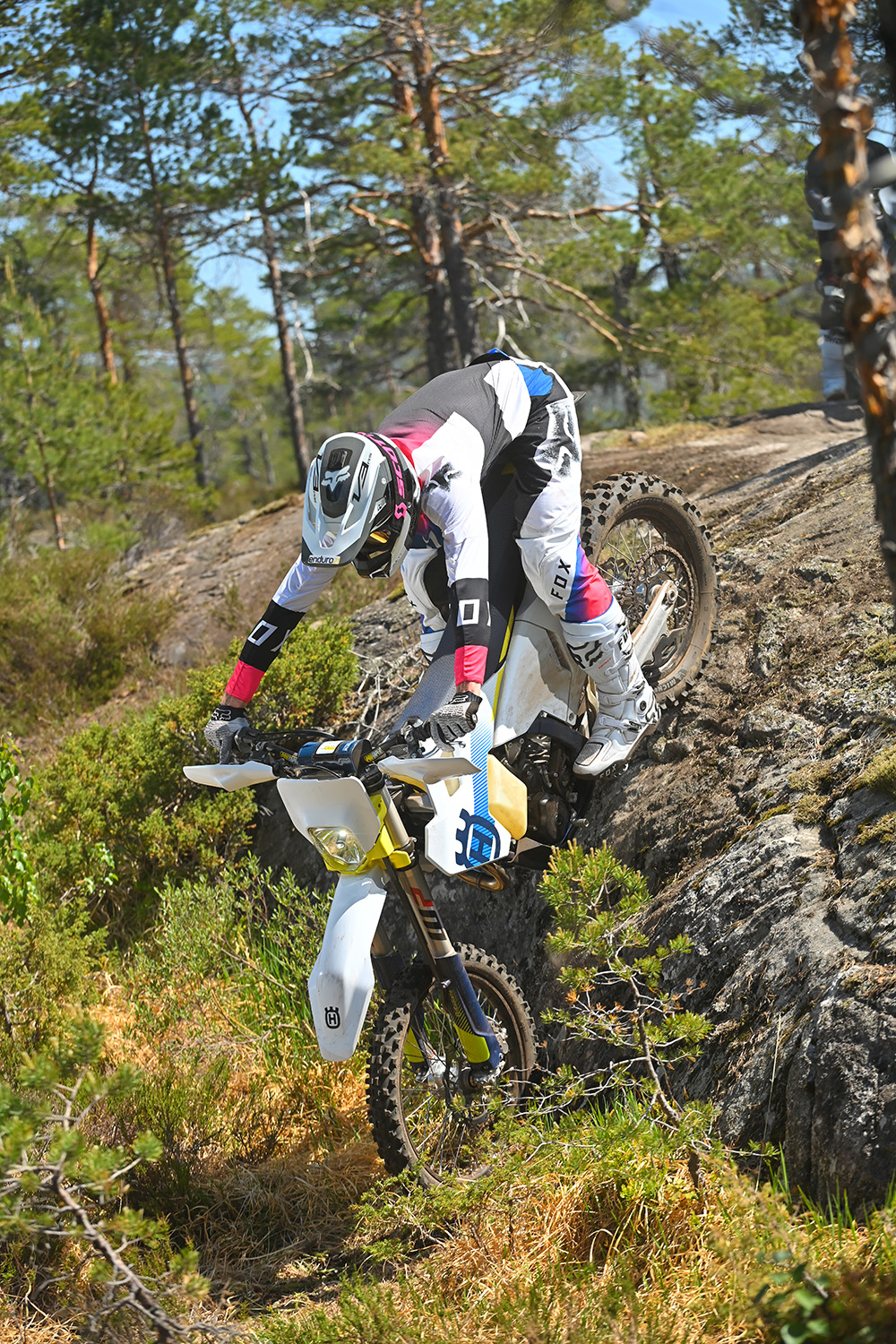 The caveat here is we had no hard and heavy braking so no great amount of heat ever built up while riding like it would in a decent enduro test. There just wasn't the chance to get them hot or in the mud and wet. It remains an unanswered question.
The hydraulic clutch meanwhile is an improvement over the previous generation. Across the different models the big bikes have weightier levers as you'd expect but overall they feel lighter and are an improvement over the Magura system.
A couple of individual bikes needed the lever adjuster tweaking during a 15-minute lap, to keep the biting point in the same place. The long loop on this test was rocky and needed a decent mount of clutch use without any excessive punishment of a clutch. Even so, needing to adjust the lever to keep the same biting point felt unnecessary.
Premium or not then?
There's another question here about Husqvarna in theory being the premium marque from the Austrian manufacturer's three "brand" line-up. If that's the case, how come KTM EXCs now get the "premium" off-road braking systems from Brembo?
Whether you like using the words 'premium' or 'brand' (we're not so keen), the bottom line is the Brembos are a bit better so why are you paying nearly a grand more for a Husqvarna?
Did KTM do a better styling job?
Hands up we love the new look Husqvarna graphics and though this aspect is subjective, we think we prefer it to the Heritage edition models which came out last year.
There are some new design tweaks to the plastics which are cool too including the fork leg gators which wraparound further, side frame protectors, better seat cover, slimmer side cowls and a decent LED headlight at last.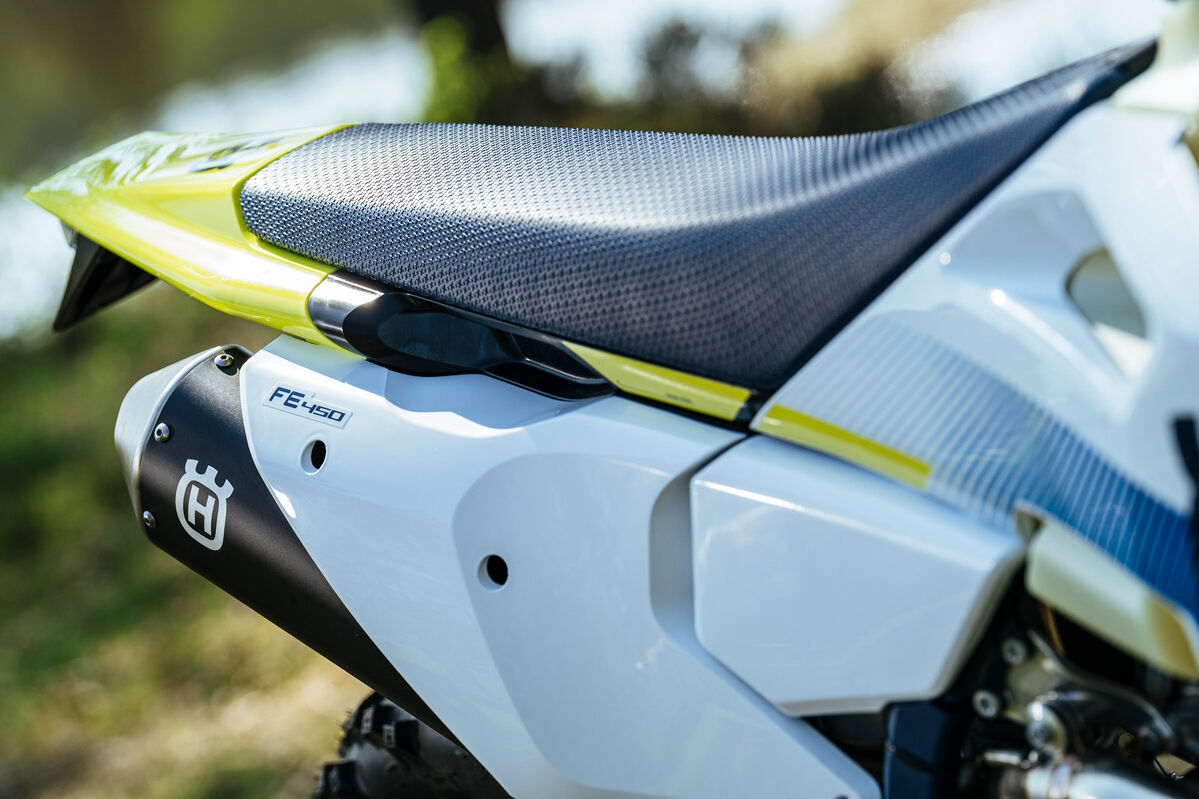 But some concessions to be different from the white arm of the Austrian manufacturer mean the area around the side panels/number boards, are still a bit quirky.
The right-side panel under the seat hides the useful rear suspension clicker adjusters (high and low speed compression plus gives access to moving the preload ring), but it attaches in an uncharacteristically clunky way. Sticking numbers on is still going to be a pain with all the panel joints and while we're at it, why no linkage guard extending out the back of the sump guard included in the price either?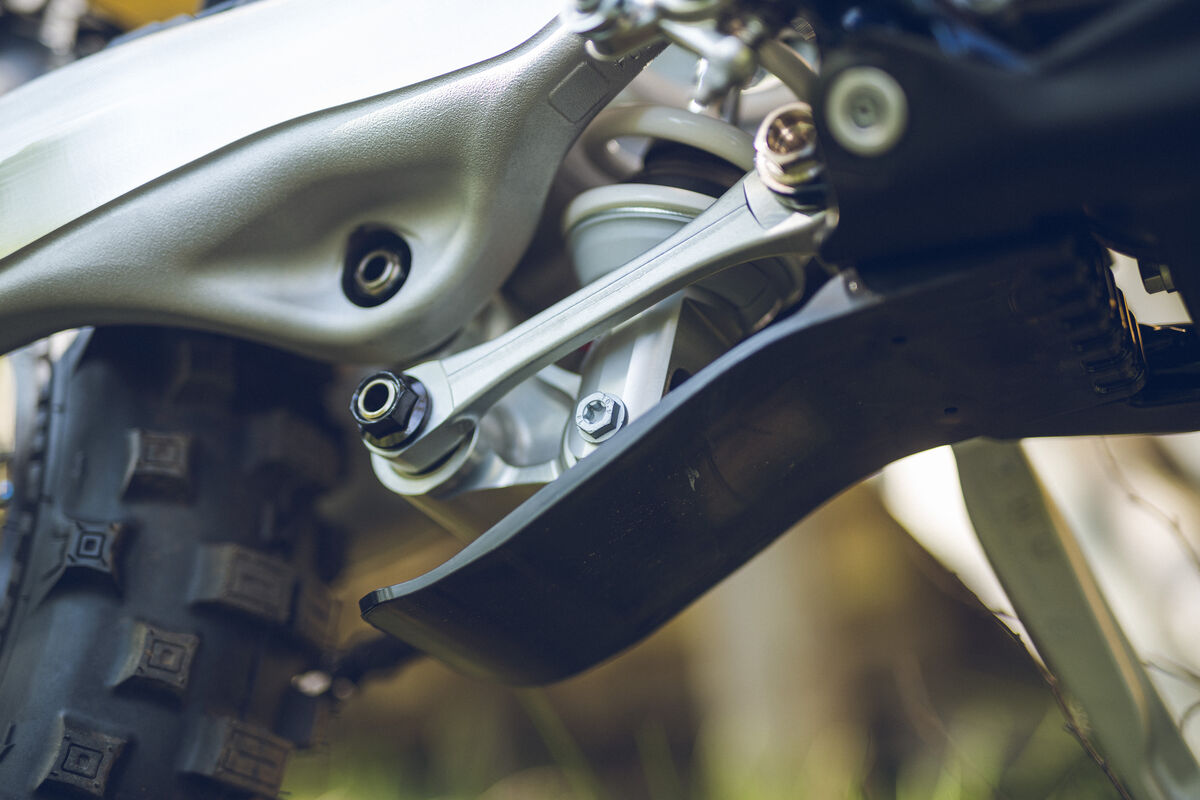 New radiators and cooling system
Almost under the radar here are some fundamental changes to the radiator design and cooling system well worth pointing out. They are practical changes you could say including a new plastic radiator cap from the SX/XC models plus a rethink about how it all works and sits within the new frame.
Cooling is improved, centre of gravity is better because of the new engine mount leading to better location for the coolant mass and they got rid of some coolant hoses. It is neater and less vulnerable. Only the four-strokes come with a fan as standard by the way.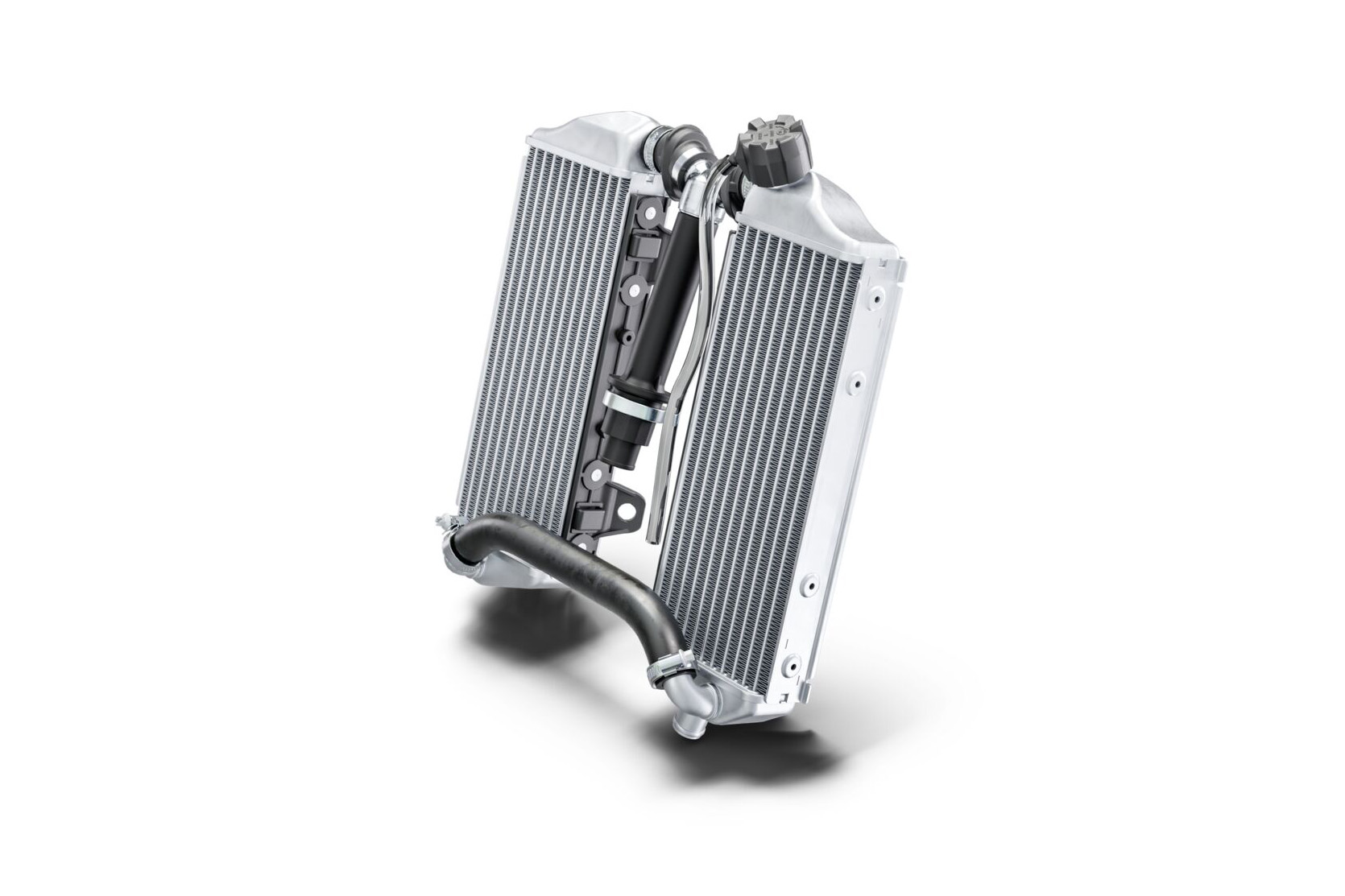 Big changes for the 2024 Husqvarna Enduro range do not disappoint. The differences are not night and day but it's a heck of a step forward and we were impressed on this first test. That expert summary from Juha Salminen just about sums it up best of all, the new bikes want to keep going forward basically where the old ones would get hung up. It means they are encouraging to ride.
There are some additional things going on with the linkage chassis compared to the PDS one the all-new KTMs – we came away feeling like the orange bikes were better. And in the end we need more time and broader range of test conditions to get to the bottom of just how good these new gen Huskys really are.
Photo Credit: Marco Campelli + Sebas Romero