First Look: 2021 Beta dual sport, four-stroke RR-S models
Beta USA have announced details and prices for the 2021 dual sport RR-S four-stroke model range available from September.
The new, 2021 Beta RR-S models revealed by Beta USA are the street legal versions of homologated bikes already released across other parts of the world including Europe. The RR-S model range includes the 350, 390, 430 and 500 four-stroke bikes – the Factory Racing RR 350 is the model Steve Holcombe is racing in the 2020 EnduroGP World Championship.
The aim with the RR-S line-up though is to step away from racing and far more in the direction of those riders out there for the fun factor and who enjoy the torquey power of these models and ease of use.
Added bonuses on the RR-S models from Beta USA, when compared to the standard RR 4T models, are a key ignition system and the Trail Tech Voyager GPS unit as standard. The indicators, additional switch gear, number plate hanger and mirrors are also available fitted as an option at point of sale from Beta dealers with all homologated models around the rest of the world.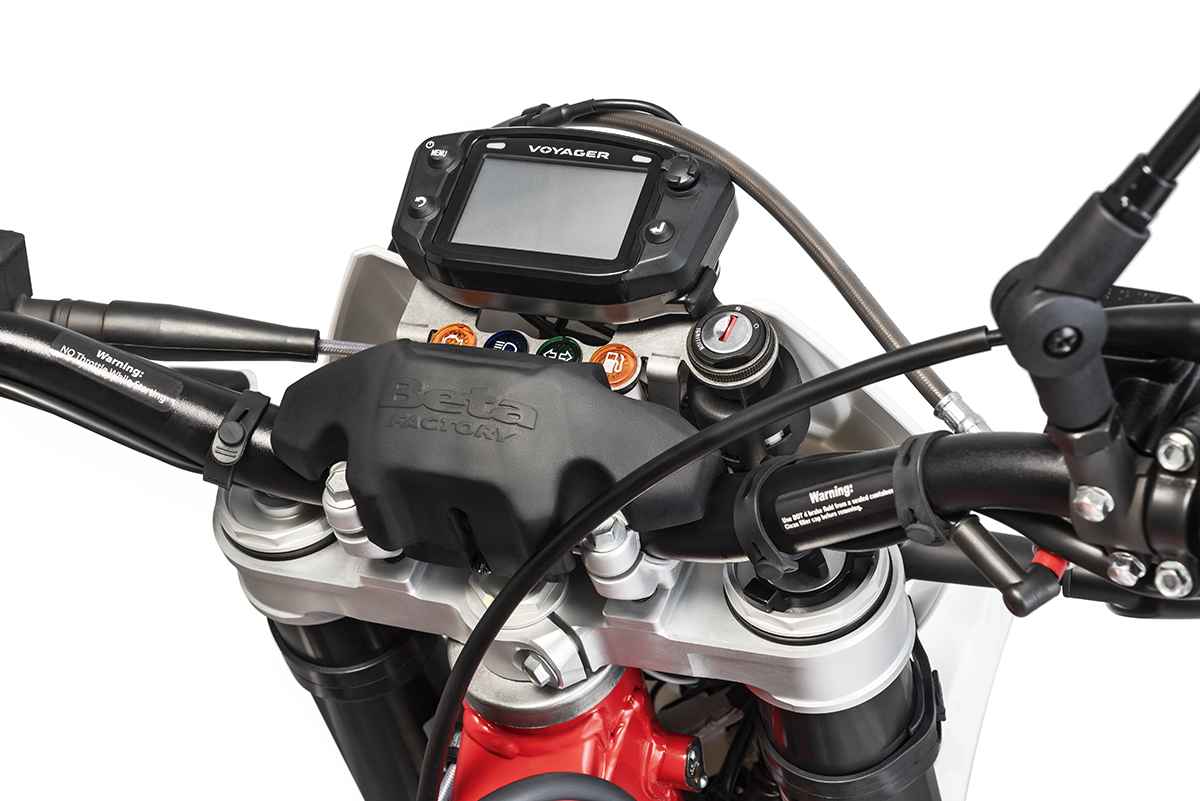 The 2021 Beta off-road range adopted an all-red colour scheme and saw development to the headstock area of the chassis for improved feel, a new seat, a more waterproof and easier to access airbox plus new suspension settings front and rear – read more about the entire 2021 Beta two and four-stroke range updates here First Look: 2021 Beta RR enduro models
2021 Beta RR-S model highlights:
Four different displacements – 350, 390, 430 and 500
Electronic Fuel Injection
Hydraulic clutch with a light clutch pull
Six-speed wide ratio transmission
Electric start with an optional kickstart available
Heavy duty plastic skid plate
Stainless steel and aluminium exhaust system
Multi-function Voyager GPS standard
Off road inspired chassis and suspension
Light weight (all models are less than 250 lbs.)
Push button seat removal and side air filter access allows toolless filter changes
Fold down mirrors for trail riding
Handguards standard
2.4 gallon translucent fuel tank
Michelin DOT-approved tires
12-month limited warranty
Availability: Beta USA say the first shipments are scheduled for late September (430 RR-S from October).
MSRP:
350 RR-S $10,599.00
390 RR-S $10,699.00
430 RR-S $10,799.00
500 RR-S $10,899.00
More information: BetaUSA.com