First look: 2022 Rieju Enduro Models
Rieju has released details of their 2022 'Hard Off-Road' Enduro model range – Enduro21 takes a closer look at the updates which focus on the newcomer-friendly Ranger model plus take a look the bigger picture for the Spanish manufacturer's bikes in the current market.
Since acquiring the 'platform' for two-stroke enduro models from the old GASGAS factory, Rieju has been building a base of customers and dealers globally for what, to many inside enduro and off-road, is a 'new' brand in the showrooms.
The bikes however more or less stayed as they were, "old GG bikes with new plastics" is the all-too common social media comment about Rieju models. Fair enough you might say and it was the same when GASGAS released their last Spanish-built bikes on which these are based. Replace GG with KTM and the comments are unchanged. What goes around, comes around.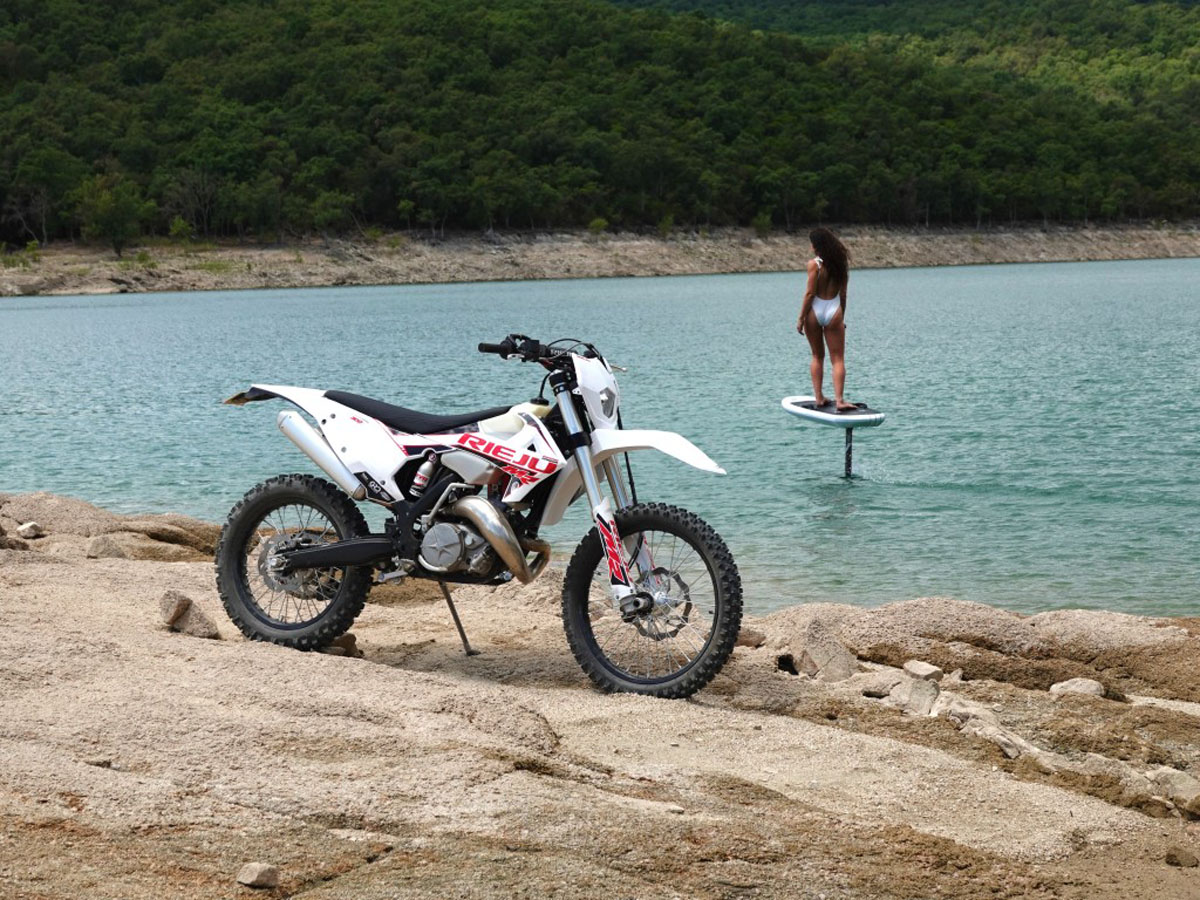 With their 2022 model range Rieju is beginning to emerge from that past and develop the bikes in their own direction, albeit still with baby steps. It's nothing major, the 250 and 300cc two-stroke engines, frames and basic chassis' are largely the same but they were good to start with. The 2022 model updates are in the details, particularly on the MR Ranger as they adapt and develop to what their new customers want.
In terms of development, Rieju have kept things local with the factory riders in Spain, Víctor Guerrero in Enduro and Eloi Salsench and Francesc Moret in Extreme are contributing to the R&D process.
It's worth also making the point that manufacturers across the board are each bringing fewer significant changes with each model year these days. Bikes are arguably at a point where they are as good as they will ever get. That includes the KTM Group whose two-strokes have not changed again in 2022 – although another big engine change is expected in 2023 for the fuel injected models.
Only the prices change significantly it seems these days and in that regard Rieju's new bikes are worth a look and not least becasue of the quality components fitted to the Racing and Pro models.
2022 MR Ranger model updates
The 2022 Rieju MR Ranger continue to come in 200cc and 300cc versions and remain the "soft enduro" option which is increasingly popular for trail riders and newcomers. "Ideal for getting started in enduro or going out without pretensions" Rieju say, especially if you're not a race head.
For 2022 Rieju say the Rangers' main differences from the previous models are a lower still seat height, a more docile engine and softer suspension setting. At the time of writing the engine changes are not clear but we think it is adjusted mapping for a smoother power delivery.
A 20mm lower seat will help some riders feel more comfortable and confident but the major difference here is an adjustable suspension linkage arm. The main connecting arm has a cam with seven different positions to set ride height, either lower or higher through a range of 38mm.
Seat height is now at 903mm standard (it is 950mm on the MR Racing and Pro models) and along with a further softening of the suspension (it was always softer by comparison to the Racing models), it promises to become even more of the any rider kinda bike it was developed to be.
Get on it, go for a weekend ride with your mates, it's that kind of a bike and at a good price (around $8000/£7000, in Spain that drops to €7300 RRP on 2021 bikes – no prices on 2022 bikes are currently available).
2022 MR Ranger technical highlights:
New kickstarter
Centrifugal exhaust
New graphics
Lowered seat (-20mm)
Adjustable rear linkage (+7mm/-31mm)
Front axle inner screw
Side stand screw
Cylinder head braces
New ignition map
2022 MR Racing
Less has changed with the Rieju MR Racing and higher-specification MR Pro (below). By comparison to the Ranger, the Racing is naturally the focused enduro bike and as such the standard model.
It is ready to go in enduro and that has always been the point: it is a good standard bike with quality components including the KYB suspension units front and rear. The 2022 range remains 250cc and 300cc two-strokes and again, they trade on the value for money compared to other comparable two-strokes.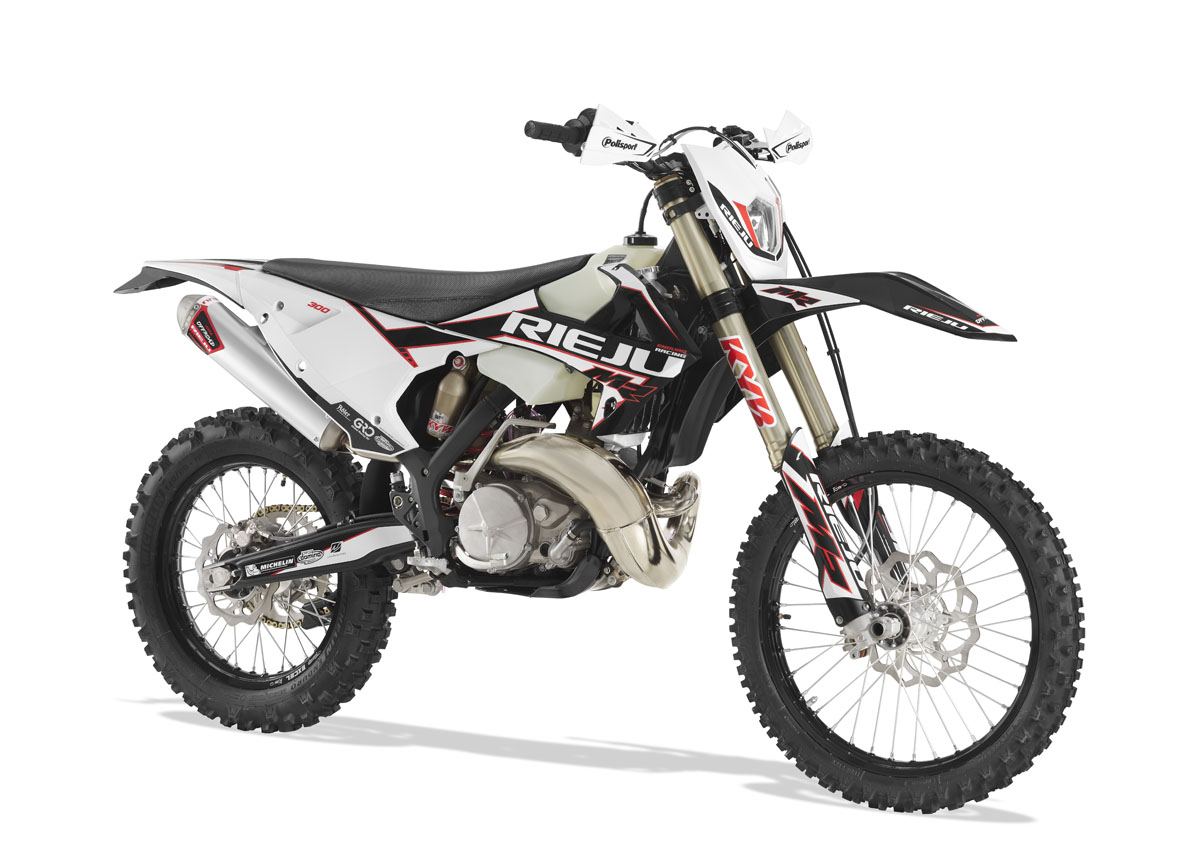 2022 MR Racing technical highlights:
New kickstarter
New silencer
New cylinder head braces
Centrifugal exhaust
New graphics
Carburation set up kit
New footrest set
New side stand screw
2022 Rieju MR Pro
"Loaded" is how one dealer friendly to Enduro21 puts the MR Pro. As in, like the Racing model but loaded with extras. Ready to race you might say with Renthal Twin wall bars, X-Trig triple clamps, S3 Parts footpegs, a fan as standard, engine mapping switch, Goldspeed heavy duty rims, Michelin Enduro tyres – it's a good list.
A tweaked engine map is one change for 2022 along with the carb kit (also on the Racing model) which is handy depending on where you ride and at what altitude. We're liking the black colours too.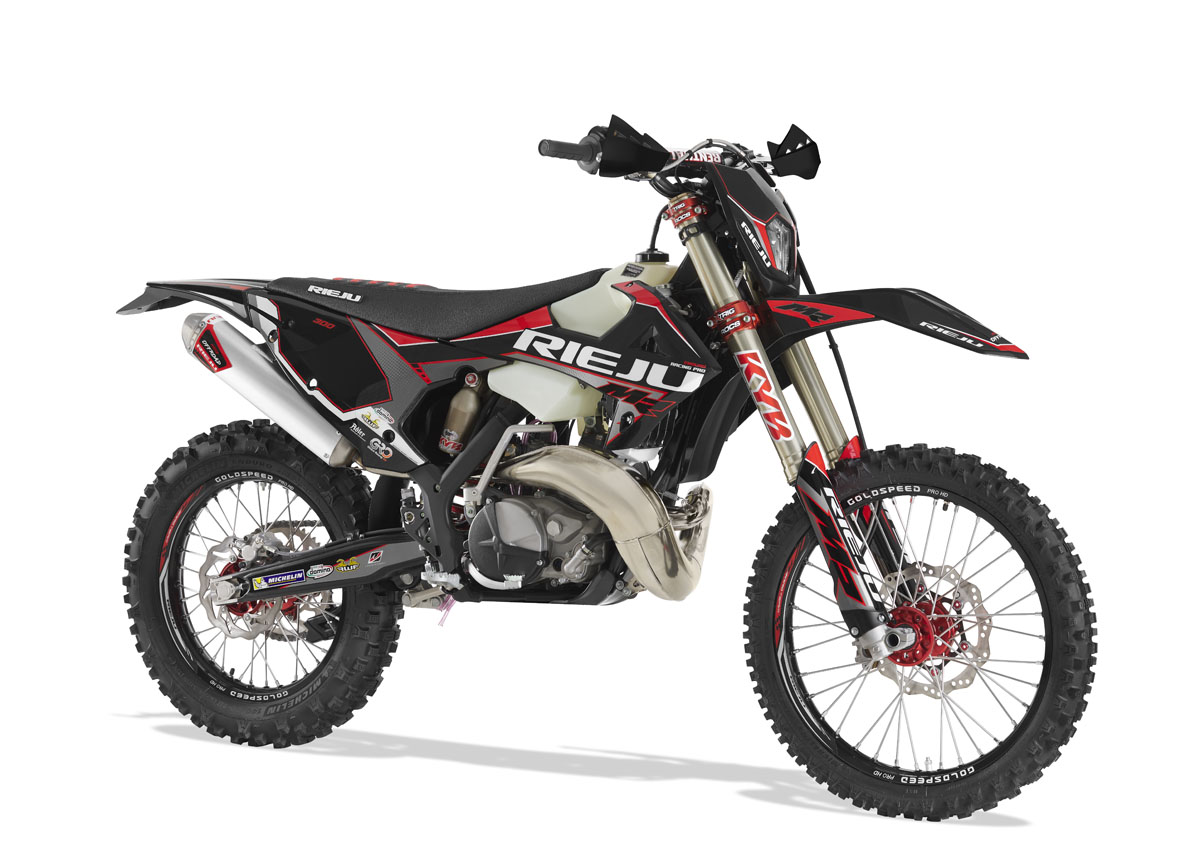 2022 MR Pro technical highlights:
New cylinder head braces
Oil cooled starter
New ignition map
New graphics
New gear shift lever
New S3 Parts footrest set
Carburation set up kit
New front axle inner screw
New side stand screw
Rieju MR Pro full technical specifications:
Engine
2T single-cylinder, liquid cooled
Displacement 299,3 cc/249,5cc
Bore x stroke 72 x 72 mm
Kickstarter (new lever) and electric oil bath
Radiator + Electrical Fan
Digital CDI ignition - Euro5
Dry and wet mapping options
Six-speed gearbox
Multidisc in oil bath clutch with Magura clutch pump
Keihin PWK 38
Direct reed valve VForce 4 intake
Tecnigas Exhaust muffler
Chassis
Central spine in Chromium Molybdenum Steel
Aluminum subframe and swingarm
Forks KYB 48 mm, AOS System, Closed Cartridge Anti-Friction Treatment DLC
Shock absorber with gas tank KYB
Twin wall Renthal 997 handlebars, Renthal Grips
Bodywork Unbreakable plastic
Wheels GOLDSPEED PRO HD rims, 21 - 90/90 (front), 18 - 140/80 (rear) Michelin Enduro Medium tyres
Brakes Nissin Clamp & Pump Assembly, Floating Disc NG 260 mm (front) 220 mm (rear)
Wheelbase 1.480 mm
Fuel 9,8 L
Dry weight 105 kg
Seat height 950 mm
More information: www.rieju.es/en/hard-off-road