First look: GASGAS RX 450F Rally Replica
Fancy a Sunderland replica? GASGAS have announced the RX 450F Replica, the limited-edition rally bike available to buy and just a step away from the factory race bikes which took Sam Sunderland to the 2022 Dakar victory.
GASGAS say they've been planning a replica RX 450F since Sam Sunderland historic 2022 Dakar Rally win back in January. "Way more than just an imitation model", the RX450F Replica is a hand-built replica using most of the same components found on Sam and team-mate Daniel Sanders' factory race bikes.
The aim, as with the KTM rally replica 450 bikes which are so popular as privateer machines for rally riders around the world, is to provide a ready to race bike straight out of the showroom.
And they are, a huge number of teams and privateer riders are using the base KTM Group bikes at major events, even stepping well-inside the top 10 at Dakar – fit for purpose was never more accurate a description.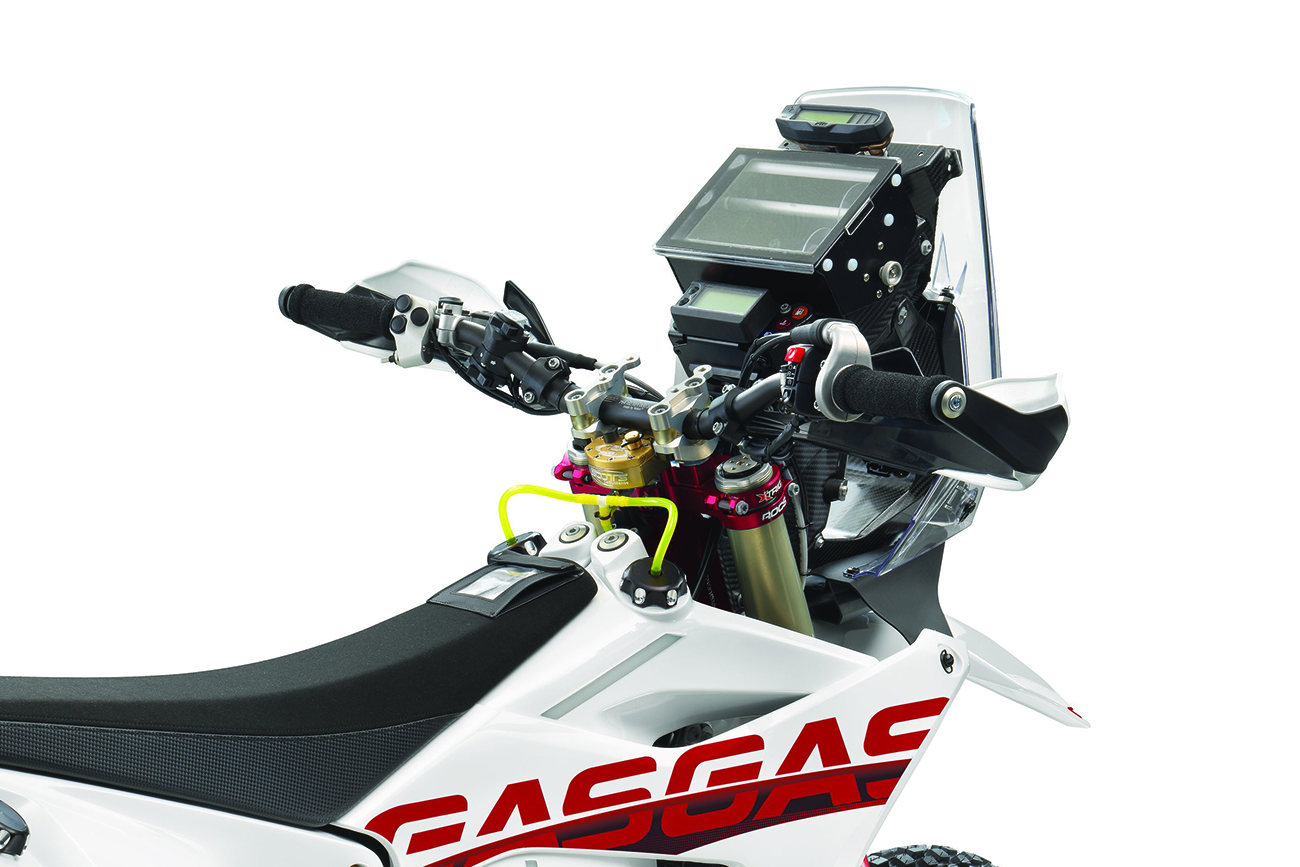 So if you want a GASGAS version then get in touch with your local dealer, and quickly we'd suggest because these things sell out pretty fast. One odd thing of note is GASGAS have chosen to put the bike in their "travel" segment of their bike range. We suppose technically Rally is a sport which does a lot of travelling but the RX 450F stand alongside the Adventure bikes or competition machines? Or are they building a new range of travel bikes and will stretch out in to Adv bikes soon as well?
GASGAS say the RX 450F needs nothing to go racing, the replica bike is assembled by hand with a long list of race developed and proven rally-specific parts.
Technical highlights:
Carbon fibre navigation tower + electronic operating system/bar switches
WP XPLOR PRO 7548 front fork
WP XPLOR PRO 7750 rear shock
Red anodized X-TRIG triple clamps
Steering damper
Red Supersprox Stealth rear sprocket
Neken bars
Akrapovic exhaust
Oversize Brembo brakes
GASGAS branded Hinson clutch cover
Continental TKC 80 tires
Black anodized EXCEL rims
Optional sticker kit
Based on the MC 450F and EC 450 F motocross and enduro models, the engine is tuned differently for "usable power tailored specifically for rally racing".
Inside, the motor has a strengthened clutch and gearbox, a reworked SOHC cylinder head, as well as a Pankl con-rod and piston.
The chassis comes equipped with the WP XPLOR PRO 7548 front forks and XPLOR PRO 7750 rear shock rally suspension – again, a well-proven product fit-for-purpose.
Additional components fitted as standard include X-TRIG triple clamps, oversize Brembo brakes, Akrapovic exhaust, Continental TKC 80 rally tyres, Supersprox Stealth sprocket, Neken handlebars, and a GASGAS branded Hinson Clutch cover. There's also an optional sticker kit with each bike.
The GASGAS RX 450F is available through dealers worldwide in limited numbers and availability may vary depending on your country.
More information including pricing: www.gasgas.com
Photo Credit: GASGAS + Rally Zone