Pro bike focus: Cody Webb's Hard Enduro Handlebar set-up
You asked, we found the answers from the man himself, Cody Webb, who explains his personal handlebar set-up for Hard Enduro on his Sherco SE 300 Factory two-stroke.
After Enduro21 ran a 'Pro Bike' feature on Cody Webb's FactoryONE/Sherco USA SE 300 Factory a couple of weeks back, we had some questions back from readers with sharp eyes who wanted to know more.
People were interested in Cody's cockpit area, his handlebar set-up, specifically what parts he was using and what some of the bling was and what those wires were all about. Who better to ask then than Cody himself who ran us through his personal preferences...
XC Gear's Mako360
Let's start with the bling part here, the bar clamps or handlebar mounts are from XC Gear and the Mako360 model.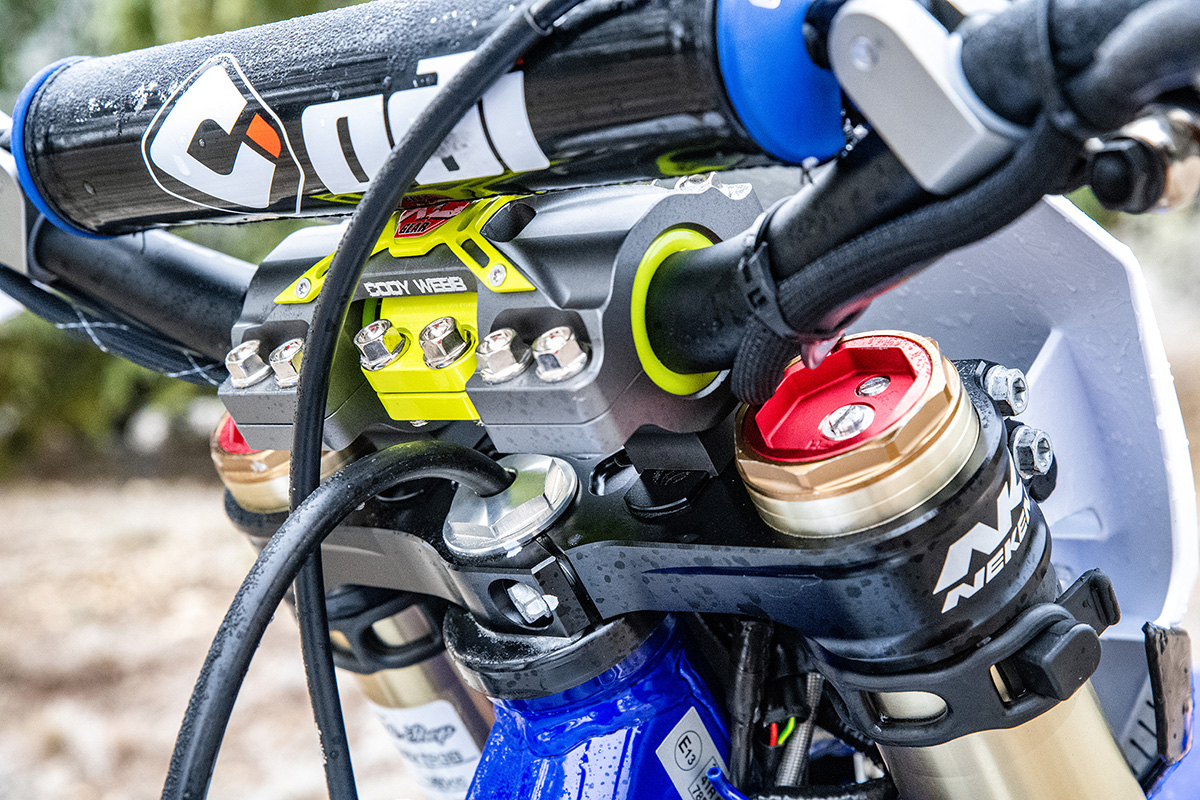 Apart from looking pretty awesome being colour-matched and with Cody's name cut into it, the Mako360 has a practical reason for being fitted. "It helps with vibration and absorbing hard hits." Explains Webb. "Basically, it has a little bit of give and helps with my worn-out joints in my wrists. I've been riding long enough now for that to matter!"
Cody has bolted the Mako360 onto his Neken Factory triple clamps for a while now on both this 300cc two-stroke extreme enduro bike and the four-stroke 300 he ran in EnduroCross last year.
Simply put the Mako360 system has a tough silicone 'cushion' ring between the clamp and handlebar. That softer barrier provides just enough give in it to smooth the edges off hard hits from rocks, logs, jumps or basically whenever harsh shocks travel up to the bars. They're solid but they give the rider's hands and wrists an easier time of it.
We've had a one on test for a while at Enduro21 and can back up the benefits Cody talks about. That "give" is not a lot at all but makes an appreciable difference.
That throttle housing
"The throttle is a full billet piece that is way stronger than stock." Cody explains. "We actually buy those and use them on all my race bikes." As such it is not a team sponsor and because Cody buys it himself doesn't want to push the brand name. "It's just strong and reliable." He adds.
Getting kinda switchy
Cody runs the two switches on the bars, a kill switch and starter button right where his thumbs can reach them quickly. Having the starter button on the right alongside the throttle makes it easier to hold the clutch when you stall and leaves the left hand free to pull the clutch lever.
Webb and the Sherco team, like many Pro teams, are also known to run a second starter button by the side panel as a back-up in case the bar button gets smashed.
ARC levers
The ARC levers on the Sherco USA team bikes have a neat adjuster to make changing the biting point (or span) of either clutch or front brake easy plus they flex forwards to help avoid breakages when you drop it in the rocks. ARC have a range of fitments depending on your bike and master cylinder type.
ODI bars and grips
"I run a little bit taller bar bend than the standard ODI bars on the Sherco," explains Cody, who has previously talked about the stock bars being a little low and flat for his tall height. "I'm taller than the average rider and they're more comfortable." He adds. The ODI bars Cody uses "are kind of a middle ground" with a little more sweep to them which he says he finds more comfortable.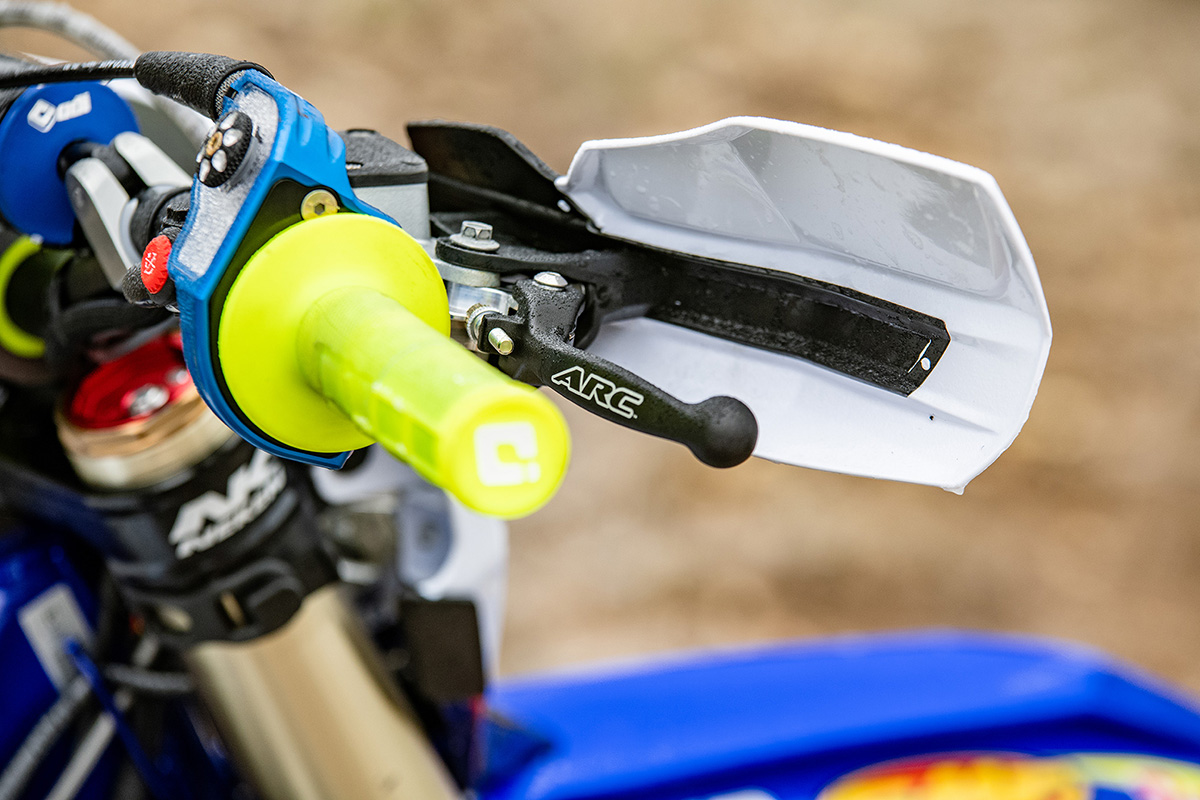 What about those grips? "Actually, I prefer the white ODI grips because they're a lot softer, but the flo/yellow set look too good to not use!" Says Cody of his half-waffle grips – fair enough, they do look pretty sweet.
Heated grips?!
Wait, what's that wire running out the grips and along the underside of the bars? Yup, Cody has heated grips.
It's not normal fitment but who could blame him in the freezing conditions at the Sherco USA team's test session at The Hidden Falls Adventure Park. (Zoom in on the images and you can see the frost). They're the type which wrap under the grips and are not a permanent feature.
Photo Credit: WinPic Photo