Pro bikes: Jaume Betriu's KTM 500 EXC-F
'Big mama' 500 four-strokes are not a common sight in the EnduroGP paddock but Jaume Betriu's 'impromptu' return to Enduro this season sees the man and machine chasing the E3 World Championship title. Enduro21 takes a closer look at the mighty WP Eric Augé Team's KTM 500 EXC-F.
If at the beginning of August 2020 someone had told Jaume Betriu he would be in contention for the E3 World Championship he might have laughed in their face. But having scored three second places and one third place, and being only 14 points behind leader Brad Freeman, that is exactly where the rider from Coll de Nargó in Spain stands with just two GPs remaining.
More surprisingly perhaps is the fact Betriu is doing it on a big KTM 500 EXC-F, a bike which is just about the rarest in the EnduroGP paddock.
Jaume is used to big bikes these days having switched from Enduro to Rally last season and immediately making his mark with a 13th place and best rookie finish at the 2020 Dakar Rally – no mean achievement.
But when the 2020 Rally calendar fell apart due to Covid, jumping back into GPs with WP Eric Augé Team alongside Junior riders (Nicolas Kutulas, Mateo de Gavardo, Adrià Sanchez, Martí Escofet as well as Marc Sans) was the best option for Jaume to keep in shape and stay sharp ahead of Dakar 2021.
Enduro21 headed to the team's base in Oliana, Spain to learn more a motorcycle that has been quite a revelation in the 2020 EnduroGP paddock, the mighty KTM 500 EXC-F that both Betriu and his teammate Sans affectionately dub the 'big mama'…
Taming the beast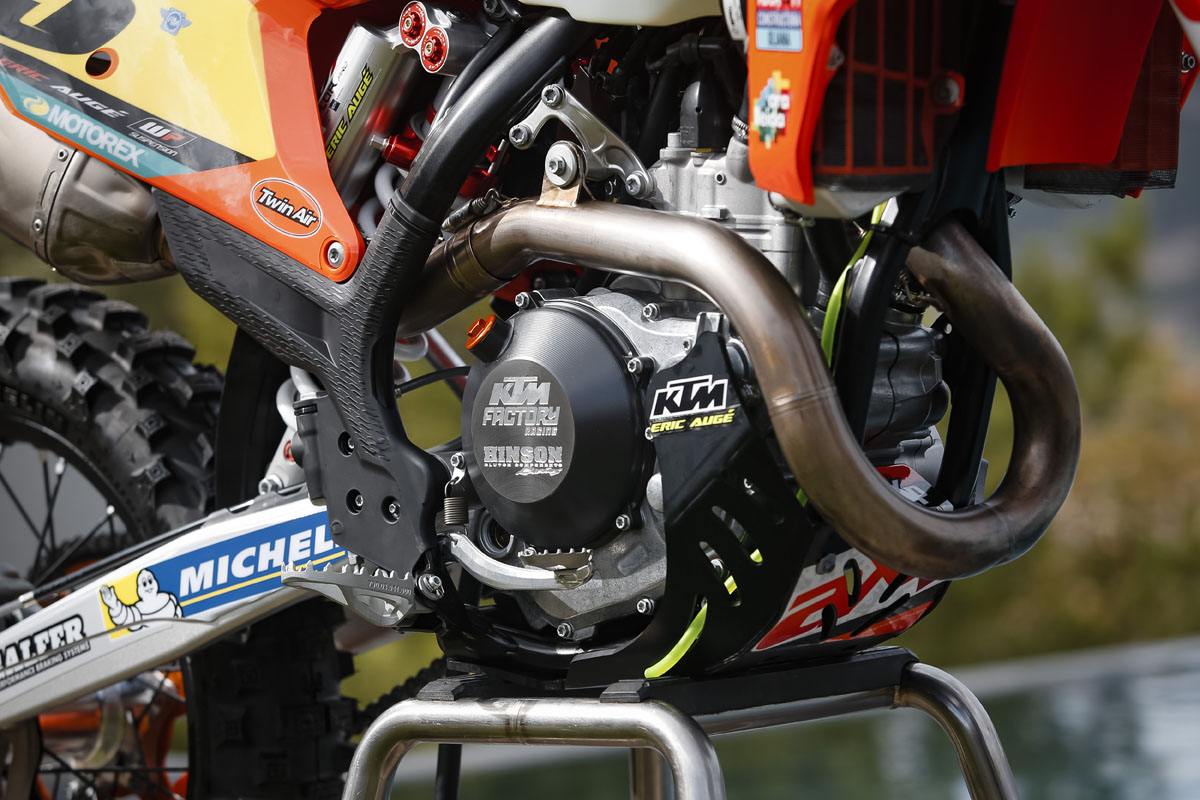 Throughout his career, first in Motocross and then in Enduro, 33-year-old Jaume Betriu has worked his way through all the categories racing 250, 350, 450 and now 500cc four-strokes, and even a 300 two-stroke in E3 as well just three seasons ago.
The 500 seemed the natural option for a rider aiming again for the Dakar Rally in 2021, even though the choice of training ground – the Enduro World Championship – might not be so usual. "This is a bike that you have to treat gently, because braking sharply and opening the throttle like crazy, it just ends up destroying you." Betriu reveals.
"No matter how tame the set-up, it packs a lot of power and riding can be very tiring. Although with it, in many areas I feel more aggressive than ever, even more than before with the 350. In long sections, in third and fourth gears, it really pulls and is sharp although it is also true you have to anticipate more," explains Jaume.
"It is the standard engine of the KTM 500 EXC-F, like the 450 but with the longer stroke." Begins Eric Augé. "We use a GET control unit to give it a smoother map which lengthens the power curve up a bit, otherwise this bike is too sharp," adds Eric.
"And then there is the issue of traction control, which is a super important section on this bike, because when things get bad because of the mud, the system works exceptionally well.
"When the control unit detects that the engine spins abruptly, it calms the power. It works very well. And it can also be activated and deactivated on the go through a simple switch located on the left side of the handlebar."
A 'magical' power control and map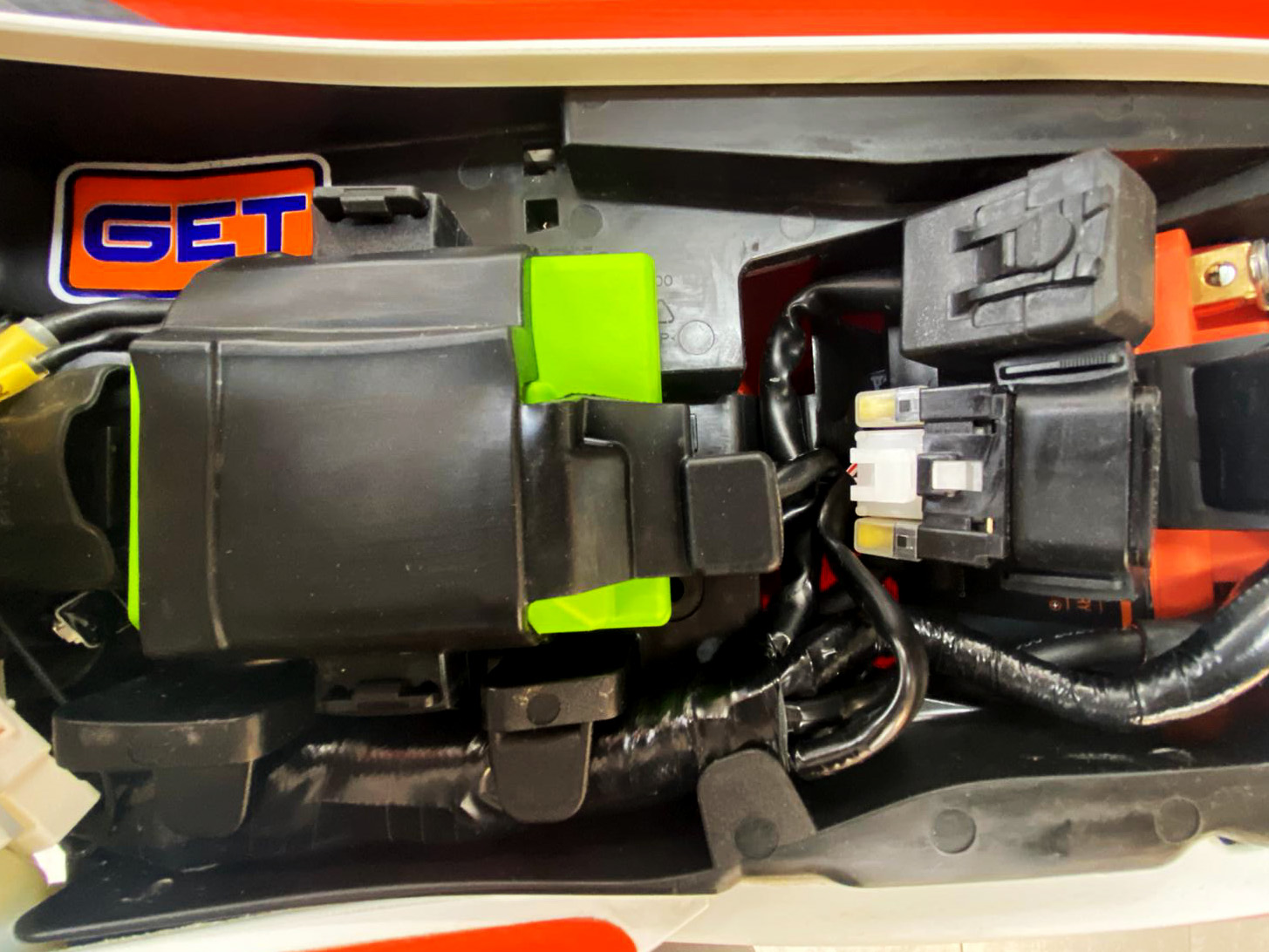 "I usually always use the first, standard setting with a smoother power delivery." Says Betriu. "The second is much more aggressive and I only use it for cross tests on soft terrain, where you need extra power."
"There is also the 'power control' which works as if it were a traction control by noticing any sudden rise in revs and the wheel speed and reduces the power a bit," Jaume says of a system that seems to have the team and rider wowed by its level of performance.
Longer gearing, smoother riding
Jaume relies on the six-speed standard EXC gearbox that comes standard but, "with a longer spread that allows me to be smoother," he tells us. The power of this bike, like a good 500, is more than enough already and in this area the team has concentrated the most efforts to achieve a "softer and more docile" delivery, according to Betriu himself.
"As a rider I like a bike with the gears a bit long," he adds, "with low power, but where I can drag the whole gear and not keep shifting. I use a longer final drive of 14-52 chain ratio, the longest possible, to also gain stability [through a longer wheelbase]."
Like so many other teams in the World Championship, the WP Eric Augé team also relies on the performance and strength offered by Hinson's high-quality clutch covers and clutches, "with special springs and increased oil capacity," Eric points out and adds that they use a 9mm clutch pump instead of the standard 6mm.
"We have also changed the original manifolds and muffler to a new Akrapovic system, to smooth delivery and reduce weight," says Eric.
Motocross cooling system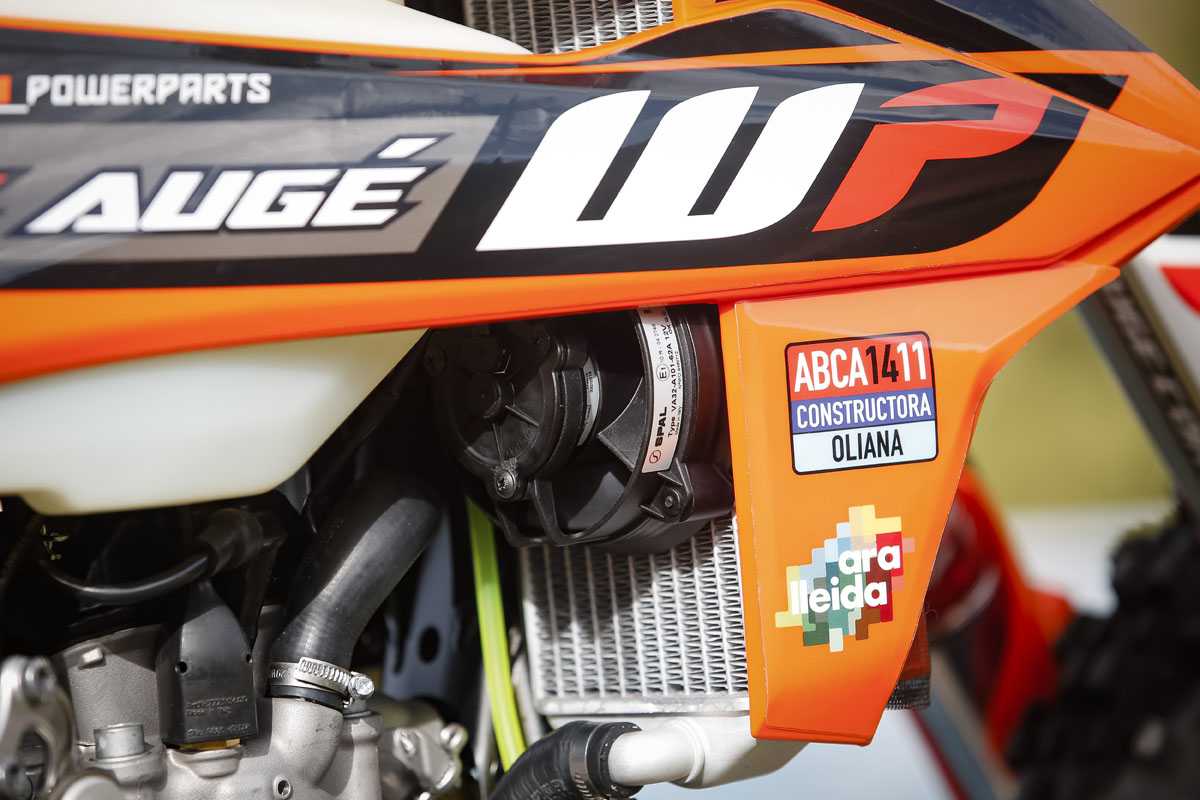 The cooling system on this 500 EXC-F has been simplified with the installation of the motocross model parts which means it does not have a thermostat only an electric fan, that comes as standard on the 500, connected directly to the control unit through a relay which activates the fan when it passes certain degrees.
The team also makes a more secure adjustment to the radiator covers and protectors. Where normally you don't need tools to remove the protector they make it so you need to loosen four screws to access the radiators, "we put in mesh to avoid having to disassemble the cover." Eric reveals.
Suspension masters
Visiting Eric Augé's facilities in Oliana is always a pleasure. For those who do not know, Eric was Isidre Esteve's mechanic and trusted person in his time as an official KTM rider in the Dakar, and is currently an international distributor and official importer for WP in Spain. A true 'guru' you might say as well as an important asset within the brand for the development and tuning of its suspensions.
A tour of their facilities shows expertise ranging from Moto2 or Moto3 bikes through Dakar, MXGP and EnduroGP. Talking to a suspension master like this is a real privilege.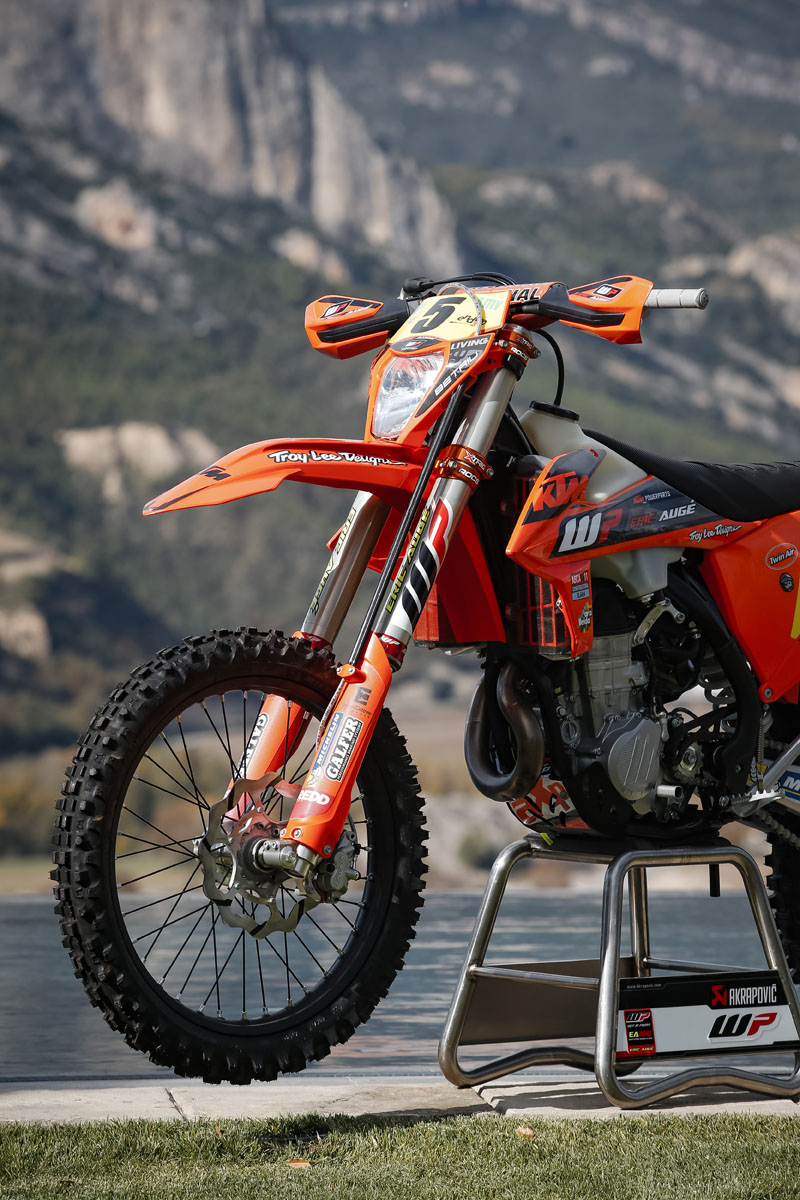 The front suspension in Betriu's KTM is the new XPLOR PRO 8946 PDS SUPERTRAX, "a fork with the new cone valve system inside it," says Eric. "Jaume uses a much harder setting than a normal rider could use on any given Sunday. Each rider has his own of course, and although there are not great differences between them, they always have their peculiarities." He adds.
"Jaume likes the suspension quite rigid, it could be said that we practically mounted motocross settings..." says Eric while, from the background, you can hear Jaume qualify, "so they don't sink too much!"
WP XPlor Pro 8946 shock, a leap in traction
"We've been using WP's new PDS shock, the Xplor Pro Supertrax, for a while now and it has some tough settings like the fork," says Eric. "Everything improves with this shock really. They are totally different shock absorbers compared to the previous one. The Trax system has four or five springs lower. It is a system that goes inside the stem and a needle above the rebound needle, that needle has a spring inside that can be tightened or loosened, and that makes the wheel return more or less quickly to touch the ground," explains Eric trying not to lose us in the details.
In fact the WP technicians and pilots - including Jaume Betriu - were collecting data and testing through the Catalan Pyrenees during its development stages.
"It has double rebound control, before it only had one, the normal rebound," Eric continues, "but this system uses the Supertrax, where can you regulate how fast you want the wheel to return to the ground," adds the WP technician.
"The suspension is one of the most important elements on this bike, especially after having incorporated the new Xplor shock absorber, which gives the bike much more confidence on rougher tracks. When you open throttle to get out of a bumpy rut, you feel its traction, always pushing forward. Before the bike danced a bit, now it goes straight," says Betriu.
The KTM Spain rider explains he like the balance to be set-up well, "it shouldn't be soft at the front, that's why I like hard forks in the final part of the stroke, to withstand the inertia of the bike.
"I like to have a lot of feel in front and especially behind, it is the part that has changed the most with this new shock absorber which provides a lot of confidence in fast areas. This is a bike that has a lot of strength, a lot of speed and with which I really feel very comfortable."
Balancing the elements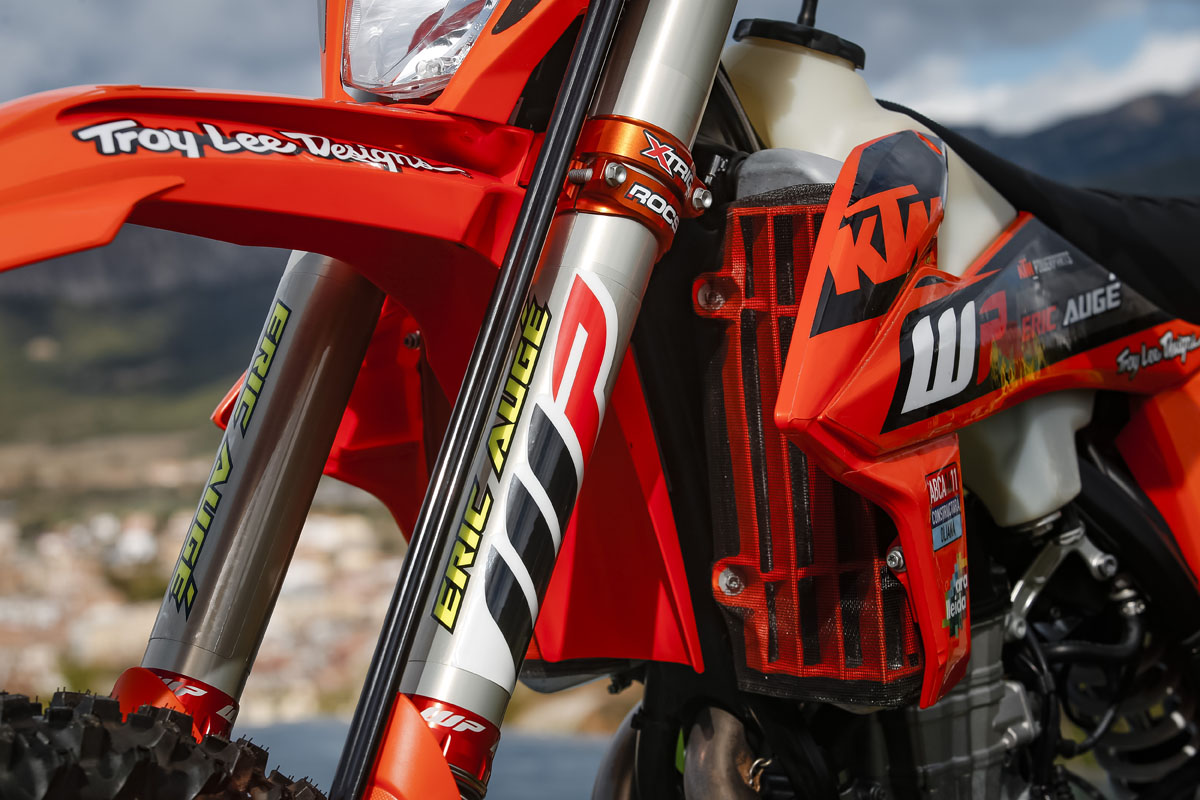 The search for a balance between power, stability and inertia does not only depend on the suspension though. "Despite it being a 500, I honestly find it a very agile bike," says Jaume, pointing to the transparent Factory motocross fuel tank, which despite having a litre less, makes it much narrower to ride.
Eric continues to detail the "sweets" across the bike including the XTrig triple clamps, "lighter than standard," and switch to thicker bar clamps for added strength.
The team also mount the handlebars on the PHDS system although they add some red silicon blocks to absorb any vibration and be a little more forgiving for the rider in terms of shocks reaching the Renthal 999 handlebars – all parts are available in the' Power Parts catalogue from KTM.
Similarly the Sella della Valle seat is a power parts option plus they fit Ariete "soft and smooth" grips out of preference.
"I almost always ride in third and fourth gears, leaving second only for the most technical tests" – Jaume Betriu
Focus on the details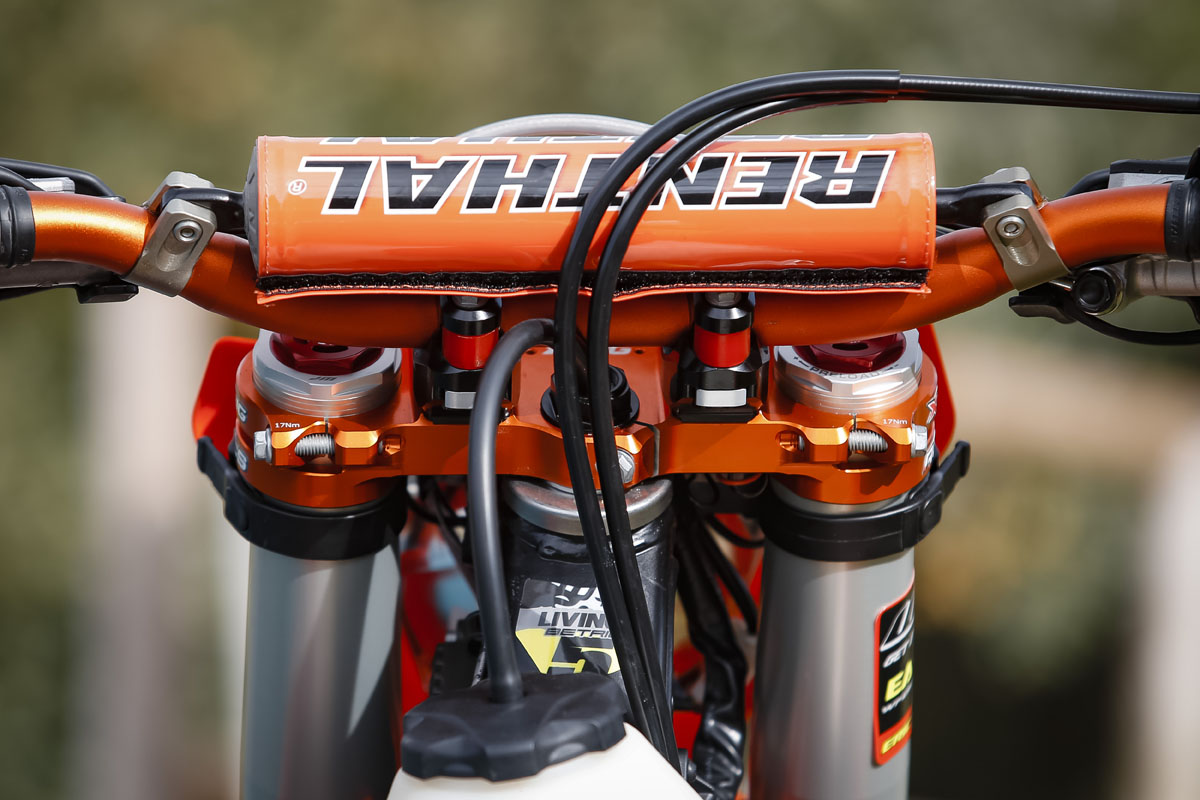 The electrical installation has been simplified and it only has a stop and start button with simple connector to turn the lights on or off which is a common modification in competition motorcycles to get rid of the bulky standard switch cluster. The team also run a different battery, a "smaller and with more amperage, higher quality" battery from GET
"We fit an AXP skid plate," continues Eric moving across the bike. "We've been using it for years, it's thick, light and we've never had any problems with them. We tried some carbon ones, but they break at the slightest blow and are worth twice as much, and we didn't use the aluminum ones because they vibrate, loosen and make a lot of noise." He adds.
Looking at the details we notice the rear brake lever 'toe' is from motocross bike and as such is wider and sits lower than the enduro part. They also change to the standard, plain orange plastics with decals from 'Livingthisbikelife' products which removes the new grey rear panel on the 2021 models.
Galfer brake and Michelin tyre combination
Eric continues down to the 260mmm Galfer which is the standard measurement but, "more rigid, not floating." The rear Galfer brake disc is, "4mm thicker and really strong, that never breaks and when there is mud the performance is the same."
The 52 tooth rear sprocket is also a stronger product from the KTM 'Power Parts' catalogue with the stronger teeth and similarly the TMD Factory Edition 2 chain guide which he says is "practically unbreakable."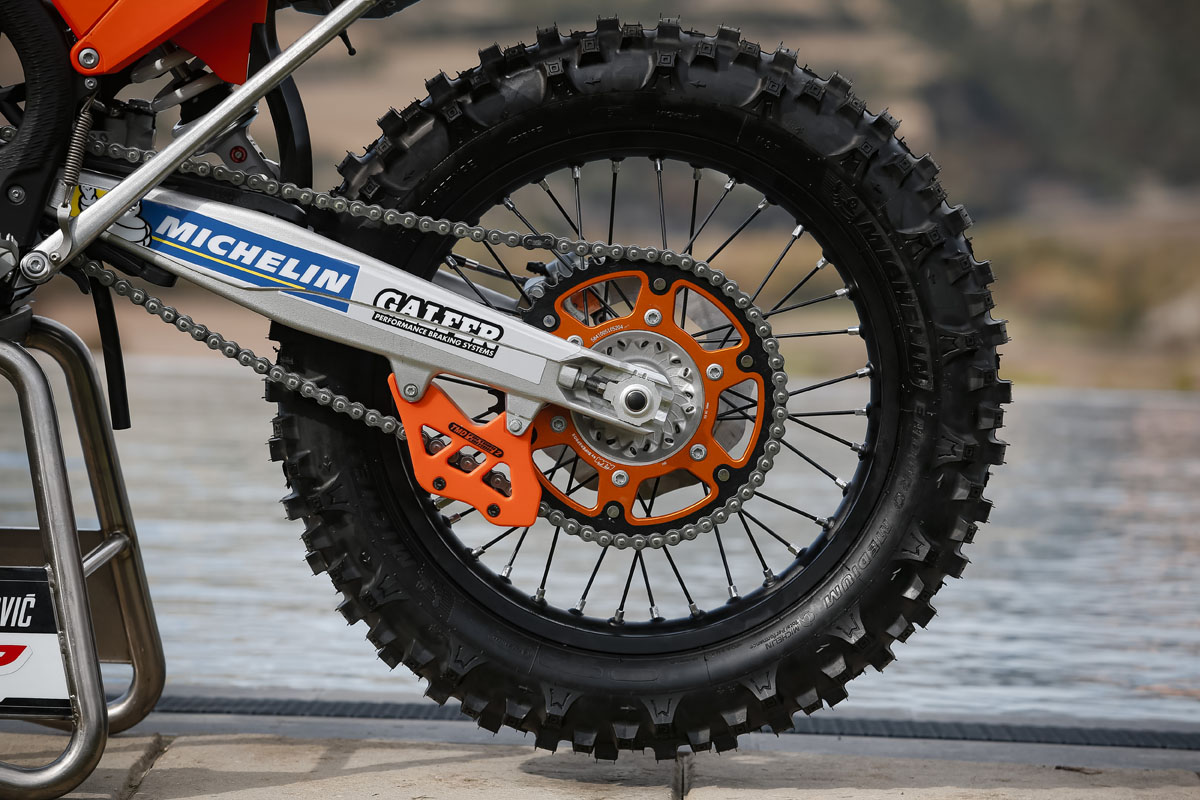 Jaume details the tyres and especially his preference in terms of mousses. "Michelin Spain is a brand that helps us and I have always used their tyres and bib mousses. I use a bigger tyre in front, a 90/100 and behind it basically a 140 'Medium' model, both in the dry and in the wet," says the Betriu.
"We play with the mousses though. When the conditions are muddy, we always go for a more used and softer feel but that fills the tyre and doesn't flex. I never use a new one at the back in the race, I like to have them worn in as they are more grip, even in the dry," he clarifies.
Bottom line: A super-balanced bike
"There are no big differences with our bike, just perfect suspension tuning." Betriu concludes. "A more docile power delivery practically means I almost always ride in third and fourth gears, leaving second only for the most technical tests such as Extreme or Supertest.
"The new suspension gives it a lot of stability and that allows me to ride very calmly, with the confidence that I can conquer whatever I encounter," concludes Jaume Betriu of his 'big mama' KTM.
We need your support
If you've enjoyed this article, if you've found it informative, interesting, entertaining even, please support us.
We want to continue doing what we do, to the best of our ability, serving the enduro and off-road community.
Please consider a donation, every little helps…
Thank you.
Photo Credit: Enduro21 | Nicki Martínez