Tested: Stark Varg electric off-road motorcycle – we rode it
Enduro21 tests the most talked about new bike of the year, the Stark Varg, "the first electric off-road motorcycle comparable in performance with a gas-powered dirt bike". We jumped on plane to Spain to get some answers about this hot topic and ask: is it any good for enduro?
Getting the invite from Stark Futures for the launch of the Varg felt like a bit of a golden ticket. It's a bike a lot of people are talking about and, since they launched it to a huge range of international media all at the same time, there's a definite buzz about it. We've also been answering questions about it wherever we go recently – including from 'other' manufacturers.
Enduro21 had a bag full of questions about the VARG, many of them from you guys n' girls who posted on our Facebook page. So, we have answered them all here, one talking point after another to put all the cards on the table and we went to Spain very much with the mindset of finding out if this thing works as a dirt bike.
The first thing to lay down, as we explain in our YouTube video from the test, is this launch was basically a handful of short sessions on a motocross track. The undulating track – Golf MX circuit – sits in the hills north west of Barcelona and was a pretty cool location – literally an old gold course. We got the chance to ride between the trees for a session but the time was limited, always to around 20 minutes.
That means some of the biggest questions about how this bike could or would work for enduro remain unanswered. But as a thing that now exists in the world, as far as forming an opinion on how it works, feels, and rides, well, we got a pretty good impression…
First impressions
As a rule of thumb, your first laps straight out the paddock are a good guide. If you feel happy on a bike and quickly start to enjoy it then, normally, you're gonna get on well with the wheels under you.
With a precise throttle response, no vibrations and a sharp chassis the first impressions of the Varg are it's an easy to ride bike. KYB suspension and Brembo brakes mean controls are precise and when standing on the pegs the bike felt accurate as we get to know the track.
Two-stroke feel
Weight-wise it quickly feels like a middleweight bike, a 300 or 350. There's a two-stroke feel from the motor with very little engine braking (that's just one of the settings you can adjust though) but coming on the gas it felt like a fiery 450 in terms of power.
The throttle feel is progressive and builds in a linear way, so the more you open the throttle (which has a 'normal' resistance btw) the more you get. So fairly standard from that point of view. The test bikes were 60hp and were putting out more than enough power at full throttle.
The sound the bike gives off is obviously different but corresponds to the speed you're moving at, so actually kinda works the same in your brain. Not having gear changes to worry about simply means you can just ride the track. It's less noisy by a long way, one of the loudest things you can hear is the chain running on the guide and slapping about.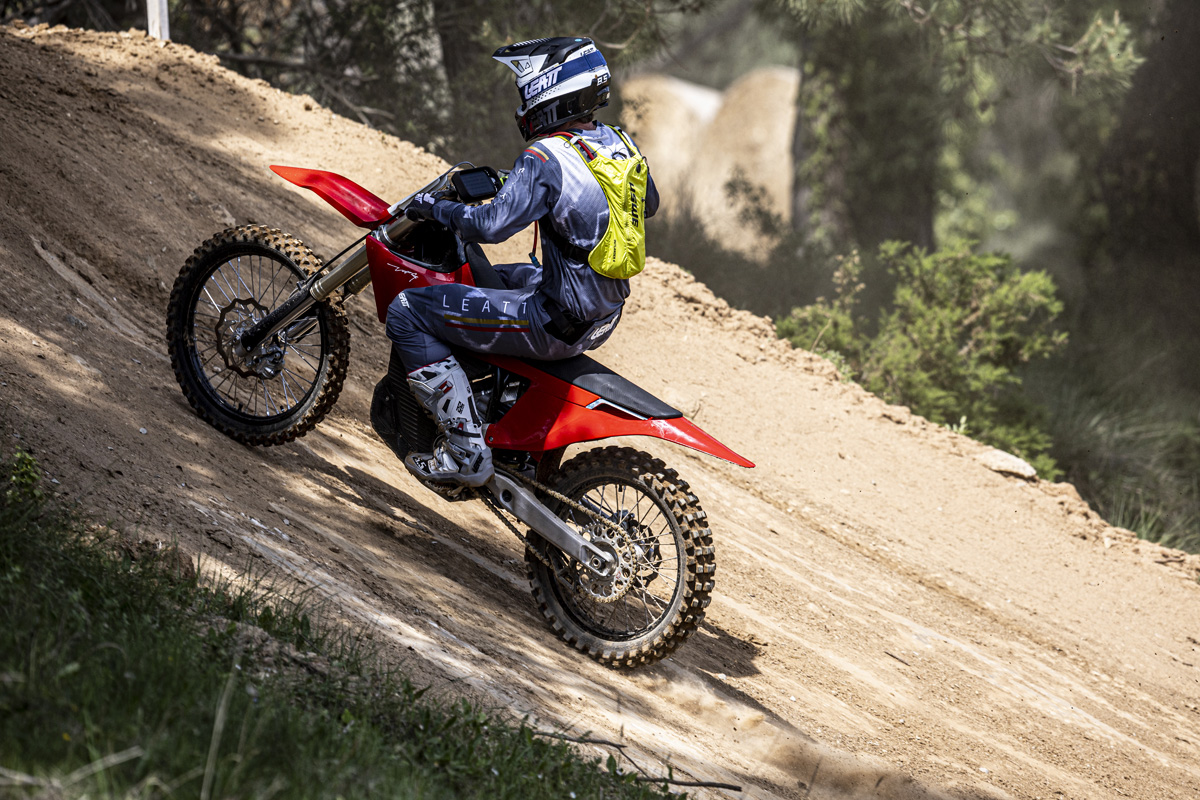 "When we go racing in MXGP and Supercross the aim is to prove our bike works and can race against gas powered bikes on a level playing field, we don't want to race in electric-only events."
Stark are pitching themselves against the gas-powered competition and to prove it, they lined up five standard 450 motocross bikes for us to run back-to-back with the Varg for comparison.
Jumping on a KTM 450 SX-F, the difference was clear: the KTM felt heavier and harder work physically to ride in exactly the same conditions. A heavy clutch, endless gear changes, around this track at least, and in generally being a more difficult bike to control, it made the Stark an easier option to get on with.
You also notice the lack of rotating mass and the mechanical effect of an engine, as well as the lack of the transmission too. All those things feel so normal until you ride a bike that doesn't have that physical mass of a crank, piston, gearbox, flywheel all rotating in the same direction. Also, having zero vibrations through hands and feet is very much noticeable on the Stark.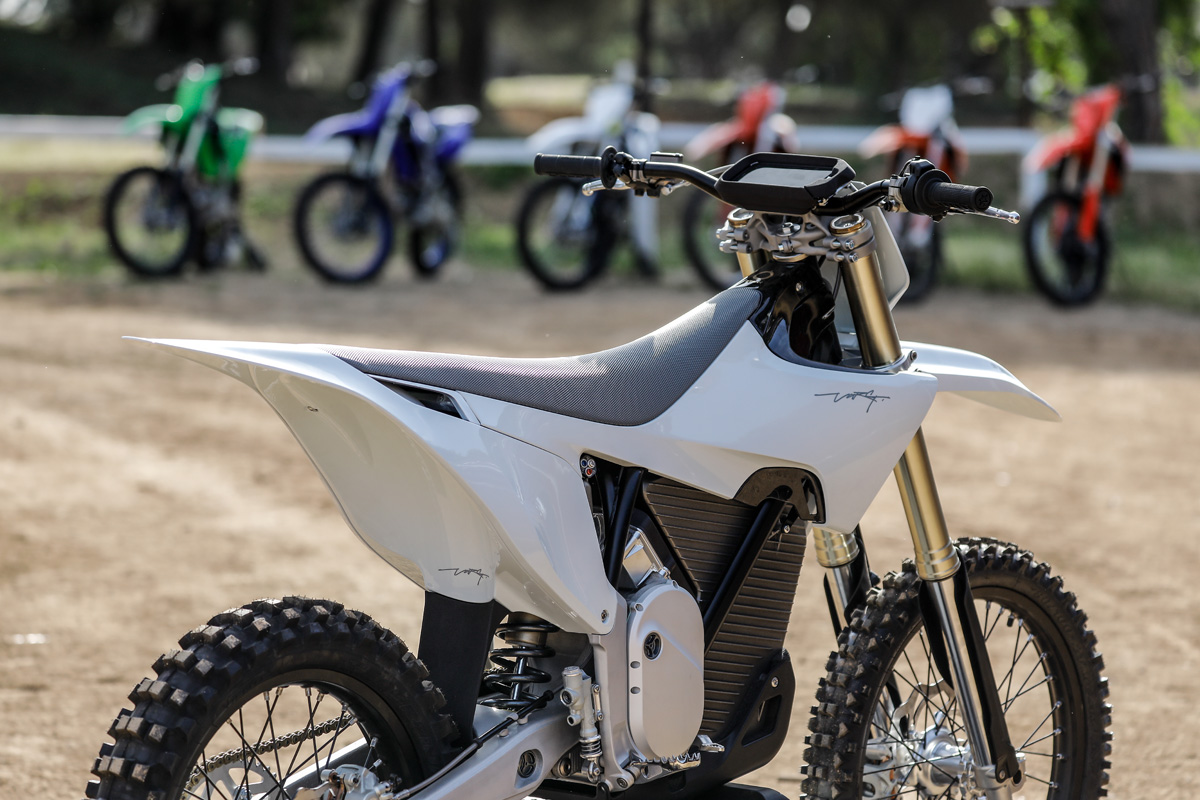 Don't be fooled by the spec sheet
The back-to-back test gave chance to hammer home the point that a spec sheet can be misleading. If a bike weighs a claimed 110kg like the Varg, compared to 102kg (claimed without fuel) of a KTM 450 SX-F, then you expect the KTM to feel lighter. It doesn't.
Weight distribution is something the Stark team spoke at length about on the launch. They've worked hard to carefully place the weight and built the whole bike exploiting the fact they can move things around in a way you cannot with a chassis that houses a combustion engine and a fuel tank as part of the design equation.
Stark say they analysed the details of other bikes on the market to perfect the Varg's geometry, squat, linkage ratios, chassis stiffness and physical weight. It is the reason for having a V-shaped battery around the motor they say and the aim was to make it feel the same as 'normal' bikes, only better.
And it does feel better when you change direction, drop into tighter corners to nail a rut and even in the air over jumps. MX whips and big air is definitely not our thing but the Stark brings confidence to the table like a 250F rather than making you wide-eyed like a 450F can do.
In short, don't look at that 110kg figure on the spec sheet and compare it, this bike carries its weight way better than that and handles very well too.
"The difference between this and the Alta is big"
For all the press presentation and controlled environment of a major bike launch like this, there's nothing like having a glass of wine or two with someone heavily involved and hearing what they really have to say.
Josh Hill shouldn't need any introduction to those with an eye on the US SX/MX scene, and nor should Sebastien Tortelli. Together they've been the professional hands holding the development handlebars for Stark and know this bike well. Both will go race this bike at international level in the near future and governing bodies of the sport across the globe have agreed it can race alongside gas-powered bikes.
Despite Alta evaporating, Hill has his own one in his garage and he says it is about the easiest thing he owns to just jump on and go for a ride with mates, "You just have to make sure it is charged or everyone has to wait a while."
He says "the difference is big" between his old bike and the Stark because the Varg handles better, has better components, and has more technology.
So what about the Varg as a bike to go for a trail ride then? "It'll go a long way, hours easily." Hill says. "I can't really tell you how many, honestly I don't know, but there's a huge drop in [how much] battery drain when you stop going round a short track and use is for a regular trail ride."
It's a fact backed-up by Enduro21 blazing a trail through the trees. Instead of burning 25/30% of power like it was on the MX track, suddenly the smart phone display showed 2% and 3% for the same amount of riding time (15 to 20 minutes). It's the between the trees riding you'll spot in our YouTube video from the test if you're interested.
Do the maths
We can't tell you if the Varg will handle a four-hour trail ride on a battery charge because we didn't get the chance. But with a bit of maths, multiplying how much battery power we used in 20 minutes, and some guess work around de-tuning the motor with the smartphone App, you can see how it could do three and four hours riding. It's just impossible to know until we try it for real.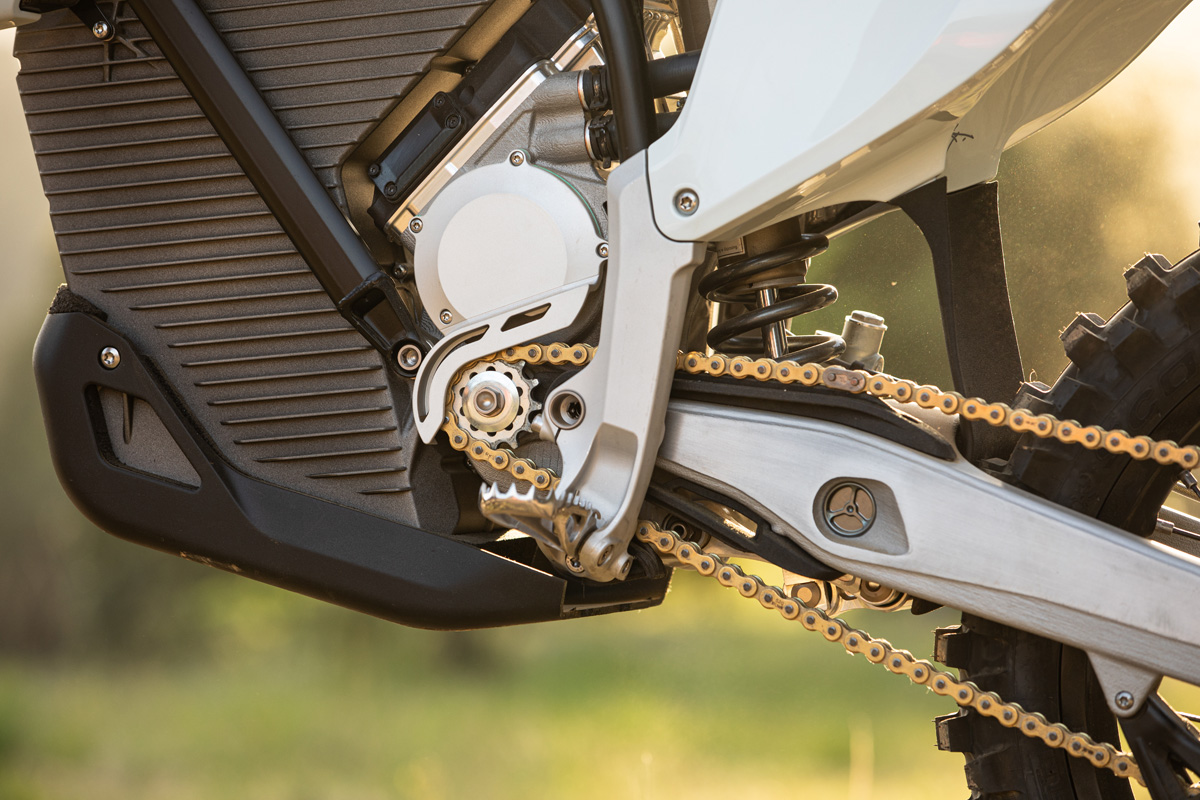 80hp is too much
At the other end of the scale, you can pay $/€1000 more and opt for the 80hp performance upgrade. People have pre-ordered this higher-spec model, Stark says, but unless you're planning on fitting a long swingarm and going hillclimbing, you are nuts if you think you need 80 horses.
60hp was easily enough on the MX track and we turned it down by 30 percent to go riding in the trees and it behaved nicely, like a soft 300 two-stroke.
Smartphone brings tech control
The Varg comes with a smartphone which clips securely into the bar pad and is basically your way of controlling the bike. The one fitted to the production bikes will let you make calls and take a selfie just like a smartphone in fact.
More than that it is your means to adjusting power, traction, and flywheel effect, plus record GPS data, g-force and giro measurements. It's smart stuff of course and the kind of tech you expect with a modern "vehicle" but it is another aspect of this bike which we'd love to test deep inside a Welsh or Romanian forest to see how it stands up.
It is totally waterproof they say, just like the whole bike is. So drowning any part ofthe Varg in a river is not going to happen. Rumour has it they tested the smartphone by throwing different phones into a swimming pool to see if they really were waterproof.
Fancy an X-Trainer?
All the above adjustability makes it an attractive proposition for virtually anyone big enough to swing a leg over it. How many times has a person you know jumped on a 450 or 300 two-stroke and been put off by the power? If that happens with the Varg you can stop and change it, right there on the smartphone.
You get whatever bike you want all-in-one so you can turn the Varg into a Beta X-Trainer in two minutes. Plus, the more you turn it down and ride like an average human the longer its battery lasts – much like a gas-powered dirt bike of course.
Did we miss a clutch?
Not really but missing the back brake with the right boot meant a savaged arm against a tree. You can specify either a conventional foot rear brake or a lever on the handlebars, and in hindsight, we'd say the hand brake is the better option.
It would help to moderate power but mainly it would be right there where you needed it for a hill turn, to stop the bike rolling back, and give more control when your feet are on the floor. On the MX track not having foot brake is easier in the right-handers too.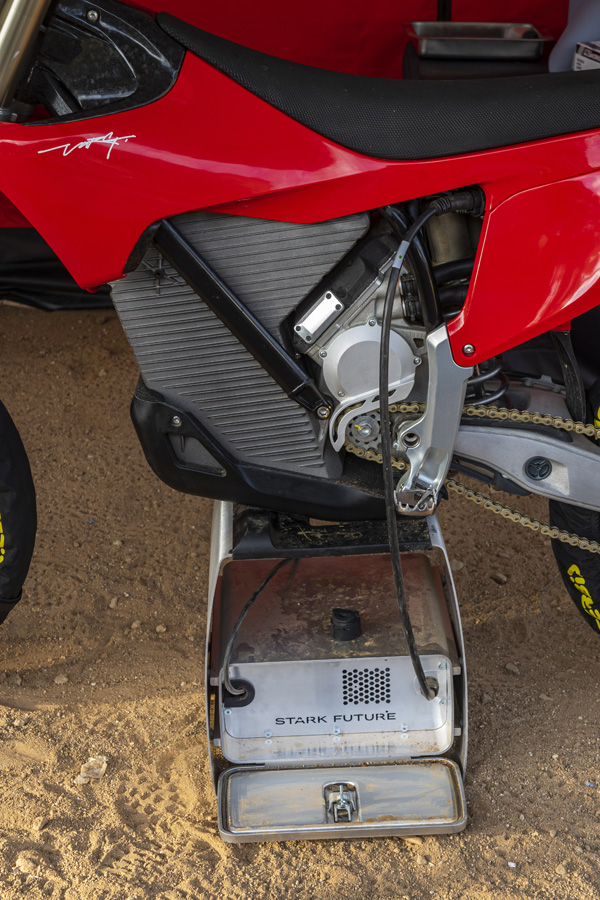 That battery charging question mark…
For short circuit riding and sprint enduro, where you can use the charge it has stored or have the facility at the track (you just plug it into the mains), this bike will work. Don't forget there's an XC version available with an 18-inch rear wheel and side stand too.
The Stark has a fixed battery so it's not an option to swap a drained one for a recharged one like other electric motorcycles. But it comes with a fast charger unit in the neat paddock stand (comes with the bike) to give the option to charge at the track.
No, charger points are not spread out all over the place, but as more electric bikes start turning up at practice tracks and short circuits, with owners wanting to hand over money for a day's riding, the more track owners and organisers will need to put charging points in – again like we see on the street for e-vehicles.
Whenever we mention electric bikes some people always throws in the line, "yeah but you'll need a generator to charge it at a track". To counter that, plenty of practice tracks near us have an electricity supply and it's definitely in their interest to encourage bikes which make no noise.
We'll wager they won't take too much persuading to let you at a mains socket for 45 minutes (an average time between riding sessions at least) for the price of a cup of coffee.
It wasn't all roses, sweetness, and light
Stark admitted early in this test that we were riding what were effectively partly still prototypes. With production deadlines getting closer, the international launch was part of the development process. Hell, they must have needed some ham-fisted and wobbly riders to get on the development train before customers are let loose after all!
"We've ridden these bikes for hundreds of hours without any problems" got flipped on its head when a couple of bikes in the five-bike line-up on Enduro21's test day randomly cut out. Another had a water pump problem and a few lost their rear fenders – although they told us the plastics were not the OEM parts (they're coming from Polisport we believe).
It must have come as a wake-up call for these pre-production bikes to suddenly have five riders a day for 10 days putting them through various levels of abuse. On the one hand it doesn't look too good in front of the press to have this happen but if this was part of the production curve then it's a good thing in theory as we unearthed a few gremlins that can now be fixed ahead of bikes reaching customers.
One point of note is Stark's new production facility is right near a tonne of off-road parts suppliers and industry specialists in Northern Spain. If they need things changing in design it takes weeks not months. It's no accident they are based there.
You don't need to be so much of a mechanic
Blow the dirt off, spray the chain, plug it in and go take a beer. Like us, you might like the garage time prepping and sorting a bike out but part of the aim for Stark is to attract a new customer into dirt biking and basically a maintenance-free motorcycle like this, which makes little or no noise or mess is going to be more attractive to some.
No air filter maintenance, the body kit all comes off in one go with seven bolts, no need for fuel, pre-mixing or oil and filters just a spray on the chain – regular servicing will be tyres, suspension, chain, bearings and not a lot else. The electric motor and battery is the grey area but Stark say all parts will be available as spares online and from dealers.
The only other fluid is in the radiator under your backside. Looking after this bike is the same as looking after an e-MTB and you also get a complete tool kit for every nut and bolt on the bike when you buy it.
And when you do buy it, there is a dealer network for parts and servicing but you can also get it delivered to your door.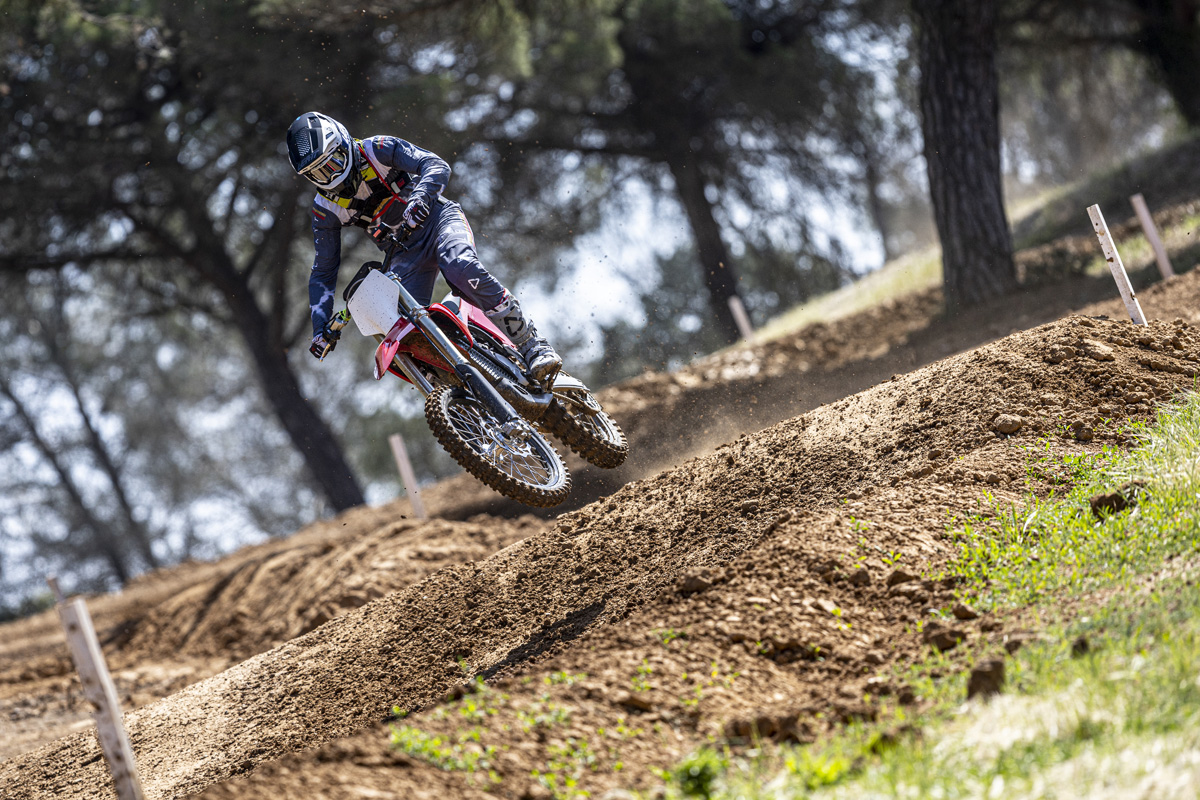 An enduro bike is coming
A chat with Paul Soucy, Stark co-founder and CTO, and he tells us he is a big fan of the Spanish Hard Enduro Championship. "It's coming for sure," he says, "I want to have an electric enduro bike that I can ride in the weekends and go to events like the Spanish Hard Enduro series. I am in charge of developing these bikes and I love riding enduro so of course I want to make a bike for myself, not just for motocross."
At the moment, the Varg (it means wolf in Swedish btw) is not ready for that but if 40 percent of the 9,000 customers Stark say have signed up have opted for the 18-inch rear wheel version, well, then it says a lot about what customers are interested in here.
Would we buy one? Our first test verdict
Owning a Varg would answer a lot of problems about how and where we can ride, for a start. But Enduro21 walks away from this test with some unanswered questions simply because we couldn't ride the bike for long enough and certainly not in any real enduro conditions.
Many of us will know from owning e-vehicles or e-bikes, the range anxiety dies away with experience and you quickly learn how much (or little) your riding drains power, and adjust distance expectations accordingly. But at the moment, Enduro21 cannot answer completely all the questions we have.
Build quality and the test of time...
Overall the quality of the bikes is good and on par with the quality you'd expect from an 11 grand bike. The chassis and metal parts feel and look like Japanese quality if anything, with some very neat touches of engineering. 11 grand is a lot but there's nothing extra to buy here, it is what it is, a ready-to-go bike. So long as they sort the plastics for the production models the only unknown will be the electric components.
We've no reason to doubt their quality either but, again, we'd love to see how it stands up to months of enduro or trail riding in a country like Wales where it rains a lot, the mud is deep and life is tough on a bike.
In current form it is not going to work in a three-hour XC race. But a day at an enduro training ground, a Sprint race, or a club/national level extreme race with the power set softer and where part throttle is the name of the game? Well, maybe. We'd sure give it a go and based on the evidence we found on the launch the battery should last. The most natural home would be SuperEnduro (*sticks hand up to volunteer).
One thing was clear, you're sticking your head in the sand if you're not taking this bike seriously. It will be the answer to lot of people's needs simply because of the plug and play factor. And if the 9,000 pre-orders turn out to be real, much like electric cars on the road, you're going start seeing them around very soon.
The Stark Varg was fun to ride, and that suspension, brake, and chassis combination was sweet, genuinely better than a stocker 450 motocross bike. We'd love to prove some points about battery life and its ability to do enduro though. So, go on Stark, give us a bike to test properly. We reckon it might work really well for hard enduro with a soft rear tyre and an extreme mousse…
Enduro21 detailed some of the technical facts about the Stark already in this feature: Closer look: Stark VARG electric off-road motorcycle technical details
Stark Varg Specifications:
110kg claimed weight
Two different power options (80hp & 60hp) available, full power model is $1000 more
1-2 hour battery charge time
Over 100 power modes with adjustable power curve, engine braking, flywheel effect and traction
Multiple bikes 'in one' with customizable power settings to ape a 125 two-stroke up
to a 650 four-stroke
Waterproof smartphone dash and set-up App connects via bluetooth and acts as a lock
KYB suspension, 310mm wheel travel front and rear
Rider weight specified at purchase means suspension is tuned to you
CNC-machined aluminium hubs and rims, steel spokes
Industry standard Brembo brake components
Small and light chassis using carbon fibre, magnesium, and aero grade aluminium
€11,900
More information: www.starkfuture.com
Photo Credit: Stark Future