5 Minutes: Joachim Sauer – KTM Off-Road Product Manager talks 2021 EXCs
On the back of KTM launching the 2021 EXC and XC-W Enduro models, Enduro21 caught up with Off Road Marketing Manager Joachim Sauer to talk about the new bikes, who wins the two versus four stroke fight club and what future EXCs might look like…
The people behind the bikes coming out of Mattighofen in Austria are a many varied bunch but few can have invested as much time in the orange machines as Joachim Sauer. KTM's Marketing Manager for Off Road Motorcycles may, by his own admission, be getting on a bit in years these days but he has a passion and history racing Enduro most of us would be proud of. He is also mad enough to have once attempted Erzberg on a 500 but more on that later.
Who better then to dig deeper into the newly released 2021 EXC Enduro bikes and to get a bigger picture of the off-road market in this current climate than Jochi? While on the line we also asked burning questions like whether two-strokes are more popular than four strokes and what the future might hold for KTM enduro bikes – electronic suspension anyone?
Hello Jochi, how has Coronavirus affected KTM and did it have any impact on the 2021 EXC models?
Joachim Sauer: Honestly, so far this year we can see sales are more or less the same level as they were at this time last year. We don't know how that will change as the year progresses, so let's see, but for now it is ok.
As far as the new model development is concerned the bikes were changed quite a lot last year so there are no big steps to improve this year. We did some suspension tests and development but, in the end, decided we couldn't make it work and leave it as it was last year. All-in-all we are at a good level with these bikes already.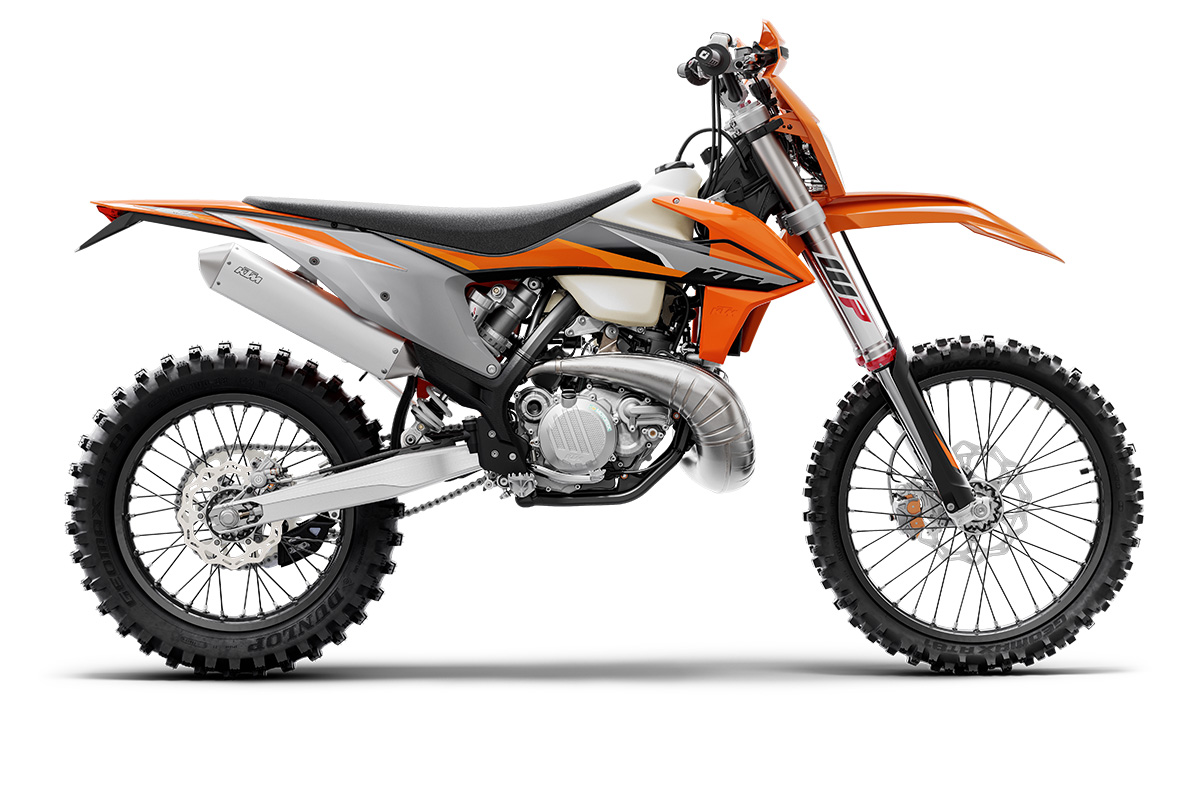 We got positive feedback from all our markets around the world and it also gives us time to develop next generation models. Before we launch a bike we are already working on the next generation.
Can you just run us through the changes to the MY21 EXC and reasons behind them?
We have an upgrade to the fork preload adjuster on all standard models which honestly was a request of the market, the customers. It is a feature we already have on the SIX DAYS models and we had the request to have it as standard. It has a simple benefit for riders who can make an adjustment on the side of the track or at the start of a special test.
And the new graphics are a little bit of a departure from normal this year…
Yes, this year we decided to make a more visible change on the bikes to bring new graphics and colours to show more of a change and bigger differences to the previous models – a new feel, colour and appearance to the bikes.
Has anything changed with the fuel injection systems and TPI software this year?
No, no changes there. There are always little updates happening but in terms of maps there are no changes since the 2020 model launch. I spoke with the R&D guys only yesterday to check this detail in fact and they assured me there are no changes.
Last year when the bikes came on the market there were some small software updates that the first bikes needed installing but that was already one year ago now.
Looking at the 150 EXC TPI, can you explain the concept behind this bike compared to a 125 and also the update for 2021?
The change for 2021 is the cast instead of forged piston which is a reliability thing and nothing to big really. Even though people would estimate the forged piston is stronger, but it is not the case. A cast one is more reliable in this bike.
The 150 is a model for younger riders and also for the people who do not want to race, they don't want or need the high-end, super performing race bike. The engine characteristics are not like a high revving 125 carburettor engine, there is more torque and it works well on the hills – say if you stop or stall on a hill it will start up and pull away again. A 125 two-stroke race bike struggles in this situation so it is more friendly and this is the concept.
For those who want small, lighter bikes the 150 has the same engine base, the same light handling character and so on. Plus it has all the ease of use the fuel injected bikes bring so no worrying about jetting or mixing fuel and so on.
We also can't make a 125 anymore because of homologation reasons it is as simple as that.
Over the whole world what bikes are popular? Is the 350 4T champion or is it the 300 TPI? What are people buying?
In total with all the models we sell as many four strokes as two-strokes. Within that the 300 is very popular model and that makes up the numbers on the two-stroke side.
In America we sell a different kind of bike generally. The numbers are pretty equal between the XC (based on the motocross bike) and the XC-W (based on the EXC) if we look at the 300 two-stroke for example. The two-strokes are pretty strong and also the 500, dual-sport model over there is very popular.
What is popular goes in waves but since we introduced the fuel injected bikes the two-stroke is more attractive because life is easy with it in terms of maintenance and running costs. And for many a two-stroke is more comfortable and easier to ride in general.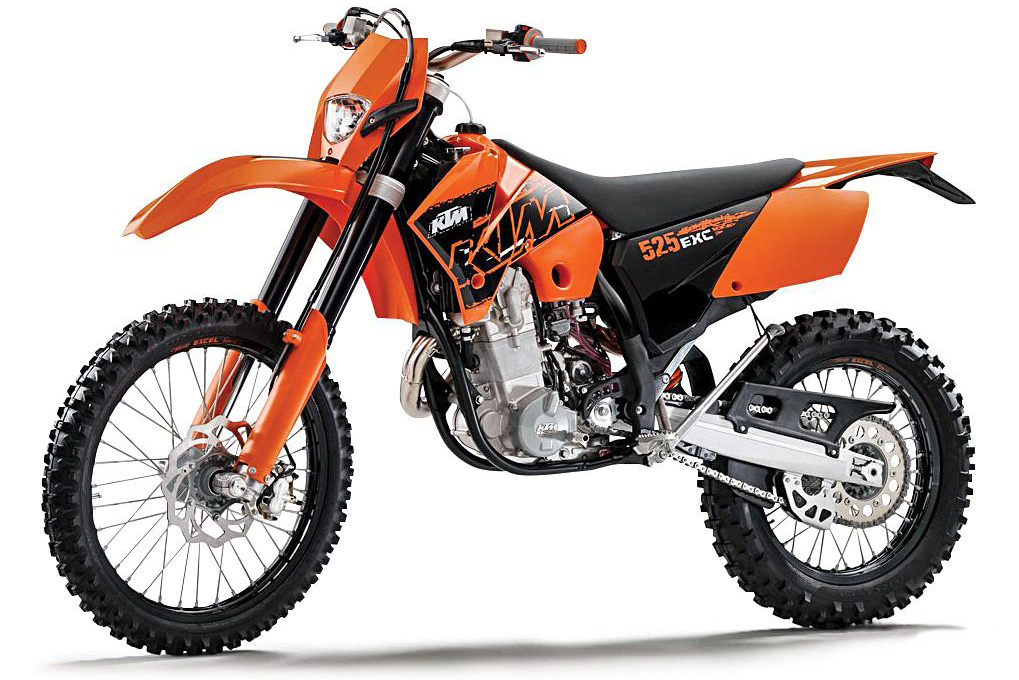 I remember back in 2000 when we launched that generation of four stroke, everybody said it was the future and the two-stroke would die out. I even went to Erzberg on one, I was 40 that year after in 2001 and wanted to race Erzberg one time. I took a 525!
There was a clear wave towards four strokes but then we saw the two-stroke come back especially in model year 2008 when we mounted the electric start on the 300 it proved very popular again and from then on into the TPI era.
One thing to remember is that we who love racing, and the media surrounding the WESS events like Erzberg, are all seeing the 300 two-stroke all the time. Everybody is riding that bike in these events and in the videos and so on. But in reality not everybody is riding like that. We still see a high percentage of KTM Enduro riders don't even race, they ride for fun. Many of the EXC customers are older riders and they don't race anymore. They have the bike for riding with friends in the mountains and so on. What we see on social media doesn't represent the whole market.
Does that represent a problem then? How do you attract younger riders?
The older guy watching Lettenbichler doesn't want to do those doing stupid things [laughs] with his bike but the young riders are inspired by it and that makes our bikes attractive to the younger riders. The traditional enduro doesn't attract many young people anymore but for sure WESS riders are impressive to many.
Does it get harder to achieve the big development changes to bikes?
Yeah, really. I don't see the big development steps coming in the next five or 10 years. I don't see a supercharger or whatever. If you compare a 2030 bike with 2020 it will be a big step but year-on-year it is a small evolution. Looking back the TPI was a big step but looking forward I don't see any sensational developments coming.
If you compare the four stroke produced in 2000 to the one produced today the big change is the fuel injection. Apart from that there is just a steady evolution. There was never any big step especially on the four stroke side. The fuel injection was a bigger step on the two-stroke simply because it was always harder to set the two-stroke carburettor where the four stroke once it was set it was no problem.
Riding a 520 of 2000 compared to a model year 2020 obviously feels completely different in terms of ergonomics and suspension and the type of racing has changed in that time as well of course. Now it is much more about the special tests and not so traditional enduro as it was.
What I hope and think will change in the future will be more electronics, more connectivity. Currently it is not allowed to use semi-active suspension but in the future for sure we will, I hope, be able to see more electronically controlled suspension. This made a big difference on the Adventure bikes but the FIM doesn't allow us any solutions like this on off-road bikes. I'm pretty sure once the industry tells the FIM the systems are reliable enough then we can change the rules.
We need your support
If you've enjoyed this article, if you've found it informative, interesting, entertaining even, please support us.
We want to continue doing what we do, to the best of our ability, serving the enduro and off-road community.
Please consider a donation, every little helps…
Thank you.
You launched the Freeride E a while ago now, why hasn't KTM followed that up with a 'proper' electric Enduro bike by now?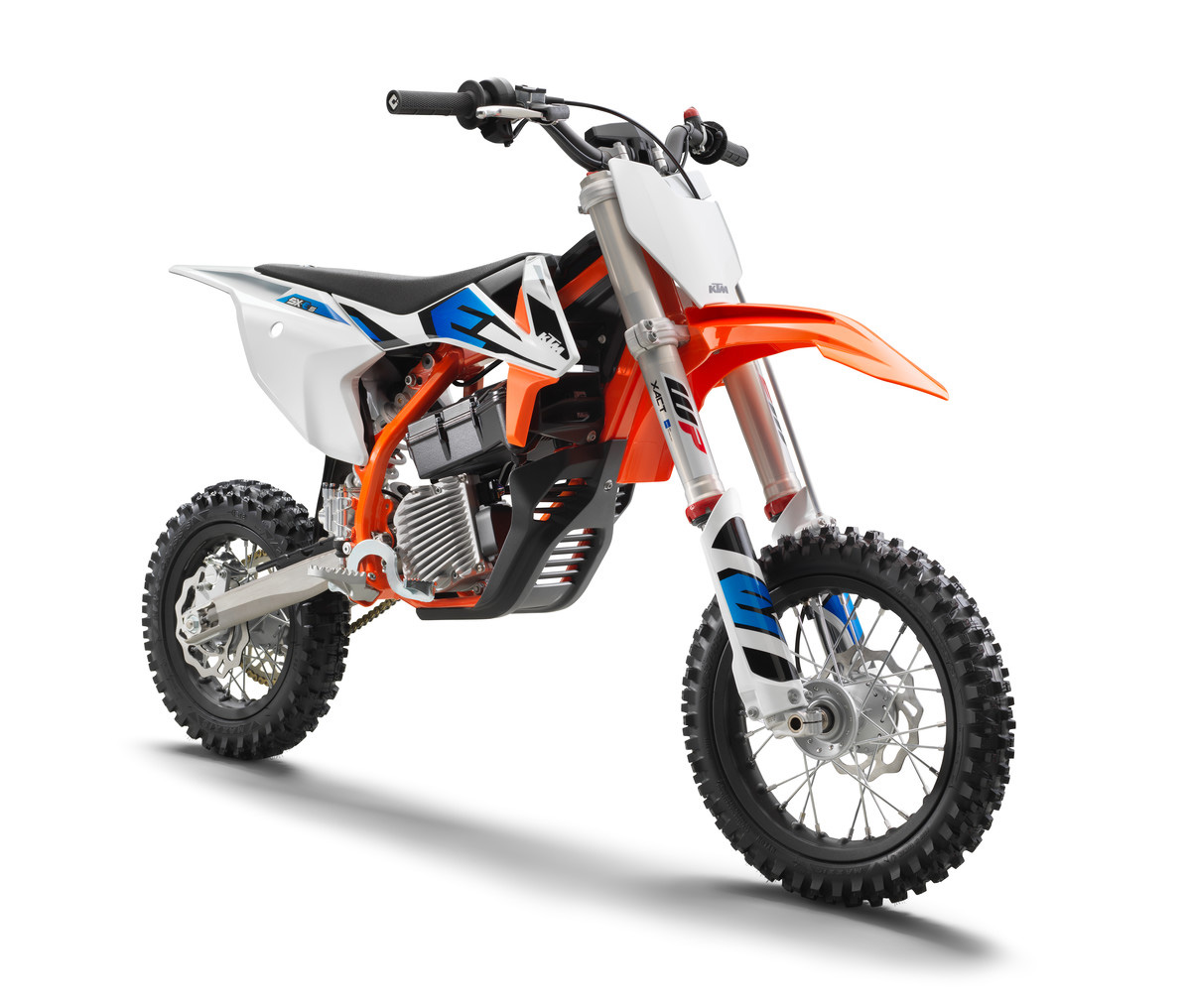 Honestly speaking it is still the conflict between the expense and the limited range of the bikes. It is that simple. An off-road bike is not an ideal base bike for electric drive – a scooter for example is a better bike where you have much more space to put a battery and you do not have such a conflict with price and mileage.
Two years ago we increased the battery on the Freeride E by 50% but it is still not enough for off-road. You still need more capacity to run for two or three hours without any change in performance when it comes to an EXC. At the moment the technology is not there for a bike holding a battery for that amount of time riding. If we could, people would not buy because it would be too expensive. Battery capacity is expensive.
If one manufacturer makes it work then we might see a quicker move from everybody else but at the moment I am not convinced, especially for enduro.
I hope that the kids sitting on our SX-E bikes today, when they want to sit on a full-size bike in eight or 10 years time, will want to sit on an electric bike. They will be our future customers for sure because they will be used to the cleaner bikes, less noise pollution and so on. Noise is our biggest enemy when it comes to off-road racing. They will grow up with a different attitude and for sure the technology will have changed in 10 years.
For now I do not see it coming from KTM in the near future. We saw a lot of noise around Alta but the battery capacity was a weak point and also the price – so far no one can make profit on electric motorcycles. We are moving to invest always in the future. There will be products coming in the near future but focused on the young kids.
Photo Credit: KTM