ISDE History: 2005 in his own words – David Knight
The 2020 International Six Days Enduro was originally scheduled for this week in Italy, from August 31 to September 5. At Enduro21 we're all bummed it had to be postponed until 2021. There's nothing we'd rather be doing right now than watching the best in the world battling it out across the hills of Northern Italy.
To make up for it (a little) we're keeping our focus on the ISDE, celebrating the greatest enduro race on earth with a series of special features across this week looking at some of the greatest moments in the recent history of the ISDE and talking to some of the greatest riders of the modern era.
We begin with a history lesson from David Knight, the four-time Enduro World Champion who contested nine ISDEs between 1999 and 2015. David is perhaps best known for his Factory KTM years, but he has competed the ISDE on different bikes, from Yamaha 250 two-strokes during his early years to a Kawasaki KX450.
Knighter's golden years were the mid-2000s when he was dominating the world championship. In 2005, the 80th anniversary of the ISDE, along with taking the World Championship Knight achieved what he describes as one of his 'biggest victories' – winning the event outright aboard the mighty KTM EXC 500.
Winning it was like winning the Isle of Man TT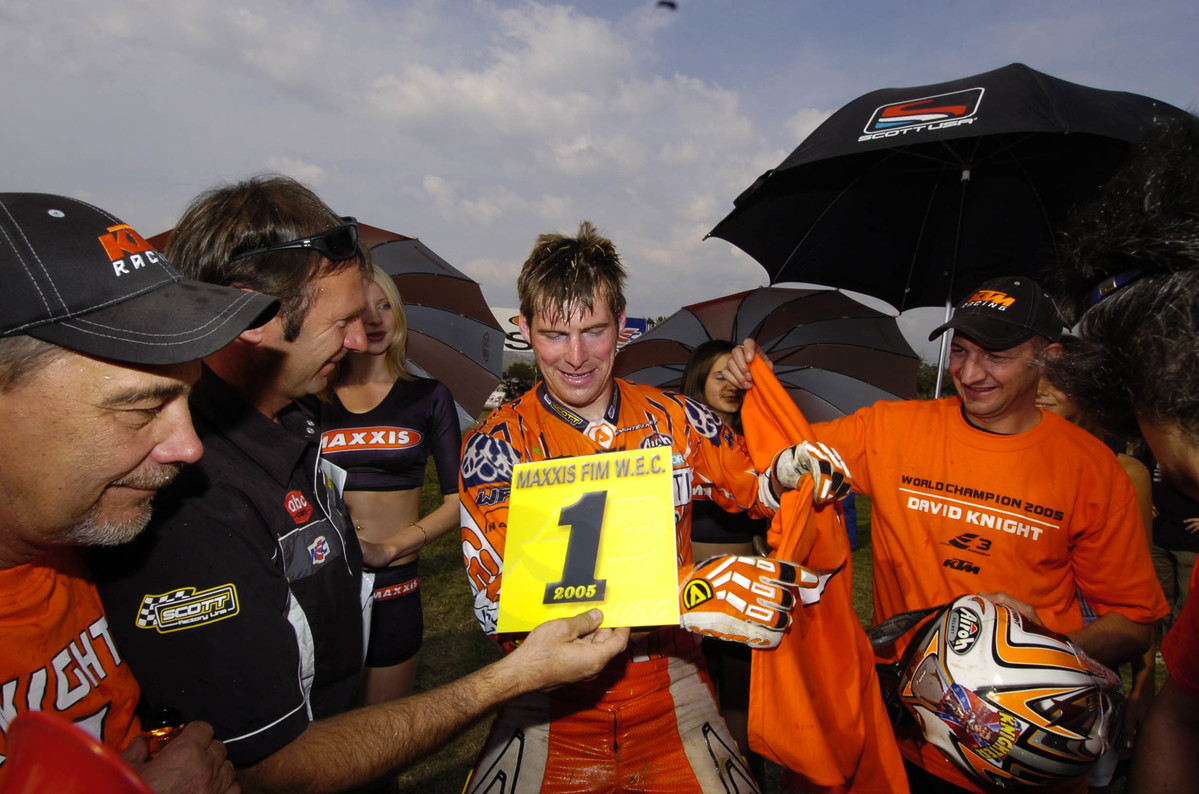 "I knew going into the Six Days in '05 that I was riding well. I had won pretty much everything I'd entered that year and the Six Days was really important to me. It is the big one that I wanted to win and because the event had also been in the Isle of Man (Knighter's home, he's a very proud Manxman) three times through its long history, to me it was a very important race. Winning it was like winning the TT to me.
"I remember taking the Junior Trophy Team out to walk tests and blowing two tyres clean off their rims on hire car, doing a handbrake turn. We tipped it on its side to fix it." – David Knight
"I guess the history books will show that Australian Trophy Team rider, and one of my biggest rivals at the time, Stefan Merriman won the first day of outright in Považská Bystrica, Slovakia. I remember I went probably a bit too steady on the first day, to get one on the board. Then my plan was I'd nail it. I remember in a lot of Six Days people go flat-out on the first day and spanner themselves and I didn't want to do that so took it steadier.
"Slovakia is famous for its often mixed weather conditions and the ISDE in 2005 was set for a week where rain played a tough hand. It was quite damp on the fields in Czecho but underneath it was hard and that made it tricky. I put a soft tyre in the front that first day which was the only mistake I made all week. I used a hard tyre on the front for the rest of the week, even on a couple of days when it was really muddy – the big 500 was hard on a front end when you shut off…
"I won E3 easy enough on the first day but we had a pretty crap start position as a team because of where Team GB finished the year before. I think I was number 128 on the first day so we had some making up to do."
What's faster in the mud, a 500 or a 125?
"I won the next three days pretty easily but then day five was an absolute shit-hole. It pissed it down all night before and all that day. I was on the 500 and I was like, shit! I think Mika Ahola won day five by a second or something on a 125 Husky. He started quite early because Finland had won it the year before, and he was always quick in the mud. I remember he said to me afterwards, "all year I ride and can't beat you on a 500 and finally I beat you on a 125!" But finishing second to him that day by a second or whatever it was, was absolutely ace for me on the 500 because it was like swamp in places."
Video highlights from ISDE 2005 – check out the day 5 conditions (from 35min mark):
Final day shenanigans
"As ever at ISDE the tests in Slovakia ran two days back-to-back with the same tests for the first four days with the Friday both different and bringing the worst day of the mud. The final day motocross races were on an old school GP track. I had a big gap going in to the last day but it was threatening to rain hard again and Merriman (second overall) had an earlier race while mine was last on the 500. He was rain dancing on the start line!
"There were probably another eight or nine races after his and it was spitting with rain. If it rained hard it would have been like an ice rink and all my minutes lead could have been washed out in the final motocross. Luckily, we only had a bit of rain and I got away with it and won the event outright."
"The other thing about that final day was the Italians tried to knock me off and bribe me. They wanted me to slow down but they actually made me go faster. I think from memory if I beat one of their team by over a minute in the final motocross test that affected their result overall, so they walked across the track in front of me trying to slow me down. A couple of them were telling me before the race to 'slow down, slow down, money no problem' and all this. These things weren't unusual back then…
"Anyway, I just nailed it. I got off the start in second or something and passed through to lead. Finishing the first lap, back near the start there was a big puddle and three of the Italian team stood in the track and I nearly had a massive crash. All it did was make me go faster. I went round at the end of the race to try and find the three of them to flatten them but got taken off for a doping test. I was the only rider to get drugs tests every race that year. Pretty much the whole of the British team got drugs tested and the worst of it was I missed all of the podium. Completely. All the celebrations and everything had finished when I was done with the drugs testing. It wasn't the way to finish the Six Days when I was fastest overall..."
Top 20 Scratch results ISDE 2005:
KNIGHT David KTM 23:35.2
MERRIMAN Stefan YAMAHA 25:39.2
ARO Samuli KTM 27:11.6
EDMONDSON Paul HONDA 28:22.3
GUILLAUME Seb GAS GAS 28:29.9
OBLUCKI Bartosz YAMAHA 29:19.3
BOTTURI Alessandro KTM 29:22.6
BELOMETTI Alessandro KTM 29:30.8
ALBERGONI Simone HONDA 29:42.2
POHJAMO Petri TM 29:51.9
ZANNI Alessandro HONDA 30:03.3
AHOLA Mika HUSQVARNA 30:08.5
CASSELLI Kurt KTM 30:15.0
SALONEN Valtteri HONDA 30:25.6
RODRIGUES Hélder GAS GAS 31:01.7
LARSSON Rikard TM 31:11.7
PAOLI Alessio TM 31:15.4
MICHALÍK Roman TM 31:37.8
KUKLÍK Vít KTM 31:56.2
STAPLETON Jacob TM 32:09.5
The cost and commitments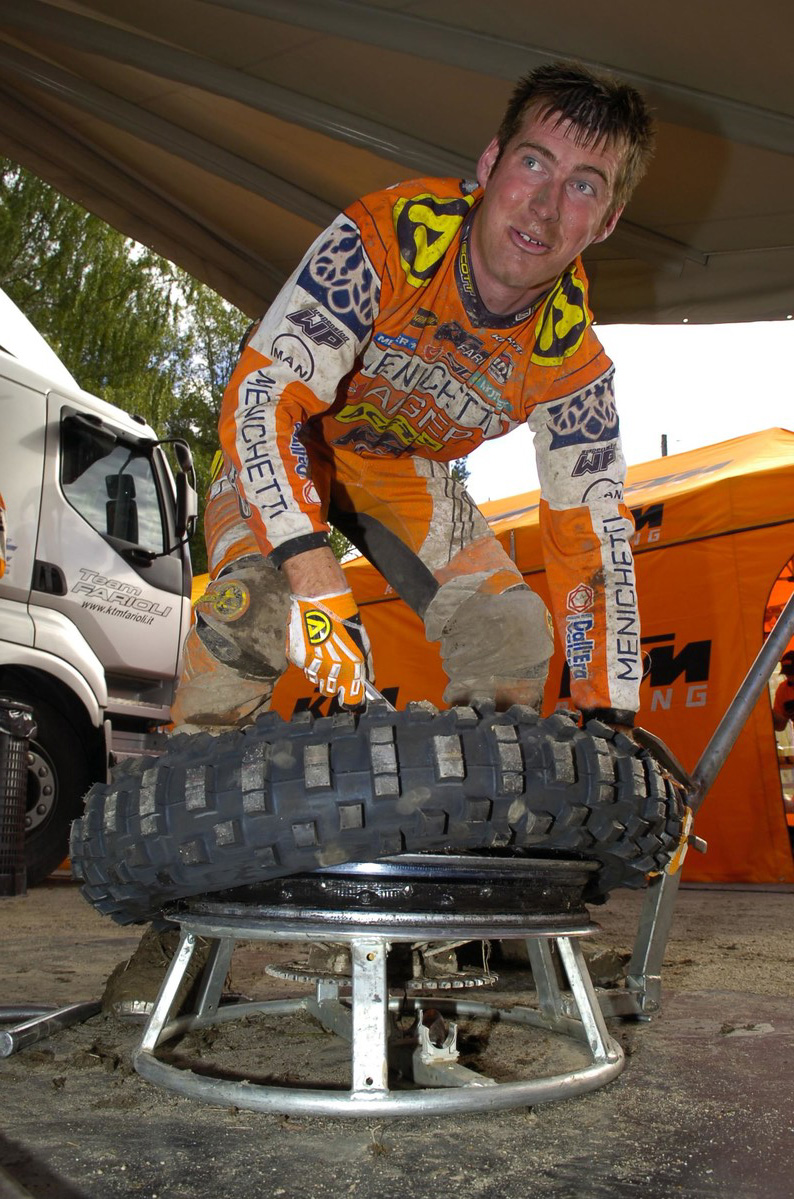 "Really, after that I was less bothered about the ISDE if I'm honest. I'd done what I wanted to do and win it outright and I moved on. The thing is, riding for the GB Team is a lot of hassle, a lot of personal expense and a lot of stress. The British team was ran well at that time by a good guy called Gwyn Barraclough and he did a good job with the riders. I was a factory KTM rider but they were never that bothered about the Six Days, so I had a lot of expenses personally in a way other ISDE teams and riders don't face.
"I enjoyed the ISDE always but it was hard to go and find the motivation when you'd done a season already. Especially when extreme enduros got bigger and I was doing Hell's Gates or Last Man Standing – I never stopped so it was always hard to then get to the Six Days as well. When EnduroCross got going that was something else and even though I would probably have preferred to do the Six Days I had other commitments and honestly the next year, 2006, I won everything outdoors again but for the ISDE in New Zealand. I was getting ready for the indoor season.
"It sounds bad but at the end of a year where you had already done thirty or forty races to then get your bike, a small team to help and get yourself to somewhere like New Zealand, spending your own money didn't make much sense no matter how good the riding was."
The win that should have been…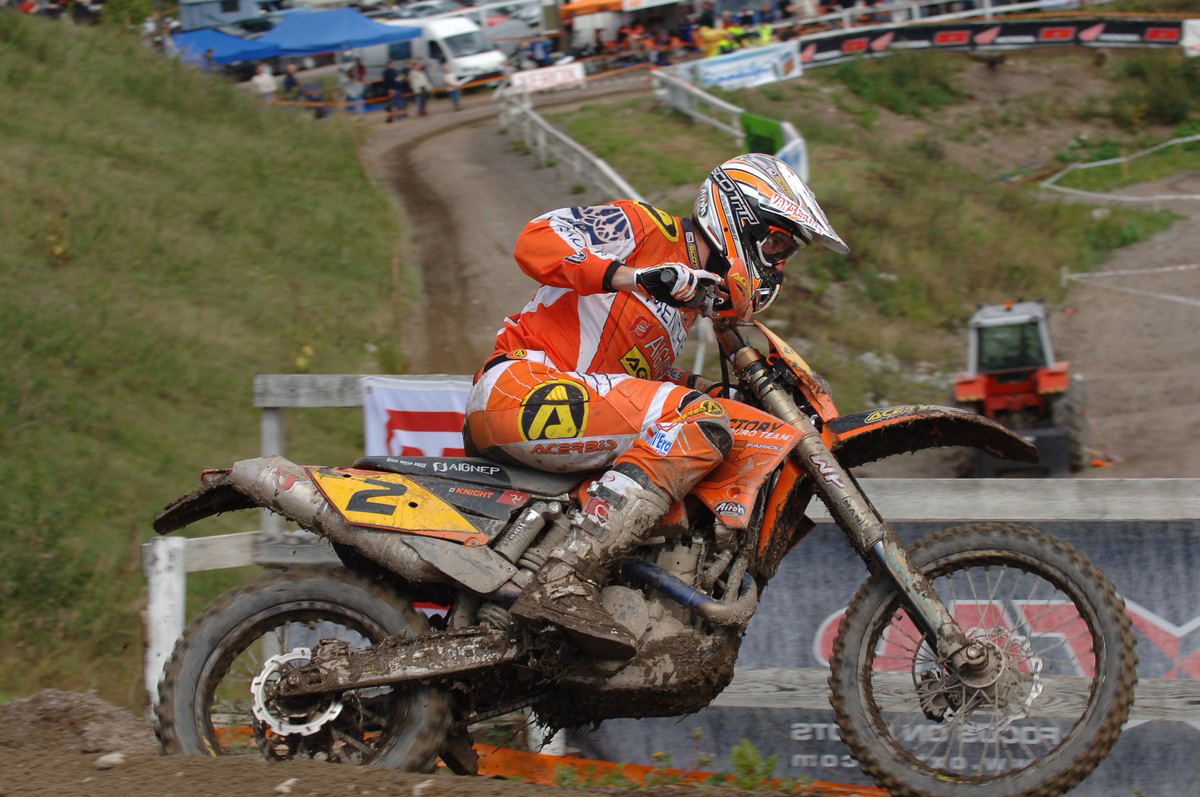 "I think I've been in the top three or four overall a few times in the Six Days, but I should have won it in '04 in Kielce, Poland. That's definitely the one that got away from me. I went round the first test, a sand test, and the bike was running really hot. It kept shutting off and I came out the test about a minute down on everyone.
"I'd ridden the '04 EWC on an '04 bike but changed to the new '05 KTM for the ISDE and the only thing they changed between models really was the CDI unit and it went wrong on that first test. We swapped out the ECU for the next test and it was nearly unrideable but I got through that. Then we swapped the CDI unit and it was right as rain all week then. I won nearly all the rest of the week's tests then and ended up losing the Six Days by eight seconds or something. 2004 will also go down in history as the dramatic year when the final motocross test was cancelled. It ended up being like a war with the Spanish so upset they got banned for three years because of their behaviour."
Generation gaps
"My first ISDE was in Portugal in 1999 and I remember it well because I hadn't done a world championship event at that point and I won a test overall. It meant a lot to me to do that. That was on the 250 two-stroke Yam. My time racing the ISDE is spread across a few generations really, with the old guard racing in my first few years and then the younger riders coming through when I was doing my last. I went back in 2015 to Slovakia because it was 10 years since I'd won and that was probably my favourite ISDE of all."
We need your support
If you've enjoyed this article, if you've found it informative, interesting, entertaining even, please support us.
We want to continue doing what we do, to the best of our ability, serving the enduro and off-road community.
Please consider a donation, every little helps…
Thank you.
Photo Credit: Enduro21 + Dario Agrati