I survived… the 2020 Transanatolia Rally on a Ducati Multistrada 1260 Enduro
The proof of a pudding is in the eating, right? Andrea Rossi took the fruits of his labours as a Ducati test rider, the Multistrada 1260 Enduro, to seven days racing an average of 450km and eight hours per day in the Transanatolia Rally.
The 2020 Transanatolia rally-raid tackles Turkey's spectacular terrain between August 15-22 and departed from Istanbul before heading across the country overnighting in Abant, Aymana and Karadag before arriving in Şile after a total of 2850km.
Like many Cross-Country Rallies, the racing categories is broad, broad enough to include an Adventure bike class. Unlike some of the other events however, the Transanatolia pitches Adventure bikes in the same special stages as the 450 Rally and Enduro bikes.
Which is where Andrea Rossi steps in with his Multistrada 1260 Enduro. It's a bike he's familiar with as a test rider for Ducati but actually competing an event like goes well beyond the marketing hype from any manufacturer and puts very real demands on a rider and a bike of this size and power. The reward for his efforts was first place in the twin-cylinder category and the ninth place overall. We wanted to know more…
I worked as a tester on the project Multistrada Enduro since 2015…
I love the bike, know it well and know well the off-road potential of it. I wanted to prove that Multistrada Enduro can race and complete a challenging rally like Transanatolia Rally.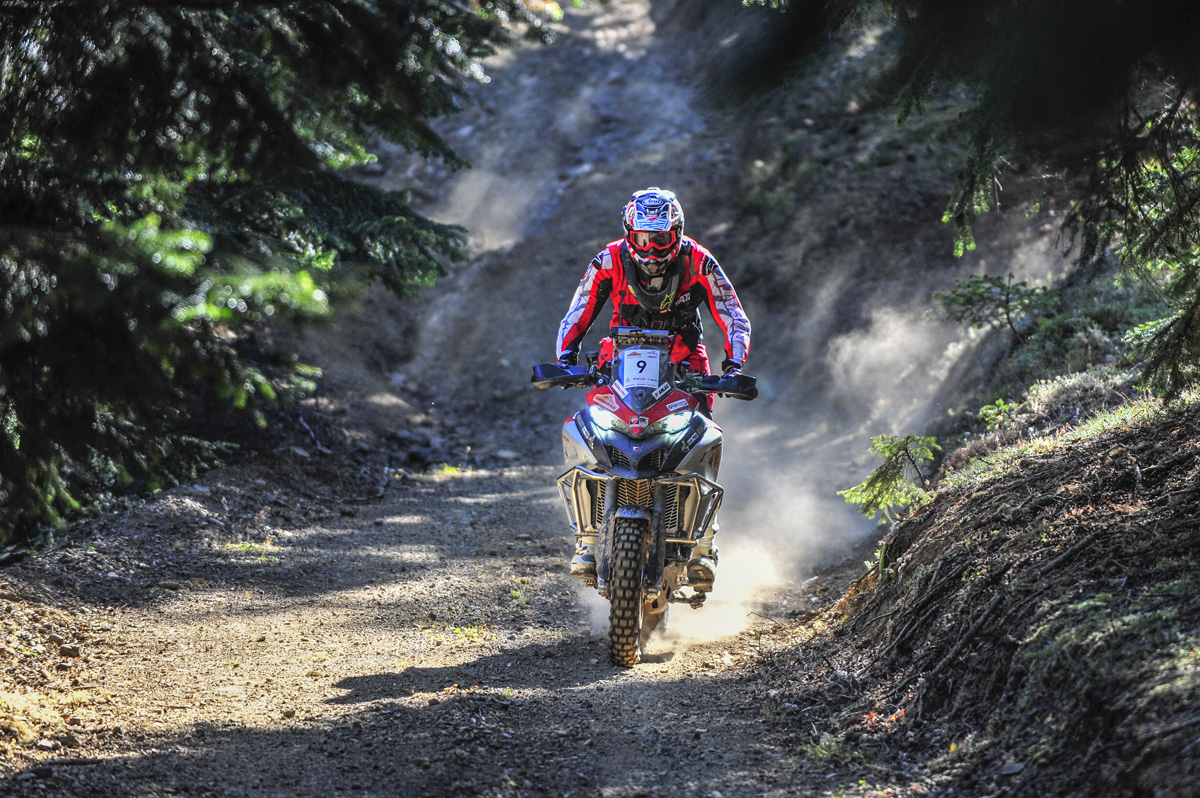 The rally proved to be even more challenging than I thought…
Riding across Turkey with Multistrada was great but for sure there were some mountain stages that were hard work because they slow, stony, technical and hard for me and my bike but the Multistrada overtook all obstacles without any problem.
We covered seven stages in seven days, with a daily average of 450km for around eight hours of navigation per day. It was not easy on the rider or the bike. We climbed a mountain up to 3,000 meters above sea level which was spectacular and the Black Sea beaches were incredible.
In the fast stages near the salt lake of Tuz Golu my bike came in to its own and I enjoyed the riding a lot and reached a maximum GPS speed of 203km/h.
"I had quite big crash and I was afraid I had destroyed the bike" – Andrea Rossi
This isn't my first race…
I started to race off road when I was 16 in Italian regional enduro championships and I raced for five years. In 2012 I raced in a single-brand international race in Chile and Argentina and took third place with Italian team.
From 2013 to 2015 I attended in Italian MotoRally championship and I won bicylinder category in 2015. In 2015 started to work on the project with Ducati for the Multistrada Enduro and I had no more time to race. Last year I started again and I raced the Merzouga rally in Morocco.
The event was better than what I expected…
The organization was perfect also in a difficult period like this. Wonderful bivouac locations and all the services that racers need at an event like this. Turkey is a wonderful country and the people are fantastic, I visited also last year for a travel and it is a nation worth discovering.
For me it was a great joy to take it to victory in the twin-cylinder category and in the top 10 of the overall classification.
https://www.instagram.com/p/CERXQRrCyuz/
450 rally bikes are specialist bikes designed for this competition, it's hard to beat them…
The Multistrada is very good in fast stages thanks to its speed and stability. I started working with Ducati on the development of the Multistrada Enduro in 2016, so I know very well its potential, which is why I decided to enter in a demanding event like the Transanatolia with a practically standard bike.
The 1260 Enduro was equipped with bull-bars, radiator guards and type-approved silencer, from the Ducati Performance accessories. The configuration was standard except for a higher seat more suitable for off-road, suspension adjustments to suit the terrain and higher level of riding and side number plates required by race regulations.
The bike proved to be very reliable, even when I crashed…
Seven days with a daily average of 450km and eight hours of navigation per day is a lot on any bike but these are the benefits of doing a race on an Adventure bike not a competition machine.
During the race I changed only the oil, air filter and of course the tyres. I had quite big crash and I was afraid I had destroyed the bike but instead I broke only the bull bar attachment screw and the gear shift lever.
I don't know what the next race will be but I had too much fun and I missed the races so much so I will definitely race again.
Photo Credit: Ducati