"It will be nice to have the number 1 back on my bike." Steve Holcombe talks 2021 – EnduroGP & ISDE
Ahead of the start to the major race season in Europe, round one of the 2021 Italian Enduro Championship (the stomping ground for many of the GP teams), Enduro21 catches up with seven-times Enduro World Champion, Steve Holcombe.
With time to reflect on a dramatic 2020 GP season finale, Holcombe spent the off-season at home in Britain recouping. Although he had to miss the taste of Christmas dinner after catching Covid, Steve has now jumped across to Italy where he's been putting in the testing hours with the Beta Racing team ahead of the 2021 Italian Enduro season opener.
This season will see Holcombe aiming for his eighth world crown which he says he's better prepared for than ever, and there's also a small matter of the heading up Team GB at the ISDE this summer…
Hi Steve, where are you at in the world right now and what are you up to?
Steve Holcombe: "You catch me in Italy doing some testing and training with the Beta Racing team. As you know, restrictions are pretty tight in the UK regarding us riding so it was a good option for me to come over here and get some good quality riding in."
Didn't you catch Covid?
"I sure did! It was a bit of a strange one, we think I got it from a health and safety course (the irony!). Started as just feeling like I had a normal cold but around Christmas Eve I completely lost my sense of smell and taste.
"I couldn't even taste Christmas dinner so I've got one small plate in the freezer waiting for when I can taste properly again!
"Fortunately, in mid-January I started to get some senses back although they still aren't 100% now, especially my smell. Other than that, I'm feeling better than ever."
In years previous you've headed somewhere else in the world for off-season for a different climate and to get away from it. How was it sticking on home soil this year?
"It was a nice change being home. Granted I would've liked to be in the sun somewhere but we got a puppy at the end of last year, so it was cool being around her and watching her grow.
"I think it's been good to ride a little bit in the wet and muddy conditions too, especially with the 4T.
"I'm in the best mental state I think I've ever been currently. I made a few changes and have some new goals set for the next few years, so it's been a positive few months at home."
Recapping on the 2020 EGP World Championship win. It was a hell of an end to the season (understatement alert!), once it had sunk in, how do you feel about that year now?
"It honestly went a lot better than I had imagined. With the change to 4T there was a massive unknown of whether I would be competitive or not. I'm glad I put that to bed after the first GP!
"With achieving four out of eight wins and holding the gold plate from day one until the end of day eight was pretty cool. It will be nice to have the number one plate back on my bike now too!"
Looking forward…the World Championship start date is a long way off – mid-June – how does such a late start date affect your programme or does it help?
"Having such a late start for me personally this year is a good change. It helped last year as well as I had some time off to reflect and figure out what I wanted out of 2020 and beyond.
"I'm feeling a lot more relaxed than previous years and have enjoyed doing some other things. With Covid restrictions still high in the UK it's been nice not riding as much and given me more time for other things."
Have you been testing, training or working on anything particular this off-season; body, riding technique or bike?
"At the moment no, other than doing more off bike training. I've been really motivated the last few weeks which has been a nice change.
"Putting everything to bed from 2019 last year was a big help so I haven't got that lingering on my mind this pre-season.
"Beta sent a revised bike over early January which I managed to ride twice, ha ha! Other than that the plan is to have a productive few weeks here in Italy now and get some good development under our belts with the bike."
The Italian Championship begins on March 7, you're the reigning champ, will you race the whole series again this year?
"I always say I'm not going too but I always end up getting the championship lead, then it's difficult to get out of it. This year I'm literally rocking up to round one having ridden about eight times and done a maximum of two hours test training.
"It's going to be interesting to see how it goes. The races do get a little repetitive as it seems to always be on rocky ground but it's a very competitive environment."
The Assoluti Italia is an important series for Beta but also everyone from the GP paddock is there…does it help guide where you're at compared to rivals?
"Yes and no. You find the Italians always ride very well on home soil and struggle in the GP's but it still is a good test.
"I would say the benefit this year is we have six or eight race days before the GP's. It's a good chance to test some new parts and see how we progress through the first few rounds.
"I'm a little different to most riders in the fact I feel I don't need to race myself up to speed. I'm confident in what I do training wise and feel I could rock-up to round one of a GP ready to go."
This will be your second season on the Beta 350 four-stroke. How big a step was it last year in hindsight?
"I didn't anticipate how big it would be, especially to race it. I had to change my style quite a lot to suit the bike. It's certainly a harder bike to ride fast as the parameters of where it's good are a lot more narrow than that of my old 2T.
"It was a productive year last season but we've got a lot more to gain from the bike and for me personally in my preparation."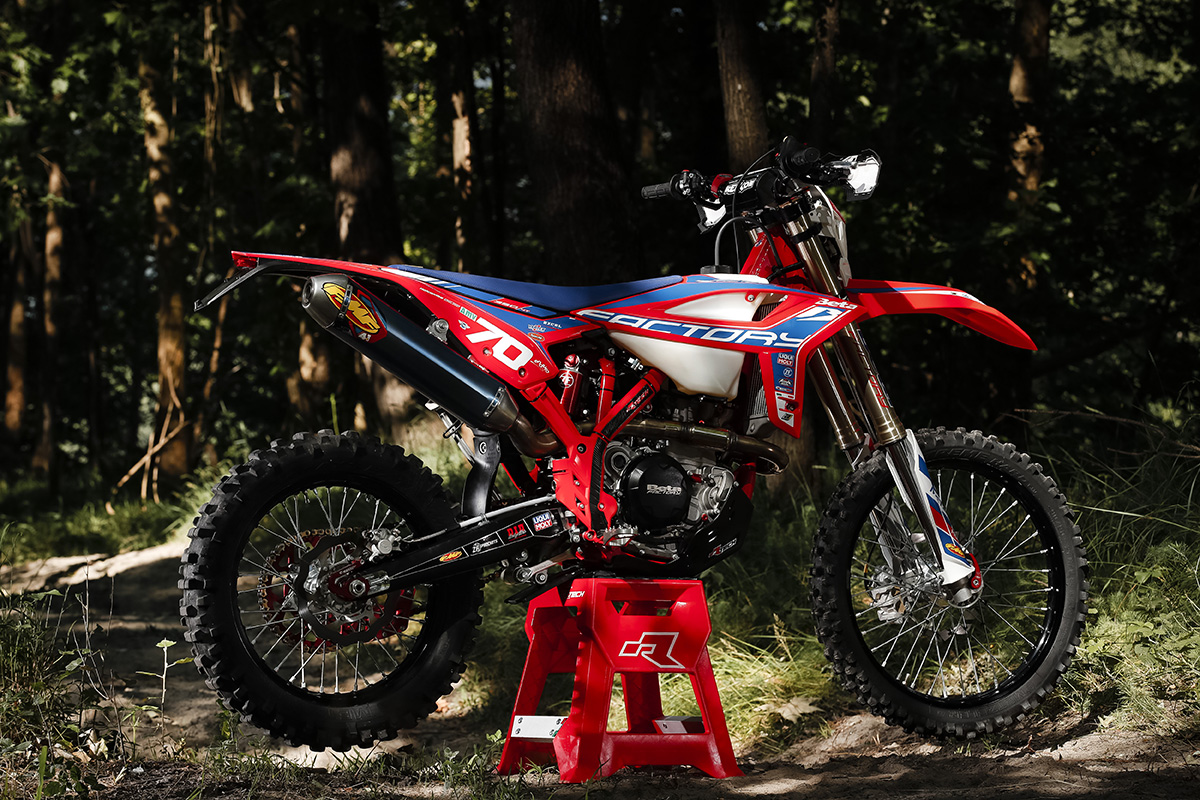 All the details about Steve's Pro Bike: Steve Holcombe's Beta RR Racing 350 4T
Is it still a learning process with the 4T or are you dialled with it now?
"I do feel I am still learning, especially when it comes to engine modifications. There are a lot more moving parts that have more of a profound effect so it's a little more tricky trying to test the bike.
"Plus you have to take more time testing the suspension as it needs to be more precise. As far as my riding style goes, I think I'm pretty close to being dialled. It's more now about trying to take a good step in how the bike works which the team are very proactive about."
The ISDE is mid-season this year in Italy. Are you in or out because of where it falls in the World Championship?
"ISDE is in my plans for this year. Being in Italy I feel it's going to be a good event and I feel it's time for me to start committing to the event again.
"I have chosen not to do it in the past for other reasons but I feel we have the team that's capable of winning for a good number of years now. Let's hope we all stay healthy and the race goes ahead."
Photo Credit: Enduro21 | Andrea Belluschi + Nicki Martinez